This cucumber vodka elderflower cocktail is perfect for a summer evening! It's light and refreshing, and the elderflower is a perfect complement to the cucumber.
If you are looking for a stylish martini to serve to a crowd and want to offer something a bit different, this cucumber martini with floral notes is just what you are looking for.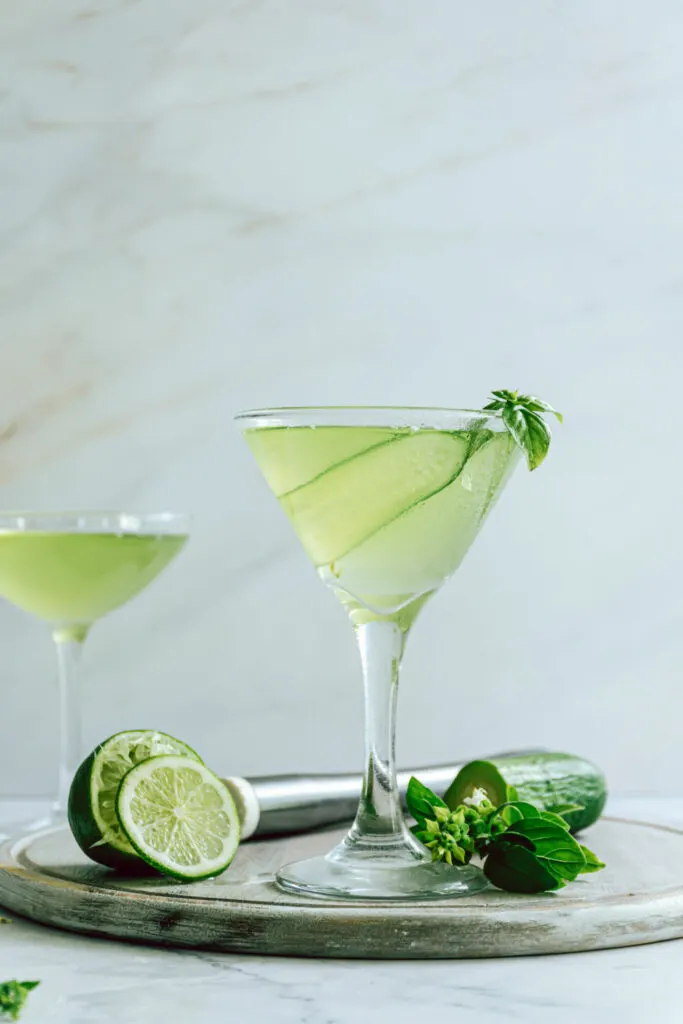 This post may contain affiliate links. Please read my Disclosure for more information
MORE MARTINI RECIPES
Encanto Cocktail: Easy Disney Inspired Martini
Cucumber Martini Ingredients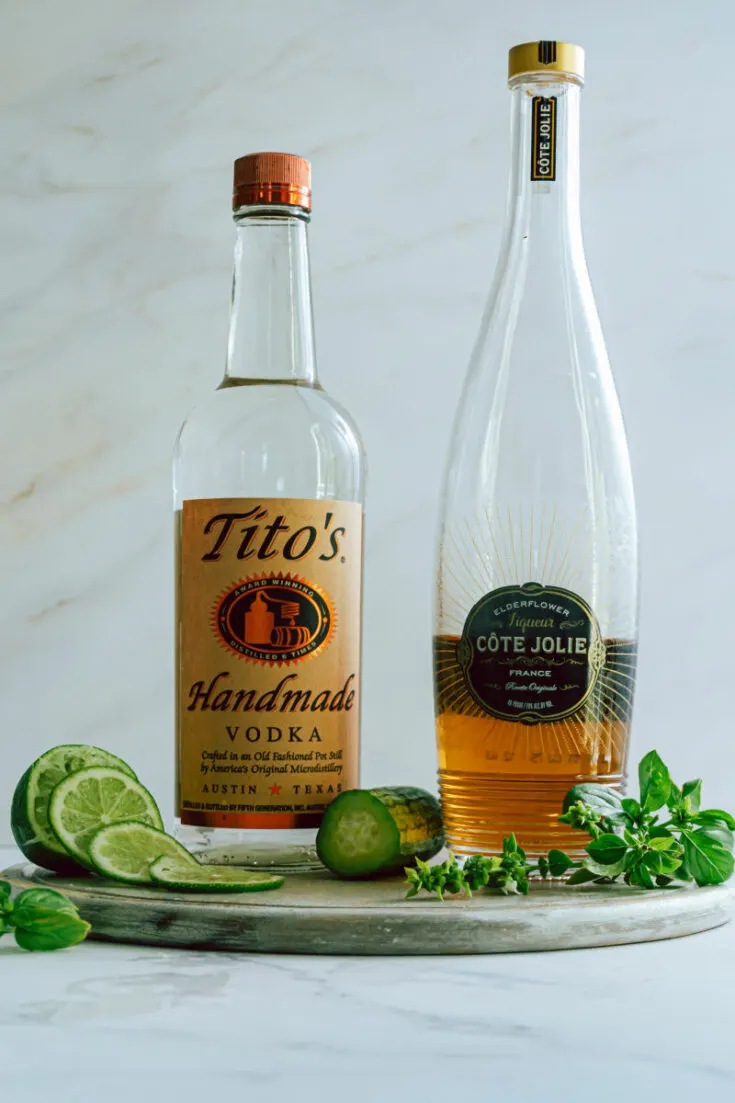 This Cucumber vodka elderflower cocktail is a refreshing and light summer drink. It is perfect for a hot day, and it is easy to make.
You can make it with any type of vodka, I used plain vodka to bring out the flavors of the lime, basil and cucumber. The elderflower syrup adds a refreshing floral flavor, and the lime juice makes it tart and acidic.
To make this cocktail, you will need:
Cucumber
Cucumber is often used as a garnish in cocktails but it is popular in cocktails because of its refreshing flavor. It's also a good way to add some hydration to your drink.
Elderflower Syrup
Elderflower syrup is often used in cocktails because of its floral flavor. It can add a touch of sweetness to your drink which is perfect year round.
You can also use elderflower liqueur instead if you have it on hand.
Lime
Lime juice is often used in cocktails because it pairs well with many different flavors. It's also a good way to add some tartness to your drink.
Basil
Basil is a great herb to use in cocktails because it has a strong flavor that pairs well with many different drinks. Adding herbs to cocktails is a great way to add some flavor and freshness to your drink. It's also a great way to experiment with new flavors.
Vodka
Vodka is often added to cocktails because it is a neutral spirit which means that it doesn't have a strong flavor. This makes it the perfect spirit to use in cocktails because it will pair well with many different flavors. It's also a good way to add some alcohol to your drink.
Ice
Adding ice to your cocktail is a great way to keep it cold and refreshing. It's also a good way to dilute the drink so that it isn't too strong.
It might seem like there are lot of unusual ingredients in this drink but it is the perfect thing to serve at any elegant occasion, from a bridal shower to a spring garden party.
Tools Needed To Make This Refreshing Cucumber Martini Recipe
You don't need too many specialized tools to make this cocktail but you will require:
Either a muddler or a blender to puree your cucumber.
If you don't have these tools, you can use a mason jar with a lid for the cocktail shaker and strainer. The wrong end of a wooden spoon can be used for muddling if you don't have a muddler handy.
How To Make The Cucumber Basil Elderflower Cocktail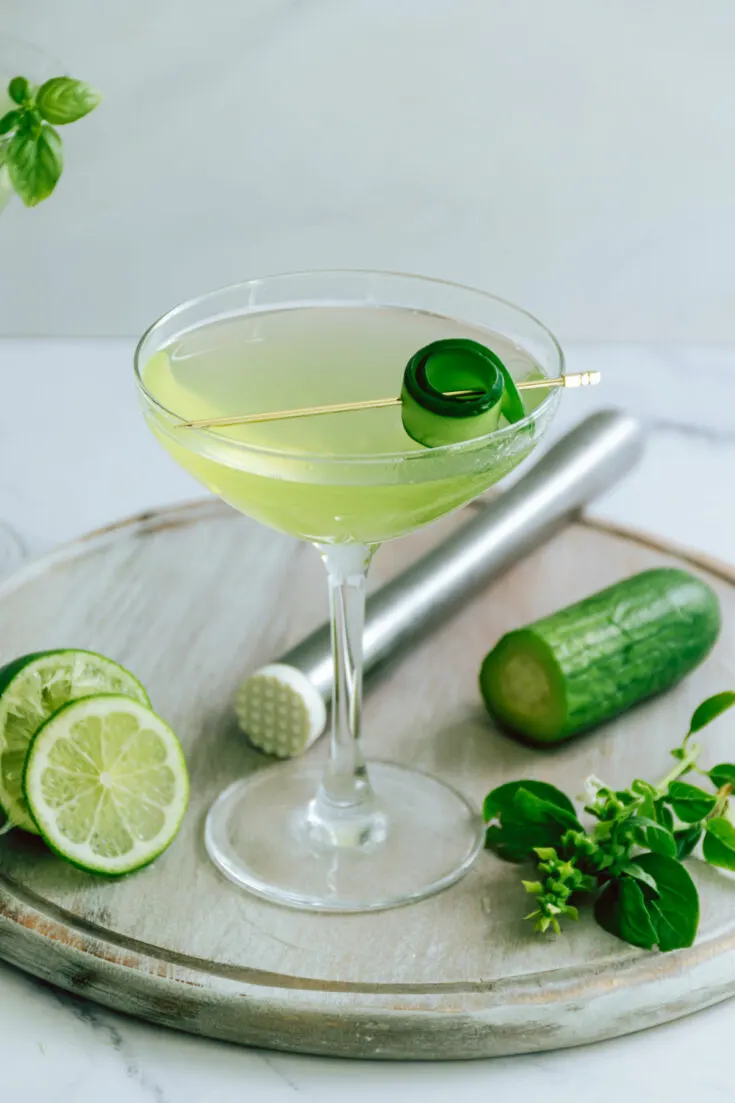 Directions
In a cocktail shaker add: Lime slices, vodka, elderflower syrup, cucumber and basil.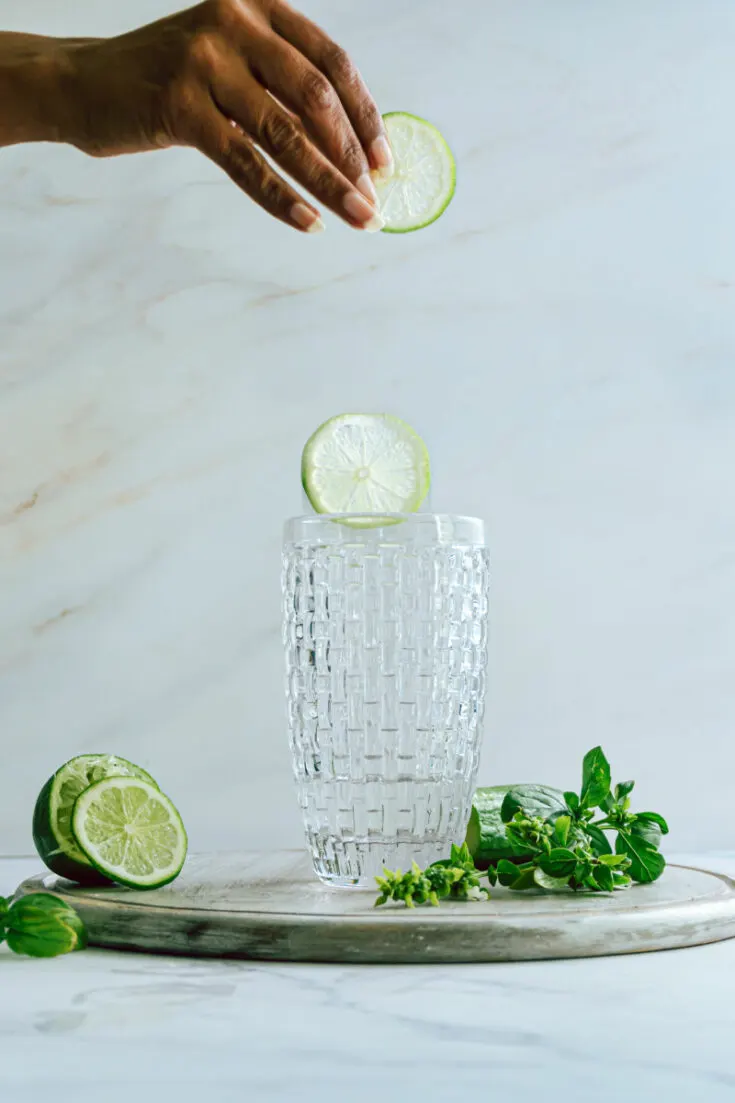 If you are not using cucumber puree, muddle for 30 seconds to ensure the flavors of the basil and cucumber blend with the other ingredients in the cocktail shaker
Add ice and shake vigorously for 30 seconds
Strain into a martini glass, add basil for garnish or cucumber ribbon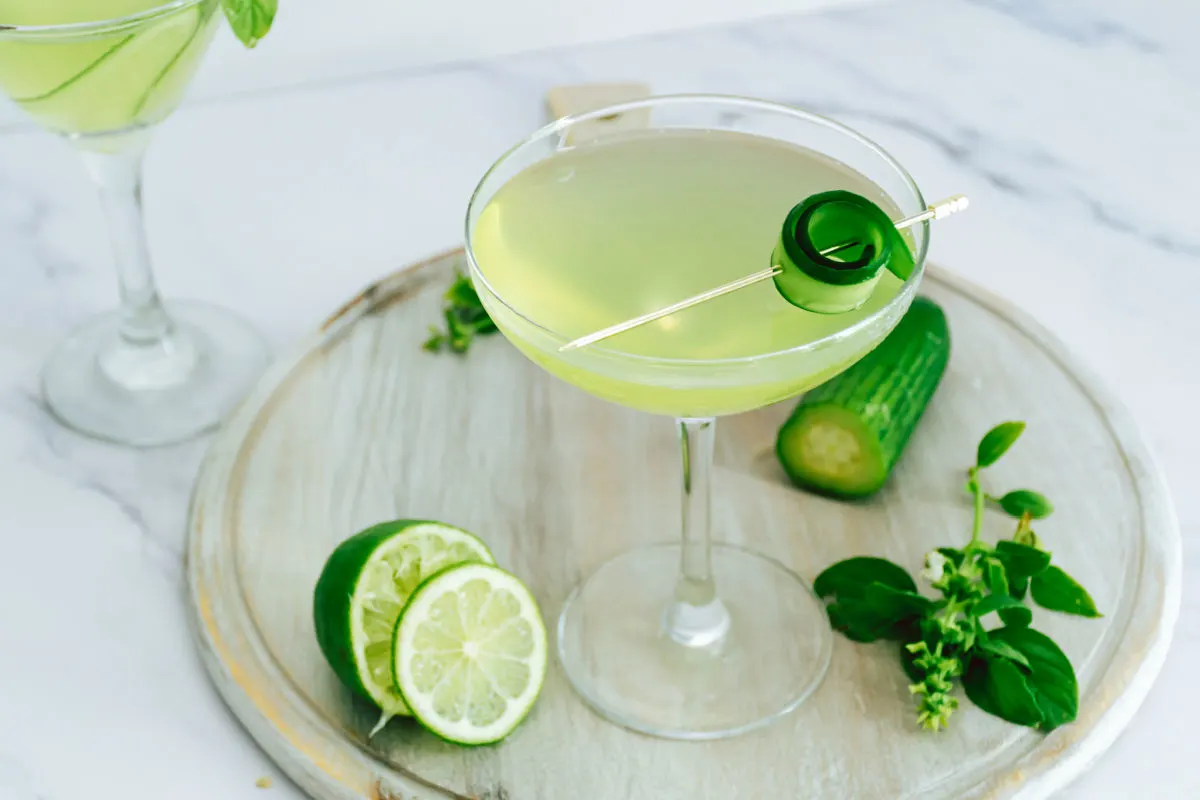 How To Garnish The Cucumber Martini
Cucumber ribbons are an easy way to elevate your martini to the next level of elegance in just a few minutes.
To make them, you will need a mandolin or a vegetable peeler.
Clean and cut cucumber, then slice thinly and skewer onto a toothpick.
Cucumber Vodka Elderflower Cocktail- FAQs
What is elderflower?
Elderflower is a type of flower that blooms in the late spring. The flowers are white and have a sweet smell. Elderflower can be used to make tea, syrup, or jam. The tea has a light floral taste and the syrup and jam are both sweet and tart. Elderflower is also used in cocktails and for baking.
What can I use Instead of elderflower syrup?
If you can't get your hands on any Syrup, you can make this delicious cocktail using Grand Marnier or another citrus liqueur instead. Elderberry syrup will also work great as it is from the same plant as the elderberry.
Can I make this cucumber martini for a crowd?
To make this for a party or in a large batch, you can double or triple the recipe without any issues.
Can I make this cocktail head of time?
Martinis aren't the best cocktail to make ahead of time. That being said, you can make life easier by prepping or taking a few shortcuts.
If you don't have time to squeeze fresh lime juice, buy frozen lime juice and defrost or buy a high quality lime juice from your local supermarket

Puree a large batch of cucumbers in advance so you don't have to muddle them (especially if you are making these for a party)

You can add all the ingredients minus the ice to a shaker and storing in the fridge. When you are ready to serve, add ice and shake vigorously.
Can I substitute gin instead of the vodka?
Yes, I would suggest using gin or a herbal liqueur such as Chartreuse. These will pair well with the cucumber and elderflower flavors in this drink.
Will the lime juice make it too sour?
No, the lime juice will add some tartness to the drink and balance out the sweetness from the elderflower syrup.
Should I use Elderflower Liqueur or Syrup?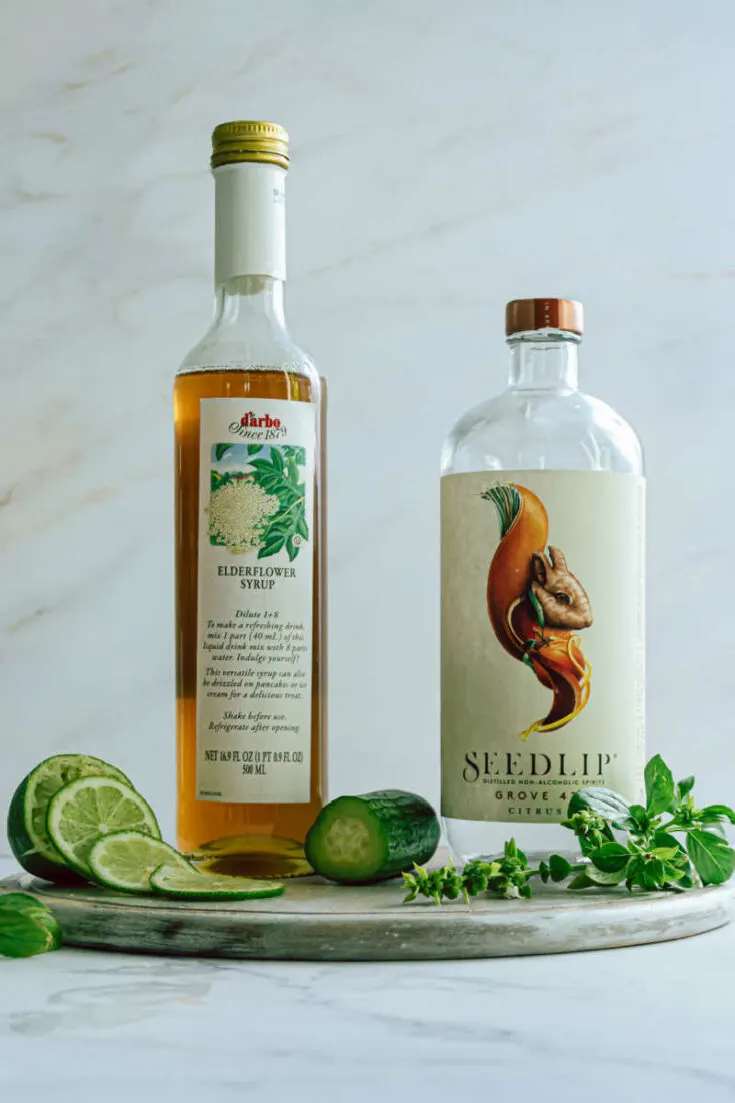 Both will work in this recipe, however, I prefer using Elderflower syrup because it is thicker and has a more intense flavor. If you are using Elderflower Liqueur, I would suggest trying a little before adding it to your recipe (each liqueur and syrup vary in sweetness depending on the brand)
Why is my drink so green?
Adding fresh cucumber and basil will give it a green tint. If you are not a fan of the color, you can peel the cucumbers before adding to your drink to lessen the green tinge.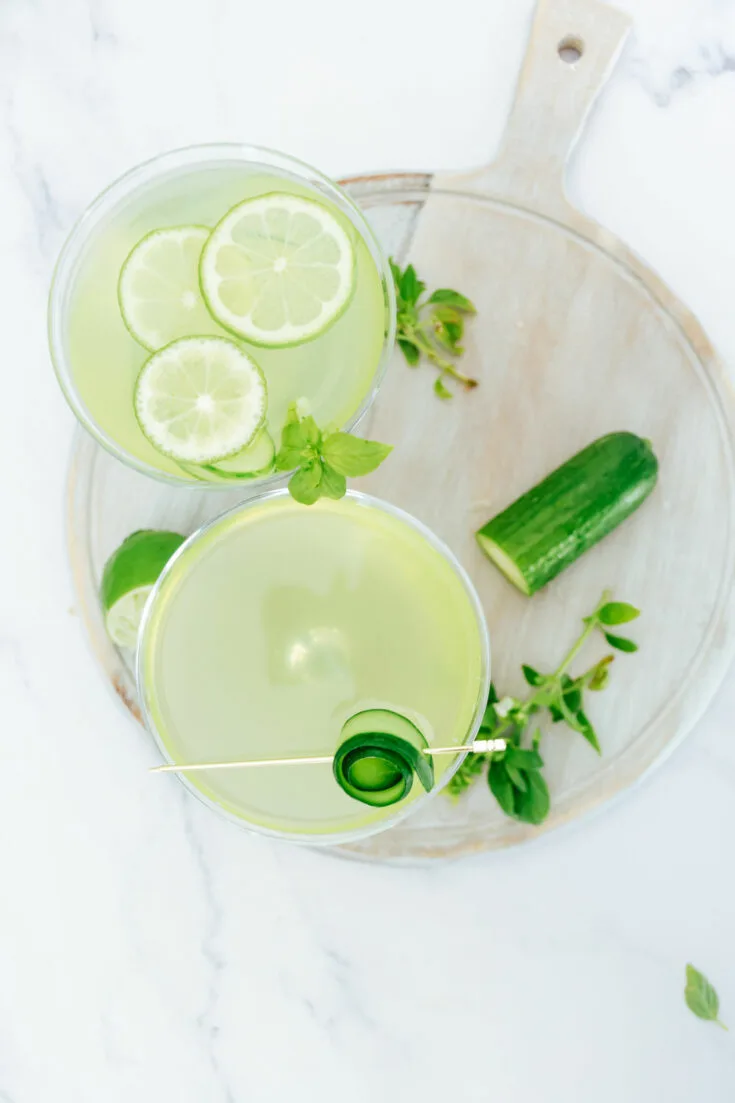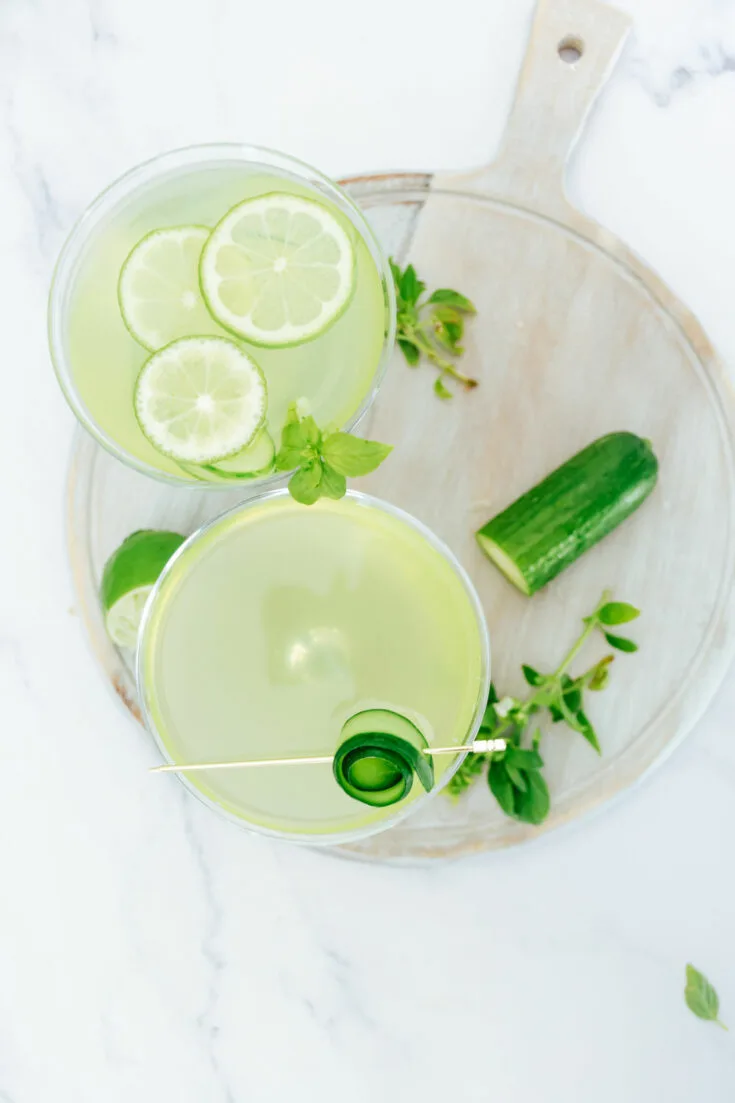 Yield:

1
Cucumber Vodka Elderflower Cocktail
This delicious cucumber cocktail is enhanced with elderflower and basil and is the perfect summer cocktail for any occasion.
Ingredients
1 ounce Elderflower Syrup/Liqueur
2 ½ ounces Vodka
½ cup chopped or pureed cucumber
½ ounce Lime Juice (4 thick lime wheels)
1 sprig of Basil (about 6 Basil leaves)
¾ cups ice
Instructions
In a cocktail shaker add: Lime slices, vodka, elderflower syrup, cucumber and basil.
If you are not using cucumber puree, muddle for 30 seconds to ensure the flavors of the basil and cucumber blend with the other ingredients in the cocktail shaker
Add ice and shake vigorously for 30 seconds
Strain into a martini glass, add basil for garnish or cucumber ribbon
Notes
You can use either elderflower syrup or elderflower liqueur
More Fun Summer Cocktails
Pineapple Coconut Rum Slush With Strawberries
Frozen Watermelon Mint Margarita (Quick & Easy)
31 Refreshing And Fruity Summer Sangria Recipes