A Sweetie Martini is the perfect way to set the mood and add a festive touch to any occasion.
This twist on a classic martini is sure to be the hit of any romantic gathering.
Not only does this delectable drink taste great, but it's also easy to make and looks beautiful when served.
This post contain affiliate links. Please read my Disclosure for more information
MORE VALENTINE'S COCKTAILS
Red Velvet Shot Recipe For Valentine's Day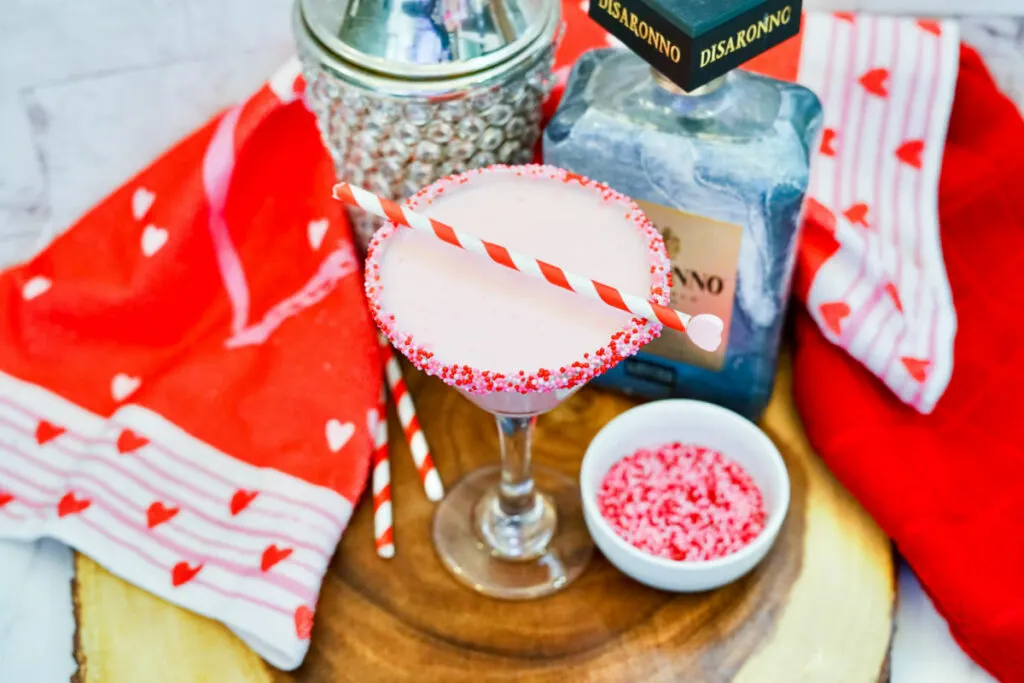 Sweetie Martini Ingredients
You probably know that a classic martini is made with vodka or gin (shaken or stirred depending on whether you are James Bond or not).
This Sweetie Martini is, as you can imagine, a sweeter version of the classic martini.
For this Valentine's cocktail, we are using two different types of vodka and some fun garnishes to make it extra festive.
For the full ingredients and instructions, scroll down to my printable recipe card.
As far as special equipment goes, you will need a cocktail shaker for this drink.
Amaretto
Vanilla Vodka
Chocolate Vodka
Half & Half
Grenadine
Pink Frosting
Valentine's Sprinkles
Ice Cubes
Sweetie Martini Recipe
As with all martinis, there aren't many complicated steps to this drink.
First, rim your glass is desired (see below for details).
To make the cocktail:
Fill a cocktail shaker with ice cubes.
Pour in the chocolate vodka, vanilla vodka, grenadine & half & half.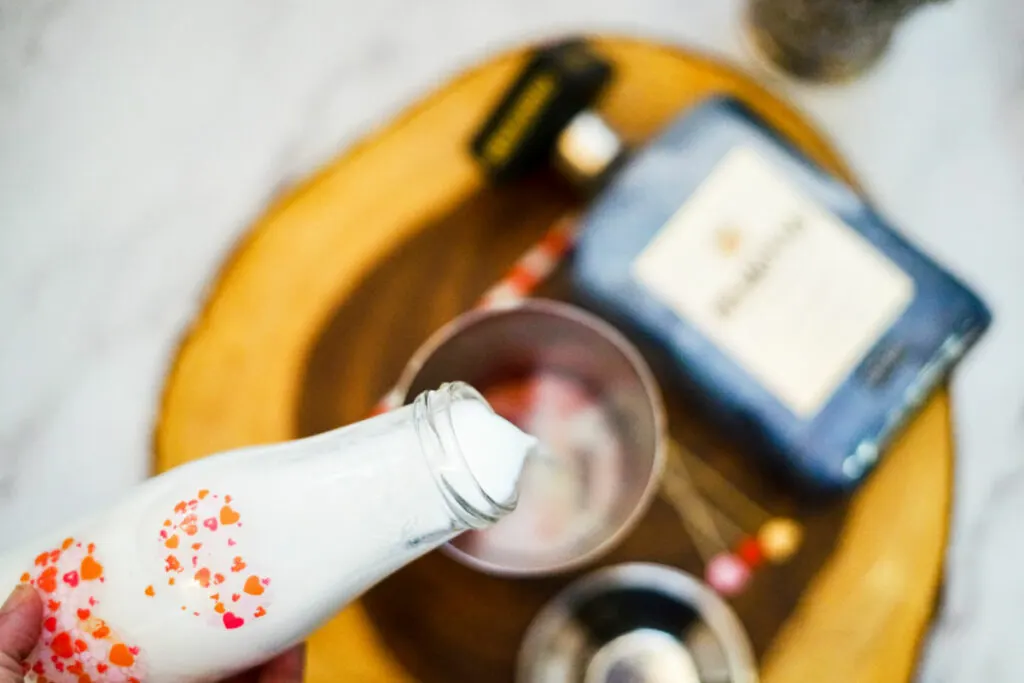 Shake well.
Pour into the martini glass.
How To Add a Valentine's Rim To Your Sweetie Martini
The garnish is half the fun of this Valentine's martini. You will want some pink frosting (in a pinch you can use canned frosting and dye it pink with food coloring).
You'll also need some Valentine's day themed sprinkles.
To garnish your drink:
Coat the rim of a Martini glass with frosting.
Smother in sprinkles.
Set aside for a few minutes before pouring your drink into your glass.
Valentine's Martini: FAQS
I don't have vanilla or chocolate vodka, any substitutions?
You can use 1 oz of plain vodka and 1oz 0f white chocolate liqueur instead of the two vodkas if you need to.
Does this cocktail contain nuts?
While Amaretto has a distinctly almond flavor, I used the Disaronno brand for my martini and it does not contain any nuts.
According to the Italian company that makes it, this liqueur is an infusion of apricot kernel oil with "absolute alcohol, burnt sugar, and the pure essence of seventeen selected herbs and fruits"
Can I make this martini for a crowd?
You can definitely make this cocktail for as many people as you wish by doubling or tripling the recipe with ease.
Whether you're celebrating a romantic evening together or surprising them with something special, nothing says "I Love You" like a Sweetie Martini.
This delicious concoction of fruity flavors not only makes a great Valentine's Day drink, but it also looks great in any glassware.
Plus, the recipe is simple enough that even novice bartenders will have no trouble making this delicious treat!
Ingredients
2oz Amaretto
1oz Vanilla Vodka
1oz Chocolate Vodka
1oz Half & Half
1oz Grenadine
Pink Frosting
Red, white and pink sprinkles/non-pareil.
Ice Cubes
Instructions
Coat the rim of a Martini glass with frosting.
Smother in sprinkles.
Fill a cocktail shaker with ice cubes.
Pour in the chocolate vodka, vanilla vodka, grenadine & half & half.
Shake well.
Pour into the martini glass.