This Bailey's Red Velvet shot recipe is perfect for Valentine's day! Cupid lovers are sure to love the candy corn colors!

This post may contain affiliate links. Please read my Disclosure for more information
More Pink Cocktails
48 Pretty Pink Bridal Shower Drinks
Red Velvet Shot Recipe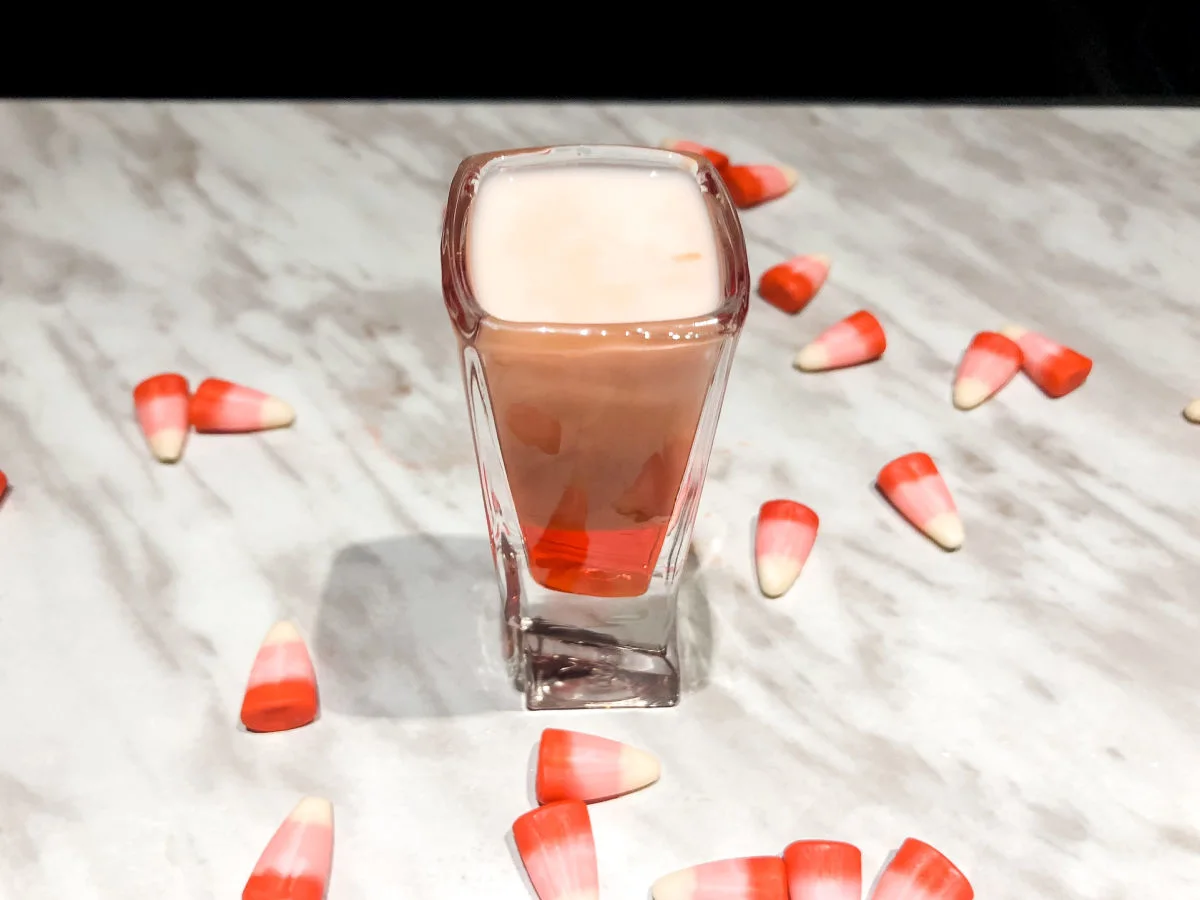 We're a huge fan of Red Velvet Baileys and have used it to make a few different fun cocktails (make sure to check out our Birthday Cake Sprinkle Cocktail).
If you are looking something really special to serve your love this Valentine's Day, you can't go wrong with this tasty shot. It is inspired by the Valentine's Day candy corn that you can find in the stores around this time of year.
This Valentine's Day Shot recipe is:
Quick and Easy to make
Perfect for Valentine's Day
Beautiful to look at
Fun for parties
Red Velvet Shot Ingredients
It's all about the layering. A layered shot is a drink that has two or more layers of liquor. This Red Velvet shot has 3 layers in order to mimic the candy corn layers (pink, red and white).
The key to the perfect layered shot is to pour s l o w l y, very slowly. Don't rush each step because otherwise you won't get clean layers.
I use a bartender spoon to help with this part of the pouring process but you can use a teaspoon and some people even use the side of a butter knife.
Here's what you need to make the Red and Pink layered shot:
Grenadine
Bailey's Red Velvet Irish Creme
Milk or coconut milk
I used milk in my shots but you can also make them with coconut milk. I tried with cream but it is just too heavy to stay at the top of the shot.
The great thing about this shot is all you need is shot glasses.
How To Make A Red Velvet Shot
Step 1:Pour the Grenadine
The red layer is a simple pour of grenadine.
Step 2: Second layer
Slowly pour the Baileys into the shot glass using a bartender spoon or a teaspoon to guide the liquid.
Step 3: White layer
Slowly pour the milk again using a bartender spoon to assist.
Yield:

1
Red Velvet Shot Recipe
This easy to make layered shot is perfect for Valentine's Day.
If you love Baileys then you will love this shot that uses Baileys Red Velvet for one of the layers.
Ingredients
1/2 oz Grenadine
1/2 oz Red Velvet Cupcake Baileys
1/2 oz Milk or coconut milk
Instructions
Pour the grenadine into your shot glass
Next, using a bartending spoon or the back of a teaspoon, slowly pour the Red Velvet Cupcake Baileys into the shot glass
Finally top the shot with the milk
Notes
You can use coconut milk instead of regular milk. Cream or half and half may be too heavy to rest at the top of the shot and result in blurred layers.
Want More Layered Shot Recipes?
Irish Flag Shot This easy to make shot is perfect for St Patrick's Day
Traffic Light Shot Sometimes called a Bob Marley shot, this is always a hit at parties
Candy Cane Jello ShotsLooking for something easy to make in advance? You'll love these simple jello shots.