You probably know all about the Tequila sunrise but this Vodka Sunrise Recipe may just convert you to this refreshing twist on a classic.
People love Sunrise drinks in the summer because they look cool and really taste like summer.
If you are having people over and want to impress them with a pretty drink that takes seconds to make, then a Vodka Sunrise is the perfect choice.
I personally prefer the vodka version of the sunrise as I'm not a huge tequila fan plus the juices mean that you can barely taste the alcohol in this cocktail which makes it a smoother drink than a tequila sunrise.
Read on for the recipe and how to make this easy drink.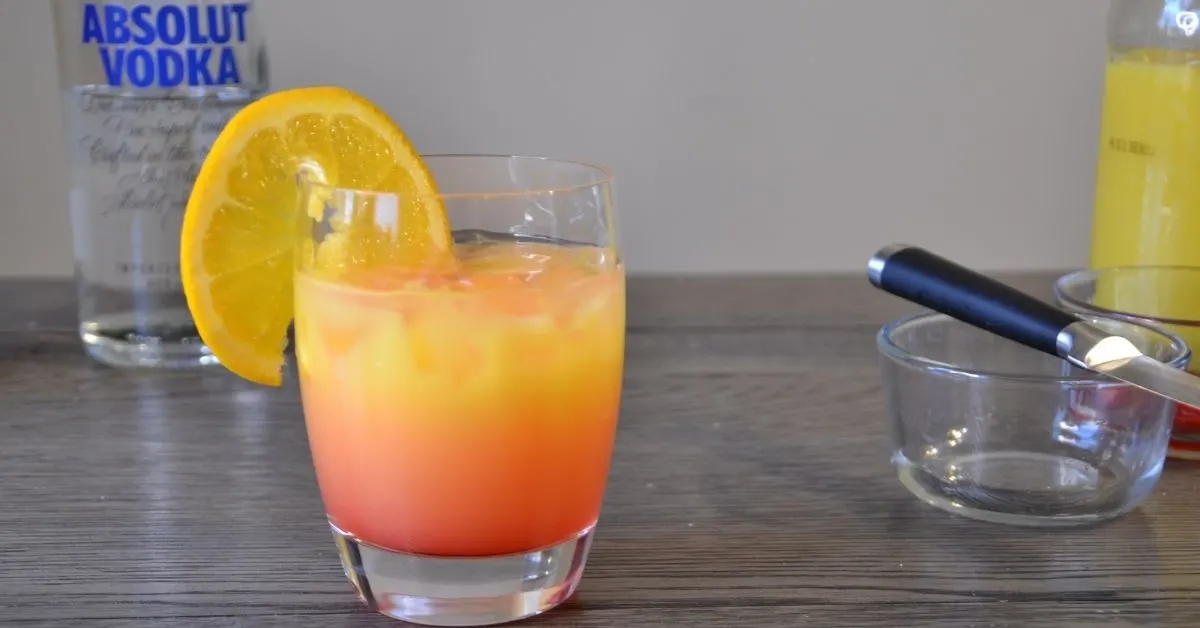 This post may contain affiliate links. Please read my Disclosure for more information.
What do you need to make a vodka sunrise?
The nice thing about this cocktail is that you probably have the ingredients on hand.
Vodka, orange juice and grenadine are all you need with an optional garnish of pineapple on the glass at the end.
45 ml (1 1/2 oz.) vodka
150 ml (5 oz.) orange juice
15 ml (1/2 oz.) grenadine syrup
Ice cubes
As you can see, the only alcohol in this drink is the vodka as grenadine is not alcoholic (It is sometimes confused with Creme de Cassis which does contain alcohol).
You can buy grenadine at groceries stores typically in the same aisle as the cocktail mixers and sodas.
Is Grenadine the same as maraschino cherry juice?
A lot of people think that grenadine is the same as maraschino cherry juice as they are both sweet and tart but they are not the same thing.
Grenadine is made by reducing a blend of pomegranate juice and sugar till it gains a syrupy thick consistency. The best grenadine is actually homemade, it is surprisingly easy to make.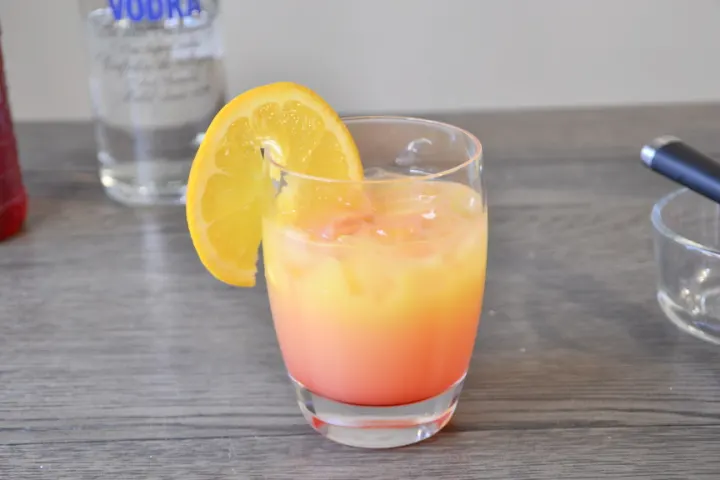 What can I use instead of grenadine?
If you don't like grenadine for whatever reason or you don't have any on hand, there are a few grenadine substitutes you can use.
Bear in mind that you need to replicate the thickness of the grenadine syrup so a cranberry juice won't work as well as raspberry syrup, for example.
The best Grenadine Substitutes For A Vodka Sunrise:
Raspberry Syrup – Torani Raspberry syrup is available everywhere so if you have trouble finding grenadine, this is a good option.
Pomegranate Molasses – you can find pomegranate molasses in Middle Eastern food stores. As you can expect it is very sweet and is the perfect substitute for grenadine.
Creme De Cassis (which as I mentioned does contain alcohol) – If you have this blackcurrant liqueur on hand you can add it to your vodka sunrise.
Gear We Used For This Recipe
You really don't need much other than a nice glass and a shot pourer for this recipe.
I used the shot measure from this cocktail set. It's a great beginners cocktail set that contains almost everything the inspiring bartender needs.
The Perfect Vodka Sunrise Recipe
If you want to make this drink in a batch for entertaining, just combine the orange juice and vodka in a pitcher with ice beforehand. Pour it into glasses when you are ready to drink.
Keep the grenadine on hand and add it to each glass after you have poured to create the sunrise effect.
How To Create The Perfect Sunrise Effect
It's all about the grenadine! Slowly pour it so that it doesn't all sink to the bottom. Bear in mind that the weight of the syrup will cause a more muted effect – this isn't one of those cocktails with clearly defined layers floating on top of each other.
If you want to switch it up, stirring the vodka sunrise creates a beautiful pink color.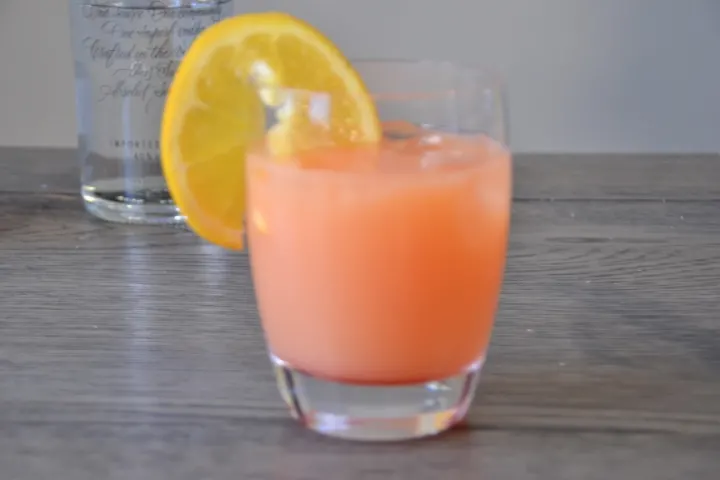 Vodka Sunrise vs Sunset
A lot of people wonder what is the difference between a vodka sunrise and a vodka sunset.
The truth is, the recipe for both is the same except for the Vodka sunset you switch out the grenadine for soda water tinted with red food coloring.
This keeps the red coloring at the top and also gives the drink less of a sweet, syrupy taste.
Yield:

1
Vodka Sunrise Recipe
Perfect for entertaining or brunch, this twist on the classic tequila sunrise cocktail is delicious for any occasion.
Ingredients
1 1/2oz vodka
5 oz orange juice
1 1/2 ounces grenadine syrup
Ice
Maraschino Cherries
Orange or pineapple for garnish
Instructions
Add ice to a large glass
Add 2 maraschino cherries
Pour the vodka over the ice
Add the orange juice
Slowly pour the grenadine over the orange juice and mix
Add a fruit slice for garnish (optional)
Notes
To get the beautiful "sunrise" effect, pour the grenadine over very slowly.