This Vegas Bomb shot recipe joins other classic "drop shots" like the Irish Car Bomb and Sake Bomb.
Bomb shots get their name from how they work – a shot glass of hard liquor is dropped into a glass of another beverage (typically beer but in the case of the Vegas bomb shot, Red Bull).
The resulting explosion looks like a bomb has gone off and it makes for a great show piece at any party.
The real key with the bomb shot is that it has to be drunk quickly after the shot has been dropped into the larger glass.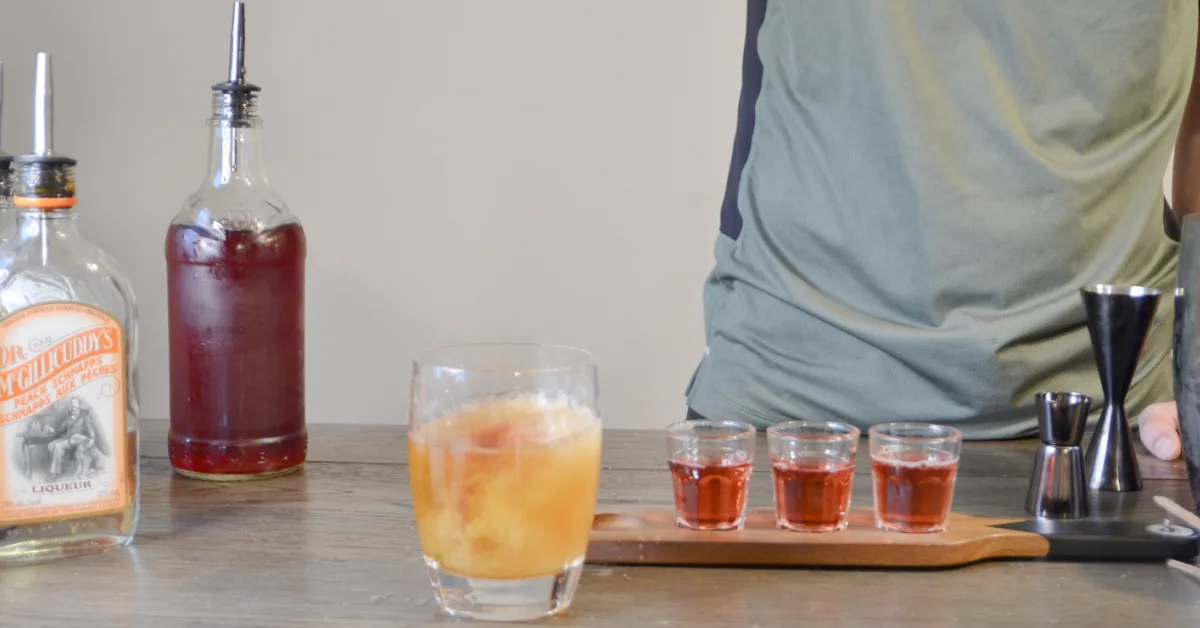 This post contains affiliate links. Please read my Disclosure for more information.
RELATED POSTS
Where Does The Name Vegas Bomb Shot Come From?
I've read that the man who invented the Vegas Bomb shot was the GM of a bar in Alabama and he came up with the recipe while on vacation in Vegas in the early 2000s.
His original recipe is pretty much the same as the one here although there are various variations that come up around the country.
As I mentioned above, bomb shots are drinks where a shot is dropped into a glass of another drink, often beer but in the case of a Vegas Bomb shot, Red Bull or another energy drink.
The shot that is dropped into the Red Bull is called a Royal Flush.
As you might know, a Royal Flush in Poker is a straight flush including ace, king, queen, jack, and ten all in the same suit, which is the hand of the highest possible value when wild cards are not in use.
As Poker is the game of Las Vegas, you can see where the name Vegas Bomb shot comes from.
What Is A Vegas Bomb Made of?
The Vegas Bomb is a relatively new shot that first appeared in the MidWest and is now popular everywhere.
To make a Vegas Bomb cocktail, you drop a Royal Flush shot into a glass of Red Bull or similar energy drink.
A Royal Flush is a shot made with whisky, peach schnapps and cranberry juice. Many people like to use Crown Royal whisky for their royal flush shot.
The shot tastes great on its own but once added to a glass of Red Bull, it really tastes amazing and has a fantastic wow factor.
What Does A Vegas Bomb Taste Like?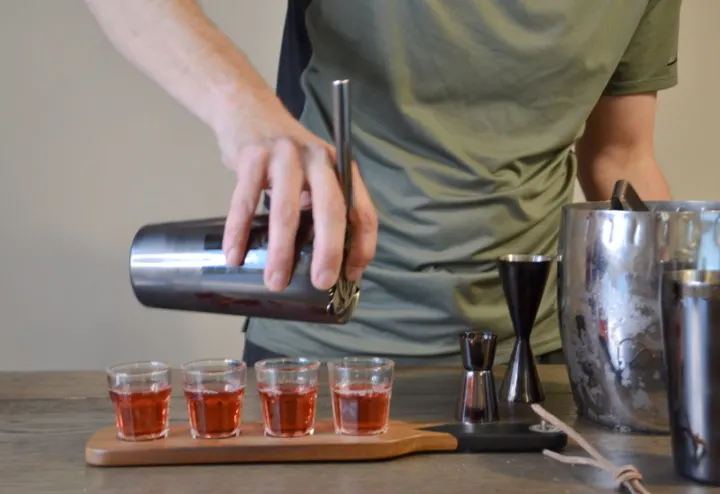 Delicious!
If you like Red Bull, you will love the Vegas Bomb shot as it tastes amazing. It is one of the easiest shots to drink and doesn't taste too strong but will have you feeling it after a few rounds.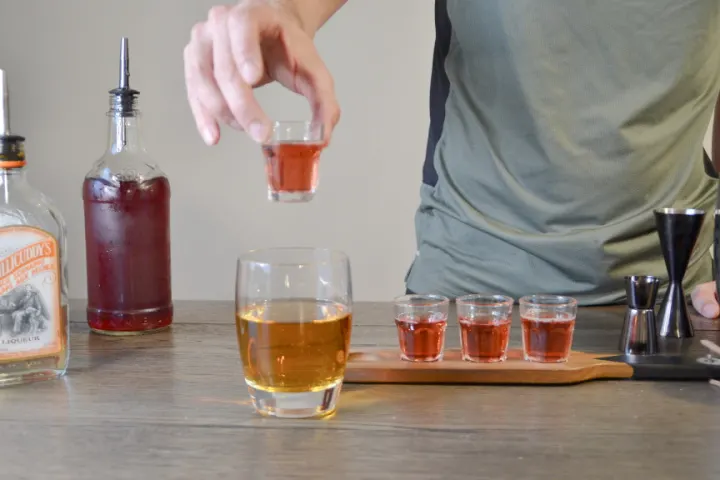 Yield:

2 Vegas Bombs
Vegas Bomb Shot Recipe
This Vegas Bomb Shot is the most common version of this new classic "drop shot" that is popular throughout the USA and becoming a hit Worldwide.
It's easy to make and impressive at parties or events.
Ingredients
1. 1 1/4 oz Whiskey of choice
1/4 oz Peach Schnapps
2z cranberry juice
1 Can Red Bull or similar energy drink
Instructions
Mix the Whiskey, Schnapps and Cranberry Juice in a Cocktail shaker with some ice.
Pour the Red Bull into a large glass that will comfortably fit the shot glass and set aside.
Pour the whiskey mixture into shot glasses using a bar strainer
Drop the shot into the glass of Red Bull and drink immediately.
Notes
Heavy glassware tends to chip/break tiny glass chards but plastic shot glasses won't sink into the Red Bull so be careful when choosing the shot glass for this drink.
Equipment Needed For A Vegas Bomb
Note – If you are planning a party and want to avoid any glass breakage at all, you can pick up special bomb shot glasses made of plastic.
Variations On The Vegas Bomb Shot Cocktail
While researching this recipe, I cam across so many variations that they started to become new drinks in themselves.
Here are some of the most common twists on the Vegas Bomb Shot recipe:
Add Sour Mix to the shot
Add Pineapple or Orange Juice
Put the Red Bull in The Shot Glass
Skip the cranberry altogether
Equipment For The Shot