Unlock the secrets of crafting a delicious cocktail with this perfect Long Island Iced Tea recipe
Master the art of balancing flavors and achieve the ideal blend for this iconic cocktail. Impress your guests with our step-by-step instructions.
This post may contain affiliate links. Please read my Disclosure for more information
MORE FUN COCKTAILS
The Best Long Island Iced Tea Recipe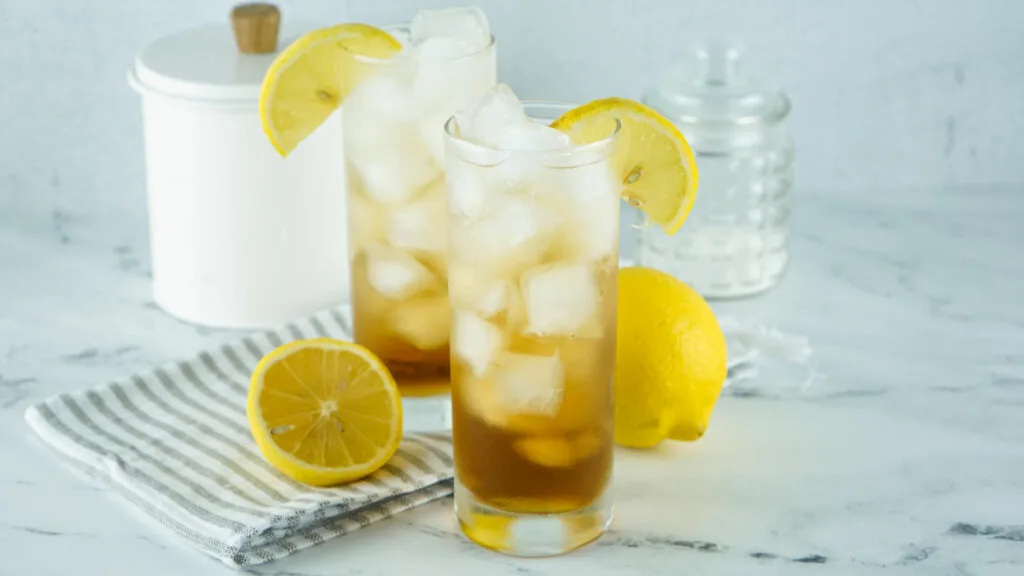 The Long Island Iced Tea is a classic cocktail known for its potent mix of spirits and refreshing taste.
Originating in the United States during the 1970s, this beloved drink has become a go-to choice for those seeking a balanced blend of different liquors.
Below you will find out how to make the perfect Long Island Iced Tea, so you can impress your guests and enjoy this classic beverage.
What Is In A Long Island Iced Tea?
One thing to know about a Long Island Iced Tea is that it packs punch!
There are 5 different types of alcohol in this drink making it a potent cocktail to be enjoyed by adults only!
This drink looks pretty intimidating, but it actually goes down much easier than you would ever think.
It is smooth and refreshing, with the right amount of kick.
Is The Long Island Iced Tea The Strongest Cocktail?
Yes, the Long Island Iced Tea is considered one of the strongest cocktails thanks to the sheer number of liquors in each drink.
It typically contains equal parts of vodka, rum, gin, tequila, and triple sec, along with a splash of some other non-alcoholic ingredients.
For the full ingredients and instructions, scroll down to my printable recipe card at the bottom of this page.
As far as special equipment goes, you will need a cocktail shaker for this drink.
To create a delectable Long Island Iced Tea, you'll need the following ingredients:
Vodka
Rum
Gin
Tequila
Triple sec
Freshly squeezed lemon juice
Simple syrup
Cola
Ice cubes
Lemon wedge and/or mint sprig (for garnish)
How To Make A Long Island Iced Tea
Prepare your tools: Gather a shaker, a long spoon, a Collins glass, and a strainer.
Fill your shaker with ice cubes, then pour in the vodka, rum, gin, tequila, and triple sec.
Squeeze the juice from a fresh lemon, ensuring no seeds make their way into the shaker.
Measure and pour the simple syrup into the shaker.
Securely close the shaker and shake vigorously for about 10 seconds.
Place the strainer over your Collins glass and strain the shaken mixture into the glass, making sure no ice cubes find their way in.
Top off your glass with cola (this is mainly for color).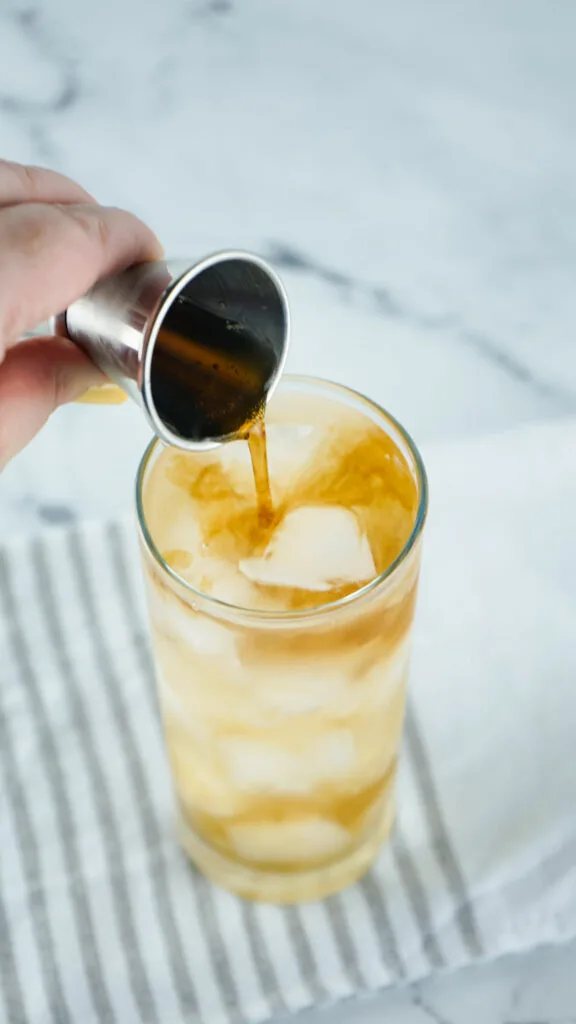 Garnish and serve: Garnish your creation with a lemon wedge and/or a sprig of mint.
Tips for the perfect Long Island Iced Tea
Use high-quality spirits: The quality of the liquors you use significantly impacts the overall taste of the cocktail. Opt for premium brands to ensure a more refined and enjoyable experience
Most of the flavor you get comes from the gin and triple sec, so a higher quality of those two is recommended.
You can add more coke, if desired. Some like a darker long island and some like it lighter.
If you don't like your drink over ice, simply chill your drinking glass for about 30 minutes before use.
Don't skip the lemon juice: Freshly squeezed lemon juice is vital for achieving the perfect balance of acidity and brightness in the Long Island Iced Tea. Avoid using bottled lemon juice as it lacks the same freshness and complexity.
Adjust sweetness to taste: The simple syrup can be adjusted according to your personal preference. Add more if you prefer a sweeter drink or reduce the amount if you enjoy a more tangy and citrus-forward flavor.
Experiment with garnishes: While a lemon wedge and mint sprig are traditional garnishes, feel free to get creative! Try adding a twist of orange peel or a cherry on top for an extra pop of color and flavor
Yield:

1
The Best Long Island Iced Tea Recipe
Learn how to make a Long Island Iced Tea, a cocktail revered for its potent yet refreshing character.
By mastering the art of balancing five spirits, you'll be able to create a cocktail that beautifully harmonizes flavors and packs a delightful punch.
Ingredients
1/2 ounce Vodka
1/2 ounce Rum
1/2 ounce Gin
1/2 ounce Tequila
1/2 ounce Triple sec
1 ounce Freshly squeezed lemon juice
1 ounce Simple syrup
1 ounce Cola
Ice
Lemon wedge and/or mint sprig (for garnish)
Instructions
Add ice to your shaker. Then add 1 ounce of vodka, rum, tequila, gin, and triple sec.
Next add in the simple syrup and lemon juice
Fill your drinking glass with ice.
Shake the contents of your shaker for 15 seconds. Then, strain your drink over your fresh ice.
Add your coke straight to your glass to achieve a tea like color.
Garnish with a lemon slice if desired and enjoy!
More Great Drinks To Try