This Blackberry Whiskey Lemonade is the perfect summer cocktail. It's refreshing, tart, and fruity.
You can make it with Bourbon or Scotch, and it's great for a party because it's easy to make and doesn't require too many ingredients.
If you are looking for something impressive yet easy to serve at your next summer party, this is your cocktail!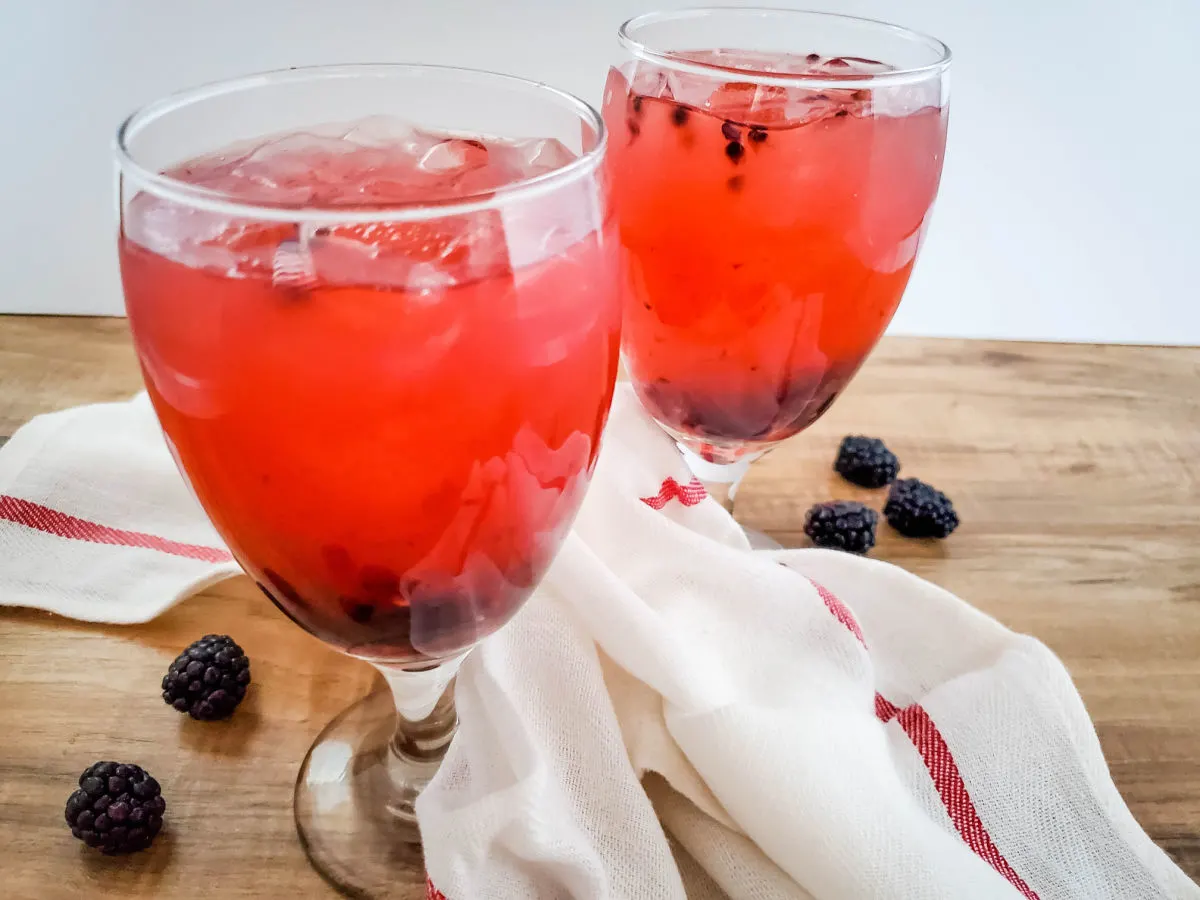 This post contains affiliate links. Please read my Disclosure for more information
MORE SUMMER COCKTAILS
The Ultimate Blackberry Whiskey Lemonade
This Blackberry whiskey lemonade is a refreshing and delicious cocktail to enjoy any time of year but it really hits the spot on a hot summer day.
This cocktail is easy to make and perfect for a summer party.
The blackberry whiskey gives the drink a smooth and delicious flavor, while the lemonade provides a tartness that balances out the sweetness of the blackberry whiskey.
The nice thing about this cocktail is that you can easily make a virgin version so that everyone at the party can enjoy a tasty treat.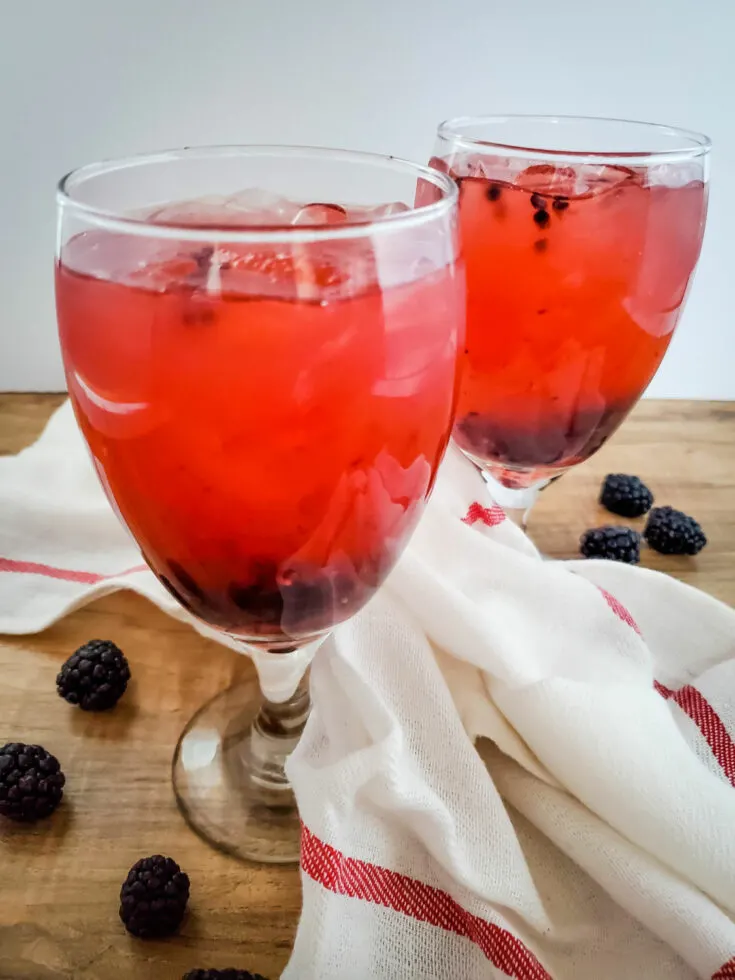 Why you'll love this fruity lemonade
There are so many cocktails made with strawberries or blueberries but blackberries often get forgotten in the mix.
That's a shame because they are one of the easiest fruits to use in cocktails thanks to their subdued flavors and relatively low cost (compared with other berries).
If you have ever grown your own blackberries, you'll know that they are almost a weed and will grow and over your garden in no time.
They are also one of the easiest fruits to grow, even if you don't have a green thumb, trust me when I say you too can grow and abundance of blackberries.
Blackberry Whiskey Lemonade Ingredients
This is a simple summer cocktail that doesn't require too much in the way of fancy ingredients or tools.
You'll need a muddler for the blackberries but in a pinch the end of a wooden spoon will work great.
Other than that, you will need the following for your lemonade:
Ingredients:
Blackberries
¼ lime, juiced
Whiskey (Bourbon or Scotch)
Lemonade
How To Make A Blackberry Whiskey Lemonade
Step 1
Add blackberries to a lowball glass, then squeeze in the lime juice
Step 2
Using a muddler or the back of a wooden spoon, crush the blackberries at the bottom of the glass
Step 3
Fill your glass with ice
Step 4
Add in the whiskey then top the glass with lemonade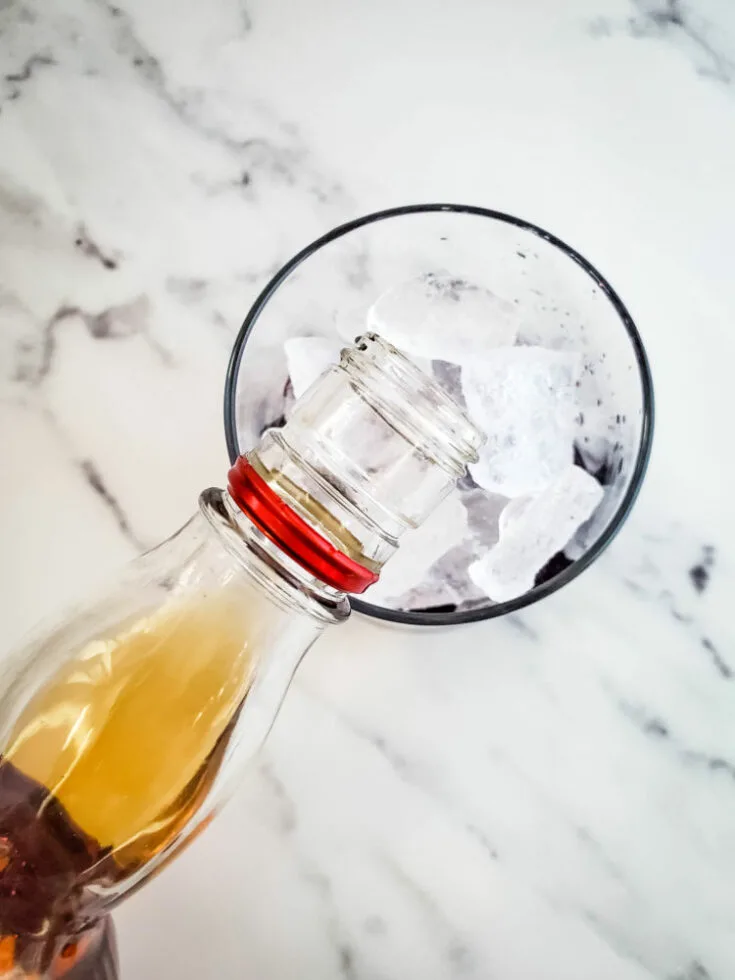 Step 5
Stir, garnish if desired and serve
How To Make This Blackberry Whiskey Lemonade For A Crowd
It is super easy to make this cocktail for a large crowd at a party.
Grab a pitcher and quadruple the recipe above. Add in your blackberries and lime juice and muddle them at the bottom of the pitcher
Before the party starts, add in the bourbon and chilled lemonade. Stir well. Store the pitcher in the fridge until you're ready to serve.
How To Make A Virgin Blackberry Lemonade
To make this into a mocktail, just omit the whiskey from the recipe. Simple as that!
What Kind of Lemonade Should I Use?
You can use fresh store bought lemonade if you wish but otherwise you can make your own.
If you know how to make homemade lemonade, I would definitely do that.
To make lemonade, you'll need 3 fresh lemons and simple syrup (sugar dissolved in boiling water)
Juice your lemons and make your simple syrup – set aside
Fill a pitcher with cold water
Stir in the lemon juice and then add simple syrup to taste
Serve over ice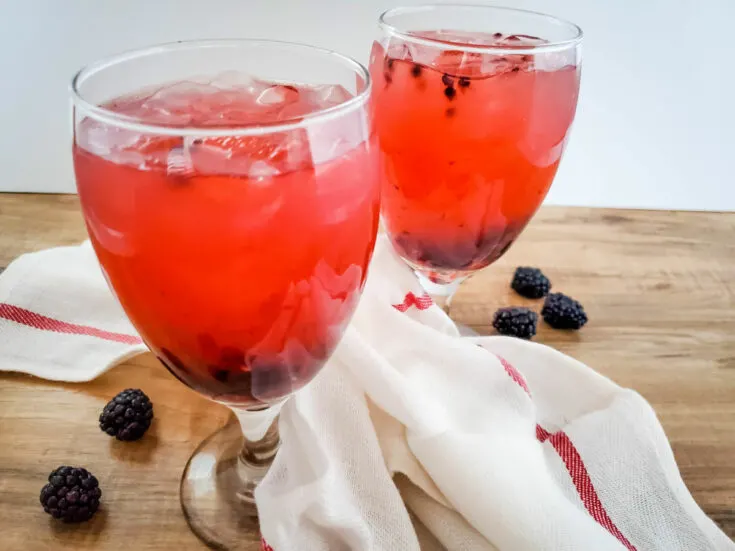 Yield:

1
Blackberry Whiskey Lemonade
This Blackberry whiskey lemonade cocktail is a refreshing drink that is perfect for any summer party.
Made with simple ingredients, you can whip this delicious drink up in no time.
Ingredients
6 blackberries
¼ lime, juiced
2 oz shot whiskey
6 oz lemonade
Instructions
Muddle the blackberries and lime juice at the bottom of your glass
Fill glass with ice.
Add whiskey, then top with lemonade.
Give it a quick stir, and serve.