This delicious Caramel Apple Mimosa is the perfect cocktail for serving at a fall brunch or dinner. It is really easy to make and packed with fall flavors – plus it is a little dessert in a glass of Bubbly.
This post contains affiliate links. Please read my Disclosure for more information
MORE FALL MIMOSAS
Apple Cider Mimosa: The Perfect Fall Cocktail
Pear Mimosa: Fall Mimosa Recipe
We commonly associate apples and apple cider with the fall months but what if you want to up your cocktail game and combine fall flavors with something a little more celebratory?
This tasty Caramel Apple cocktail is inspired by the fall treat that both kids and adults, love – apples covered in Caramel. It is really easy to make and super impressive to serve at your next Thanksgiving brunch.
There are lots of variations of the classic mimosa including the Poinsettia Cocktail and even a Peppermint bark Mimosa which is perfect for the holidays.
This Caramel Apple cocktail is another great holiday cocktail that makes a change from other apple cider drinks such as the Apple Cider Moscow Mule.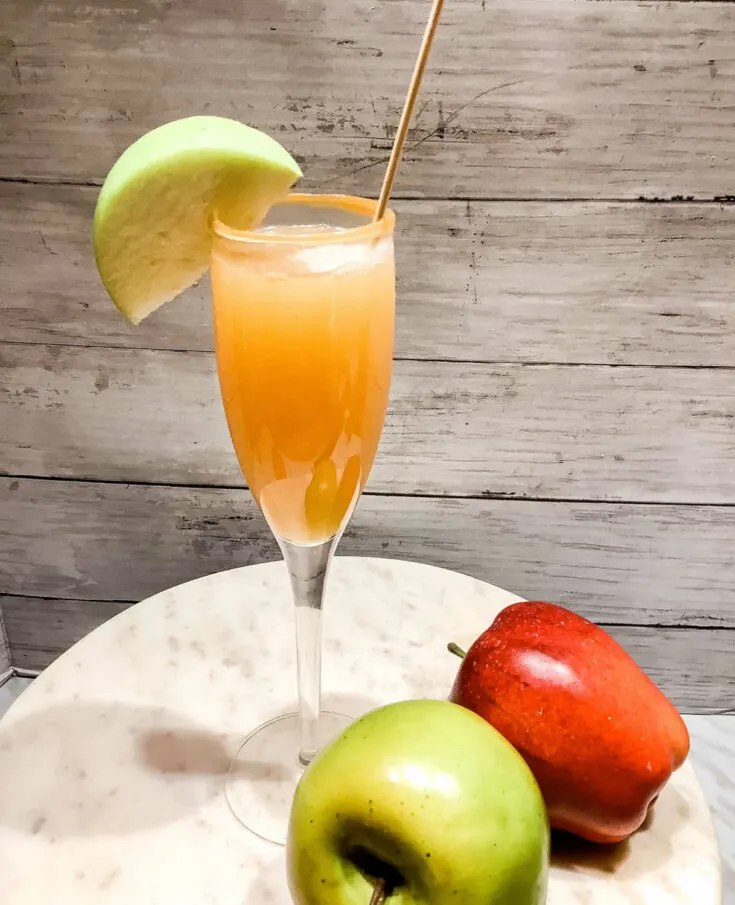 Caramel Apple Mimosa Recipe
This is an adult dessert disguised as a fancy cocktail! With a caramel rim and a delicious autumn taste, you will find yourself coming back for more of these yummy drinks.
Not only are they really good to serve at a holiday dinner, they are so easy to make too! Just a few ingredients and your guests will be happily sipping away.
This tasty cocktail is:
Fantastic for a holiday brunch
The perfect fall cocktail
Decadent and dessert-like
Easy to make
What Is In A Caramel Apple Mimosa?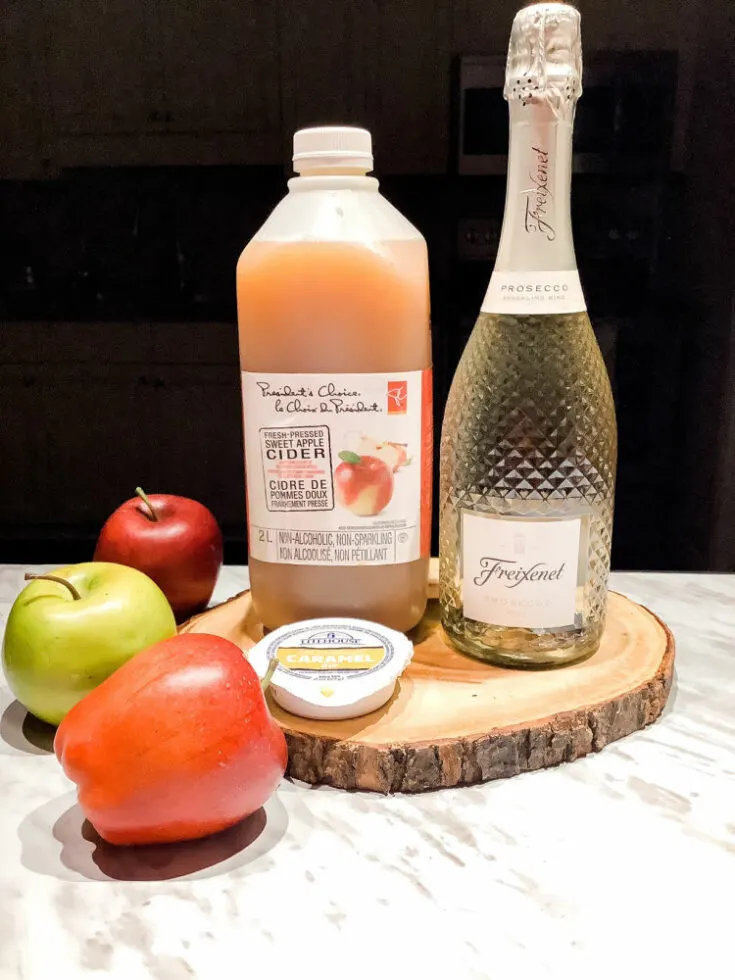 Sparkling wine and apple cider are your main ingredients in this cocktail. You can use unsweetened apple cider because the caramel will lend your drink plenty of sweetness.
Here's what goes in a Caramel Apple Mimosa Cocktail:
Prosecco or similar sparkling Wine
I normally use either Cava or Prosecco in my mimosas. These cocktails are one place where you don't need to buy the most expensive liquor in order to make a great tasting drink.
If you want to use Champagne, then you can but if the budget won't stretch to it, Cava or Prosecco is perfect for that.
You can buy a great bottle for under $20.
Apple Cider
During the fall months, you can buy fresh apple cider from farms and orchards but even during the year, you should be able to find it in grocery stores.
Old Fashioned Caramel
You know the old-fashioned caramel that you can dip apple slices in? This is what you want for your Caramel Apple cocktail. I use the LiteHouse brand of minis.
Although you could use the caramel sauce that people use on ice cream sundaes, you might find it way too runny.
You'll use this caramel for your rim and also inside your drink.
Fresh Apple Slice
You can garnish your drink with a slice of fresh apple if you wish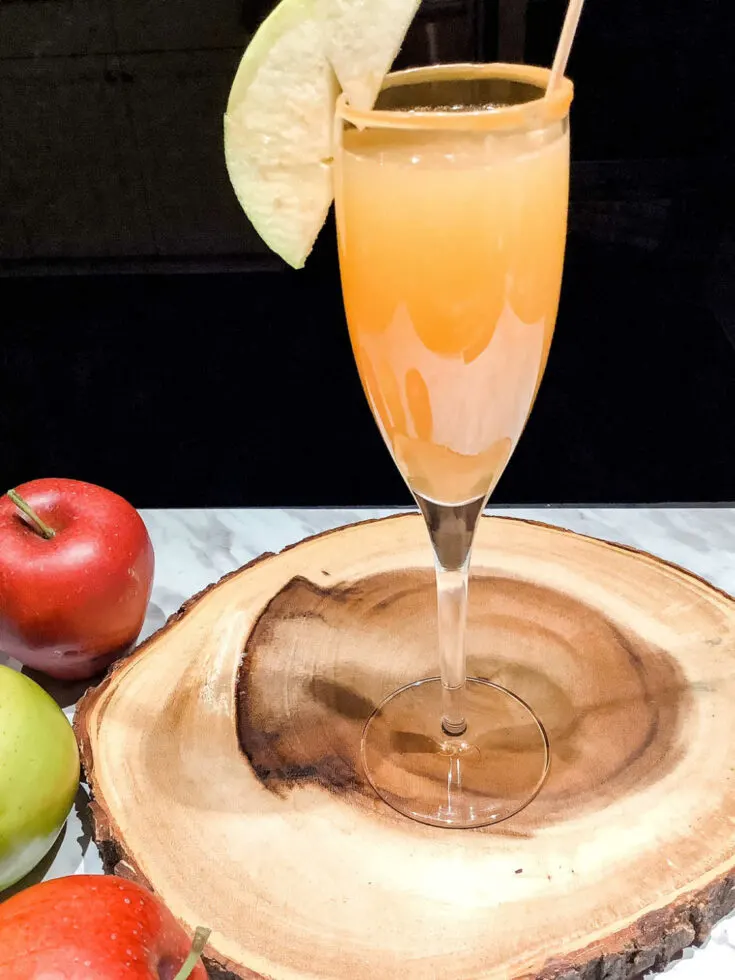 Caramel Apple Mimosa Recipe: Directions
Step 1
Using your wooden skewer, roll it around in the caramel until you have a ball of it on the end. Put the skewer into your Champagne glass.
Step 2
Fill your Champagne flute about halfway with apple cider
Step 3
Next top your glass with sparkling wine
Step 4
You can add a slice of fresh apple to your glass for a festive touch.
How To Make Caramel Rims
If you use the old fashioned kind of caramel, making the rim is really easy. All you need to do is gently dip the rim of your glass in the caramel and set it aside.
The old fashioned caramel is much thicker than caramel syrup and it won't run down your glass. You can add a dusting of cinnamon sugar to the rim if you wish.
Virgin Apple Cider Mimosa
If you want to make this drink without alcohol, you can use club soda or sparkling water instead of champagne.
Yield:

8
Caramel Apple Mimosa
This delicious Caramel Apple Mimosa tastes just like the fall dessert that everyone loves. Not only is this fall cocktail easy to make, it is impressive to serve to guests too!
One bottle of sparkling wine makes approximately 8 Mimosas.
Ingredients
1 Bottle Champagne or sparkling wine
2 Cups apple cider
1 Pot of Old-Fashioned Caramel
Slices of fresh apple for Garnish
Wooden Skewers
Instructions
Dip your Champagne flute in the caramel to create a rim.
Next roll the wooden skewer in the caramel until you have a small ball of it at the end. Place the skewer into your glass
Fill your glass about halfway with apple cider
Next top up the glass with sparkling wine
Garnish with a slice of apple
Notes
Non-alcoholic version - substitute the Champagne for club soda or sparkling water
You can use any sparkling wine you wish for this cocktail. My preference is Cava as it is cheaper (!) and a bit lighter.
More Fun Mimosa Recipes
Peppermint Mimosa {Peppermint Bark Cocktail)