Cherry Bomb Shots are a perfect way to get an extra little kick in your drink.
The recipe is simple and delicious, combining cherry vodka or liqueur, grenadine syrup and Red Bull for that tart flavor.
It's the perfect drink for those who love drinks with a little added kick in their shots.
If you love drinks with Red Bull, make sure to check out my Vegas Bomb Shot Recipe which is always a hit at any party.
This post contains affiliate links. Please read my Disclosure for more information.
RELATED POSTS
The Ultimate Cherry Bomb Shot Recipe
There's nothing quite like the excitement of taking a shot with a kick, and the Cherry Bomb shot is no exception.
This delightful concoction blends sweet cherry flavors with a hint of fiery intensity, creating a thrilling experience for your taste buds.
What Is A Cherry Bomb Shot?
A Cherry Bomb Shot is a type of cocktail, made with cherry vodka, grenadine syrup and Red Bull.
The name "Cherry Bomb Shot" comes from its explosive flavor when it goes down.
This shot is usually served in a shot glass and it is either ordered straight up or on the rocks.
They are often enjoyed by people who enjoy that extra kick in their drink.
Cherry Bomb Shot Ingredients
To craft the perfect Cherry Bomb shot, you'll need the following ingredients.
For the full ingredients list and directions, scroll down to my printable recipe card.
Cherry Liqueur /Cherry Schnapps or plain vodka and a splash of grenadine
This forms the sweet base of the shot, providing the prominent cherry flavor.
Cherry liqueur or cherry schnapps can be found in most liquor stores, and you can choose the intensity of the cherry flavor according to your preference.
Energy Drink or Soda
To add the "bomb" effect, choose an energy drink or soda that complements the cherry flavor.
Traditional choices include Red Bull or any citrus-flavored soda.
Maraschino Cherry for garnish
To complete the shot, you'll need a maraschino cherry for garnish.
This will not only enhance the visual appeal but also add an extra burst of cherry goodness.
How To Make A Cherry Bomb Shot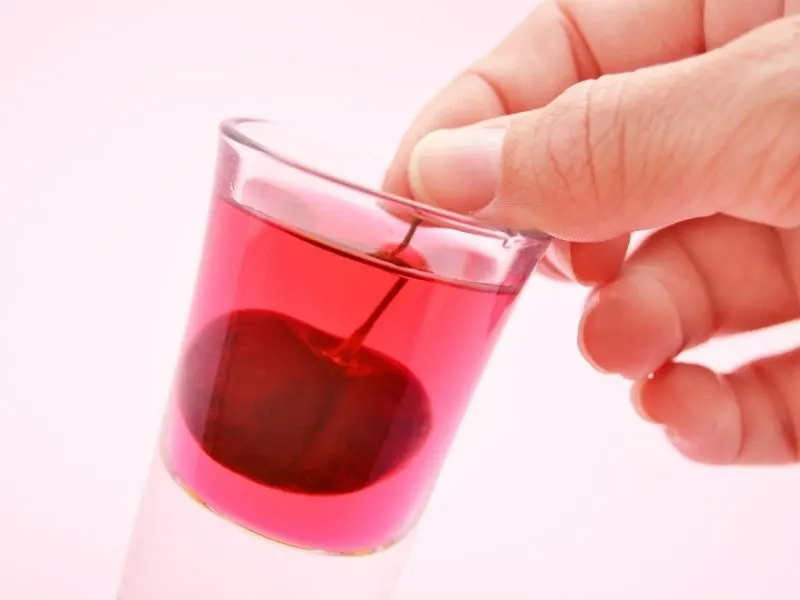 People drink Cherry Bomb Shots because they are strong, sweet and delicious!
Let's dive into the step-by-step process of making the perfect Cherry Bomb shot:
Step 1: Fill the shot glass with cherry liqueur or vodka
If you have cherry vodka, you can also use that too.
Step 2: Fill another glass with Redbull
This is where the "bomb" part of the drink comes in.
Step 3: Add a splash of grenadine to the Redbull
Step 4: Drop the glass of vodka into the glass of Redbull.
Step 5: Garnish with a Maraschino Cherry
Finally, drop a maraschino cherry into each shot glass for a visually enticing touch and an additional burst of cherry flavor.
Substitutions For The Cherry Bomb Shot
Although this is a really simple shot recipe, you can easily use some substitutions if you wish:
If you want to skip the Red Bull, you can use lemon lime soda instead as your mixer in the cherry bomb shot.
Instead of the Cherry Vodka, you can use cherry liqueur or regular vodka with a splash of tart cherry juice instead of the grenadine.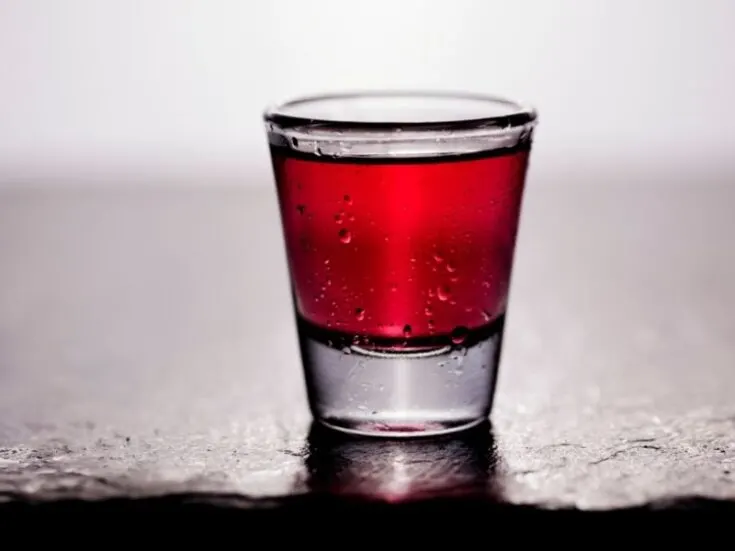 Yield:

1
Cherry Bomb Shot
People drink Cherry Bomb Shots because they are strong, sweet and delicious!
These cocktails provide just enough sweetness from their syrups while also providing some tartness from its citrus flavors to make it refreshingly entertaining.}
Ingredients
1 oz Vodka (cherry vodka optional)
3 oz Red Bull
Splash grenadine
Maraschino Cherry for garnish
Instructions
Fill the shot glass with cherry liqueur or vodka and a splash of grendadine
Fill another glass with Redbull
Add a splash of grenadine to the Redbull
Drop the glass with vodka into the glass with the energy drink
More Shot Recipes
Dark and Stormy Midnight Oil Shot Recipe
Vegas Bomb Shot Recipe – The Classic Cocktail