If you love the refreshing taste of watermelon, you will love this watermelon shot recipe with tequila.
It's sometimes known as a watermelon crawl shot, probably because you will be crawling home at the end of the night if you have too many!
The watermelon taste really takes over in this shot and you could easily forget it contains tequila.
With just two simple ingredients this shot is quick and easy to make and tastes fantastic. You can even turn it into a watermelon cocktail with tequila by adding some more fresh watermelon juice.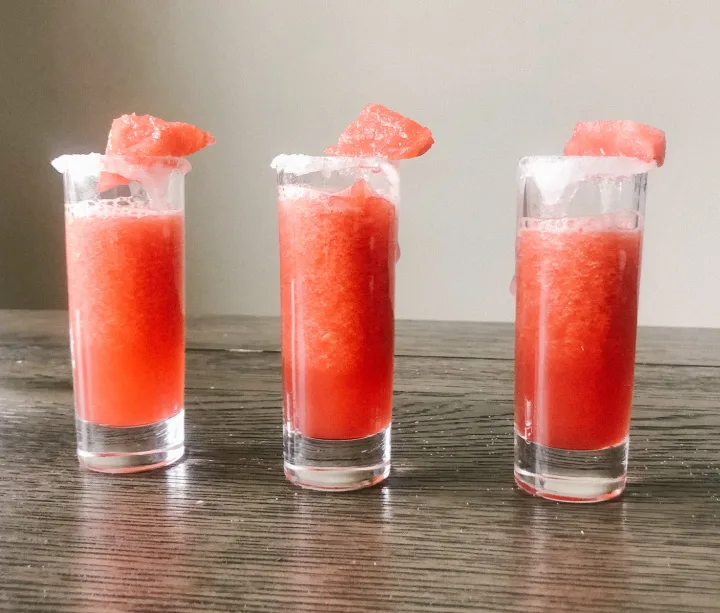 This post may contain affiliate links. Please read my Disclosure for more information.
More Tequila Recipes
What's in a Watermelon Crawl Shot?
Just two thing make this watermelon shot recipe one of the easiest to make – tequila and watermelon.
I highly recommend using fresh watermelon if you can get it.
You will need a blender, a cocktail shaker and a cocktail strainer to make the shot and of course some nice shot glasses.
I also like to add a nice sugar rim to these watermelon cocktails that contain tequila because it really balances it out well.
How To Rim A Glass With Sugar
Adding a sugar rim to your shot glass takes just seconds and makes your drink look so fancy!
It's a really nice wow factor to add when you have guests over. I have also substituted regular white sugar for that red or green sugar you can buy for decorating cookies (find it in the baking aisle).
To rim your glasses with sugar, just put some water into a saucer and some sugar in another saucer. (If you wondering what kind of sugar to use to rim a glass – don't over think it, granulated sugar works great).
Dip the top of your glass in the water and then dip it right away into the sugar so that it covers the water. And that's it!
What Can I Substitute for Fresh Watermelon?
If you can't find watermelon or it is too expensive out of season, you can make this shot with frozen watermelon.
I've been able to find frozen watermelon chunks at my local supermarket in the in the freezer section. (For any Canadians, Loblaws carries it).
If you can't get fresh or frozen watermelon, you can use watermelon juice although the texture will be a bit more liquid than with fresh chunks.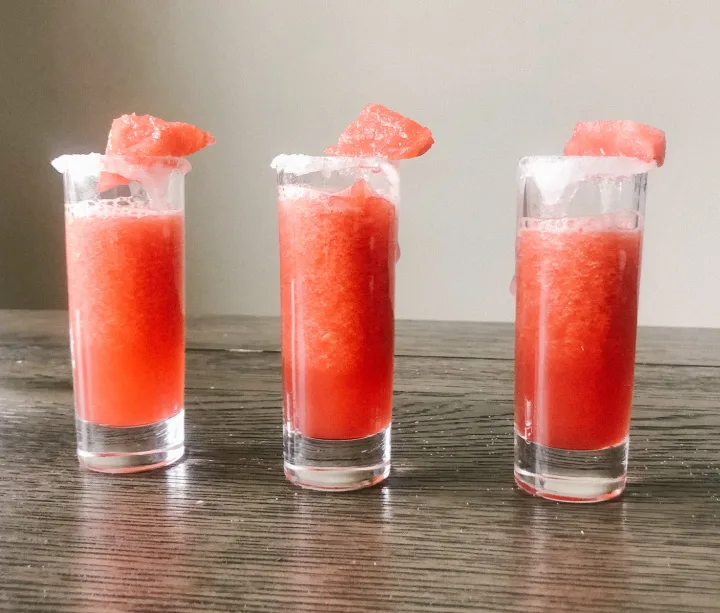 Yield:

4 shots
Watermelon Shot Recipe
Quick and easy to make and always a crowd pleaser in the summer. This watermelon shot is one of my favorite alcoholic drinks for a backyard party.
Ingredients
1 Cup Fresh Watermelon Chunks, chilled.
2 ounces Tequila (I used 1800 tequila for my shots)
Sugar and water for rimming the glasses
Instructions
Rim your shot glasses by dipping the tops into water and then into sugar
Blend the watermelon really well in your blender
Pour the watermelon juice in a shaker and add the tequila
Using a strainer, pour the mixture into shot glasses
Garnish with a small piece of watermelon if desired
More Fun Summery Recipes