Have you heard of cocktail bombs?
Are you looking for the perfect gift for the cocktail lover in your life?
Maybe you want to wow everyone at your next party.
Or maybe you just want to create some really cool TikTok videos with your new drinks?
If you love fun drinks then cocktail bombs are a must! They take any drink to the next level and are sure to be a hit at your next party!
Just like bath bombs, cocktail bombs "explode" as soon as they hit liquid and create the most fantastic fun drink for any occasion.
Read on for my full cocktail bombs review and a discount code so you can try them yourself!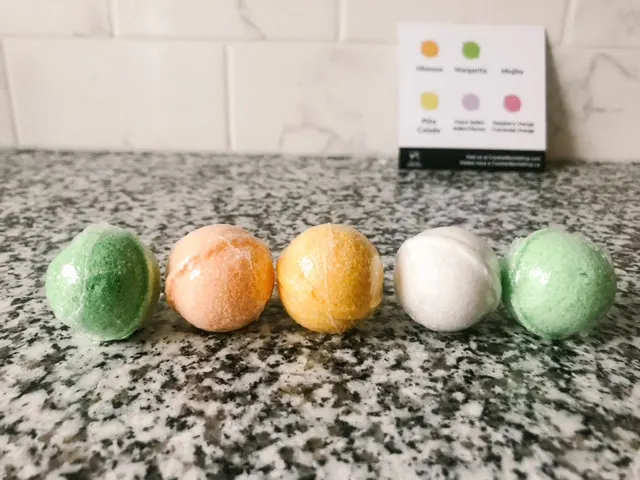 This post may contain affiliate links. Please read my Disclosure for more information
What Are Cocktail Bombs?
Cocktail bombs are a great way to make any drink a little more fun. They come in a variety of flavors and colors, so they're perfect for any occasion.
If you are familiar with bath bombs, then the look of cocktail bombs will be familiar to you.
To be honest, when I first saw them I thought they were little bath bombs until I found out that they are in fact for making cocktails!
I first discovered cocktail bombs at a Christmas market in Toronto and was quickly introduced to the Cocktail Bomb Shop.
Cocktail bomb shop is a Canadian female-owned business. All of their cocktails bombs are made in Montreal, Canada from top quality ingredients.
The founder, Kiana Gomes, started with making hot chocolate bombs when they were all the rage in winter 2020 and then she pivoted to cocktail bombs in February 2021 and they took off immediately.
I was so excited to try these little bombs of fun out and they did not disappoint!
See my Instagram Reel below for how amazing these things are:
View this post on Instagram
How Do Cocktail Bombs Work?
Cocktail bombs work exactly the same as bath bombs. Just drop them into a liquid (in this case seltzer or sparking water) and then watch the bomb dissolve with a fizz.
The bombs themselves do not contain alcohol which makes them perfect for sharing with all the family.
Simply drop a cocktail bomb into the sparkling beverage of your choice and watch it explode.
After it has dissolved you can drink it or add in a shot of your favorite liquor
I love that kids can enjoy a fun mocktail while the adults can add a shot of rum or vodka and enjoy a more "adult drink".
What Kinds Of Cocktail Bombs Can You Buy?
The cocktail bombs come in two different variety packs right now. A regular pack and a holiday version.
The original variety pack contains Mimosa, Margarita, Mojito, Pina Colada, Peach Bellini, and Raspberry Orange cocktail bombs.
Did I mention the packaging is all environmentally-friendly?
The Holiday pack has some really fun bombs including some that contain edible glitter.
The 6 pack includes Santa's Secret, Pomegranate Cranberry, Frosted Cranberry, Blue Snowflake ( with glitter ), Lime Grinch ( with glitter ), Minty Snowball ( with glitter ).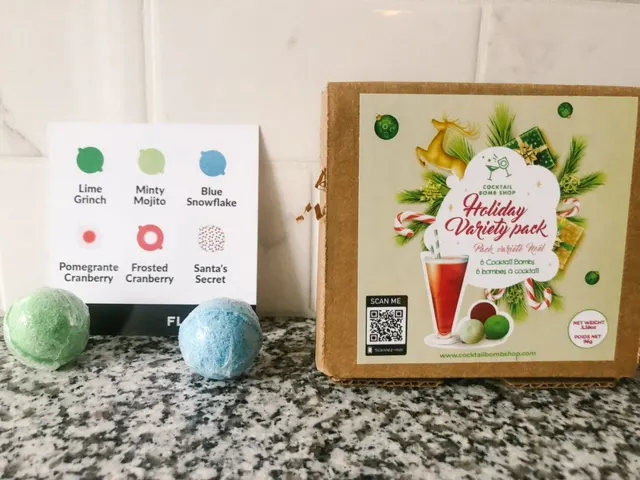 You can use sparkling water, club soda or even beer or champagne to make your cocktail bombs explode.
As part of my cocktail bombs review, last night I tried a margarita bomb in a glass of Corona beer and it was delicious.
How Much Do Cocktail Bombs Cost?
Boxes start at $19.95 for four and $29.95 CAD for six. You can buy all of one flavour or pick a variety box to try them all.
You can get 10% off your order of cocktail bombs at the Cocktail Bomb Shop with coupon code "COCKTAILSWITHCLASS"
Shipping is available Worldwide so everyone can enjoy these vegan-friendly cocktail treats.