This gingerbread Moscow Mule recipe is a fantastic holiday take on the easy to make Vodka cocktail.
If you are fan of vodka and and love the taste of gingerbread at Christmastime, then take it to another level with a gingerbread Moscow Mule cocktail and you will never look back.
Gingerbread is, of course a classic holiday flavor and this cocktail uses gingerbread syrup which is much easier than grating fresh ginger. This make this a great cocktail to serve a crowd at your next holiday gathering.
You can double or triple the recipe easily and whip up a batch of this tasty treat.
Moscow Mules are a really popular cocktail year round because they are so easy to make.
They are also great for people who don't really like the taste of alcohol as the gingerbread really disguises the vodka.
Read on for the recipe and all the details to make this holiday cocktail.
This post contains affiliate links. Please read my Disclosure for more information.
RELATED POSTS
Gingerbread Mojito – The Perfect Holiday Cocktail
Why you'll love this Gingerbread Moscow Mule
This Gingerbread Vodka Cocktail is:
Tart and refreshing

Perfect for a crowd

Comforting

Easy to make

Delicious at any time of the year
How do you make a Gingerbread Moscow Mule?
The Moscow Mule is often called the "king of cocktails" and it's no wonder why.
The classic drink combines vodka with ginger beer and lime juice.
But what makes this gingerbread version so special?
With this cocktail you have a one-two punch of ginger. First with the gingerbread syrup and next with the ginger beer that is a staple of any Moscow Mule.
What's In The Gingerbread Moscow Mule?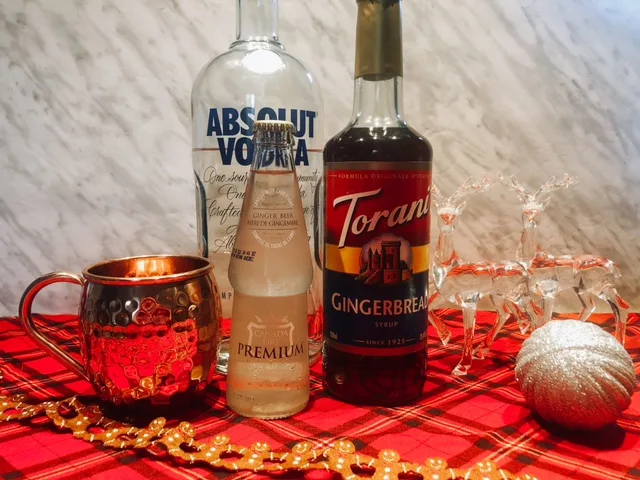 In addition to the regular Moscow Mule ingredients of vodka and ginger beer, this version adds in gingerbread syrup and an optional piece of candied ginger.
Vodka
Ginger Beer
Gingerbread syrup
Lime Juice
1 piece of candied ginger if desired
For my Moscow Mule, I used Torani Gingerbread syrup. This is a non-alcoholic syrup that you can use for coffee as well as in cocktails.
I bought mine on Amazon but it is available in many gourmet food stores and even grocery stores, especially around Christmastime.
Do you use alcoholic or non alcoholic ginger beer in a Moscow Mule?
A perfect drink for the holidays, this Moscow Moscow Mule is made with fresh (non-alcoholic) ginger beer and vodka.
You can also use ginger beer with alcohol if you like!
Why are Moscow Mules served in copper mugs?
The copper mug is more about tradition than about taste. But we love how it looks!
They do serve to keep your drink ice cold which means you can enjoy it for much longer.
Copper mugs also make for great conversation pieces and make your drinks presentation take center stage on any table setting (they're the perfect fit for any party décor!).
If you don't have any copper mugs, you can grab these bestselling ones on Amazon.
How To Make A Gingerbread Moscow Mule
Step 1:Combine all the ingredients in a copper mug
Add your vodka, gingerbread syrup and lime juice to your copper mug over ice
Step 2: Top with Ginger Beer
Fill the rest of your glass with ginger beer
Step 3: Garnish and serve
Stir the drink and garnish with the candied ginger
Yield:

1
Gingerbread Moscow Mule Cocktail
This festive vodka cocktail is sure to be a hit at your next holiday party! Tasty and refreshing, this is a great Christmas drink to serve a crowd.
Ingredients
2 oz Vodka
1 oz Gingerbread Syrup
1/2 oz Lime Juice
1 Bottle of Ginger Beer
Instructions
Add your vodka, gingerbread syrup and lime juice to your copper mug over ice
Fill the rest of your glass with ginger beer
Stir the drink and garnish with the candied ginger (optional)
More Fun Christmas Cocktails
Cranberry Ginger Beer Cocktail For The Holidays
Candy Cane Martini- The Perfect Christmas Cocktail