If you love mojitos as much as me, you will absolutely love this gingerbread mojito that takes the classic summer cocktail to holiday season.
This gingerbread version of the Cuban cocktail is the perfect drink to sip with some Christmas cookies and is the perfect holiday cocktail with rum to put on your Christmas drinks menu.
The great thing about this mojito is that is combines the best of a mojito with a delightfully Christmas flavor – gingerbread.
Read on for the recipe and all the details
This post contains affiliate links. Please read my Disclosure for more information.
RELATED POSTS
Why you'll love this Gingerbread Mojito Cocktail
This Christmas mojito recipe is:
Tart and refreshing

The perfect Christmas cocktail

Full of festive flavor

Easy to make

Impressive
What is the Gingerbread mojito made of?
Like most mojitos, this gingerbread cocktail contains rum. I used white rum in my version but you can easily use dark rum if that is what you have on hand.
Other than the rum and gingerbread syrup, the other ingredients in this cocktail are your regular mojito ones – mint leaves and simple syrup.
To make this gingerbread mojito you will need:
White rum
Gingerbread Syrup
Simple syrup
Mint leaves
Soda Water
As you can see, the main difference between a "regular" mojito and a gingerbread one is the addition of the gingerbread syrup and the fact that I didn't use lime juice in this mojito.
What is the gingerbread syrup?
For my mojito, I used Torani Gingerbread syrup. This is a non-alcoholic syrup that you can use for coffee as well as in cocktails.
I bought mine on Amazon but you can likely buy it at any grocery store, especially around the holidays.
What Can You Substitute for the gingerbread syrup?
If you can't get your hands on the gingerbread syrup, you can grated fresh ginger or use plain ginger syrup.
What tools do I need to make a gingerbread mojito?
You really don't need much in order to make a mojito and this gingerbread version is no exception.
The only tools you'll need to make this cocktail:
If you don't have a muddler, you can get by with the wrong end of a wooden spoon but a muddler does make things much easier and they are pretty inexpensive.
Likewise, if you don't have a cocktail shaker, you can use a clean mason jar and then the lid for straining your cocktail into the glass.
How To Make The Gingerbread Rum Cocktail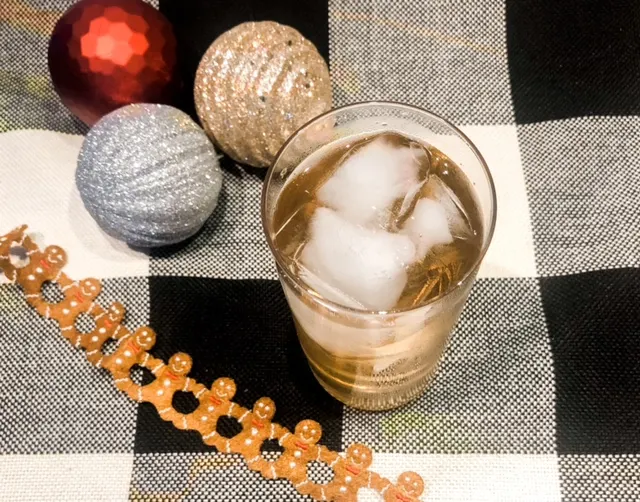 Step 1:Muddle the ingredients
Muddle the mint, rum, gingerbread syrup and simple sugar in the cocktail shaker using a muddler
Step 2: Add ice
Add ice to the shaker and shake for 15 seconds.
Step 3: Pour into a glass
Strain into a glass filled with fresh ice
Step 4: Top with club soda
Step 5: Stir and garnish
Add a slice of fresh ginger for garnish if desired
Non-alcoholic Gingerbread mojito (Nojito)
If you want to make a mocktail or nojito version of the gingerbread mojito, it is easy.
Here is what you need:
1/4 ounce non-alcoholic gingerbread syrup
1/4 ounce simple syrup
Mint leaves
Soda Water
Variations on the gingerbread mojito
Here are some other mojitos to try if you get the bug:
Strawberry Mojito Pitcher Recipe
Blue Mojito Recipe – Blue Curacao Mojito Cocktail
Yield:

1
Gingerbread Mojito Cocktail Recipe
If you love the taste of gingerbread around the holidays, then you will love this delicious Christmas mojito. Easy to make and perfect for a holiday party, this drink is a fun twist on the classic mojito.
Ingredients
2 oz White rum
1 oz Gingerbread syrup
5 Mint leaves
3/4 oz Simple syrup
1/2 can Club soda
Instructions
Put the rum, gingerbread syrup, mint leaves and simple syrup in a cocktail shaker with no ice. Muddle
Add ice to the cocktail shaker and shake for 15 seconds
Strain into a glass containing fresh ice
Top with club soda
Want More Christmas cocktails?
Try these: