If you are looking for the perfect Christmas cocktail, make sure to try this Gingerbread White Russian.
The cocktail made famous by Jeff Bridges in The Big Lebowski gets a holiday twist in the recipe below.
If you are a fan of gingerbread, then you will enjoy nibbling on a cookie while you sip this decadent cocktail by the fire.
The nice thing about the drink is that it looks festive too!
Especially if you add a gingerbread rim to your glass and a drunk gingerbread man garnish!
I have all the instructions below!
The milk gives it a white color that is great when you are in the middle of a winter wonderland! Read on for the recipe and all the details.
This post contains affiliate links. Please read my Disclosure for more information.
RELATED POSTS
Cranberry Ginger Beer Cocktail For The Holidays
Gingerbread Mojito – The Perfect Holiday Cocktail

Why you'll love this Gingerbread White Russian
What could be more perfect for this time of year than a gingerbread white Russian cocktail drink?
The answer is nothing.
This festive cocktail is perfect for sipping fireside when the weather is frightful outside.
This Gingerbread Cocktail Recipe is:
Perfect for the holidays
Festive and fun

Great for any occasion

Easy to make

Impressive
What Is A White Russian Cocktail?
The White Russian was originally a black, coffee-infused cocktail that emerged in the 1940s.
However, it became more popular when mixed with vodka and cream around 60 years ago – and then of course, it was made famous by Jeff Bridges in The Big Lebrowski.
What is in this Gingerbread White Russian Cocktail?
This recipe is a twist on a classic White Russian that contains vodka, coffee liqueur and milk or cream.
To make this Christmas version of the cocktail, you will need a gingerbread flavored syrup.
I used Torani Gingerbread syrup.
This is a non-alcoholic syrup that tastes just like the one that Starbucks uses for the gingerbread latte around the holidays.
To make this cocktail you will need:
Vodka
Kahlua or similar coffee liqueur
Gingerbread syrup
Full-fat milk or cream
What tools do I need to make the Gingerbread White Russian?
You really don't need much in order to make this cocktail which makes it perfect for any party or large gathering when you want to whip them up in minutes.
All you really need are:
Likewise, if you don't have a cocktail shaker, you can use a clean mason jar and then the lid for straining your cocktail into the glass.
How to Make A Cute Gingerbread Garnish
If you want to really wow the crowd with your bartending skills, then you can add a drunk gingerbread garnish to your gingerbread white Russian.
To rim the glass with gingerbread:
Crumble a gingerbread cookie onto a small plate
Dip the rim of your glass in water or milk
Next, dip the moistened glass rim into the crushed cookie
Set aside and let it set for a minute or two before pouring the drink.
Drunk Gingerbread Man Garnish
This is a really easy but impressive garnish you can use for eggnog or this Christmas white Russian cocktail.
You can either make your own gingerbread cookies or buy them and warm it in the microwave.
It does work better if you make your own, here is a great recipe that I have used before.
All you do to make the drunk gingerbread is to remove it from the oven when it is baked and put it into the glass immediately.
Bear in mind that your gingerbread man needs to be big enough that it can rest on the edges of the glass without falling in.
You can then decorate him as usual and top with a dollop of whipped cream, a sprinkle of cinnamon and a candy cane too.
How To Make The Gingerbread Cocktail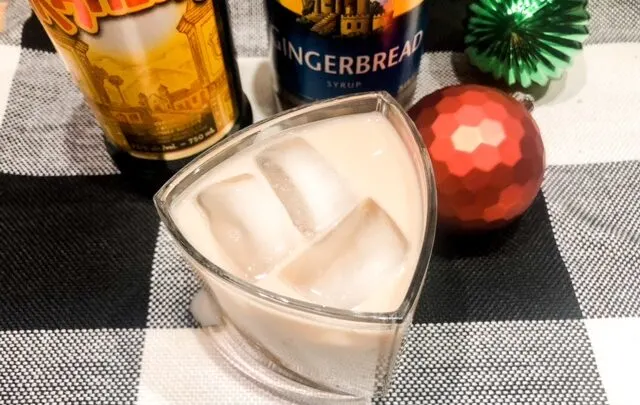 Step 1:Mix The Ingredients
In a cocktail shaker, combine the vodka, Kahlua and Gingerbread syrup. Shake for 15 seconds
Step 2: Pour into a glass with ice
Pour your drink into a glass filled with ice
Step 3: Top with milk or cream
Stir before drinking.
Yield:

1
Gingerbread White Russian Cocktail
If you love the taste of gingerbread around the holidays then this festive White Russian cocktail is for you!
This riff on the classic vodka cocktail takes it to another levels with the wonderful Christmassy flavor.
Ingredients
2 oz Vodka
2 oz Kahlua
1 oz Gingerbread Syrup
Small amount of milk or cream
Instructions
In a cocktail shaker, combine the vodka, Kahlua and Gingerbread syrup. Shake for 15 seconds
Pour your drink into a glass filled with ice
Top with milk or cream
Stir before serving
Want More Christmas Cocktail Recipes?