With a name like the Jack O'Lantern cocktail, you can be sure this delicious drink packs a Halloween treat – no tricks involved!
The bright orange color recalls everyone's favorite fall decoration and the fruity taste is just what you need on a crisp fall evening.
If you love tropical rum drinks then this orange flavored cocktail will be just the ticket for your next spooky party.
This post contains affiliate links. Please read my Disclosure for more information.
MORE HALLOWEEN COCKTAILS
Spiked Halloween Milkshake Recipe
Jack O'Lantern Cocktail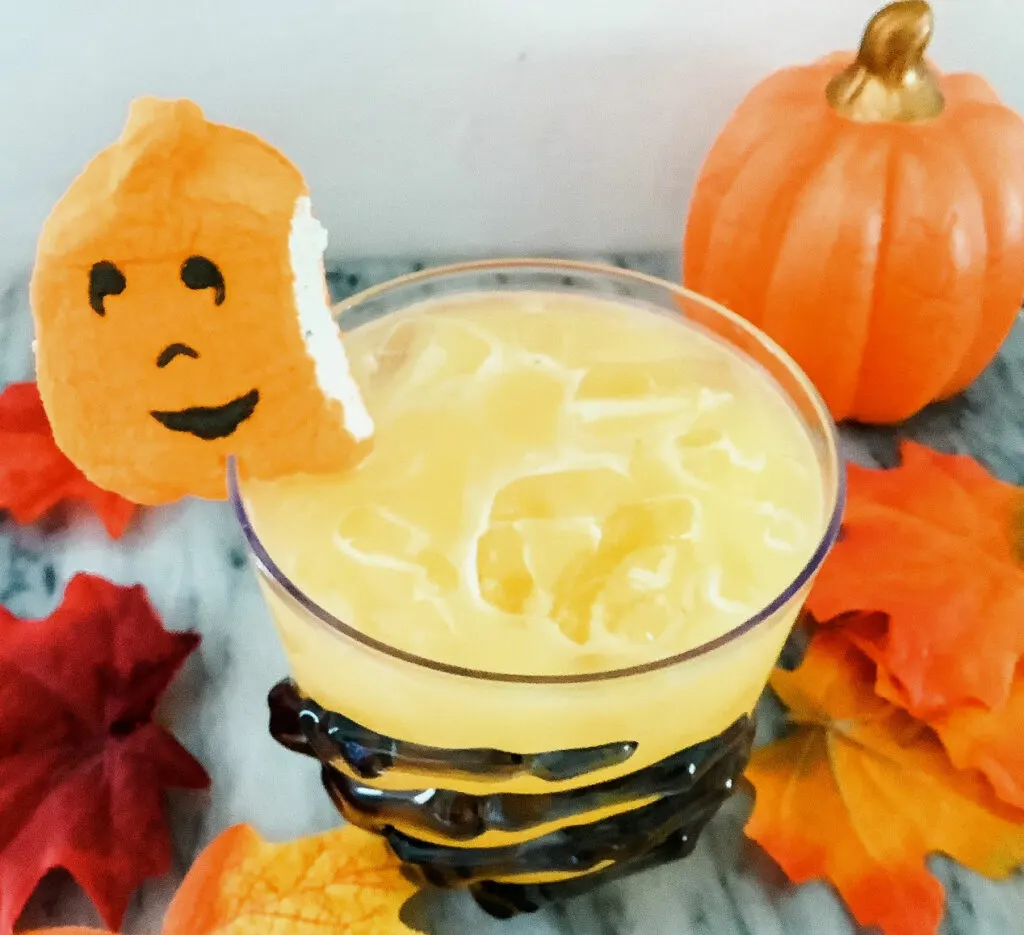 While I love creepy Halloween cocktails in bright green like the Wicked Witch, sometimes you want to be a bit more subtle.
That's where the pumpkin-licious Jack O Lantern cocktail comes in!
Made in just a couple of minutes with just a cocktail shaker, this is an easy cocktail that you can easily make for a crowd.
Read on for the directions and scroll to the bottom of this page for a printable recipe card.
What alcohol is in the Jack O'Lantern Cocktail?
Rum takes pride of place in this fun drink – you can use plain white rum or go crazy and try the Jack O' Blast pumpkin spice rum.
I've tried it with both options and it is great!
Jack O' Lantern Cocktail Ingredients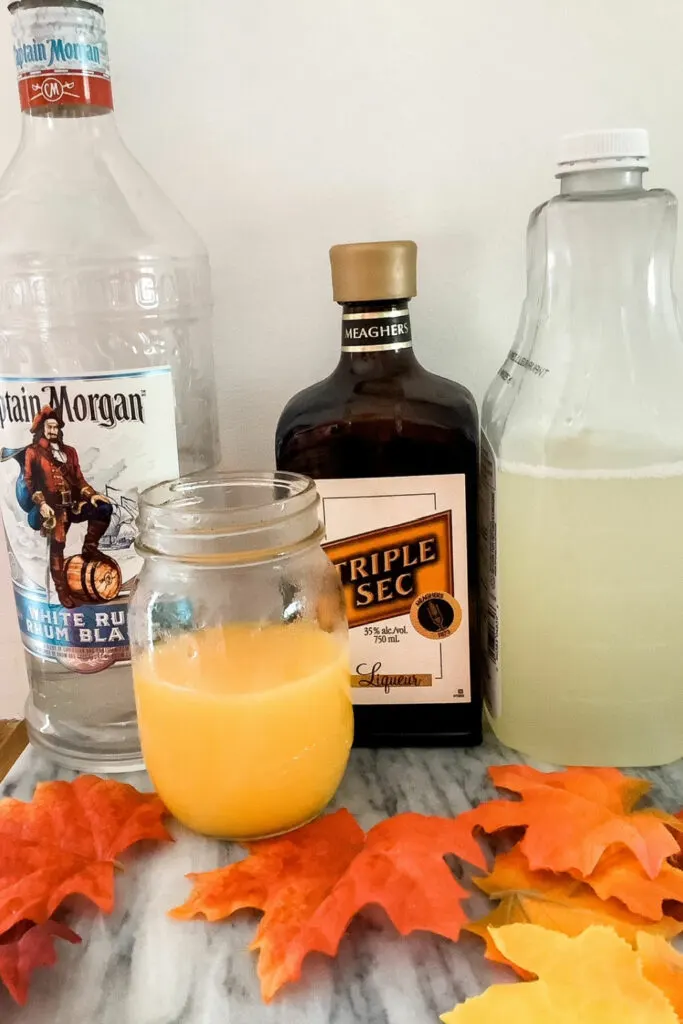 In addition to the rum, you will need Triple Sec for this cocktail.
This is an orange liqueur from France that really enhances the taste of this cocktail.
To make this delicious fall drink, you will need:
White or Pumpkin Spice Rum
Triple Sec
Orange Juice
Lemonade
For the garnish, you use a pumpkin Peeps candy or a sprinkle of cinnamon.
As far as equipment goes, all you need is a cocktail shaker and a strainer.
How To Make The Jack O Lantern Cocktail
This is the perfect Halloween cocktail as it is really easy to make and always a hit.
Here's how to make it:
First of all, fill your cocktail shaker with ice cubes.
Add the all the ingredients to your cocktail shaker. Shake for 12-15 seconds.
Strain into a tumbler with ice.
Garnish with a Pumpkin candy.
How To Serve Your Jack' O Lantern Drink
If you do fancy making it a bit special for your next Halloween party, here are some more ideas: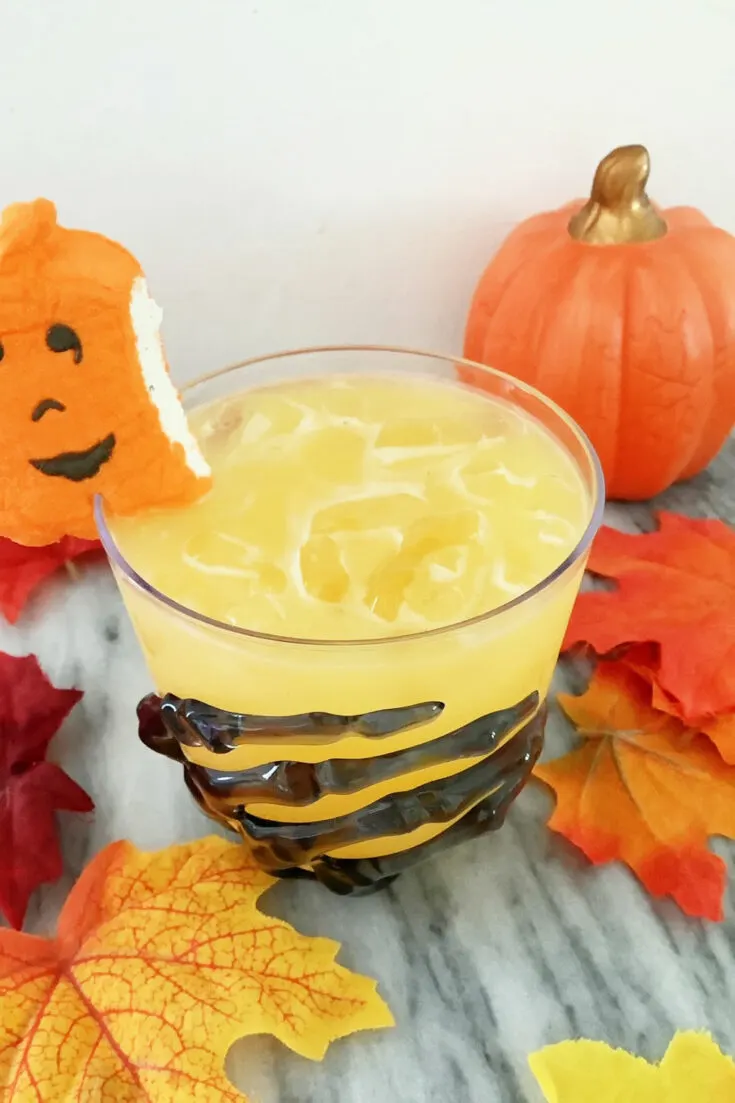 Yield:

1
Jack O' Lantern Cocktail
Creepy and festive, this Jack O' Lantern cocktail is perfect for your next Halloween party!
Ingredients
2 oz Rum
1 oz Triple Sec
2 oz Lemonade
4 oz Orange Juice
Instructions
Put your ingredients in a cocktail shaker with ice
Strain into a glass with fresh ice
Garnish with a pumpkin marshmallow candy