Halloween Test Tube Shots are perfect for any party, and they can be made in advance so you don't have to spend the entire night stirring things together.
All you need is a test tube, various liqueurs and tonic water- you can make up your own flavor combinations or follow the recipes we've included!
The fun about about these recipes is that they create glow in the dark test tube shots if you put them under a black light.
Read on for all the details on making these easy Halloween test tube shots.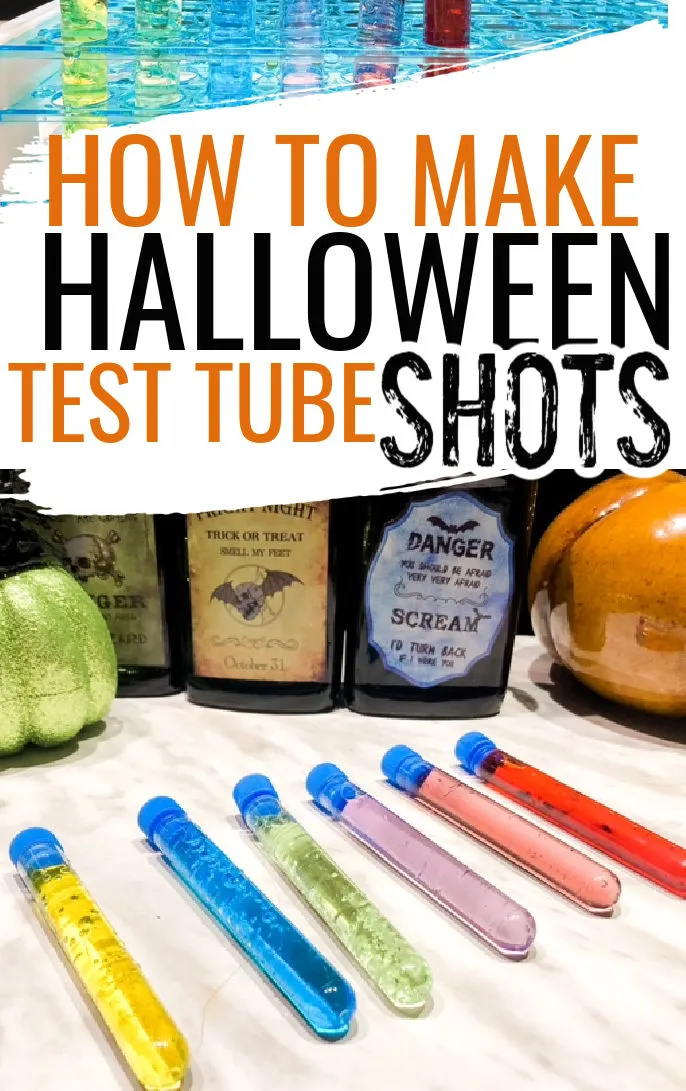 This post contains affiliate links. Please read my Disclosure for more information.
RELATED POSTS
What are test tube shots and why should you serve them at your Halloween party?
Test tube shots are a fun way to get your party started.
They're easy to make, and you can have them ready before guests arrive so you can just pour them into glasses when people arrive.
The first reason you should serve test tube shots is that they're cute.
They look like science project tubes and they'll look really cool on your Halloween decorations or food table.
The second reason you should serve test tube shots is that they're tasty!
All you need is a variety of liqueurs and tonic water, and then the flavor combinations are up to you.
We've included some recipes for ideas, but feel free to experiment with your own!
If you love these test tube shots, make sure to also check out my Easy Vodka Test Tube Shots that also work great for Halloween.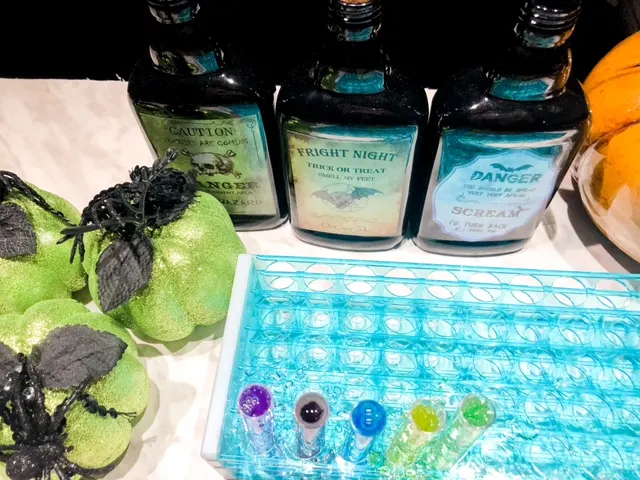 Why you'll love these easy Halloween Test Tube Shots
These easy to make, impressive drinks are:
Tart and refreshing
Perfect for Halloween
Great for a mad scientist themed party
Easy to make
Impressive
What are in these Halloween test tube shots?
You only need two simple ingredients to make each test tube shot. Have a look in your liqueur cabinet and see what kinds of colors and flavors you already have in stock.
For my rainbow colored Halloween test tube shots I used the following liqueurs:
Creme de Banane (yellow)
Blue Curacao (Blue)
Cherry liqueur (red)
Creme de Menthe (green)
I also made some lilac colored test tube shots using Empress Gin which is a light purple color. You can really use whatever you have on hand and even mix colors to create new hues.
In addition to the liqueurs, you will need plain old tonic water as your mixer.
The tonic water is the secret ingredient to making your glow in the dark test tube shots that look so impressive at any party.
What tools do I need to make Halloween Test Tube Shots?
You really don't need much in order to make these shots. First, you will need to get some test tubes if you don't already have them.
I got mine from Amazon and they are great because they come with a stand which makes them much easier to work with.
Next, you need either bottle pourers or a funnel so that you don't make a huge mess when you make these shots.
How To Make Halloween Test Tube Shots
There is really nothing easier than these test tube shots.
Assuming you have all your ingredients ready, all you need to do is line up your shot glasses and put pouring spouts on your liqueur bottles.
Now, fill each test tube about half way with the liqueur or your choice. Then top with tonic water. You will see it fizzes up and makes it look like some crazy chemistry experiment that went wrong.
You can put the stoppers back on your test tubes for easy transportation but keep an eye on them as the carbonation from the tonic can cause them to pop right off.
How To Use Leftover Test Tubes At Halloween
Test tube shots are a great way to decorate. You can fill them with candy and use them for place settings or centerpieces, or you can fill them with food and serve them on the food table.
These Halloween test tube shots are fun, easy to make and great for any party. They're a tasty way to get your guests excited about the night's festivities – whether you use them as decorations or food!
Easy Halloween Test Tube Shot Ideas
With Halloween just around the corner, it's time to start thinking about your costume and what you can do for a party.
If you're looking for something fun to serve at your next gathering, consider these easy test tube shot recipes!
They are sure to be a hit with guests at your Halloween party.
Yield:

5-50 test tubes
Halloween Test Tube Shots
Halloween is coming up and the stores are filled with all sorts of fun decorations. It's time to get creative in the kitchen!
Try some test tube shots for your next Halloween party.
Test tube shots are a great way to mix things up at your Halloween bash,
Ingredients
Various Liqueurs such as Creme de Menthe, Creme de Banane and Blue Curacao
Tonic Water
Instructions
Fill your test tube about 2/3 of the way with the liqueur of your choice
Top with tonic water
More Creepy Halloween Recipes
Alien Brain Hemorrhage Shot Recipe
The Frankenstein Drink – Green Halloween Cocktail