The Wicked Witch may look mean and spooky but it is really a delicious tasting cocktail that is perfect for your next celebration.
This Wicked Witch cocktail is a frightful green color, just like bubbling brew in a witch's cauldron.
If you are a fan of fruity drinks, then this drink is a spooky cocktail that will get you in the Halloween spirit!
It is vibrant, creepy and it tastes great! What more can you ask of a Halloween beverage?
With just a few simple ingredients, this is one potion that is sure to be a hit.
This post contains affiliate links. Please read my Disclosure for more information.
MORE HALLOWEEN COCKTAILS
Spiked Halloween Milkshake Recipe
Wicked Witch Cocktail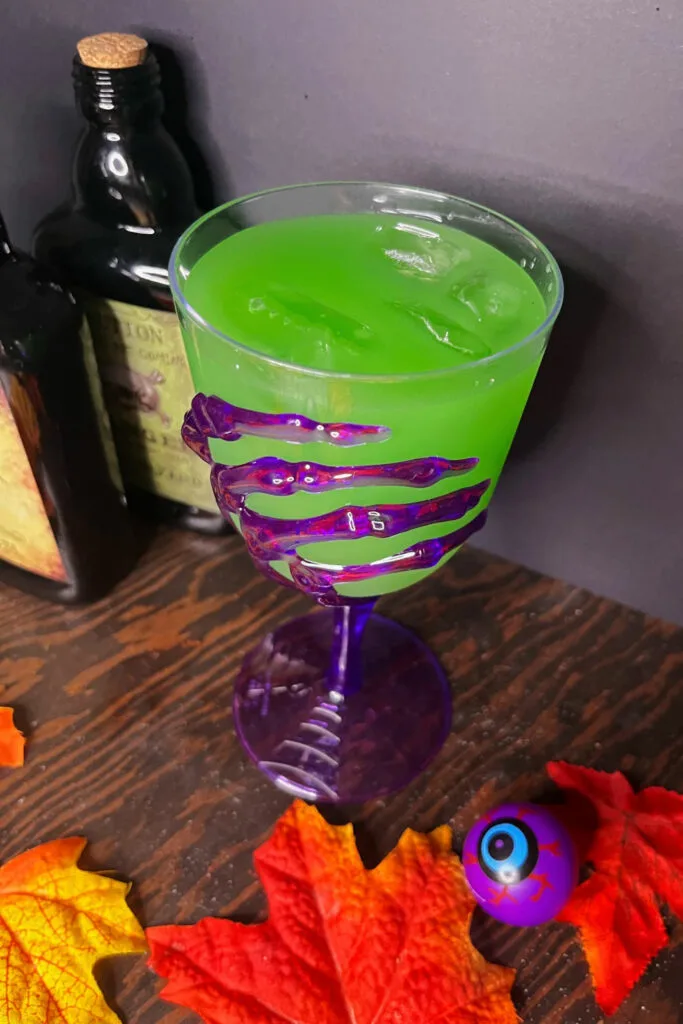 The bright green color is what makes this cocktail perfect for Halloween. Pair it with a fun glass and some spooky garnishes and you have the perfect drink to celebrate spooky season.
Made in just a couple of minutes with a cocktail shaker, this is one drink that you are sure to love!
Read on for the directions and scroll to the bottom of this page for a printable recipe card.
What alcohol is in the Wicked Witch?
This is a drink that packs a punch with 3 different liquors. I know that might sound Halloween-level scary in itself but don't worry, the amounts make it a pleasant drink for very Happy Halloween party.
This drink works best with a good vodka although if that isn't your thing, you can use white rum instead.
The other two liqueurs are Midori or melon liqueur and Blue Curacao.
Wicked Witch Drink Ingredients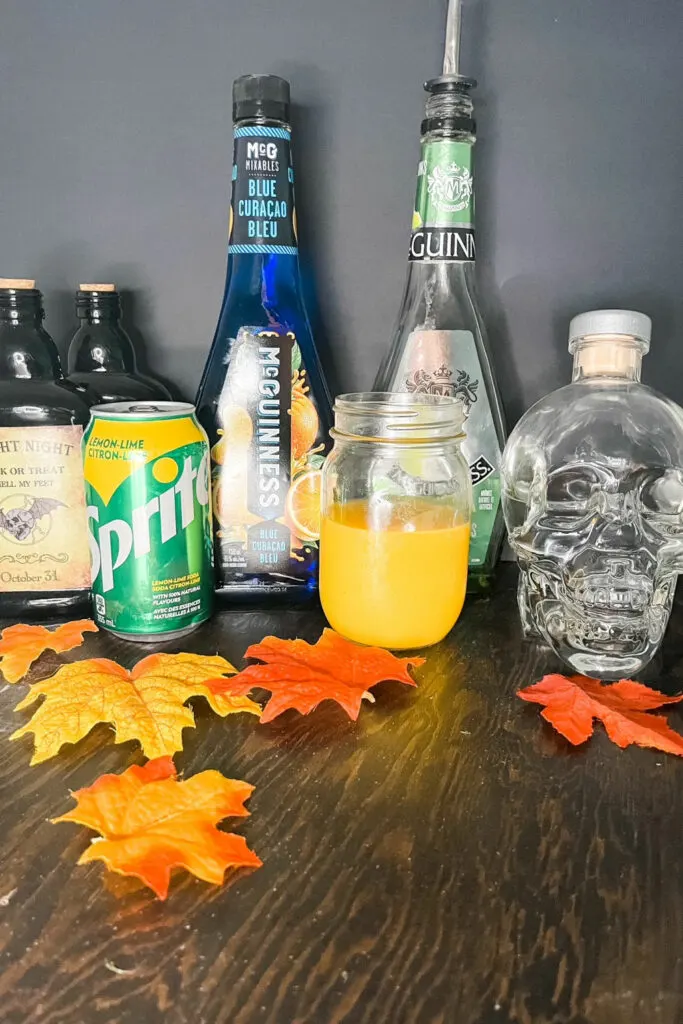 The ingredients for this delicious cocktail are quite simple.
Here's what you will need:
Vodka
Blue Curacao
Midori or melon Liqueur
Lemon Lime Soda
Orange Juice
For the garnish, you use anything you like such as gummy eyeballs, sour worms or plastic spiders.
As far as equipment goes, you just need a cocktail shaker and a strainer.
How To Make The Wicked Witch Cocktail
This is the perfect Halloween cocktail as it is really easy to make and always a hit.
Here's how to make it:
First of all, fill your cocktail shaker with ice cubes.
Add the vodka, Midori, Blue Curacao and orange juice to your shaker.
Shake for 12-15 seconds.
Strain into a fun glass with no ice.
Top with lemon-lime soda.
Garnish with Halloween decorations or candy.
How To Garnish The Wicked Witch Cocktail
If you want to make this drink look extra spooky for your next Halloween party, here are some ideas I love:
Add candy eyeballs to your drink
Plastic spiders can also make it really festive
Another fun adornment are some gummy worms hanging off the side of your glass
Or add all 3!
Yield:

1
Wicked Witch Cocktail Recipe
This deliciously wicked cocktail is sure to be the hit of your next Halloween party!
With a bright green potion color, this is one drink that everyone will love.
Ingredients
1.5 oz vodka
1 oz Midori or melon liqueur
1 oz Blue Curacao
5 Oz Orange Juice
2 Oz Lemon Lime soda
Instructions
Add the vodka, Blue Curacao, Midori and orange juice to a cocktail shaker with ice.
Shake for 12 seconds then strain into a glass with ice
Top with lemon lime soda
Garnish with gummy works, eye balls and a cherry