Are you looking for a fun and easy party appetizer that is sure to please? Try lime margarita jello shots!
These little shots are perfect for any occasion, whether you're having a casual drink with friends or an extravagant party with family and friends.
They're simple to make, require no baking, and can be put together in just minutes.
This post may contain affiliate links. Please read my Disclosure for more information
MORE FUN JELLO SHOT RECIPES
Jack Skellington Jello Shots (Nightmare Before Christmas Shots)
Watermelon Jolly Rancher Jello Shots
Lime Margarita Jello Shots
If you're looking for a refreshing way to end your day, look no further than lime margarita jello shots!
These delicious shots are perfect for any occasion and can be made in just minutes.
Plus they can be made ahead to save you time if you are having guests over.
Whether you're entertaining a crowd or just want to relax after a long day, lime margarita jello shots are the perfect choice.
As you probably know, a margarita is a popular cocktail made with tequila, triple sec, and lime juice.
It is usually served in a salt-rimmed glass, and can be either shaken or blended.
I've taken this recipe to the next level by making it into a jello shot!
Lime Margarita Jello Shot Ingredients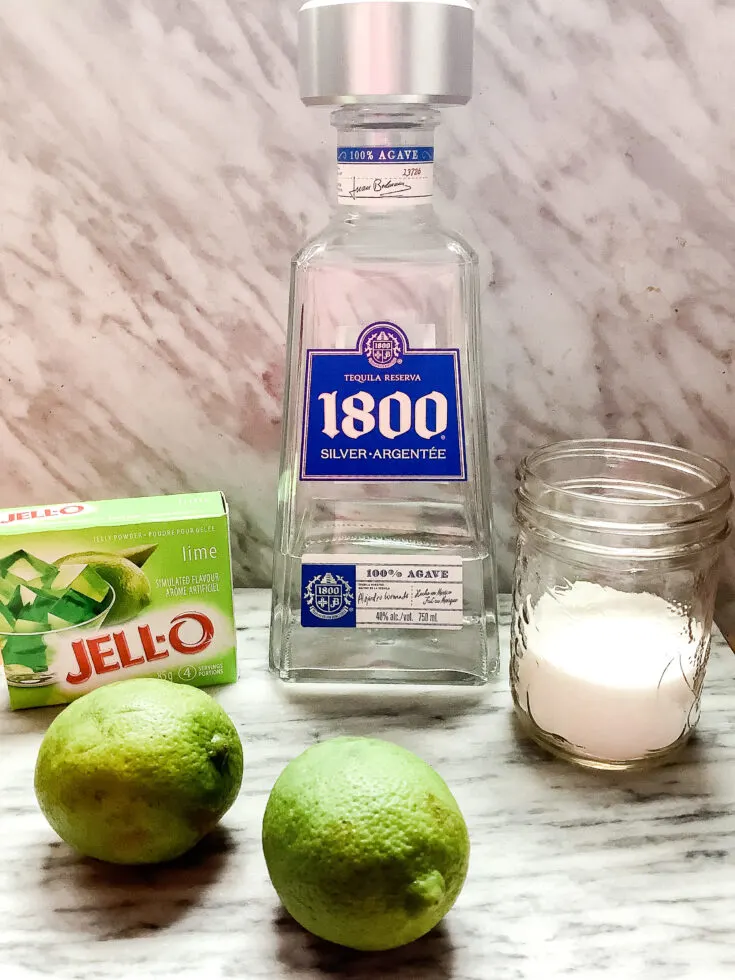 This recipe makes 12 jello shots so it is perfect for a crowd. If you need to make more than that, just double or triple the recipe as needed.
You'll need:
1 package of Lime Jello

1 Cup boiling water
2/3 Cup Cold Water
1/3 Cup Tequila Blanco

1/4 Cup Salt

1 Fresh Lime
Lime Juice
I made my Jello shots in plastic shot cups with lids but you can also make them in the larger 5.5 oz jello cups too.
How To Make Lime Margarita Jello Shots
A margarita is a classic drink that can be enjoyed on any occasion. turning this popular drink into a jello shot is a great way to add some fun and flair to your party.
By following these simple tips, you can make perfect margarita jello shots that will have your guests asking for more.
How To Create A Rim On The Shot Cups
One of the really fun parts about these jello shots are the salt rim around the jello pot.
Regular margaritas always have a salt rim on the glass and I wanted to recreate that for these jello shots.
All you need to do to make the rim is to put the lime juice in a shallow bowl and then the salt in another shallow dish.
One at a time, dip the cups into the lime juice and then into the salt. Set aside to dry before pouring the jello into the cups.
Another way to make the rim is to rub a slice of lime along the edge of the cup.
To Make The Margarita Jello Shots
Step 1
Gather your ingredients and boil water in a kettle or on the stove.
Step 2
Add the contents of the Jello package to one cup of boiling water and stir until the jello powder is dissolved.
Step 3
Add tequila and cold water and stir
Step 4
Pour into shot cups and refrigerate for 2-3 hours.
Step 5
Top with a slice of lime
Tips For Making The Perfect Jello Shots
1.Using plastic jello cups is the easiest way to make jello shots. You can find them at the dollar store and they are normally called dressing containers.
If you don't want to use single -use plastic, you can also use small glass containers and small spoons too.
2. If you don't have lime jello, you can also use plain gelatin and lime juice. You likely won't get the bright green color this way though.
3. If you want to make these lime margarita shots for the whole family, you can omit the tequila.
Yield:

12 shots
Lime Margarita Jello Shots
Additional Time:
3 minutes
These delicious Jello shots are so easy to make and are perfect for a summer party. You can make them ahead and put them in the fridge for up to 24 hours before serving.
Ingredients
3 oz package of LimeJello
1 Cup Hot Water
1/3 Cup Plain Vodka
2/3 Cup Cold Water
1 Fresh Lime
1/4 Cup Salt
Instructions
Boil the water and add the contents of the Jello package and stir for 2 minutes, until the gelatin is dissolved.
Add tequila and cold water and stir
Pour into shot cups and refrigerate for 2-3 hours.
Top with a slice of lime when the jello has set.
Notes
You can use rum or vodka instead of tequila if you prefer
You can make these jello shots a day ahead and keep them in the fridge before serving.
Lime Margarita Jello Shots FAQS
Does tequila go in Jello shots?
Most of use think of vodka as the go-to alcohol to add to jello shots but tequila is a really great option.
You can easily use vodka or tequila in your jello shots in the same proportions and you will be able to create all different kinds of shots to serve to your guests.
What happens if I put too much Tequila in my jello shots?
You need to watch the ratios of your jello shots as too much alcohol will prevent the jello from setting properly.
Variations on The Lime Margarita Jello Shots
You can switch up this recipe easily by using different flavors of jello. Strawberry margaritas, pineapple or cherry are all great options.
You can also use fruit juice instead of cold water if you want to try an exotic juice and don't have the right jello flavors.
Another option is to make layered shots like these candy cane jello shots that are peppermint flavor.
More Fun Cocktail Recipes!
Do you have a favorite summer drink? I'd love to hear about it in the comments below!
If you loved this easy Lime margarita jello recipe, make sure you check out some of other favorite cocktails
Pineapple Coconut Rum Slush With Strawberries This is a delicious summer cocktail that is also easy to make
Frozen Watermelon Mint Margarita If you love mint try this cocktail
Malibu Rum And Blue Curacao Cocktail (Rainbow Dream) If you love rum don't forget to try this rum based tropical drink. It will take you to paradise
In the meantime, make sure you subscribe below to get more fun cocktail recipes.