If you're looking for a fun and festive shot to serve at your Christmas party this year, look no further than candy cane jello shots.
They are easy to make, delicious, and sure to get everyone in the holiday spirit!
Make them ahead of time so you can spend less time slaving away in the kitchen and more time mingling with guests.
You'll have a great recipe that's perfect for any Christmas-themed event this holiday season.
This post contains affiliate links. Please read my Disclosure for more information
RELATED POSTS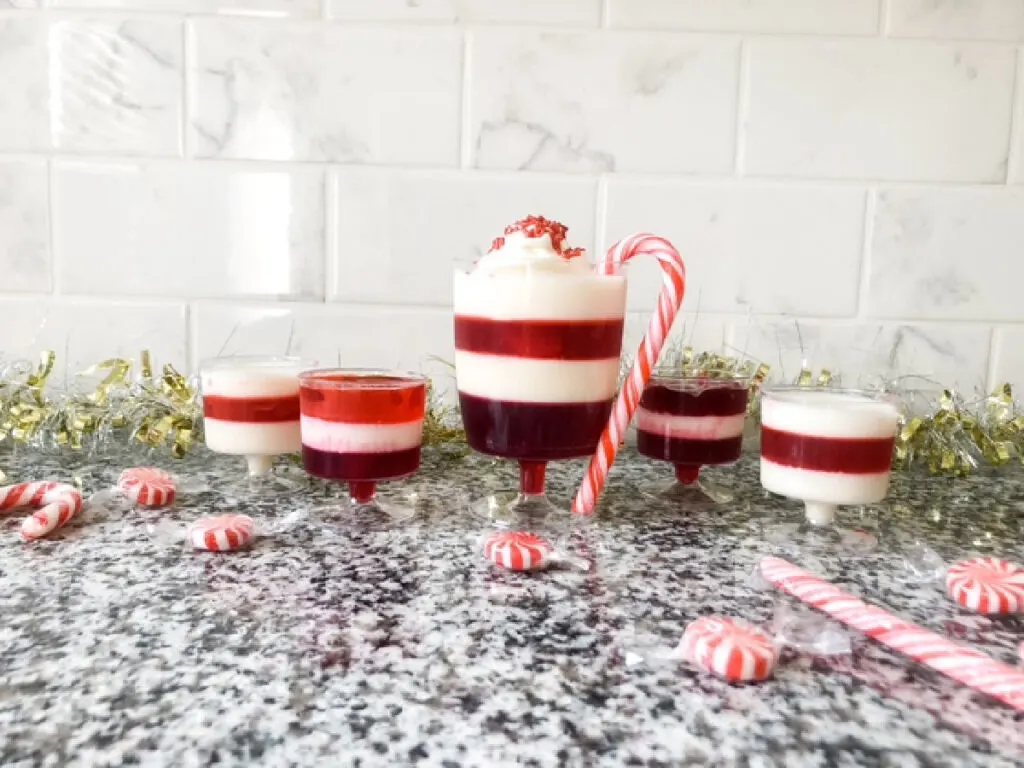 Candy Cane Jello shots are a fun and festive way to kick off your holiday party.
They're easy to make, taste delicious, look gorgeous on the table, and everyone will love them!
Candy canes are, of course, associated with Christmas so these tasty treats are perfect for any December gathering.
They actually make a fantastic centrepiece for your holiday table and its easy to make a non-alcoholic version so everyone can enjoy a festive red and white jello shot.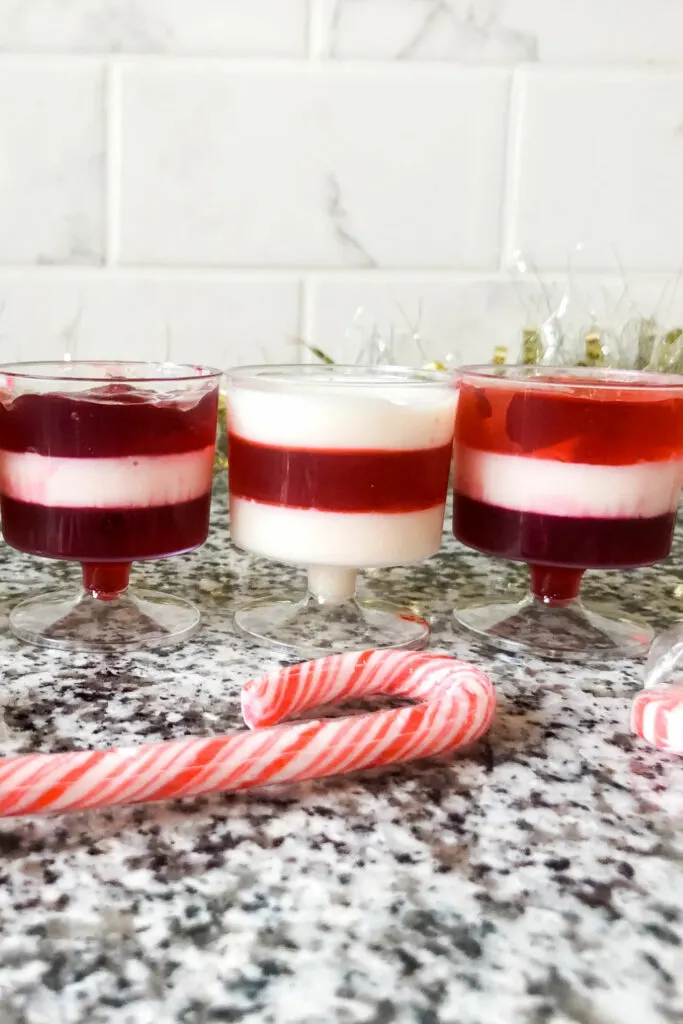 Not only do these peppermint jello shots have an amazing flavor but their vibrant red and white color makes them eye-catching as well.
These shots also look great in glasses or even shot cups which means you get more out of your presentation when serving guests.
Making candy cane jello shots is pretty simple too which makes them easy to whip up if you are in a rush and need an impressive holiday drink to wow your guests.
These peppermint jello shots are:
Impressive
Festive
Cute
Tasty
Easy to make
How To Make Candy Cane Jello Shots
If you want an easy make ahead shot recipe, you can't get better than jello shots.
Once the mainstay of frat parties, this scaled up version are just as easy to make.
Back in the day, most of us thought of Jello shots as kind of tacky and more appropriate with a game of beer pong than a sophisticated holiday gathering.
However, times have changed and now jello shots are all the rage.
In fact, one of the most popular are my Pink Champagne Jello Shots that are glamorous and classy.
These candy cane Jello shots are not your classic college shot recipe either.
First of all, while they definitely contain alcohol (vodka), they are all about enjoying holiday flavours not getting as drunk as possible quickly.
These candy cane jello shots take the traditional shot with vodka and jello to the next level.
They look amazing and would be the perfect addition to any holiday table.
The layered red and white look that gives them their name is easier to make than you might expect.
What Is in the Candy Cane Jello Shots?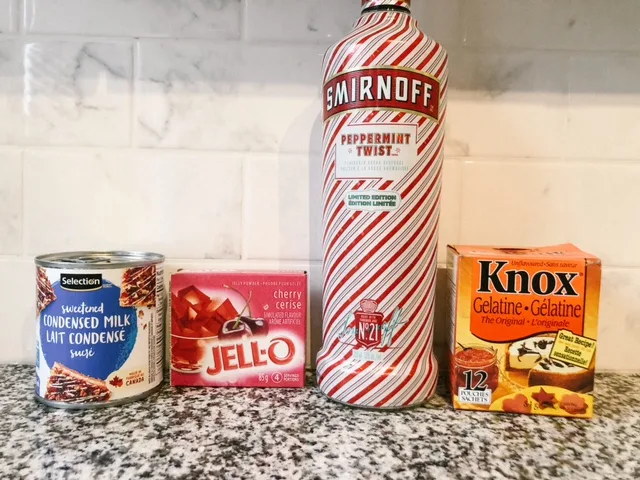 To make these jello shots you just need the following ingredients:
Vodka (Peppermint Vodka is ideal but you can use the plain version too (see below for both versions)
Plain Gelatin
Red Jello in Cherry or Strawberry flavor – I used Cherry.
Sweetened condensed milk
What Alcohol Do These Candy Cane Jello Shots Contain?
I used peppermint infused vodka for my candy cane shots.
These is the easiest way to get the peppermint flavor and the alcohol in one shot – literally.
You can buy peppermint vodka from the liquor store around the holidays but its actually easy to make you own.
All you need are some candy canes and plain vodka. Candy cane infused vodka also makes an amazing holiday gift.
You can read my step by step tutorial to make your own homemade peppermint vodka here.
If you don't have peppermint vodka and you don't feel like making your own, you can use plain vodka and peppermint schnapps.
Don't have peppermint schnapps? Use peppermint essence for the minty flavor in your candy cane jello and use plain vodka for the alcohol.
Candy Cane Jello Shot Recipe
The layered look is what really makes these Christmas Jello shots look impressive but it fact its super easy!
Now I will say that these shots take a bit more time to make than regular Jello shots because you need to wait for each layer to chill before you make the next one.
The total time to make these shots is about an hour and a half with around 10 minutes of active work and the rest of time waiting for your layers to chill.
It doesn't really matter which layer you start with, in fact, you can see in the photos that I started with white for some of my shots and red with others so you can see what it looks like.
How to make the Red Layer
This Jello only requires two layers – red and white.
The red layer is really simple to make and its the layer that contains the alcohol if you are using peppermint vodka.
To make the red layer, you need red Jello (Cherry or Strawberry flavor – as long as it is red), water, and vodka.
Pour your Jello powder into a glass measuring cup (this makes it so much easier to pour into shot glasses)
Boil your water in a kettle or on the stovetop. Pour 1 cup of boiling water over jello and whisk until all the granules are completely dissolved.
Add vodka and cold water,1/2 cup of water and 1/4 cup of vodka into your measuring cup. Mix well to combine everything together.
Pour the mixture into plastic shot cups and chill in the fridge for about 20 minutes until it is set. You can test it out by tipping one upside down and seeing if the Jello is still liquid.
NOTE: I have used half the vodka in this layer as you will need to make the red layer recipe twice in order to create the second red layer.
Even if you have some red left over the first time, it will likely set before you are ready to use it.
Once the red layer is set, you can make the white Jello layer.
White Jello Layer
The white layer is much easier to manage because it does not set as quickly at room temperature.
You will use plain, unflavored gelatin, water and sweetened condensed milk plus peppermint schnapps if desired.
Add 1 cup of boiling water to a glass jug or bowl
Sprinkle with the gelatin and allow to soak for a minute or two.
Whisk until the gelatin is dissolved
Mix in the sweetened condensed milk
Stir in peppermint schnapps or peppermint essence if desired.
Cool the mixture on the counter until you are ready to pour over the red layer.
If it is not cooled completely, it will mix with the red layer so make sure it is well cooled.
How to Create the Candy Cane Layers
Once the white mixture is cool, take the red jello shots out of the fridge and slowly pour the white layer on top.
I used a soup ladle for this step
Then place your shots back in the fridge and wait until the white layer cools before adding another red layer.
You will have to make up another batch of red Jello for the second layers as the first batch will have set.
Keep alternating layers until you have enough.
If your white Jello thickens while it is on the counter, add in a splash of boiling water to thin it out.
Once you are done making your layers, just pop the whole thing in the fridge for a few hours before serving.
How To Serve Your Candy Cane Jello Shots
You can use plastic shot glasses for your jello shots. Basically anything that would work for a mousse or small treat will work too.
As you can see in the pictures, I experimented with a few different sizes so you can see how the shot works.
I do not recommend using glass shot glasses as it will be hard to get the jello shot out of the glass.
Another idea is to make your candy candy jelly shots shots in a flat baking pan like a loaf pan.
You can then cut and slice your jello shots into squares and serve on a platter with toothpicks like these cute snowflake ones.
Add a dollop of whipped cream and some festive sprinkles on your shots.
You can also add a candy cane on the side too.
Candy Cane Jello Shots FAQ
Can I get drunk from these Peppermint Jello Jello shots?
Jello shots are often misleading because they contain less alcohol than your average shot.
These candy cane jello shots are not too high in alcohol although if you use peppermint schnapps and vodka then there is a bit more.
Half a cup of vodka makes a whole batch of shots (10-15 depending on the size of your cups) so there is not a whole lot of alcohol involved.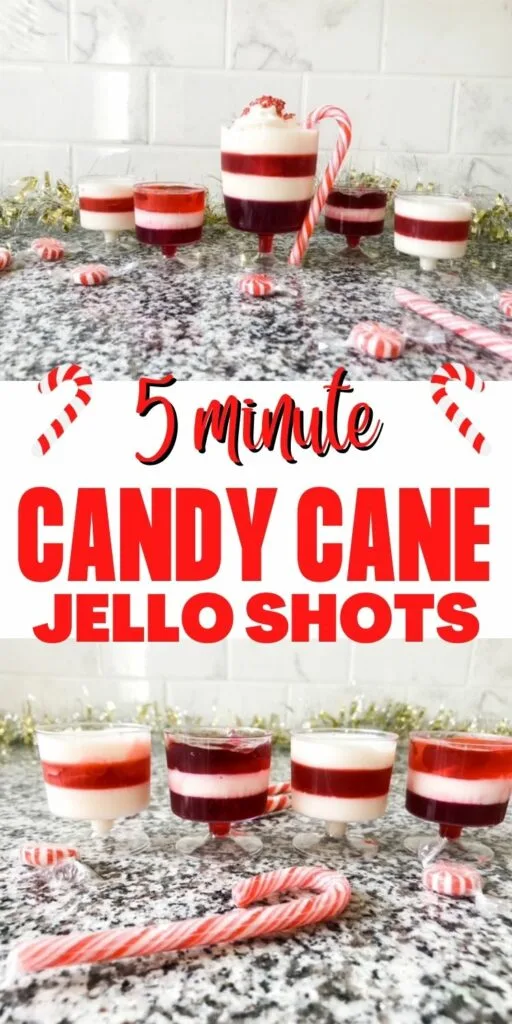 What happens if you put too much alcohol in Jello shots?
Wondering if you can double the vodka in the shots to make them stronger?
Unfortunately, if you overdo the alcohol, your Jello might not set so it is best to keep the ratios listed in the recipe.
Candy Cane Jello Shots
Christmas parties are a great time to get together with friends and family.
They're easy to make and really impressive to look at, so why not give it a try?
Yield:

10-15 shots
Candy Cane Jello Shots
Additional Time:
20 minutes
Total Time:
1 hour
25 minutes
These festive red and white shots are perfect for the holidays! Impressive and easy to make, they are sure to get you in the Christmas mood.
Ingredients
2 Boxes of Red Jello (Cherry Flavor or other)
1 cup Peppermint Vodka
2 Packets Plain Gelatin
1 Small Can of Sweetened Condensed Milk
Water (boiling and cold)
OPTIONAL: 1/4 cup Peppermint Schnapps or Peppermint Essence
Instructions
In a glass bowl or measuring jug, , mix together 1 box cherry Jello and 1 cup of boiling water. according to the package directions. Mix thoroughly.
Stir in in ¼ cup vodka. and 1/2 cup of cold water.
Pour into shot glasses to create the first layer
Place in the refrigerator to set, about 20 minutes.
To make the white layer: add 1 cup boiling water to a glass bowl and sprinkle in the plain Gelatin packets. Leave for a moment to mix and then stir.
Mix in the sweetened condensed milk
Add in the peppermint schnapps or peppermint essence if you did not use peppermint Vodka.
Leave the white layer to cool before pouring over the red Jello layers to create the candy cane effect.
Place in the refrigerator to set, about 20 minutes.
Repeat the steps to make the red layer again and then add another layer once the white layer has set in the fridge.
Allow the second red layer to set for 20 minutes then add another white layer.
Continue the process until the shot glasses are full.
.Chill in the fridge until you are ready to serve.
Top with whipped cream and sprinkles and garnish with a candy cane.
Notes
You will need to make the red Jello for each layer that you require as it will set too quickly to save. You should only need to make the white layer one time then leave on the counter until you use it.
If the white layer gets too thick, just add some boiling water and stir.
To make a non-alcoholic version, simply omit the vodka and use peppermint essence in the white layer.
You can make your own homemade peppermint Vodka using this recipe.
More Fun Shot Recipes