Who doesn't love a classic margarita? And what better way to enjoy one than with a cucumber twist? This refreshing Cucumber Margarita With Tajin is perfect for summertime.
This drink is refreshing and flavorful, perfect for enjoying on a hot day. Plus, it's easy to make and only requires a few simple ingredients. So gather your supplies and get ready to mix up some margaritas!
This post contain affiliate links. Please read my Disclosure for more information
MORE GREAT MARGARITAS
Frozen Watermelon Mint Margarita (Quick & Easy)
Easy Coconut Rum and Tequila Margarita
What Is In This Spicy Cucumber Margarita?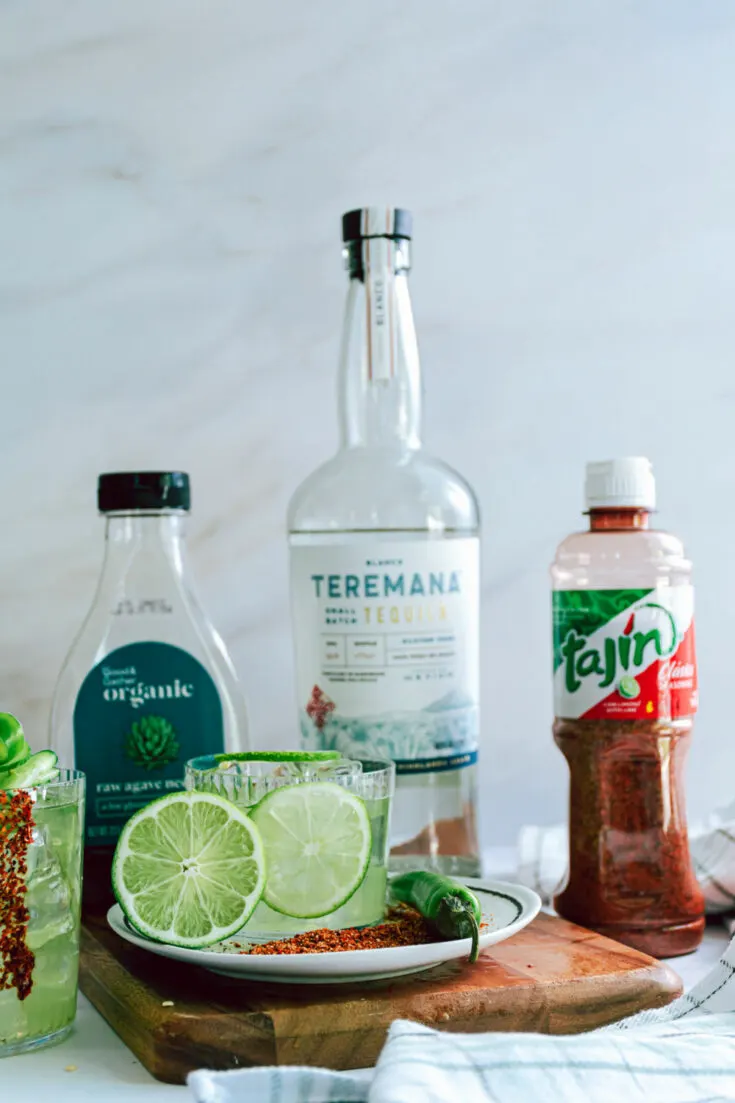 It's no secret that margaritas are a classic drink, enjoyed by people all over the world. But what makes a margarita so special? And what's in one?
A typical margarita contains tequila, lime juice, and orange liqueur. It can also include triple sec, agave nectar or simple syrup, and a salt rimmed glass. The perfect margarita is made with good quality ingredients and mixed to perfection.
There are many variations of the classic margarita, but all include tequila and lime as the main ingredients.
This spicy cucumber margarita adds in cucumber (of course) for a refreshing, thirst-quenching taste plus tajin.
Adding a little tajin to your cucumber margarita will give it a smoky, savory flavor that will rock your world. Tajin is a chili pepper sauce made from ground chilies, garlic, and salt. It's a great way to add some extra heat to any cocktail or dish.
Here are the main ingredients for your Cucumber Margarita With Tajin:
Serrano Pepper
Adding Serrano to a cocktail is a great way to add spice and flavor. The Serrano pepper is a green pepper that is known for its spicy heat. It can add a lot of flavor to cocktails, making them more interesting and enjoyable.
Cucumber
Cucumbers are a popular ingredient in drinks because they add a refreshing flavor and texture. They're also a good source of antioxidants, vitamins, and minerals, making them a healthy addition to any drink. They also help cool down the heat of the Serrano pepper
Lime Juice
The lime juice helps balance out the flavors in the drink and also adds a tartness that is complementary to the spicy heat from the serrano pepper. It helps to brighten up the flavor of the drink and make it more refreshing.
Tequila
Adding tequila to a cocktail is a great way to add flavor and spice. Tequila is a liquor that is made from the agave plant. It has a smooth, mellow flavor that is perfect for cocktails. It also has a kick of alcohol that can add some excitement to any drink.
Agave Nectar
The agave nectar adds a sweetness and smoothness to the drink. It helps to balance out the flavors and make the drink more enjoyable. Additionally, it helps to mellow out the kick of alcohol that comes from the tequila.
Ice
Adding ice to a margarita is a great way to cool it down and make it more refreshing. The ice helps to dilute the spiciness of the drink, making it less strong and more enjoyable. It also helps to keep the drink cold and refreshing.
If you're looking for a spicy drink that will help you cool down on a hot day, then this Spicy Cucumber Margarita recipe is perfect for you!
Tajin
Tajin is a spice that is made from chili peppers, salt, and lime. It has a unique flavor that is perfect for adding to margaritas or other cocktails. It can help to add some spice and excitement to any margarita.
Spicy Cucumber Margarita Recipe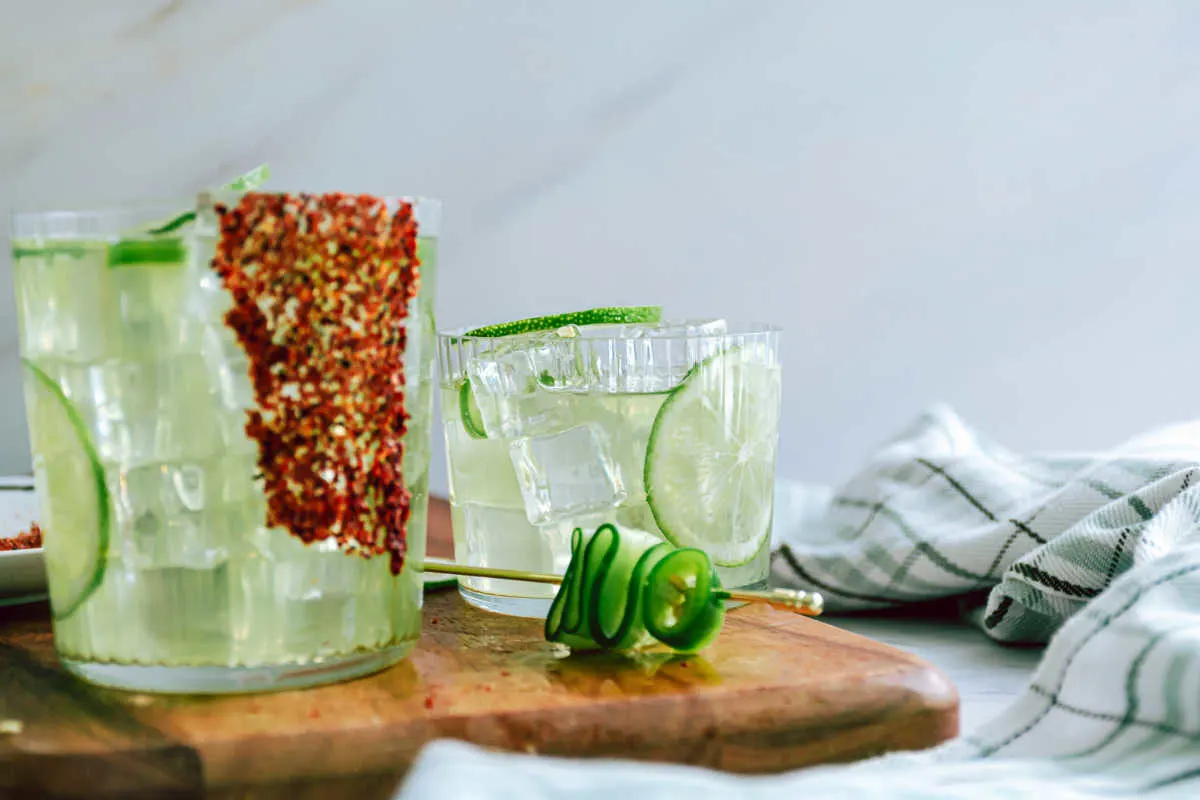 There are a few steps to making this margarita, especially if you want to add the Tajin rim and a beautiful cucumber ribbon for garnish.
How To Make The Tajin Rim
Pour the Tajin into a shallow saucer
Take a lime wedge and drag it along the side of your glass
Roll the glass in Tajin and so it sticks to the Tajin.
Set aside for a few minutes before you pour the margarita into the class
How To Make The Spicy Cucumber Margarita
In a cocktail shaker add Serrano pepper, cucumber, lime juice and muddle for about 45 seconds
Add the tequila, Agave Syrup and 1 cup of ice into the cocktail shaker. Shake vigorously for 30 seconds
In a glass of your choice add the remainder of the ice
Strain and pour the mixture into the glass and add your garnish.
How To Garnish Your Cucumber Margarita With Tajin
My favorite way to dress this cucumber margarita is with a pretty cucumber ribbon. They are really easy to make and look so impressive.
To make the ribbons:
Clean and cut the cucumber using a mandolin or vegetable peeler

Slice thinly and skewer a ribbon onto a toothpick
Variation of The Cucumber Margarita With Tajin
Frozen Cucumber Margarita
If you would like to make this Spicy Cucumber Margarita frozen, you'll need a blender.
Add all of the ingredients into the blender and blend until smooth.
Pour into a glass and enjoy! If you are looking for a frosty treat, this frozen Spicy Cucumber Margarita will hit the spot!
Spicy Cucumber Margarita With Tajin FAQS
Can I make this Cucumber Margarita ahead of time?
Yes I would recommend not adding the Serrano Pepper or Ice until you are serving. Remember that the cucumbers will release water and you don't want a watered down drink. The Spicy Cucumber Margarita will last up to 12 hours in the fridge.
Why is my Margarita cloudy?
When shaking the ingredients together, it creates tiny air bubbles that make your drink cloudy. If you do not mind this, then go ahead and enjoy! If you would like to get rid of the bubbles, simply strain your drink into another glass before serving.
Do I have to use Tequila Blanco?
No, I prefer Tequila Blanco because it is a clear spirit that doesn't have any oak barrel aging.
This gives it a clean, smooth flavor that is perfect for cocktails.
If you do not have Tequila Blanco, feel free to use another type of tequila such as Reposado or Anejo. These types of tequila are aged in oak barrels, which will give your drink a different flavor profile.
What if I don't like spicy cocktails?
If you don't like spicy cocktails, you can omit the Serrano Pepper from this recipe. You can also add more agave nectar to make the drink sweeter. This Spicy Cucumber Margarita will still be delicious without the heat!
What if I can't find Tajin?
If you can't find Tajin, you can omit it from the recipe or use another type of chili powder such as cayenne pepper. Another option is to replace the Tajjin with a coarse sea salt.
Honestly, who doesn't love a good Margarita on a hot day? This Spicy Cucumber Margarita recipe is perfect for cooling down and adding a little spice to your day. Made with Serrano pepper, cucumber, and lime juice, this drink has a unique refreshing flavor. Don't forget to tag us if you make this cocktail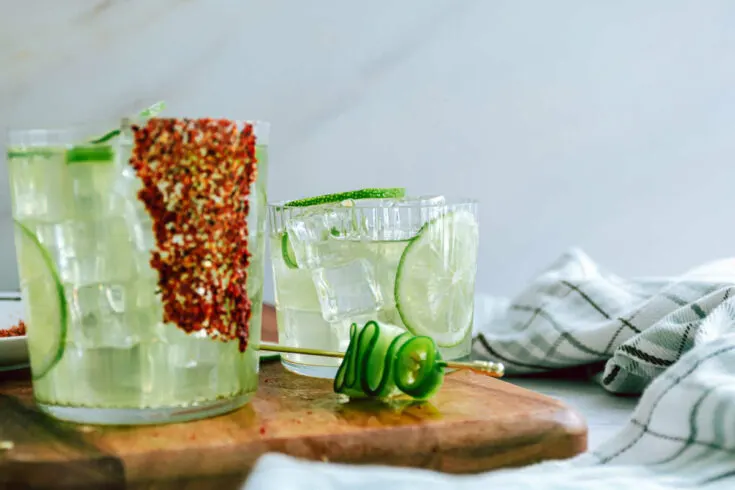 Yield:

1
Spicy Cucucmber Margarita With Tajin
This delicious spicy cucumber margarita is the perfect thing for cooling you off on a hot day. It uses Serrano pepper and Tajin to create a spicy twist on the classic margarita.
Ingredients
2.5 oz Tequila Blanco
3 slices of Serrano Chili Pepper (If you would like this more spicy, you can add additional slices)
1 chopped cucumber
1/2 oz lime juice
1 oz of Agave Nectar (you can add more if you prefer the drink sweeter)
2 cups of ice
Instructions
Combine the ingredients with ice in a cocktail shaker. Shake for around 15 seconds,
Add fresh ice to your margarita glass and strain the mixture in
Serve immediately
Notes
To rim your margarita class, dip the rim in lime juice then into the Tajin
Set aside for a few minutes before pouring your drink.