Ready for a fun St Patrick's Day shot recipe? The Lucky Leprechaun Shot is easy to make and full of Irish fun!
If you want to celebrate the holiday with an emerald green drink that isn't the typically green beer than you will love the Lucky Leprechaun!
With only two ingredients, this light and easy to drink shot is perfect for a crowd. The green rim adds a little bit of a festive look to this delicious green shot recipe that is perfect for March 17!
This post contains affiliate links. Please read my Disclosure for more information
MORE ST PATRICK'S DAY SHOTS
The Lucky Irishman – Jameson and Baileys Shot
Lucky Leprechaun Shot Recipe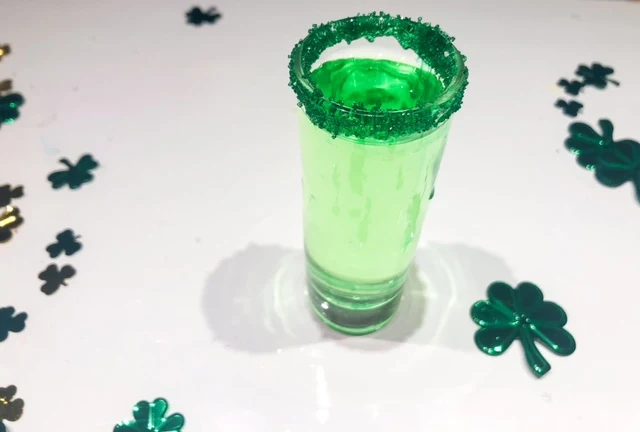 If you want everyone to be talking about the good craic at your party, make sure to add the Lucky Leprechaun to your St Patricks Day drinks menu!
This easy to make and impressive green shot is the ideal drink to serve up to your guests. Plus, its a really easy make head shot that you can put in a pitcher.
All you need to make this drink are shot glasses, a jigger and your two ingredients.
For an extra special look, you can rim your glasses with green or gold sanding sugar.
Dip the rim of the glass in water
Then dip the rim into a saucer covered in green sugar.
Set aside for a few minutes until it dries.
What is in a Lucky Leprechaun Shot?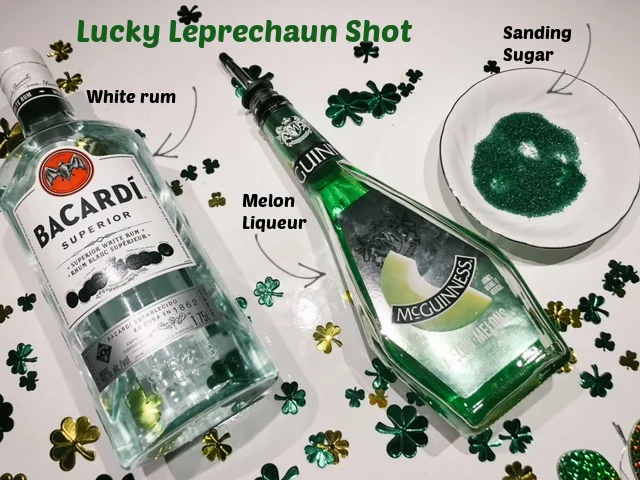 This simple yet impressive shot only contains 2 ingredients – white rum and melon liqueur.
Melon liqueur is a vibrant green, honeydew melon flavored liqueur.
The most famous melon liqueur brand is Midori which is a Japanese brand (Midori means green in Japanese).
What can I use instead of Melon Liqueur?
For a non-alcoholic version of melon liqueur, you can use Winter Melon Syrup and add in some green food coloring.
Another option if you aren't a fan of melon, is to substitute it for green Crème de menthe which is a mint-flavored liqueur.
Instructions For Making A Lucky Leprechaun Shot
Add the green sand rim to your glass as directed above.
Add one ounce of rum then an ounce of melon liqueur to your shot glass
As the Irish say,"Slàinte Mhaith!"
Yield:

1
Lucky Leprechaun Shot
The Lucky Leprechaun shot is the perfect St Patrick's Day cocktail for any type of celebration! With only two ingredients, its easy to make too!
Ingredients
1/2 oz Melon Liqueur
1/2 oz White Rum
Instructions
If desired, rim your glass with green sanding sugar. Dip the rim of the glass in water then in green sugar. Set aside until it dries.
Add the rum into your glass followed by the melon liqueur.
Serve immediately.
Notes
Substitute the rum for vodka if desired
You can also use simple syrup instead of water for the rim
More St Patrick's Day Cocktails
The Shamrock Cocktail (The Perfect St Patrick's Day Cocktail)
The Lucky Irishman – Jameson and Baileys Shot