St. Patrick's Day is coming up and what better way to celebrate than with a tasty cocktail! This year, we've got the perfect drink for you: The Shamrock cocktail.
Who doesn't love putting a little green in their glass? Whether you're throwing a St. Paddy's day party or just want to enjoy some drinks at home, this shamrock cocktail will definitely be your go-to drink all night long!
The nice thing about this green cocktail is that it is super easy to make. You can whip up a batch or even a pitcher to serve to a crowd if you are throwing a party.
This green cocktail is fruity and delicious and a cousin of the famous Grinch Cocktail Recipe that is really popular around the holidays.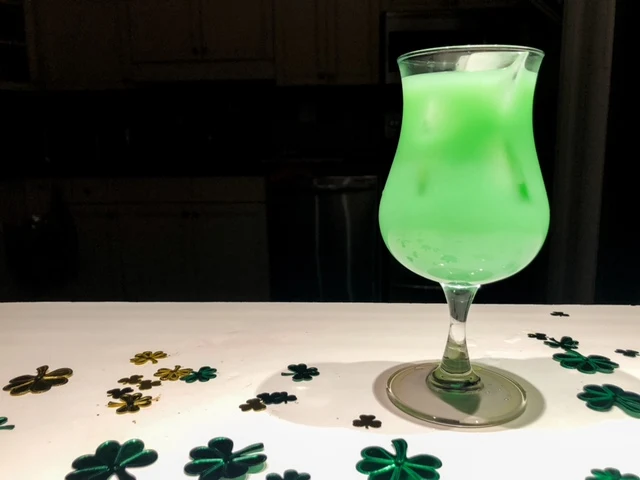 This post contains affiliate links. Please read my Disclosure for more information.
MORE ST PATRICK'S DAY COCKTAILS
Green Hawaiian Cocktail Recipe
The Ultimate Shamrock Cocktail
A lot of people consider green beer to be the drink of St Patrick's Day but the truth is, there are lots of fun green drinks that can be enjoyed during the Irish holiday.
I love the Shamrock because it is nice for people who don't fancy a beer but want to get in on the green cocktail action.
This cocktail is:
Perfect for St Patrick's Day
Easy to make for a crowd
Fun for any occasion
Fruity and sweet
The perfect green drink
While the name of this cocktail says it all, we're going to break down exactly what's in a shamrock cocktail and how you can make your own.
The ingredients are simple but pretty strong. Think of this cocktail as a St Patrick's Day riff on the classic Hurricane cocktail.
I love the Shamrock Cocktail because it is fruity and refreshing plus its super easy to make.
We recommend using a jigger for measurements because these drinks go down pretty easy. But be careful; they taste delicious but pack quite the punch! Cheers!
How To Make A Shamrock Cocktail
You don't need anything too complicated to make this fruity treat. A hurricane class is ideal but you can also make it in a high ball class too.
As far as ingredients go, you will need the following:
White Rum
I used Bacardi but you can use your white rum of choice.
Vodka
I used plain vodka for this cocktail as it already has a bunch of flavors from the Blue Curacao and Juice.
Blue Curacao
This is what will give your cocktail the brilliant green color. Blue Curacao is a liqueur that has a citrusy flavor and works great in tropical drinks.
It does contain alcohol but you can buy a non-alcoholic Blue Curacao syrup like the one made by Torani if you prefer.
If you don't have Blue Curacao on hand, you can use blue food coloring and some Triple sec or Cointreau.
Orange Juice
An orange juice mixer will give you Shamrock cocktail its pretty green hue and also make your drink a little less potent!
How To Make A Shamrock Cocktail
Step 1
Add your vodka and rum to the class
Step 2
Next add 3/4 oz of Blue Curacao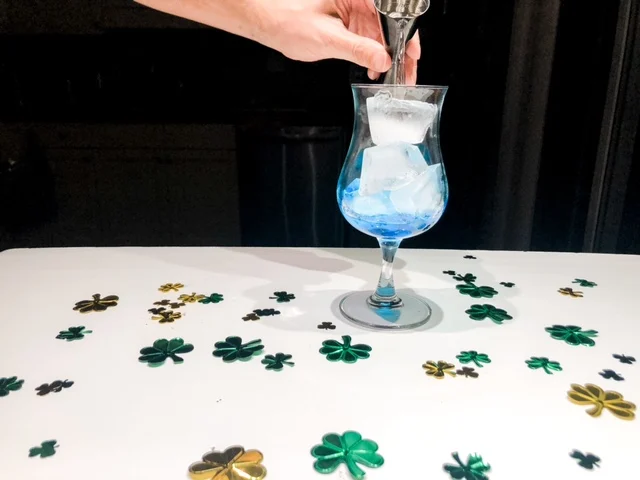 Step 3
Top with Orange juice
How To Make A Shamrock Pitcher
You can double, triple or more this drink to make it for a crowd.
The only thing is that it might be best to combine the vodka, rum and Blue Curacao. So you would have 2 3/4 oz of drink to pour into each hurricane.
Then pour those into the individual glasses and top with orange juice.
Variations on the Shamrock Cocktail
If you are a fan of the Shamrock and want to try some other versions – here are my top picks:
The green Hawaiian is another amazing green cocktail that you can try for St Patrick's Day.
It uses Malibu Rum and pineapple juice for a more subdued green color than the Shamrock.
Ok, so the Frankenstein is a Halloween cocktail but why don't we change the name to "Awesome Green Cocktail" for now. This is another cocktail that uses pineapple juice and Blue Curacao however, the alcohol in this drink is vodka only.
Shamrock Cocktail Recipe
Yield:

1
Shamrock Cocktail For St Patrick's Day
St Patrick's Day is almost here and this Shamrock cocktail is the ideal drink to serve at your party! Irish eyes will most definitely be smiling when they try this delicious drink.
Ingredients
1 oz Vodka
1 oz Rum
3/4 oz Blue Curacao
3 -4 oz orange juice
Hurricane Glass
Instructions
Put ice in your glass
Add in the rum and then follow with the vodka
Add in the Blue Curacao
Top with orange juice and then stir to mix the colors
Notes
If you don't have Blue Curacao, you can use blue food coloring and Triple Sec. You can also use non-alcoholic Blue Curacao syrup
To make for a crowd, combine the alcohols (multiply depending on how many people you are serving) in the pitcher and pour into glasses. The top each glass with orange juice.
Get More Fun Cocktail Recipes
White Jello Shots With Condensed Milk
Baby Guinness Shot Recipe {Perfect for St Patrick's Day}