If you want a fun St Patrick's Day shot then look no further than the lucky irishman. This tasty shot recipe only contains 3 ingredients and is super easy to make.
What makes this recipe even more special is that it has a tiny bit of green in it as a nod to the Emerald isle plus two other great Irish ingredients – Jameson whiskey and Baileys Irish Cream.
Both of these popular drinks are made right in Dublin so they are the perfect ingredients for a St Patrick's Day shot recipe.
A lot of people wonder about the Jameson and Baileys shot name and now you know – it is the Lucky Irishman!
This post contains affiliate links. Please read my Disclosure for more information.
MORE ST PATRICK'S DAY COCKTAILS
The Lucky Irishman
A lot of people consider green beer to be the drink of St Patrick's Day but a delicious shot is another great option, especially if you are throwing a party or want something fun to drink at an Irish pub.
I love the Lucky Irishman because it is nice for people who don't fancy a beer but want something special to celebrate the holiday.
This cocktail is:
Perfect for St Patrick's Day
Easy to make for a crowd
Fun for any occasion
Decadent and creamy
How To Make A Lucky Irishman Shot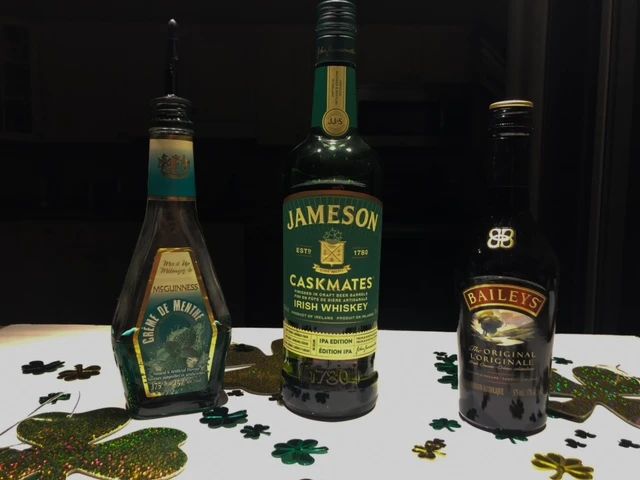 All you need to make the Lucky Irishman is a shot glass and your ingredients. There are no fancy tools needed at all, making this a great drink to serve at a party as you can make up a pitcher easily then pour it into shot glasses.
As far as ingredients go, you will need the following:
Bailey's Irish Cream
Bailey's is a decadent mix of dairy cream, cocoa, and Irish whiskey.
It's a fantastic dessert liqueur and works really well in lots of shots such as the Slippery Nipple and the Blow Job Shot Recipe (the names are a little out there but they taste good!).
Of course, you don't have to use Baileys as there are other brands around, the main thing is you need an Irish Cream liqueur.
Irish Whiskey
Sure, you can use any whiskey for this shot but let's face it – it has to be an Irish blend for St Patrick's Day. I used Jameson as that's my favorite Irish whiskey for the smooth taste.
Crème de Menthe
The classic Lucky Irishman cocktail doesn't contain creme de menthe but I think it is a wonderful addition to the shot recipe.
Crème de menthe is a sweet, mint-flavored drink that comes in two different colors – green and clear.
For this recipe, you want the green version as we are celebrating Ireland's patron Saint and all things green!
How To Make A Lucky Irishman Shot
Step 1
Add the whiskey to your shot glass
Step 2
Top with the Baileys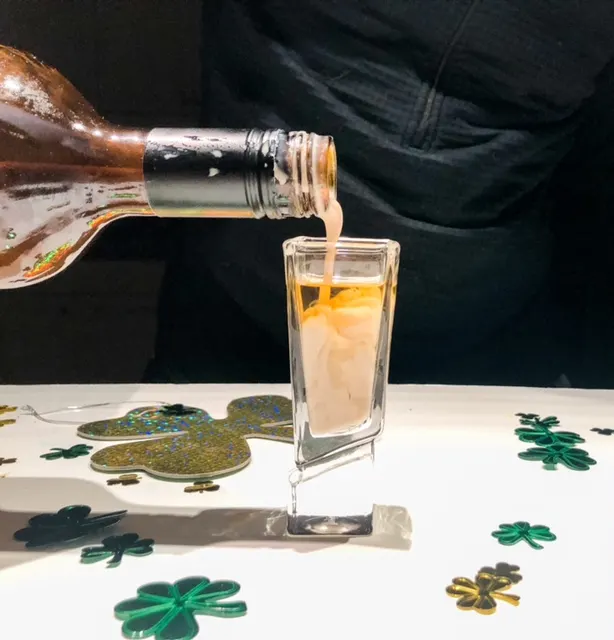 Step 3
Pour in a dash of crème de menthe and serve immediately.
How To Make A Lucky Irishman Pitcher
You can double, triple or more this drink to make it for a crowd. Combine the Bailey's and whiskey into a jug and pour into shot glasses.
Save the Crème de menthe until you have poured the shots and add it to each one individually.
Lucky Irishman Cocktail Recipe
Yield:

1
Lucky Irishman Shot
The Lucky Irishman is the name of the Jameson and Baileys shot that is perfect for any occasion. With a touch of green, this is the best St Patrick's Day shot recipe.
Ingredients
1/2 oz Jameson Irish Whiskey
2 oz Baileys Irish Cream
Splash of Crème de menthe
Instructions
Add the whiskey to your shot glass
Top with Baileys
Finish with a splash of Crème de menthe
Notes
You can use any Irish cream or whiskey brand that you have on hand.
If you don't have Crème de menthe, you can omit it completely or add a dash of peppermint schnapps.
Get More Fun Cocktail Recipes
White Jello Shots With Condensed Milk
Baby Guinness Shot Recipe {Perfect for St Patrick's Day}