If you want something a bit lighter than the traditional beer this St Patrick's Day, look no further than the Sparkling Shamrock!
This delicious bubbly drink is perfect for celebrating any occasion but the green color lends itself to the Irish holiday.
If you are a fan of fruity mimosas like the Cranberry Champagne Mimosa or the Peppermint Mimosa, you will love this delicious drink.
With only two ingredients, this cocktail is amazingly easy to make and ready in minutes. It is also really great for a crowd because you can pour a tray of Sparkling Shamrock in minutes.
This post contains affiliate links. Please read my Disclosure for more information
More St Patrick's Day Cocktails
The Lucky Irishman – Jameson and Baileys Shot
The Shamrock Cocktail (The Perfect St Patrick's Day Cocktail)
The Sparkling Shamrock Cocktail
Champagne cocktails are always a hit for brunch and for other celebrations and this green version is perfect for any holiday.
Not only does it look really fun, but it tastes amazing too.
In fact, I've enjoyed this melon Prosecco cocktail around the holidays as part of one of the Christmas Brunch Cocktails I put on my drinks menu.
I love to serve this cocktail at my parties and gatherings year round but it really wows at St Patrick's day.
Most people are expecting classic cocktails such as an alcoholic Shamrock shake or green beer so when I serve up the Sparkling Shamrock, heads turn.
It is an elegant, classy cocktail that looks and tastes amazing. Plus, with only 2 ingredients, it is so simple to make.
Ingredients for the Sparkling Shamrock
Make this simple cocktail in minutes but to add some extra dazzle, a fun green sugar rim elevates the whole experience.
The classic Mimosa contains the following:
Champagne (or Cava, Prosecco or similar sparkling wine – see below for more info on making that choice)
Melon Liqueur such as Midori or similar
The only other things you will need to make this fun cocktail are champagne flutes and green sugar for the rim if you choose.
In my opinion, champagne flutes are a must when it comes to making the perfect champagne cocktail.
The design of the glass retains the bubbles that make this drink look so glamourous.
If you have a raucous crowd and want to go disposable, I have used these glitter champagne flutes made out of plastic.
How To Rim Your Champagne Flute
If desired, rim your champagne flutes with green sanding sugar. You will need a saucer with water and some green sugar also in a separate saucer.
Instructions
Dip the rim of the glass in water
Then dip the rim into a saucer covered in green sugar.
Set aside for a few minutes until it dries.
Sparkling Shamrock For A Crowd
If you want to make this Prosecco cocktail for a crowd, you can't whip up a pitcher or prep it ahead very easily.
The champagne really needs to be poured fresh into every glass and a pitcher will just take away from the delicious bubbly taste.
What you can do is fill a tray with champagne flutes and pour the melon liqueur into each one.
When you are ready to serve, you can top each flute up with the sparkling wine.
Sparkling Shamrock Cocktail FAQs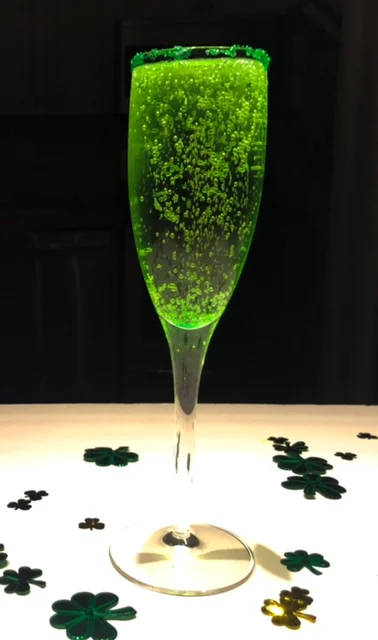 What is the best alcohol for this cocktail?
Although we often use the words interchangeably, Champagne, Prosecco and Cava are all different because they are from different regions of Europe.
Cava is from Spain and Prosecco is from Italy and they are a bit lighter and fruitier than Champagne from France.
Cava and Prosecco are also a lot cheaper than Champagne so feel free to substitute them with no guilt. I used Prosecco for this cocktail as you can see in the pictures.
The gold bottle added a little bit of Leprachaun gold!
I normally go for an extra-dry or brut Cava or Champagne but you can really go with your personal preference.
Sparkling Shamrock Recipe
Yield:

7
Sparkling Shamrock Cocktail
The Sparkling Shamrock is the perfect cocktail for St Patrick's day. Bubbly and light, it only contains 2 ingredients and is perfect for a crowd.
Ingredients
1 Bottle of Sparkling wine of your choice
7 oz Melon Liqueur
Instructions
If desired, rim your champagne flutes with green sanding sugar. To do this. dip the rim of the glass in water then into a saucer covered in green sugar. Set aside for a few minutes until it dries.
Once the rim is dry, pour the melon liquer into your champagne flute
Top the glass with Champagne
Serve immediately
Notes
To make a batch of Sparkling Shamrock, you will want to prep all the glasses with the sugar rim and set aside until they dry.
Then pour the melon liqueur into every glass
When you are ready to serve the drink, fill each glass with Champagne and serve immediately
More St Patrick's Day Cocktail Recipes
The Shamrock Cocktail (The Perfect St Patrick's Day Cocktail)