These peach vodka jello shots are a delicious way to enjoy your favorite vodka cocktail. If you are a fan of summery drinks such as peach vodka lemonade, you'll love these peach jello shots that can be made with or without peach flavored vodka. These shots are also fun and easy to make, perfect for a summer party.
This post may contain affiliate links. Please read my Disclosure for more information
MORE FUN JELLO SHOT RECIPES
Lime Margarita Jello Shots With Salt
Watermelon Jolly Rancher Jello Shots
Peach Vodka Jello Shots
Peach is a delicious and refreshing summer fruit that pairs perfectly with vodka in jello shots. The peach flavor makes the perfect treat for serving at summertime festivities like pool parties and barbecues.
Jello shots are great because you can prep them a day ahead and serve them to a crowd. They make fun appetizers at parties or even desserts if you serve them with ice cream!
Peach Vodka Jello Shots Ingredients
These peach ring shots are so easy to make and don't require many special ingredients. You can use plain vodka, peach vodka or Crown Peach whiskey, depending on your preference.
This recipe makes 12 jello shots so it is perfect for a crowd. If you need to make more than that, just double or triple the recipe as needed.
You'll need:
1 package peach jello

1 Cup boiling water
1/2 Cup cold water
1/2 Cup Peach Vodka or Plain Vodka
Peach gummies for the garnish
I made my Jello shots in plastic shot cups with lids but you can also make them in the larger 5.5 oz jello cups too.
Peach Vodka Jello Shots- Variations
If you cannot find peach flavored jello, you can use peach juice instead of 1 cup of water.
You can use peach vodka or plain vodka in this recipe. If you have peach vodka, you will get a slightly stronger tasting jello.
How To Make Peach Jello Shots
Step 1
Boil 1 cup of water and then add in the peach jello and stir until it is dissolved.
Step 2
Mix in the cold water and vodka
Step 3
Pour into shot cups and refrigerate for 2-3 hours.
Step 5
Top with a peach gummy
Tips For Making The Perfect Jello Shots
1.Using plastic jello cups is the easiest way to make jello shots. You can find them at the dollar store and they are normally called dressing containers.
If you don't want to use single -use plastic, you can also use small glass containers and small spoons too.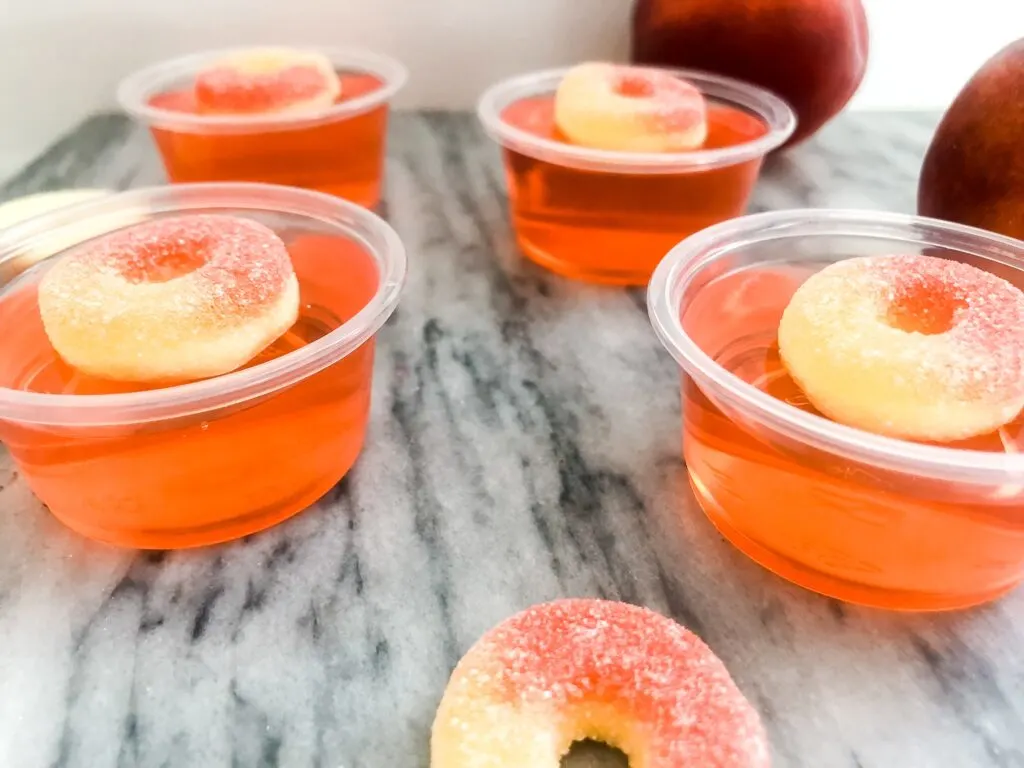 Yield:

12 shots
Peach Vodka Jello Shots
Additional Time:
3 minutes
These delicious Jello shots are so easy to make and are perfect for a summer party. You can make them ahead and put them in the fridge for up to 24 hours before serving.
Ingredients
3 oz package of Peach Jello
1 Cup Hot Water
1/2 Cup Plain Vodka or Peach Vodka
1/2 Cup Cold Water
Peach gummies
Instructions
Boil the water and add the contents of the Jello package and stir for 2 minutes, until the gelatin is dissolved.
Add vodka and cold water and stir
Pour into shot cups and refrigerate for 2-3 hours.
Top with a peach gummy when the jello has set.
Notes
You can use peach vodka or plain vodka in this recipe.
You can make these jello shots a day ahead and keep them in the fridge before serving.
More Fun Cocktail Recipes!
Pineapple Coconut Rum Slush With Strawberries This is a delicious summer cocktail that is also easy to make
Frozen Watermelon Mint Margarita If you love mint try this cocktail
Malibu Rum And Blue Curacao Cocktail (Rainbow Dream) If you love rum don't forget to try this rum based tropical drink. It will take you to paradise
In the meantime, make sure you subscribe below to get more fun cocktail recipes.