These Pumpkin Pie Jello Shots are the perfect addition to any party this fall.
Whether you are having the gang over for Friendsgiving or celebrating the holiday with family, this simple recipe can make any get-together fun.
You get the fantastic fall flavor of pumpkin pie with the traditional addition of whipped cream on top.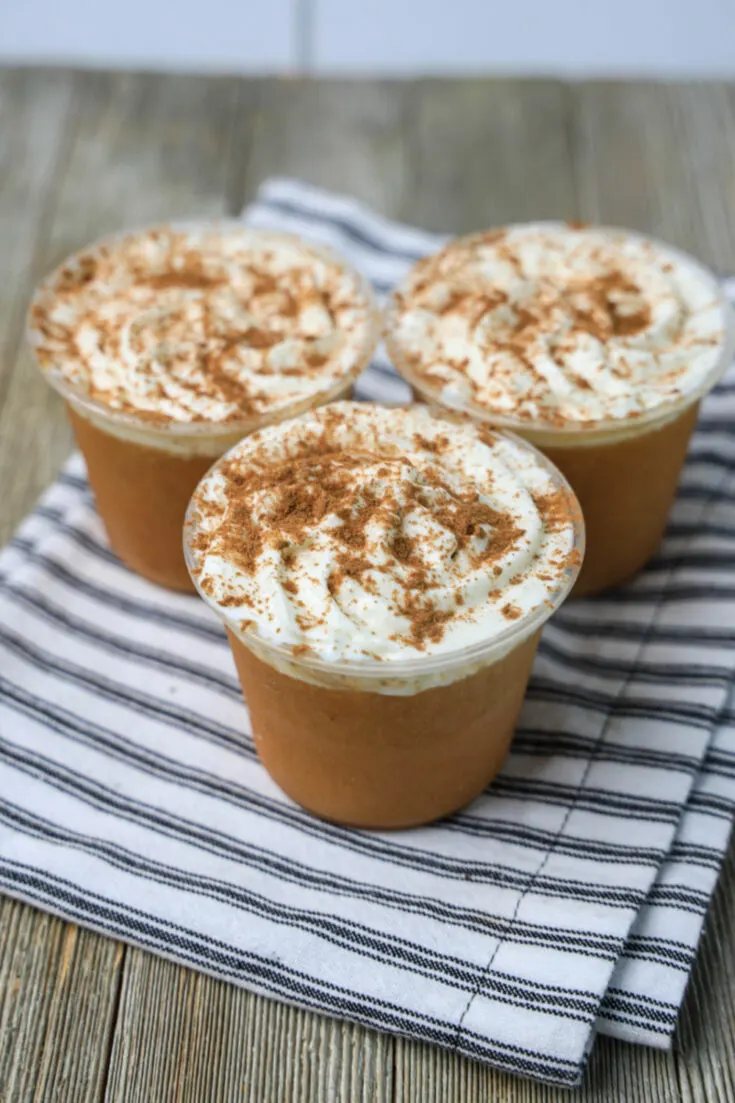 This post may contain affiliate links. Please read my Disclosure for more information
MORE FALL JELLO SHOTS
Halloween Jello Shots With Rum (Graveyard Jello Shots)
Jack Skellington Jello Shots (Nightmare Before Christmas Shots)
Pumpkin Jello Shots
Make up a batch of these pumpkin pie jello shots ahead of time and they will be a fantastic treat for your guests. Serve them with a fall cocktail like this Apple Pie Moscow Mule for a really fun seasonal treat.
Although the full recipe only fills about 14 jello shot cups, you can make a big batch by multiplying the recipe. Just be sure to multiply the cups of water as well as the alcohol so you don't make your guests too tipsy.
You can also use the larger 5.5oz jello cups like I did and you will get about 7 shots out of this recipe.
Ingredients needed:
These are the simple ingredients you need for this yummy jello shot recipe. For full step-by-step instructions, scroll down to our recipe card at the bottom of the page.
Pumpkin puree
Sweetened condensed milk
2 envelope packages Knox gelatin
Cinnamon
Boiling water
Cold water
Rum
Garnish:
Whipped cream
Cinnamon or Pumpkin pie spice
How To Make Pumpkin Pie Jello Shots
In a pan, add in 2 cups water and pumpkin puree. Bring to a low boil. Whisk in three tablespoons of sweetened condensed milk.
Make the Jello: In a bowl, add in the two packages of gelatin.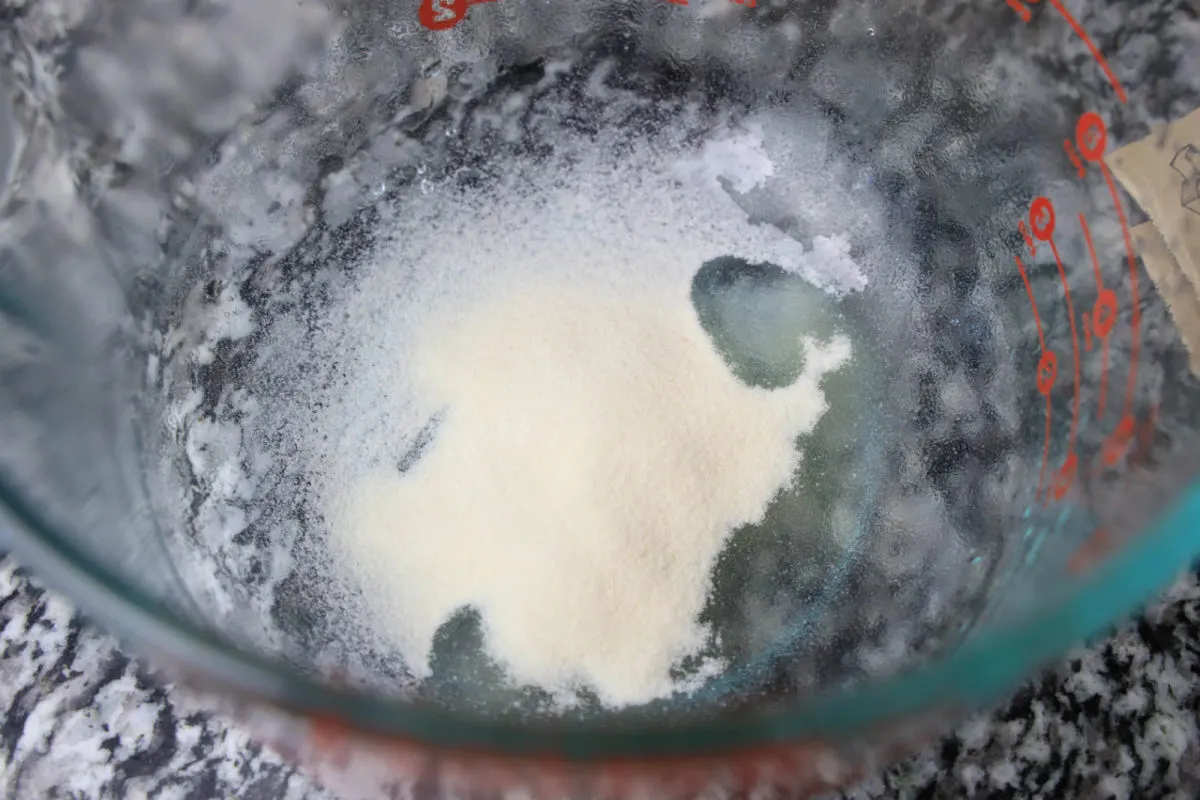 Add in hot water mixture from the pan and whisk well.
Add the alcohol: Whisk in one cup rum and one cup cold water.
Fill the cups: Next, pour the jello mixture into small shot party cups and chill for three hours or more.
Serve: Once set when ready to serve top with whipped topping and cinnamon.
Recipe variations:
Pumpkin Pie jello: For a different twist, use pumpkin pie spice instead of cinnamon
Pumpkin Spice Latte Jello shots: Use Knox gelatin, pumpkin pie spice and cold brew coffee
Non-alcoholic Pumpkin Jello shots: Use an extra cup of cold water instead of rum.
Use Vodka instead of rum: If you prefer, you can substitute the rum for vodka 1:1 in this recipe
How To Serve Your Pumpkin Jello Shots
Instead of your basic jello shots, these tasty shots will be a huge hit at your next holiday party.
You can serve these in the traditional two-ounce shot cups or try one of these awesome serving ideas:
Make your Jello in a large pie dish then "slice" it into shots.
Serve the pumpkin spice jello shots in little Jack O'Lantern pudding cups.
Even easier, why not use your favorite molds for jello shots instead of the little cups?

Top each shot with a mini candy pumpkin instead of fruit.

Or you could top each with a teensy slice of pumpkin pie
These go great with a bowl of vanilla ice cream.
Jello Shots Frequently asked questions
How many jello shots get you drunk?
4 jello shots as made in this recipe is the equivalent of 1 shot of alcohol.
How long will jello shots last in fridge?
You can keep the jello shots in the fridge without the whipped cream topping for about 3 days.
What happens if you put too much alcohol in jello shots?
If you put too much alcohol in these jello shots, they will not set so be careful not to overdo it.
Can I use other liquors besides rum?
Absolutely. Some of the other ideas that are popular choices include vodka, tequila and Cinnamon schnapps.
Or you can go with the old favorite of Amaretto, which tastes like sweet almonds. For a lighter liquor, you can use any flavor of wine. You do not have to stick with strong liquors.
Yield:

7 shots
Pumpkin Jello Shots
Total Time:
3 hours
20 minutes
These delicious Jello shots are so easy to make and are perfect for fall.
Treat your guests to something different this Thanksgiving with these delicious dessert like Jello cups. Make with or without alcohol so everyone can enjoy.
Ingredients
7 oz. (half a can) pumpkin puree
3 tablespoons sweetened condensed milk
2 packages plain gelatin
2 cups hot water
1 cup Rum
1 cup cold water
1 tablespoon cinnamon
Whipped cream for topping
Cinnamon for topping
Instructions
In a pan, add in 2 cups water and pumpkin puree. Bring to a low boil. Whisk in three tablespoons of sweetened condensed milk.
In a bowl, add in two packages of the gelatin. Add in the hot water mixture and whisk well.
Whisk in one cup rum and one cup cold water.
Pour into containers and place into the fridge for 24 hours.
Once set when ready to serve top with whipped topping and cinnamon.
Serve immediately once topped!
Notes
You can use vodka instead of rum if you prefer
You can make these jello shots a day ahead and keep them in the fridge before serving.
To make non-alcoholic versions of these pumpkin pie jello shots, just use 1 extra cup of cold water instead of the cup of rum