Fall is here and that must mean it is time for apples. If you love the taste of apple cider and fall flavours, you will love this delicious and easy Apple Pie Moscow Mule.
The nice thing about this cocktail is that can be turned into a mocktail easily so you can make it for any gathering or crowd.
One of my favorite cocktails to make is my Christmas Apple Cider Recipe so I knew I had to make a fall version too. This apple cider vodka cocktail is so easy to make and absolutely fantastic to sip on a rainy fall evening.
Read on for the recipe and all the details.
This post contains affiliate links. Please read my Disclosure for more information.
RELATED POSTS
Why you'll love this Apple Pie Moscow Mule
If you love the taste of apple cider then you will love this fall cocktail. The vodka is completely hidden by the delicious ginger soda and apple cider and you would almost think the drink was non-alcoholic.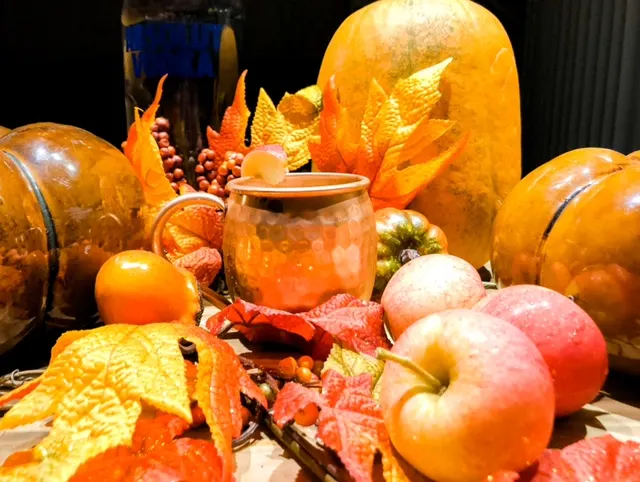 This Apple Cider Cocktail Recipe is:
Tart and refreshing

Perfect for fall

Comforting

Easy to make

Delicious at any time of the year
How do you make an Apple Pie Moscow Mule?
The Apple Pie Moscow Mule starts with the same ingredients as the original Moscow Mule that introduced vodka to the USA.
The drink was first invented in 1941 and in its most simple form, contains vodka, ginger beer and lime.
The Moscow Mule's defining feature is that it is almost always served in a copper mug.
Why is this Apple Vodka cocktail served in a copper mug?
Well, of course, you don't have to serve your Moscow Mule in a copper mug but if you have one, it will keep your drink colder for much longer and some purists maintain that it improves the taste of the drink.
You can buy good quality copper mugs at most home goods stores, I actually bought my ones from Amazon and they were a good price and are great quality.
These are the ones I use in the pictures on this page.

What's In The Apple Pie Moscow Mule?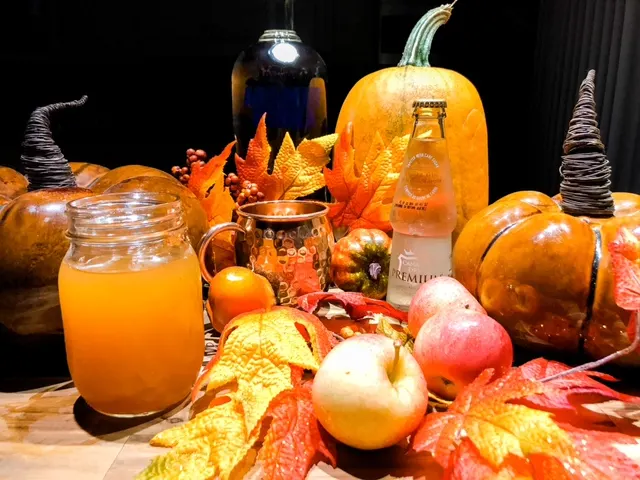 In addition to the regular Moscow Mule ingredients of vodka, ginger beer and lime, fresh apple cider is what makes this drink so delicious and perfect for fall.
Vodka
Ginger Beer
Fresh Apple Cider
Apple slices and/or cinnamon stick for garnish
Apple Pie Mocktail Recipe
Want to make a mocktail version of this tasty fall cocktail?
Simply omit the vodka! Now you have an easy non-alcoholic cocktail that everyone can enjoy.
What tools do I need to make the Apple Pie Cocktail?
You really don't need much in order to make this cocktail which makes it perfect for any party or large gathering when you want to whip them up in minutes.
The only tool you'll need to make this cocktail:
Don't have the tools you need?
If you don't have a cocktail shaker, a large mason jar works just as well in a pinch.
Use the mason jar lid or a plate to strain the drink if you don't own a strainer.
How To Make The Apple Pie Moscow Mule
Step 1: Fill a copper mug with ice
Step 2: Mix your ingredients
Put the vodka, apple cider and ginger beer into a cocktail shaker with ice.
Step 3: Strain
Strain into your copper mug
Step 4: Garnish and serve
Garnish with a slice of fresh apple
If you love this apple pie mule, then check out these other apple cider cocktails:
Apple Cider Gin Cocktail (Perfect For Fall)
Yield:

1
Apple Pie Moscow Mule
This apple cider cocktail is perfect for cool fall evenings by the fire. If you love the taste of apples and ginger beer, then this Apple Pie Moscow Mule will be just the thing for your autumn drinks menu.
Ingredients
Ice
2 oz Vodka (you can use apple pie vodka if you have it!)
4 oz Apple Cider
8 oz Ginger Beer (small bottle size)
Apple slice or cinnamon stick
Instructions
Fill your copper mug with ice
Put the vodka, apple cider into a shaker and shake for around 15 seconds
Strain into your copper mug
Top with ginger beer
Garnish with an apple slice or cinnamon stick
Want More Fall Cocktail Recipes?
21 Delicious Fall Whiskey Cocktails
Pumpkin Spice Cocktail For Fall
9 Comforting Fall Rum Cocktails