Strawberry Lemon Jello Shots are the perfect addition to any party.
Whether you are having the gang over for a barbecue or celebrating a holiday or other festivity, this simple recipe can make any get-together fun.
You get the sweet tastes of strawberry and lemon with the tang of fresh lemons and strawberries in the whipped cream on top.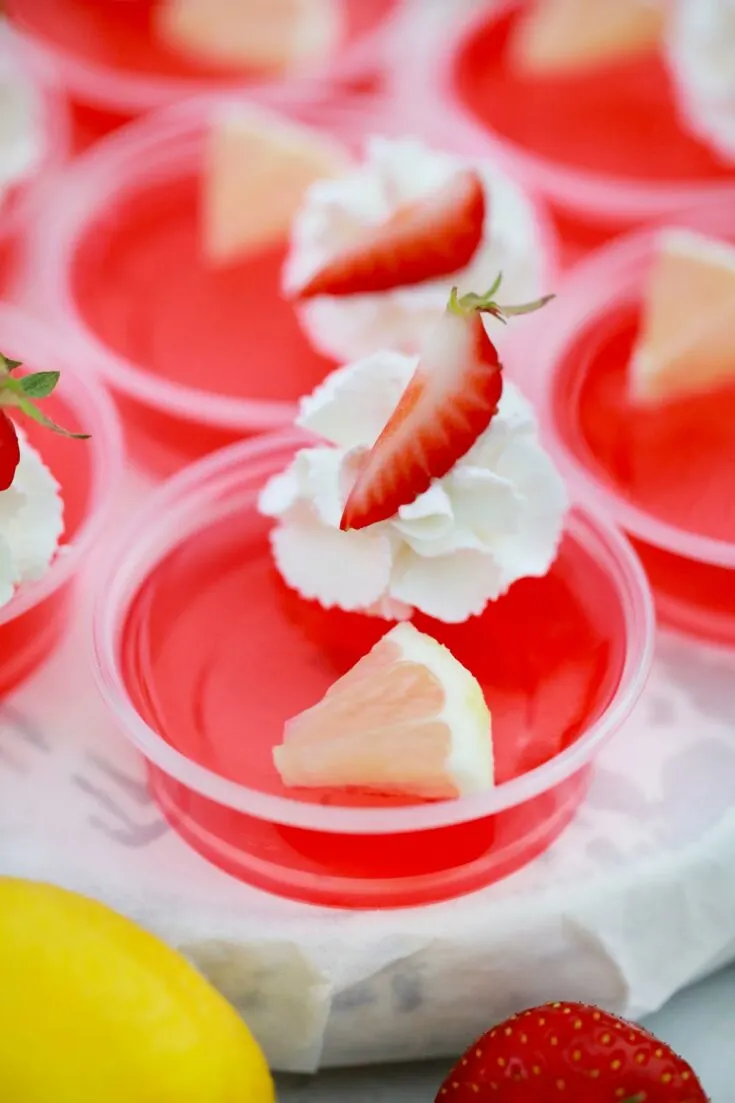 More Jello Shots
Peach Vodka Jello Shots (Quick and Easy)
Piña Colada Jello Shots With Malibu Rum
Strawberry Lemon Jello Shots
Make up a batch of these strawberry lemonade jello shots for pool parties or your first block party (or 101st). Serve them with a fruity dessert like this easy strawberry poke cake for a really fun seasonal treat.
Although the full recipe only fills about 12 jello shot cups, you can make a big batch by multiplying the recipe. Just be sure to multiply the cups of water as well as the alcohol so you don't make your guests too tipsy.
Ingredients needed:
These are the simple ingredients you need for this yummy jello shot recipe. For full step-by-step instructions, scroll down to our recipe card at the bottom of the page.
Strawberry gelatin powder (strawberry jello)
Boiling water
Lemon juice
Lemon vodka
Garnish:
Whipped cream
Fresh strawberries
Peeled and quartered lemon
How To Make Strawberry Lemon Jello Shots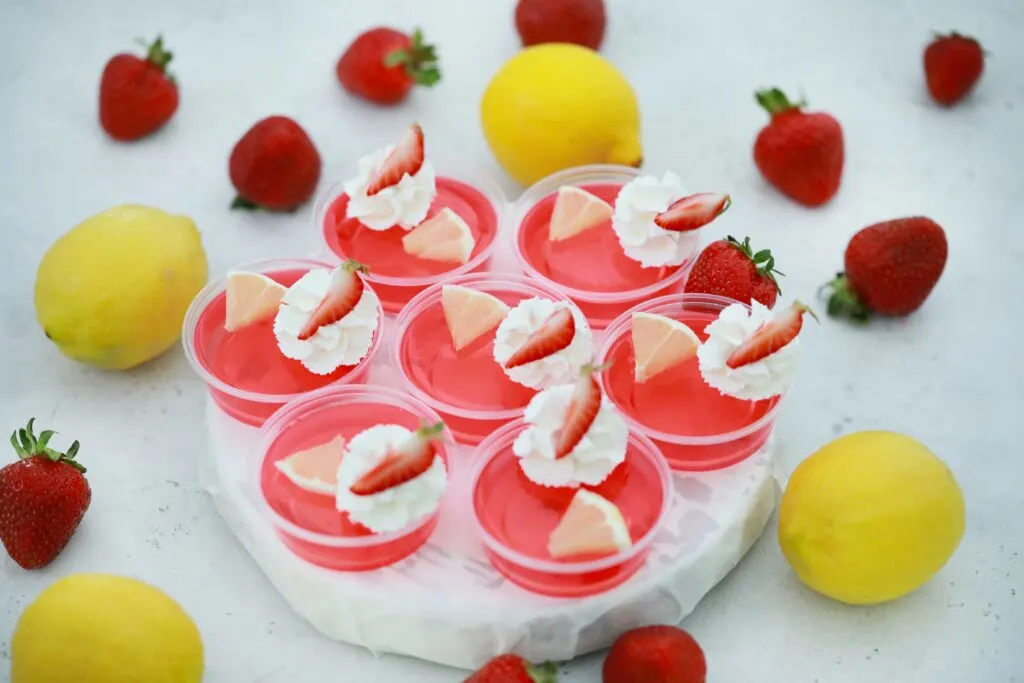 Dissolve the gelatin: First, mix the strawberry gelatin, boiling water, and lemon juice in a mixing bowl and stir until gelatin has dissolved. Then add the vodka after the mixture has cooled for a minute.
Fill the cups: Next, pour the jello mixture into small shot party cups and chill for three hours or more.
Serve: After, serve with whipped cream, fresh strawberry slices, and lemon pieces on top.
Recipe variations:
Other jello: For a different twist, use lemon gelatin with strawberry vodka and juice.
Add some orange: Try another flavor by using orange jello, lemon juice, and strawberry vodka.
Lemon lime: Use lemon lime soda instead of lemon juice for a different flavor. You could also use strawberry soda. But add a bit of lemon juice so you still get the intense lemon flavor.

Strawberry lemonade: Make fun strawberry lemonade jello shots by using lemonade and strawberry juice mixed with strawberry gelatin and lemon vodka. These are perfect for summer parties.

Pink lemonade: Another option is pink lemonade jello shots. Just use pink lemonade instead of regular lemonade.
Pink starburst: Another great taste is the pink starburst jello shots made with pink starburst jello and topped with pink starburst candies.

Energy shot: Give everyone some energy with their shot by adding some Red Bull instead of lemon juice.
Strawberry margarita: For strawberry margarita jello shots, use two boxes of strawberry gelatin, one cup of silver tequila, one cup of boiling water, and several limes. Don't forget the margarita salt!
How To Serve Your Strawberry Lemon Jello Shots
Instead of your basic jello shots, these tasty shots will be a huge hit at your next party or neighborhood block party. You can serve these in the traditional two-ounce shot cups or try one of these awesome serving ideas:
Make lemon wedges jello shots. First, cut the lemon in half and remove all the flesh. Fill each of the empty lemon halves with the gelatin mixture and let it firm up before cutting them into wedges.

Another fruity idea is to serve them in hollowed out strawberries. Just make sure you find some large and firm strawberries, hollow them out, and fill with gelatin.

Even easier, why not use your favorite molds for jello shots instead of the little cups?

Top each shot with a mini sour gummy candy instead of fruit.

Or you could top each with a maraschino cherry.
These go great with a bowl of vanilla ice cream.
Frequently asked questions
Does the alcohol burn off when making gelatin?
Not with this recipe. That is why it is a good idea to use cold alcohol. But with our recipe, you are not cooking the gelatin on the stove, you are dissolving the powder in boiling water and then adding the liquor. If you are worried that the boiling water may dull your alcohol content, just wait until the jello mixture has cooled before adding the liquor.
Can I use other liquors besides vodka?
Absolutely. Some of the other ideas that are popular choices include strawberry and peach schnapps, cinnamon whisky, limon rum, and tropical fruit tequila. Try Svedka strawberry lemonade vodka for a delicious twist.
Or you can go with the old favorite of Amaretto, which tastes like sweet almonds. For a lighter liquor, you can use any flavor of wine. You do not have to stick with strong liquors. You could even try flavored wine coolers or mixed drinks.
Can I make these without alcohol?
You have to make some jello shots without booze for the designated drivers as well as those who just do not drink alcohol. You can use some kind of juice instead of flavored vodka or liquor. For example, you could use one cup pineapple juice, one cup cranberry juice, and sour apple jello for a non-alcoholic sour bomb shot.
How to store leftovers:
Store: You can keep these tasty cups of juicy booze in the fridge for up to five days.

Freeze: To freeze jello shots, wait until the liquid is room temperature and then pour it into freezer bags. Seal them up and freeze for up to two weeks.

Thaw: You will have to thaw these in the fridge overnight before serving. Then, you should be able to cut off the corner and squeeze the right amount into a cup or shot glass.
Recipe tips:
The jello recipe consists of one cup of hot water, one cup of cold water, and one box of jello. For this recipe, we just substitute the cold water with alcohol and lemon juice. You can make your own version of whether to use strawberry jello and lemon vodka or lemon jello with strawberry vodka.
In fact, you can use regular vodka (plain vodka) and strawberry or lemon jello with either strawberry or lemon extract. Those flavored vodkas can be expensive.
Learn some wicked kitchen skills. To make layered rainbow shots, use tall plastic shot glasses laid at an angle in a muffin tin and pour in two teaspoons of each color, letting them set before adding the next one. You can even use food coloring to change the colors of the gelatin you have.
The nutritional information of these shots includes 45 calories, 6 carbs, 5 grams of sugar, 2 milligrams of calcium, and 31 milligrams of sodium.
Yield:

10
Strawberry Lemon Jello Shots
Total Time:
3 hours
15 minutes
These strawberry lemon jello shots are the perfect treat for any occasion. Make them ahead and get them out just as your guests arrive for a stress-free dessert or appetizer.
Ingredients
1 4 oz box strawberry gelatin powder
1 cup boiling water
¼ cup fresh lemon juice
8 oz lemonade vodka
Whipped cream
Fresh strawberries
Lemon slice
Instructions
Add all the ingredients to a mixing bowl and stir until gelatin has dissolved.
Pour the mixture into 2oz plastic containers. Arrange them on a tray and transfer to the fridge.
Refrigerate for at least 3 hours or overnight.
Garnish with whipped cream, fresh strawberry and lemon before serving.