What screams Halloween better than a creepy purple cocktail that looks just like a witches potion?
This Purple Potion Cocktail is a great violet colour that will wow the guests at your next Halloween party.
I used Crystal Head Vodka and Captain Morgan Rum for to create this spooky drink and decided to call it Captain's Crystal Purple Potion.
I actually concocted this recipe after a friend requested something special for her Halloween themed wedding a couple of years ago. They had spider web centrepieces and of course, the bride wore a black dress.
This Rum and Vodka purple cocktail was the perfect signature drink for the event.
It is the perfect cocktail for anytime of year but makes a great shocker at a party or gathering. Read on for the recipe and all the details.
This post contains affiliate links. Please read my Disclosure for more information.
RELATED POSTS
Why you'll love this Captain's Crystal Purple Potion
This Purple Cocktail recipe is:
Tart and refreshing

Perfect for Halloween

Great for a crowd

Easy to make

Impressive
What is the Captain's Crystal Purple Potion made of?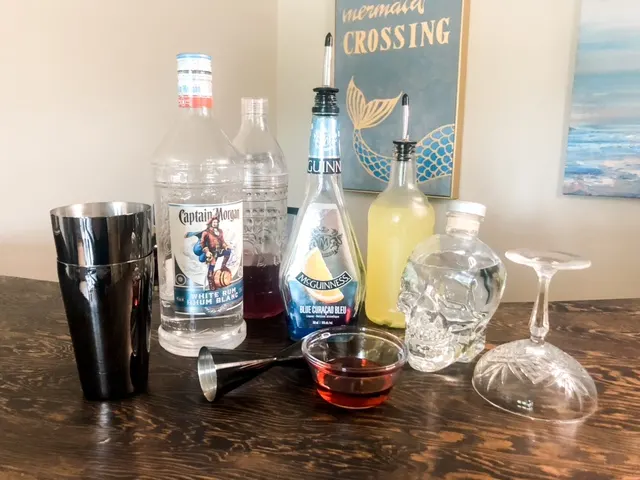 First of all, let's be clear that this purple potion is a cocktail that contains a lot of alcohol (vodka, rum and Blue Curacao).
It is one of the strongest drinks I create and it most certainly packs a punch although it is served in a martini glass so you do't need to drink a huge glass. It is for sipping, not downing.
The purple potion contains:
1 ounce Crystal Head Vodka (or other Vodka of your choice)
1 ounce Captain Morgan Rum (or your choice of rum)
1 ounce sweet and sour
1 ounce Blue Curacao
2 ounces cranberry juice
1/4 ounce grenandine
I always like to use Crystal Head vodka in my Halloween cocktails.
The bottle is shaped like a skull so it looks really cool when you start making drinks at the party.
Crystal Head is a Canadian-made vodka and is one of the best out there. You can find it at many liquor stores in both the US and Canada (and possibly elsewhere).
You don't need to use Crystal Head vodka for this drink and can easily sub-in a different vodka of your choice.
What is Blue Curacao?
Blue Curacao is a liqueur made with the dried peel of the bitter orange laraha, a citrus fruit, grown on the Dutch island of Curaçao.
It is alcoholic but you can buy non-alcoholic versions such as Torani Blue Curacao Syrup.
In a pinch you can also use blue coloring instead of Blue Curacao.
What Is Sweet And Sour?
This has nothing to do with Chinese food! Sweet and Sour cocktail mix is made with lemons, cane sugar and/or agave nectar.
My favorite brand is Agalima Organic Authentic Sweet & Sour Drink Mix. It is organic, all-natural and comes in a glass bottle which I prefer.
What tools do I need to make the Purple Cocktail Potion?
You really don't need much in order to make this cocktail which makes it perfect for any party or large gathering when you want to whip them up in minutes.
The only tool you'll need to make this cocktail:
Don't have the tools you need?
If you don't have a cocktail shaker, a large mason jar works just as well in a pinch.
Use the mason jar lid or a plate to strain the drink if you don't own a strainer.
How To Make The Purple Cocktail
Step 1:Combine all the ingredients
Place all the ingredients in a cocktail shaker with ice. Shake for 15 seconds.
Step 2: Strain
Strain the drink into a martini glass
Step 3: Garnish and Serve
Yield:

1
Captain's Crystal Purple Potion
This purple cocktail is easy to make and will wow any crowd. I really love making this as a Halloween cocktail as it is always a hit.
Ingredients
1 oz Captain Morgan Rum
1 oz Crystal Skull Vodka
1 oz Blue Curacao
1 oz Sweet and Sour
1/4 oz Grenadine
2 oz Cranberry Juice
Instructions
Place all the ingredients in a cocktail shaker with ice. Shake for 15 seconds.
Strain the drink into a martini glass
Want More Halloween Cocktail Recipes?
Try these:
Blackberry Vodka Cocktail Recipe
Witches Brew Cocktail Recipe (With Crystal Head Vodka)