This red white and blue martini is the perfect 4th July layered cocktail to impress your guests. Celebrate America in style with this drink.
It's that time of year again, when patriotism is in the air and everyone is looking for ways to show their love of country.
If you're looking for a way to add some red, white, and blue flair to your July 4th celebration, look no further than this red white and blue martini!
With just a few simple ingredients, you can make this patriotic drink in minutes.
So cheers to America, and happy Independence Day!
This post may contain affiliate links. Please read my Disclosure for more information
MORE PATRIOTIC COCKTAILS
16 Patriotic Cocktails For The 4th Of July
Red White and Blue Martini
Looking for something patriotic to drink on July 4th?
This red, white and blue martinis are perfect for your celebration! Made with just 3 simple ingredients and a steady hand, this layered 4th July cocktail is sure to be the hit of your Independence Day celebration.
As a Canadian who lived for many years in the US, I have always missed the huge parties that go along during the 4th July so I tend to still celebrate.
And as a cocktail lover, serving something extra special and festive is always key.
That's why I love this delicious and easy to make red white and blue martini.
Ingredients for a Red White and Blue Martini
This martini definitely packs a punch so be prepared to only manage one! You can turn this martini into a shooter pretty easily by using a tall shot glass but it really looks amazing as a martini.
To make this patriotic martini you will need:
Vodka
Grenadine
White Creme de Cacao
Blue Curacao
What tools do I need to make the 4th July Layered Cocktail?
You really don't need much in order to make this cocktail which makes it perfect for any party or large gathering when you want to whip them up in minutes.
The only tool you'll need to make this cocktail:
Don't have the tools you need?
If you don't have a cocktail shaker, a large mason jar works just as well in a pinch.
Use the mason jar lid or a plate to strain the drink if you don't own a strainer.
You can use the back of a teaspoon for pouring the layers.
How To Make The Red White and Blue Martini
The key to getting great layers on your 4th July martini is to pour very slowly and carefully.
Red Layer
Slowly pour your grenadine into your martini glass.
White Layer
In a cocktail shaker with ice, mix the white creme de cacao and the vodka together.
Using a spoon, slowly strain the mixture over the grenadine.
Blue Layer
Using the same careful pouring method with a spoon, finish your martini with the Blue Curacao.
Serve immediately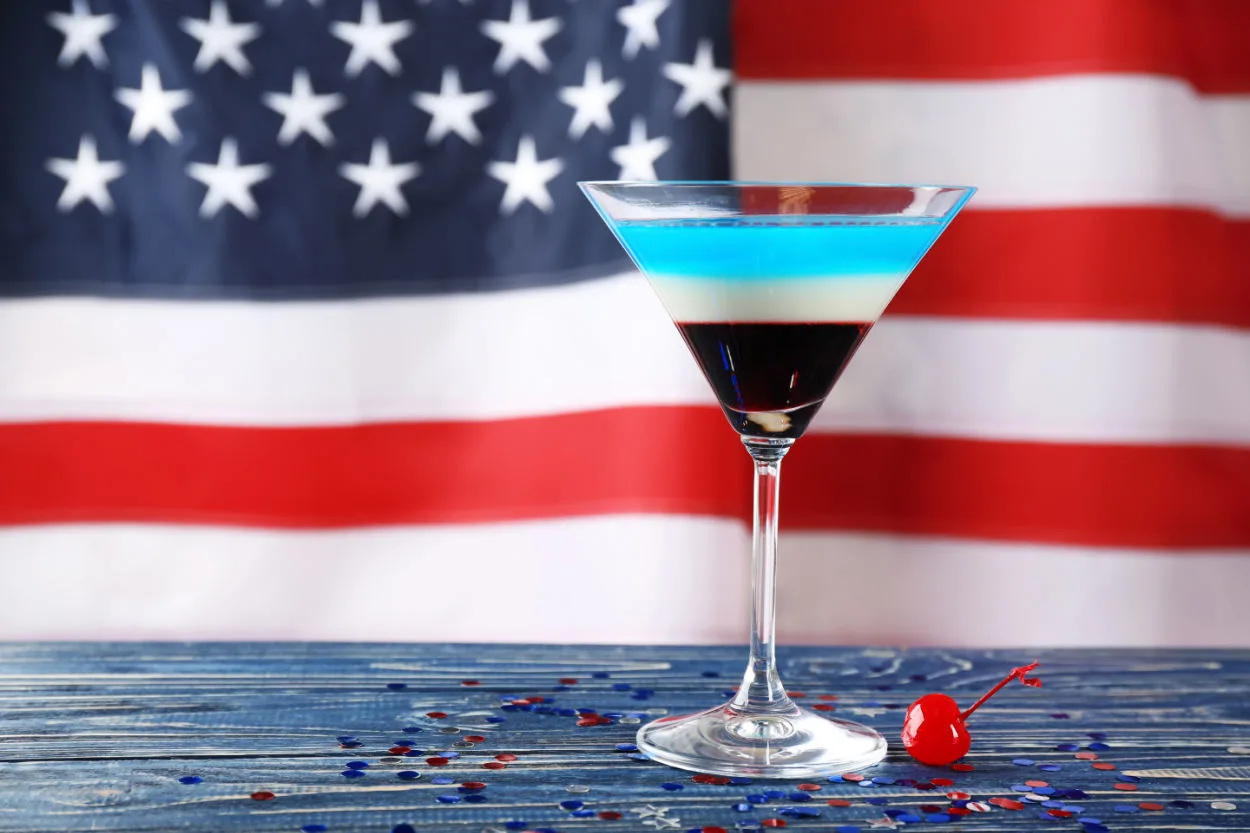 Yield:

1
Red White and Blue Martini For 4th July
Looking for a patriotic cocktail to celebrate July 4th?
Try this red, white, and blue martini! It's easy to make and perfect for any Independence Day party. Cheers!
Ingredients
1. 5 oz vodka
1.5 oz Blue Curacao
1.5 oz White Creme de Cacao
1/2 oz Grenadine
Instructions
Pour your grenadine into the bottom of your glass
Mix the white creme de cacao and vodka in a cocktail shaker with ice.
Slowly strain the mixture into the martini glass using a bartending spoon to create the white layer
Next add the Blue Curacao with the same slow pouring method with the spoon
Notes
Make sure to use the white Creme de cacao and not the clear or brown kind.