Nothing beats a good party and what better day to celebrate than with one of these patriotic cocktails on the 4th of July?
Independence Day is that one day of the year when you can go crazy with the red, white and blue. I love planning parties with fun appetizers and American themed treats.
My favorite thing of all is to serve my guests some really cute American drinks – alcoholic or not. Below you will find 20 easy to make patriotic cocktails that will be the hit of any party this 4th of July.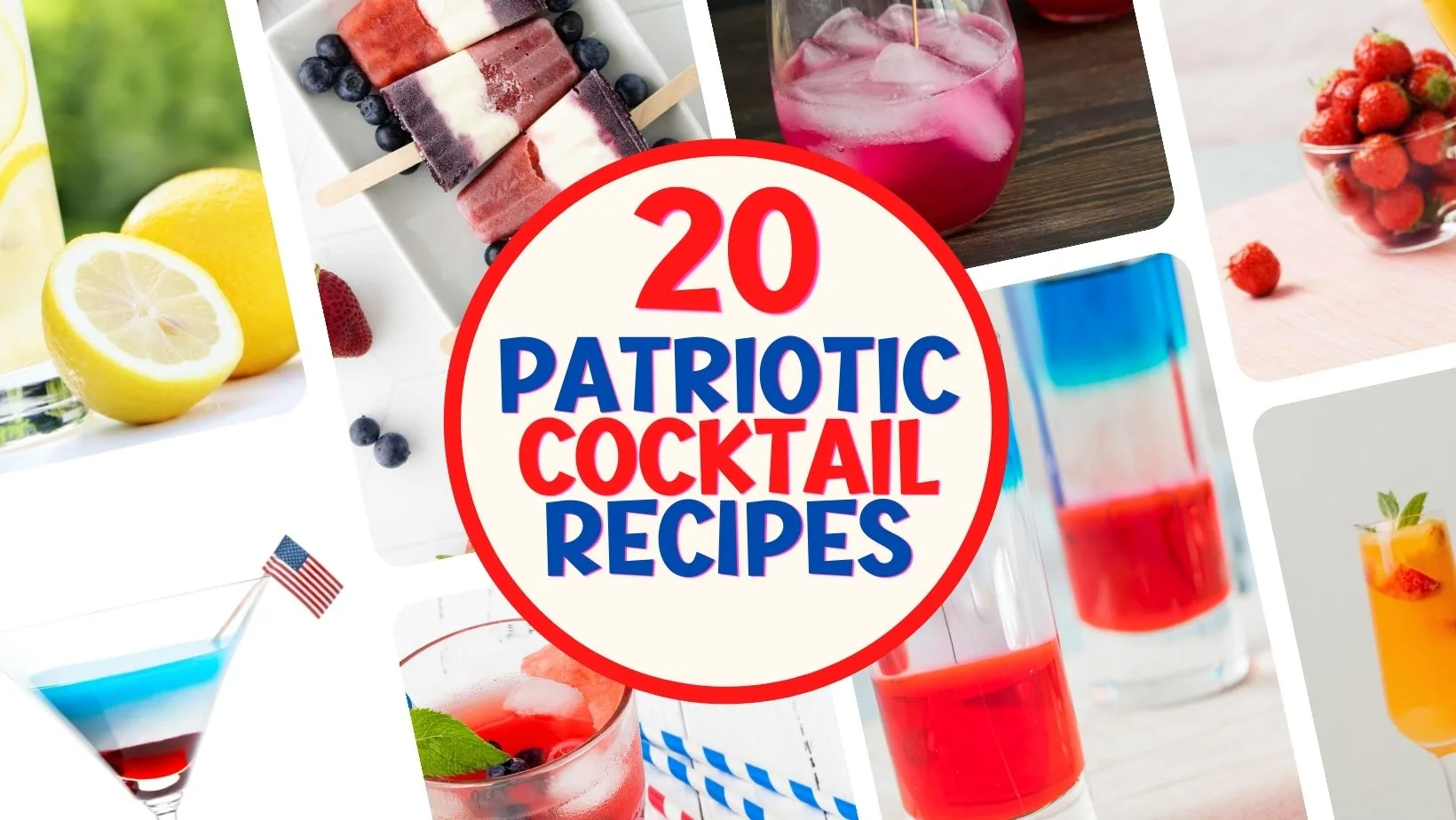 This post may contain affiliate links. Please read my Disclosure for more information.
MORE CLASSIC AMERICAN COCKTAILS
What Makes A Cocktail Patriotic?
It might seem like the only option for a patriotic drink is to make it red, white and blue but an-all American drink can also include classic ingredients like blueberries or Bourbon.
In the list below, there is even an apple pie flavoured cocktail – it doesn't get more American than that!
That being said, you will find lots of popular layered cocktails in this list – whether you are looking for Fourth of July shots in red. white and blue or Fourth of July punch recipes that are good for making in a pitcher to share with a crowd, we've got you covered.
20 Patriotic Cocktails For The Fourth Of July
This list of fantastic Independence Day cocktails is perfect for your next 4th of July party.
Click through the picture to get the recipe and ingredients for each drink plus any nutritional information you might need.
These layered shots are easy to make and always impressive!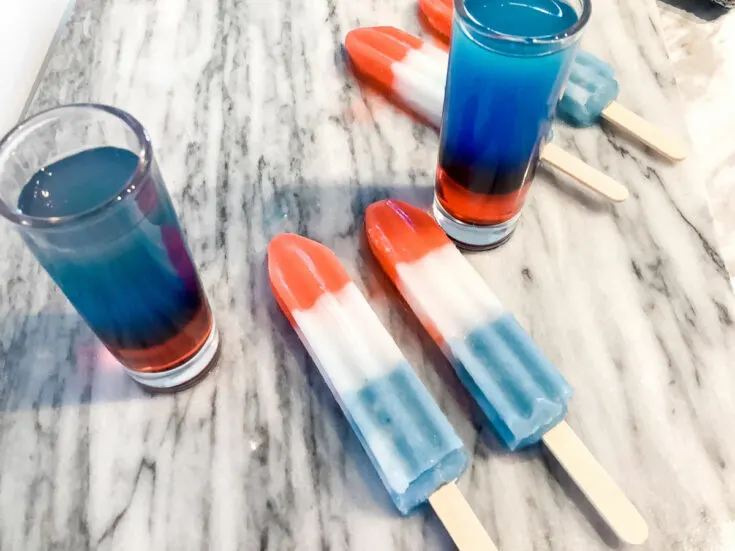 Go a step further with these homemade popsicles that are the perfect adult treat to cool down this July 4th.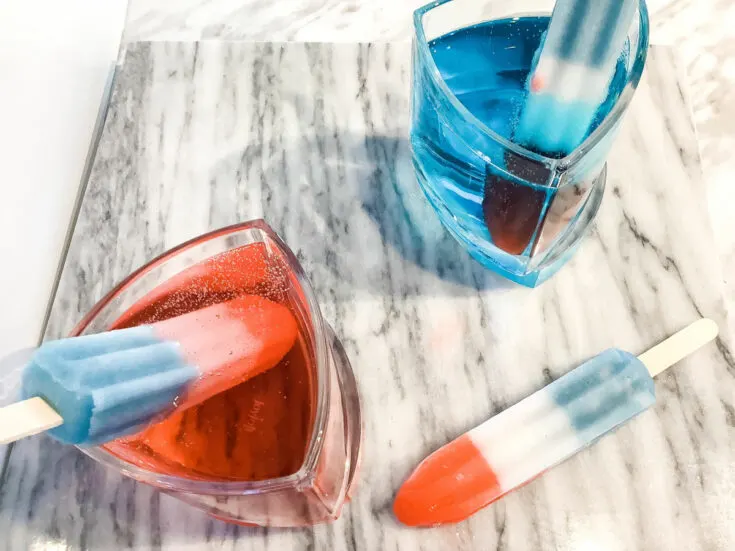 If you love Prosecco and Champagne, you will love these easy to make firecracker cocktails.
Wow the crowd at this year's cookout with this decadent and awe-inspiring layered martini.
What 4th of July is complete without sparklers? This lemonade sparkler cocktail is the best patriotic drink. Refreshing and delicious!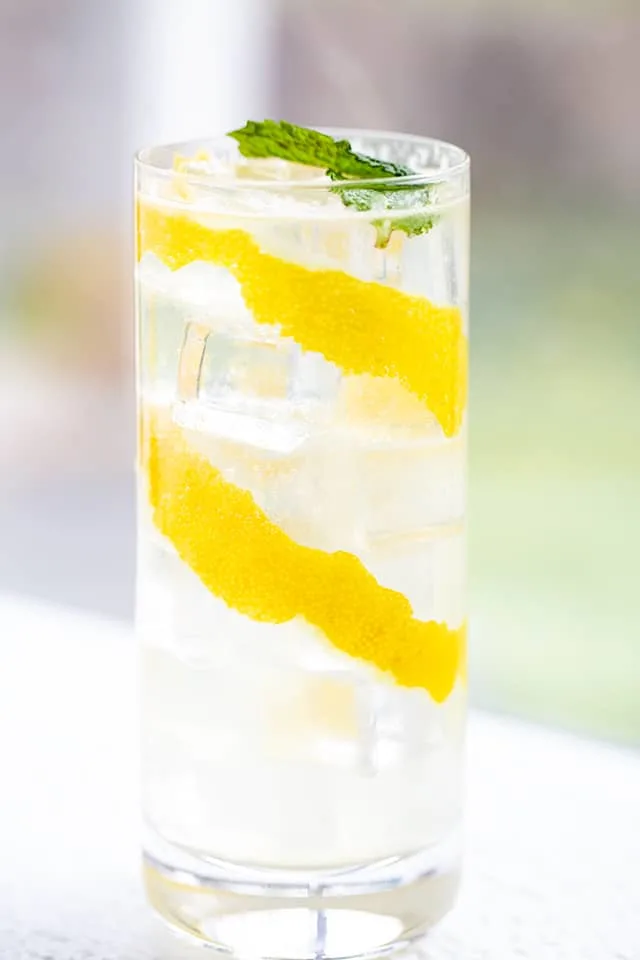 This watermelon sangria with white wine and blueberries (aka Red, White, and Blue Sangria) is very refreshing and very easy to serve a crowd during summer parties.
Our Patriotic Passion American Cocktail will get you in the spirit! Cool refreshing flavors with stars and raspberries. Mix it by the glass or pitcher for a refreshing red, white and blue drink.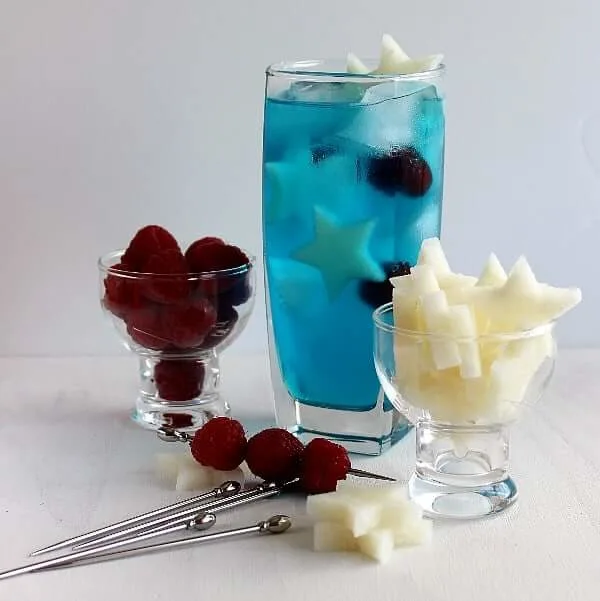 Did someone say Jello shots?
These red white and blue jello shots are an easy and impressive treat for a patriotic party or BBQ. Make them boozy for adults or alcohol free for the kids.
This fruity lemonade is authentically American with the kick of Bourbon.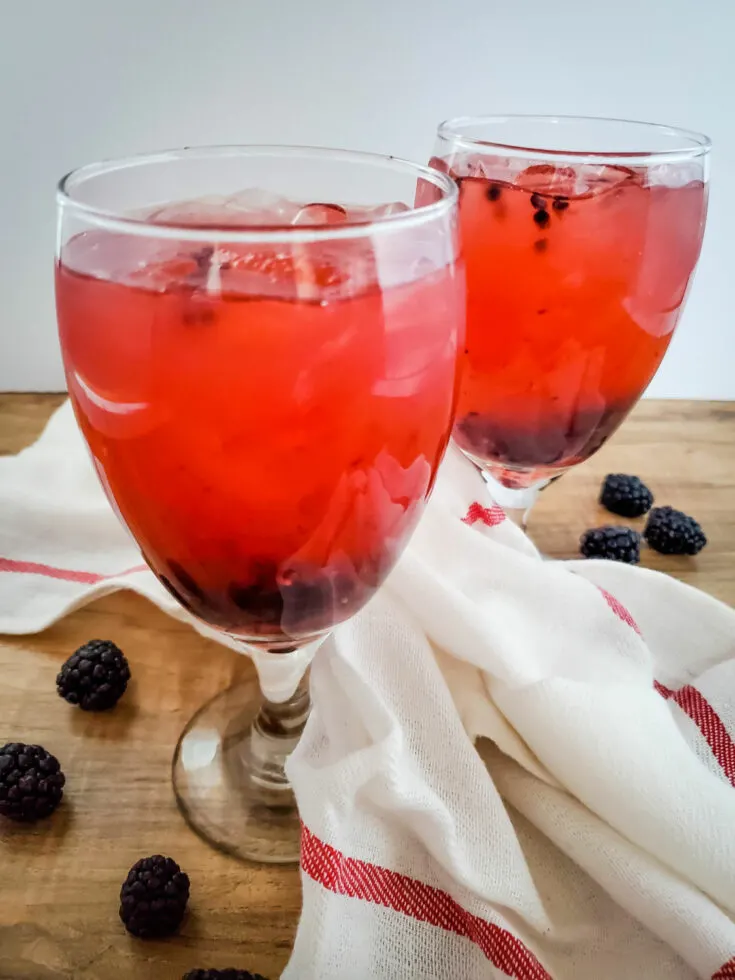 Is there anything more patriotic than apple pie?
American apple pie is the perfect summer dessert and how better to enjoy it than in an American Apple Pie Ice Cream Float?! This recipe includes both cocktail and mocktail versions.
Fruity sangria and crisp margaritas in one delicious cocktail. Why choose one drink when you make two in one go with this easy recipe.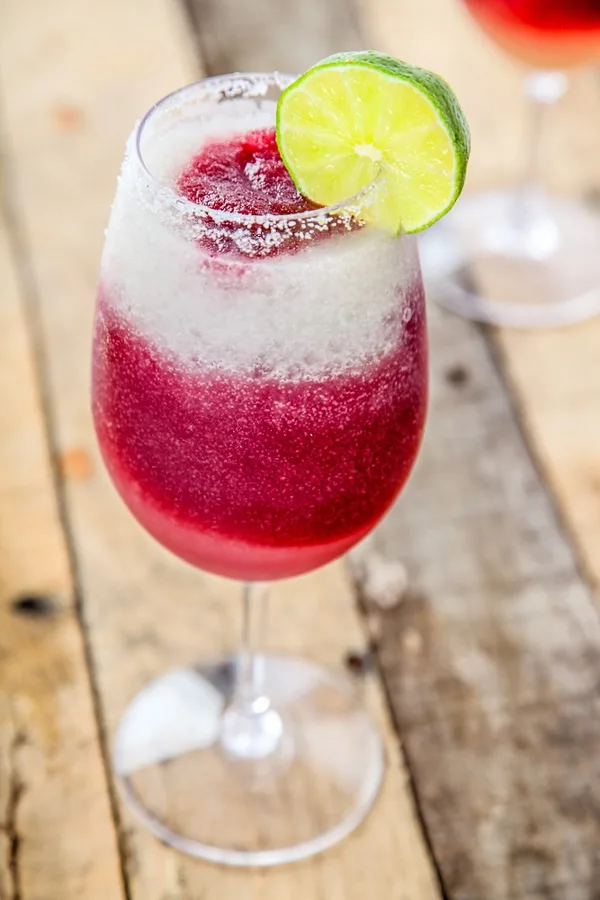 These red, white and blue layered shots are a fun and festive 4th of July cocktail. Mix Blue Curacao, Crown Royal Peach and Half and Half for a tasty peaches and cream patriotic shot.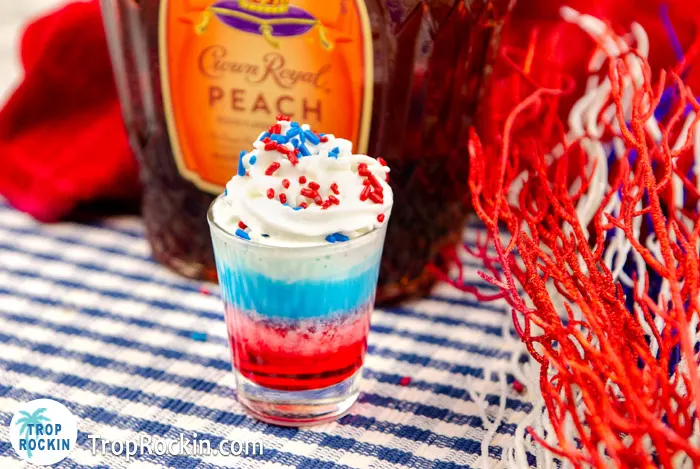 No post about patriotic cocktails would be complete without some beer! This Midwest favorite has just two ingredients and is really refreshing on a summer day.
Red Wine Sangria sparkles with berries. You can have a refreshing berry sangria in 5 minutes – it both looks and tastes amazing.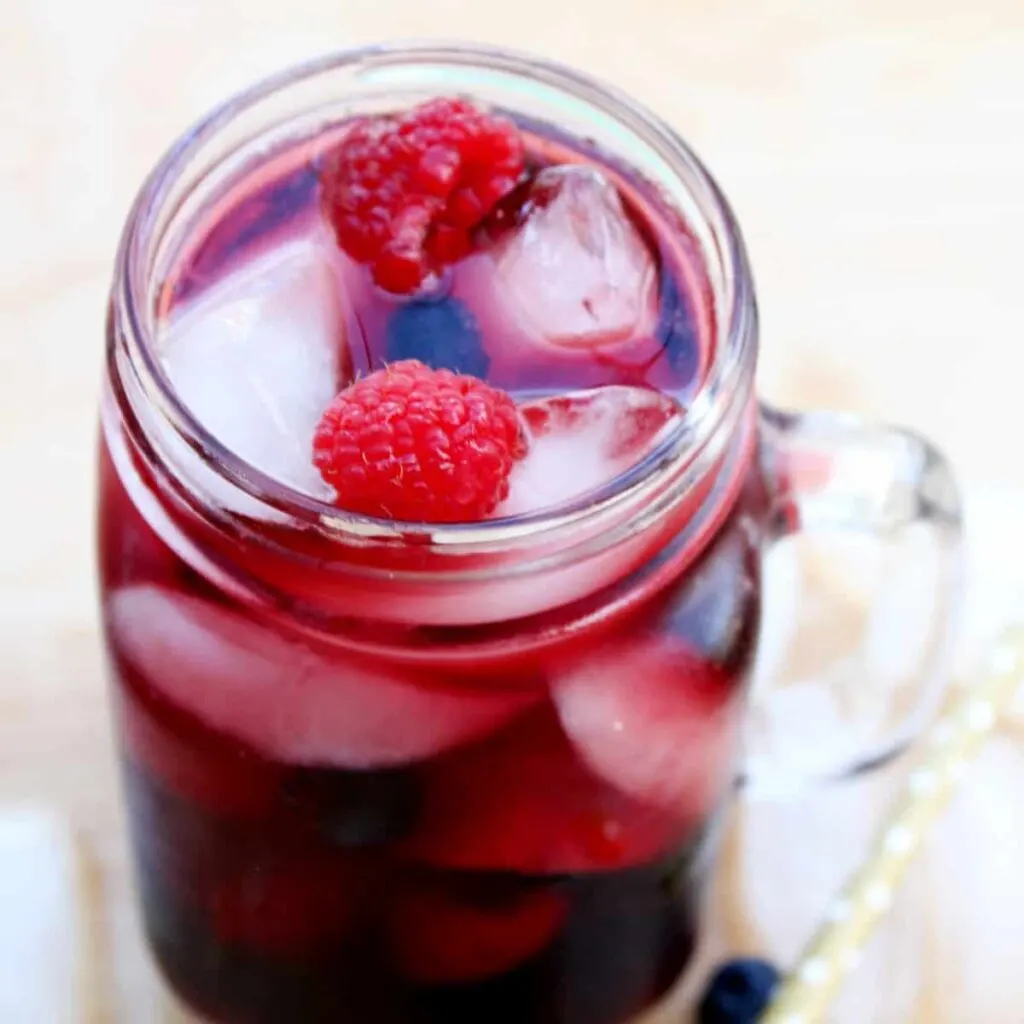 What is better than a slushie on a hot summer's day? These red ,white and blue versions are the perfect patriotic cocktails that you can make into mocktails for the kids!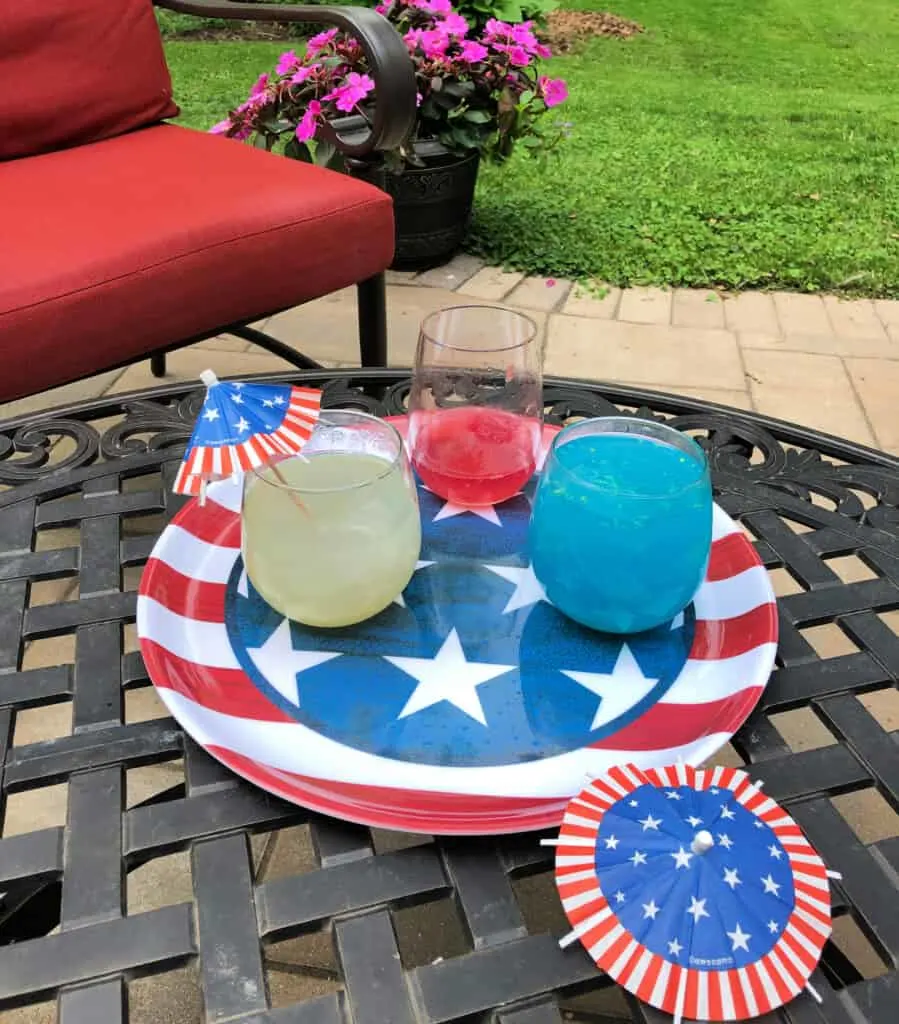 Take your Independence Day party down to South Beach with this Miami Vice cocktail!
Juicy strawberries, and tangy pineapple come together in this easy cocktail. Why choose one when you can have both!
Jam is the secret ingredient in this sparkling cocktail. Add in fresh raspberries and mint and you have a winning cocktail for any celebration!
Kick back and chill out with Strawberry Wine Slushies this Independence Day! Just throw 5 ingredients into a blender and serve.
This festive and tasty red white and blue sangria is perfect for celebrating the Fourth of July! It makes a great drink for a crowd – just whip up a pitcher for your next Fourth of July party.
Red, white, and blue jello shots are always a hit at 4th of July parties! This stained glass version takes the college favorite up a notch!
More Summer Cocktail Recipes
The Perfect Island Breeze Cocktail
Ultimate Bay Breeze Cocktail Recipe