Looking for the perfect drink to serve at your holiday party? Welcome to the Santa Shot recipe that couldn't be more festive and yuletide ready.
Perfect for any holiday gathering this tasty combination not only looks really Christmassy but the peppermint makes it taste just like a candy cane too!
So mix up those bartender skills and get ready to make this fantastic Christmas shot.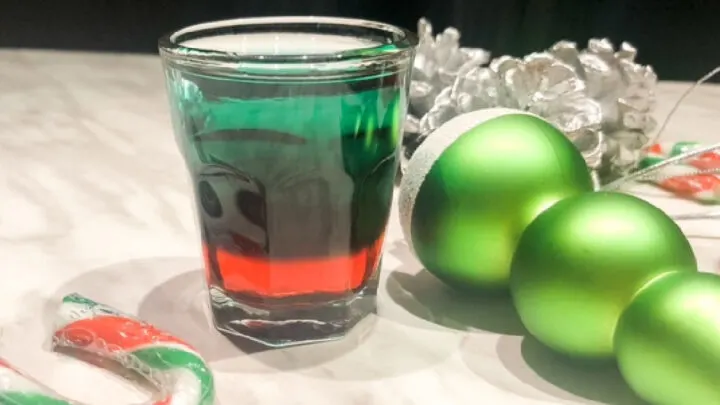 This post may contain affiliate links. Please read my Disclosure for more information.
RELATED POSTS
What Is The Santa Shot?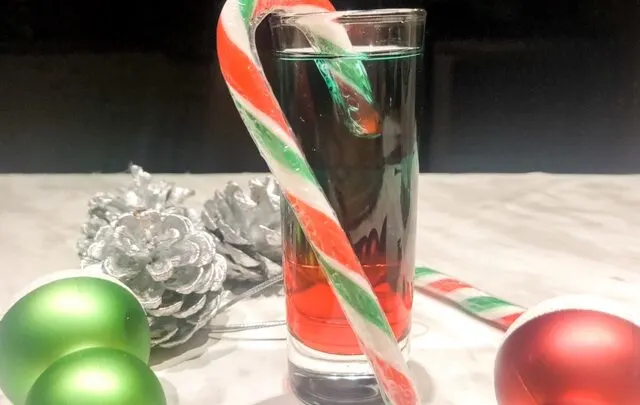 Christmas is a time of celebration and joy, which you can find in abundance with this festive shot recipe.
The layers of peppermint schnapps, grenadine and creme de menthe make the perfect holiday drink for any occasion.
If you're looking for a different way to celebrate Christmas this year, try out this Santa Shot Recipe!
Why you'll love this Christmas Shot Recipe
The perfect shot for Christmas is the Santa Shot recipe.
It is always a fan favorite for parties and events because it is so festive looking.
This shot is:
Perfect for the holidays
Simple to make
Impressive
Delicious
Great for a crowd
Santa Shot Ingredients
This layered shot recipe is a must-have for any Christmas party.
The drink tastes exactly like a candy cane and it kind of looks like one too! The great thing about this shot is that you only need 3 simple ingredients.
To make the Santa Shot you need:
Peppermint Schnapps
Creme De Menthe
Grenadine
If you love peppermint schnapps shots, then you will love this Santa shot recipe as it tastes really minty thanks to the creme de menthe and the schnapps.
This is a really great shot to serve with Christmas cookies or even some of that delicious peppermint bark that everyone has during the holidays.
How to make a Santa Shot
This shot is extremely easy to make and you don't need any tools other than a shot glass and a steady hand.
As you can see the in the photos, I made this shot using two different shot glasses and I found that the shorter glass made the Santa shot look best.
The key to the layered candy cane look is to pour each ingredient in very slowly and deliberately so that they layer perfectly.
To make this shot, first pour in the grenadine into your shot glass.
Next, add the creme de menthe to give your shot the green layer.
Finally, top your shot with a layer of peppermint schnapps.
What does this Santa shot recipe taste like?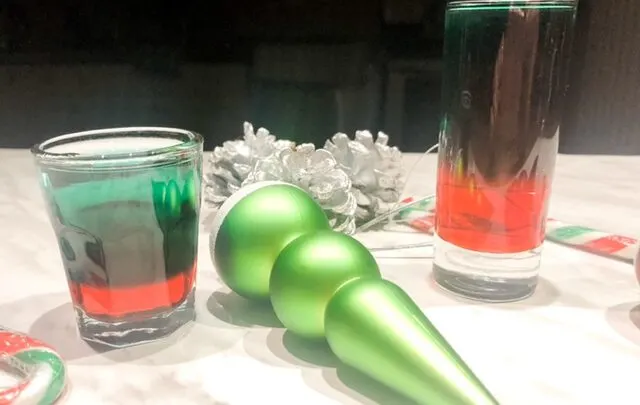 The Santa Shot Recipe tastes a little bit like Christmas.
The layers of peppermint schnapps, grenadine and creme de menthe make this recipe the perfect festive shot to make at any time of year, no matter how you celebrate.
Final Thoughts
If you're looking for the perfect Holiday party drink or to impress your friends at game night (or both), this recipe is for you!
It is easy to make and the minty flavor is refreshing and tastes just like a candy cane.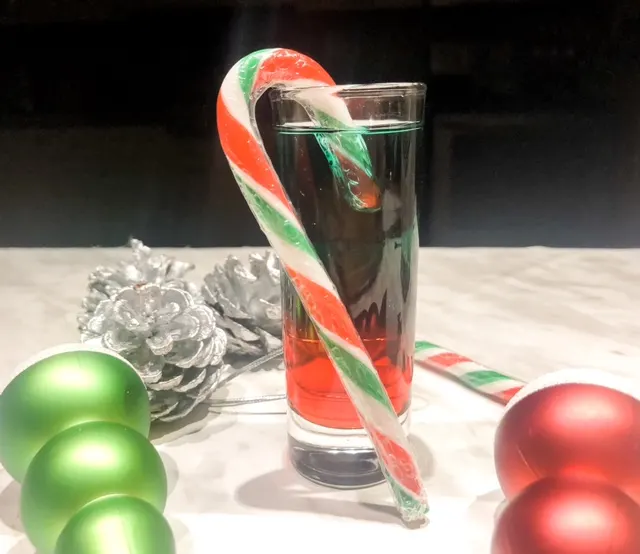 Yield:

1
Santa Shot Recipe For Christmas
This Santa shot is festive and fun! With only three ingredients, it is easy to make yet the layered look makes it look so impressive.
Ingredients
1/2 oz Grenadine
1 oz Creme de Menthe
1 oz Peppermint Schnapps
Instructions
Carefully pour your grenadine into the shot glass
Next slowly pour in the creme de menthe
Lastly, top your shot glass with a layer of peppermint schnapps
Garnish with a candy cane if desired
Love Christmas Cocktails and Shots?
Check out these recipes:
12 Christmas Bourbon Cocktails
Christmas Fairy Absinthe Cocktail