If you are a fan of risque-sounding shot drinks, then this Slippery Nipple cocktail recipe and its variations will be right up your alley.
These are the mainstay of many a college party and are perfect if you love Irish Creme drinks such as Baileys.
In researching these "nipple" shots, I noticed that there are actually tons of alternative recipes with the exact same name so I have made sure to list your options in the recipes below in case you want to switch things up.
These cheeky shot recipes are easy to make and equally easy to drink.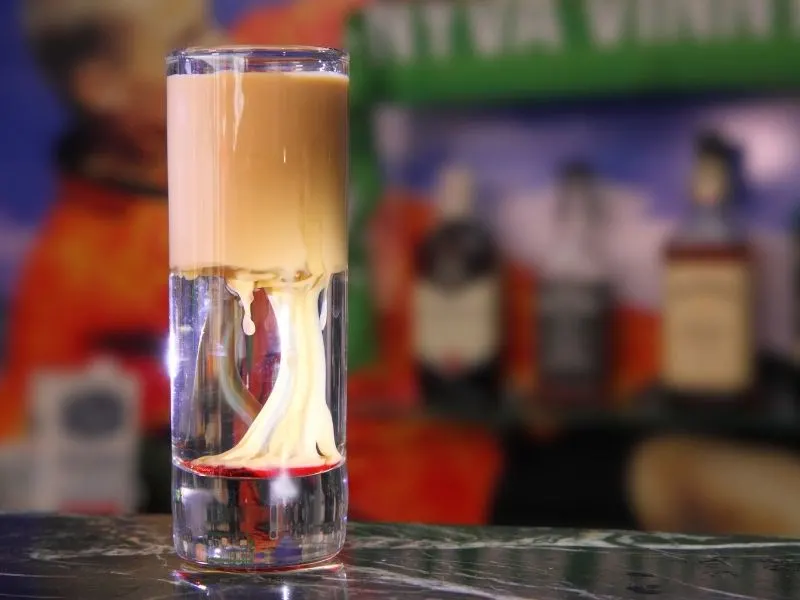 This post contains affiliate links. Please read my Disclosure for more information
RELATED POSTS
Slippery Nipple Recipe Cocktail/Shot

The Slippery Nipple Shot Is
Entertaining
A shot for people who hate shots

Easy to make

Fun
What is a Slippery Nipple made of?
As I mentioned before, there are tons of variations of the Slippery Nipple cocktail. If you like shots made with Baileys then you will love the Slippery Nipple and possible all of the different versions there are of this type of shot.
The most well-known Slippery Nipple Shot contains the following:
1/2 shot glass Sambuca
1/2 shot glass Baileys Irish Cream
What tools do I need to make a Slippery Nipple?
You really don't need much in order to make shots and the Slippery Nipple shot is no exception. You don't need a cocktail shaker or a strainer which makes a change from most mixed drinks.
All you need is a shot glass and a steady hand to pour the drinks in order.
How To Make The Slippery Nipple
Step 1:Layer the alcohol
Pour the Sambuca into a shot glass, then pour the Baileys on top so that the two liquids do not mix.
Step 4: Garnish
The classic garnish for the slippery nipple is a cherry. Another option is to add a quick squirt of whipped cream to the top of your shot.
Variations of the Slippery Nipple Recipe
There are tons of options you can make if you don't like Sambuca, here are my favorite alternatives:
Dirty Nipple Shot Recipe
If you are not a fan of Sambuca, you can try the Dirty Nipple shot instead. Make sure to pour the alcohol in order to create the laying effect.
1/3 Shot Glass Kahlua
1/3 shot glass Butterscotch Schnapps
Top the glass with Baileys/Irish Cream
A lot of people wonder if Kahlua and Baileys are the same. The truth is, they are totally different.
Baileys is an Irish whisky based creamy liqueur whereas, Kahlua is a Mexican coffee liqueur made with rum and coffee.
Buttery Nipple Shot
Take out the Kahlua and you find yourself with a Buttery Nipple shot recipe. This shot is named after the tasty Butterscotch Schnapps that makes up the majority of this drink.
1 ounce Butterscotch Schnapps
1/2 ounce Baileys Irish Cream
Golden Nipple Shot
Another shot variation is the Golden Nipple. It is nice if you like the taste of cinnamon and is a great shot for the fall and winter.
1/2 shot glass Goldschlager
1/2 shot glass Irish Cream/Baileys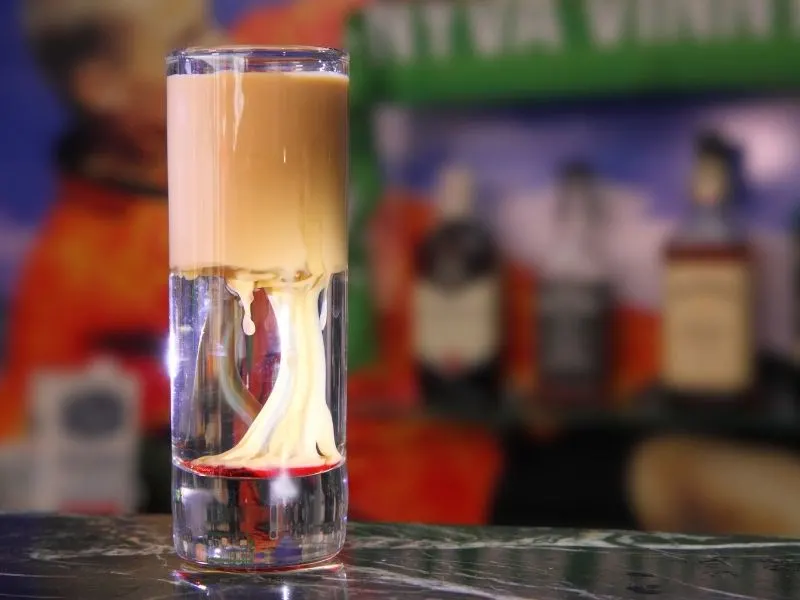 Yield:

1 shot
Slippery Nipple Shot Recipe
This is a classic shot recipe that is always popular at parties and gatherings. It is also a great "intro" shot for people who don't want to shoot straight alcohol and need something a bit smoother.
Ingredients
1/2 shot glass Sambuca
1/2 shot glass Bailey's Irish Cream
Cherry or whipped cream for garnish
Instructions
Pour the Sambuca into a shot glass, then pour the Baileys on top so that the two liquids do not mix.
Garnish with a cherry or a squirt of whipped cream
Want More Shot Recipes?