What could be more tropical and tasty than tequila, coconut and pineapple? This 1800 Coconut Tequila and Pineapple Juice Cocktail tastes amazing and is easy to make.
This Coconut Tequila Sunrise cocktail recipe is made with 1800 Coconut Tequila which is a variety of the popular 1800 Tequila.
If you love the classic Tequila Sunrise cocktail or even a Vodka Sunrise Cocktail, then you will love this tropical twist on a classic.
Read on for the simple recipe and all the details you need to know.
This post contains affiliate links. Please read my Disclosure for more information.
RELATED POSTS
Why you'll love this 1800 Coconut Sunrise
This coconut sunrise is a delicious and refreshing drink that can be enjoyed any time of the year.
This easy to make cocktail is made with simple ingredients and can be made in just minutes.
Coconut tequila is an excellent choice for this drink because it has a strong flavor that balances well with the sweetness of the pineapple juice and grenadine.
This drink is perfect for a summer cocktail party or as a refreshing drink on a hot day.
This 1800 Coconut Cocktail recipe is:
Summery
Delicious

Great for any occasion

Easy to make

Impressive
What is the Coconut and Pineapple Cocktail made of?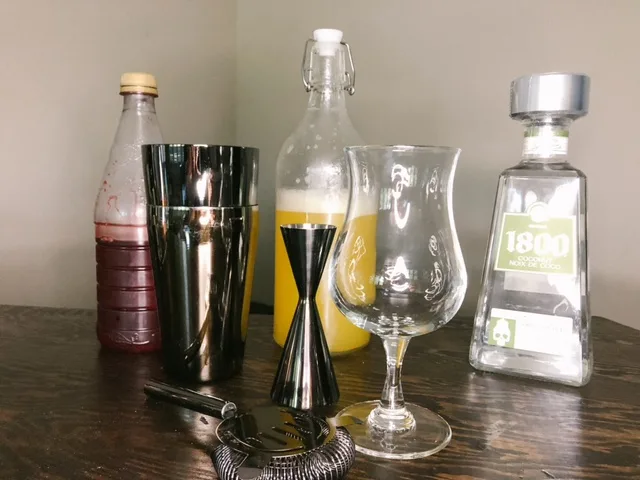 The main ingredient in this summery cocktail is 1800® Coconut Tequila. If you are a tequila fan and haven't tried 1800 Coconut Tequila yet, then you are in for a treat.
1800® Coconut is created by infusing with fresh, ripe coconut for a smooth award-winning tequila that tastes great with pineapple.
Here is what you need to make this delicious cocktail:
2 ounces 1800® Coconut Tequila
8 oz pineapple juice
1/2 ounce Grenadine
What Can You Use Instead Of 1800® Coconut Tequila?
If for some reason you are unable to find the 1800® Coconut Tequila at your local store you can use regular tequila and coconut water instead although the Coconut tequila will be much better.
You could also consider substituting the tequila for coconut rum in a pinch, making it more of a Malibu Rum Punch.
More Sunrise Cocktails
The Perfect Vodka Sunrise Recipe
What tools do I need to make the Coconut Sunrise Cocktail?
You really don't need much in order to make this cocktail which makes it perfect for any party or large gathering when you want to whip them up in minutes.
The only tool you'll need to make this cocktail:
Don't have the tools you need?
If you don't have a cocktail shaker, a large mason jar works just as well in a pinch.
Use the mason jar lid or a plate to strain the drink if you don't own a strainer.
How To Make This 1800 Coconut Tequila And Pineapple Juice Cocktail
It is so easy to make this drink and it is always a hit at summer parties.
Step 1:Combine Tequila and Pineapple Juice
Place the 1800 coconut tequila and pineapple juice into a cocktail shaker with ice. Shake for 15 seconds.
Step 2: Strain
Strain the drink into a glass
Step 3: Add Grenadine
This will give your drink the sunrise effect.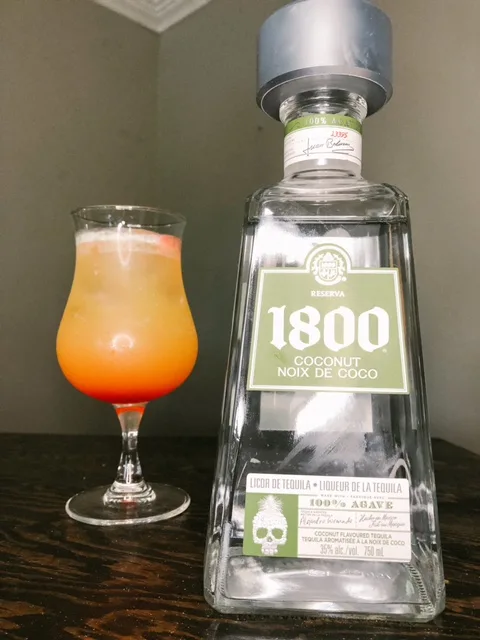 Yield:

1
1800 Coconut Tequila and Pineapple Juice Cocktail
Tropical and delicious, this tequila sunrise is made with coconut tequila making it even more tasty than normal.
Ingredients
2 oz 1800® Coconut Tequila
8 oz Pineapple Juice
1/2 oz Grenadine
Instructions
Place the coconut tequila and pineapple juice into a cocktail shaker with ice. Shake for 15 seconds.
Strain the drink into a martini glass
Add grenadine
Want More Tequila Cocktail Recipes?
Try these:
Tequila And Peach Schnapps Cocktail