If you love mixed drinks as much as we do, you will love these cocktail quotes for instagram or just throwing around at the bar.
Below you will find an amazing list of famous cocktail quotes, funny cocktail quotes and even some inspirational quotes about alcohol that might make you laugh.
This post may contain affiliate links. Please read my Disclosure for more information.
RELATED POSTS
Famous Cocktail Quotes
Celebrities have had a lot to say about alcohol over the years.
From Winston Churchill to Vera Wang, there are some quotes from all kinds of famous people.
If you are interested in what some of your favorite celebrities have said about their tipple of choice, read on!
You can download and save the images to use on Instagram or Facebook.
50 Awesome Quotes About Cocktails
Hear no evil, speak no evil, and you won't be invited to cocktail parties -Oscar Wilde
Here's to alcohol, the rose colored glasses of life – F. Scott Fitzgerald"
A Bartender is the aristocrat of the working class. – Cocktail Movie Quote
When I read about the evils of drinking, I gave it up. Reading, that is – Henny Youngman
I like to have a martini, two at the very most. After three I'm under the table, after four i'm under my host – Dorothy Parker
I feel bad for people who don't drink. When they wake up in the morning, that's as good as they're going to feel all day – Frank Sinatra
It is true that whiskey improves with age. The old I get, the more I like it – Ronnie Corbett
Now Campbeltown Loch is a beautiful place, But the price of the whisky is grim. How nice it would be if the whisky was free, And the Loch was filled up to the brim. – Campbeltown Loch, Andy Stewart
One martini is alright, two is too many, three is not enough – James Thurber
If life gives you lemon, make lemonade…and find someone whose life gave them vodka. – Ron White
There comes a time in every woman's life when the only thing that helps is a glass of champagne. – Bette Davis
There cannot be good living where there is no good drinking – Benjamin Franklin
I began to think vodka was my drink at last. It didn't taste like anything, but it went straight down into my stomach like a sword swallowers' sword and made me feel powerful and godlike – Sylvia Plath
Do not allow children to mix drinks. It is unseemly and they use too much vermouth –
Steve Allen
Everybody's got to believe in something. I believe I'll have another beer. – W.C Fields
Work is the curse of the drinking class – Oscar Wilde
I can make anybody pretty, I can make you believe any lie, I can make you pick a fight, With somebody twice your size – Alcohol, Brad Paisley
Meet me down in the bar! We'll drink breakfast together – W. C. Fields
She has a cocktail in her hand and confetti in her hair – Kate Spade
Oh, you hate your job? why didn't you say so? There's a support group for that. It's called everybody, and they meet at the bar. – Drew Carey
Man, being reasonable, must get drunk; The best of life is but intoxication – Lord Byron
I have taken more out of alcohol than alcohol has taken out of me – Winston Churchill
Work, sleep, a vodka cocktail. Not Much sun – Vera Wang on staying young at age 70.
I never should have switched from Scotch to Martinis – Humphrey Bogart
An intelligent man is sometimes forced to be drunk to spend time with his fools. – Ernest Hemingway
A few drinks and the world was hers. She wore her whiskey like a loaded gun – Atticus
One tequila, two tequila, three tequila, floor. George Carlin
An intelligent man is sometimes forced to be drunk to spend time with his fools. – Ernest Hemingway
Cocktail Quotes For Instagram
Below are some of the best cocktail instagram captions you can use, plus some ready made instagram posts for your feed.
Ha'kuna Ma'vodka, It means no memories for the rest of your night
May All Your Days Be Filled With Umbrella Drinks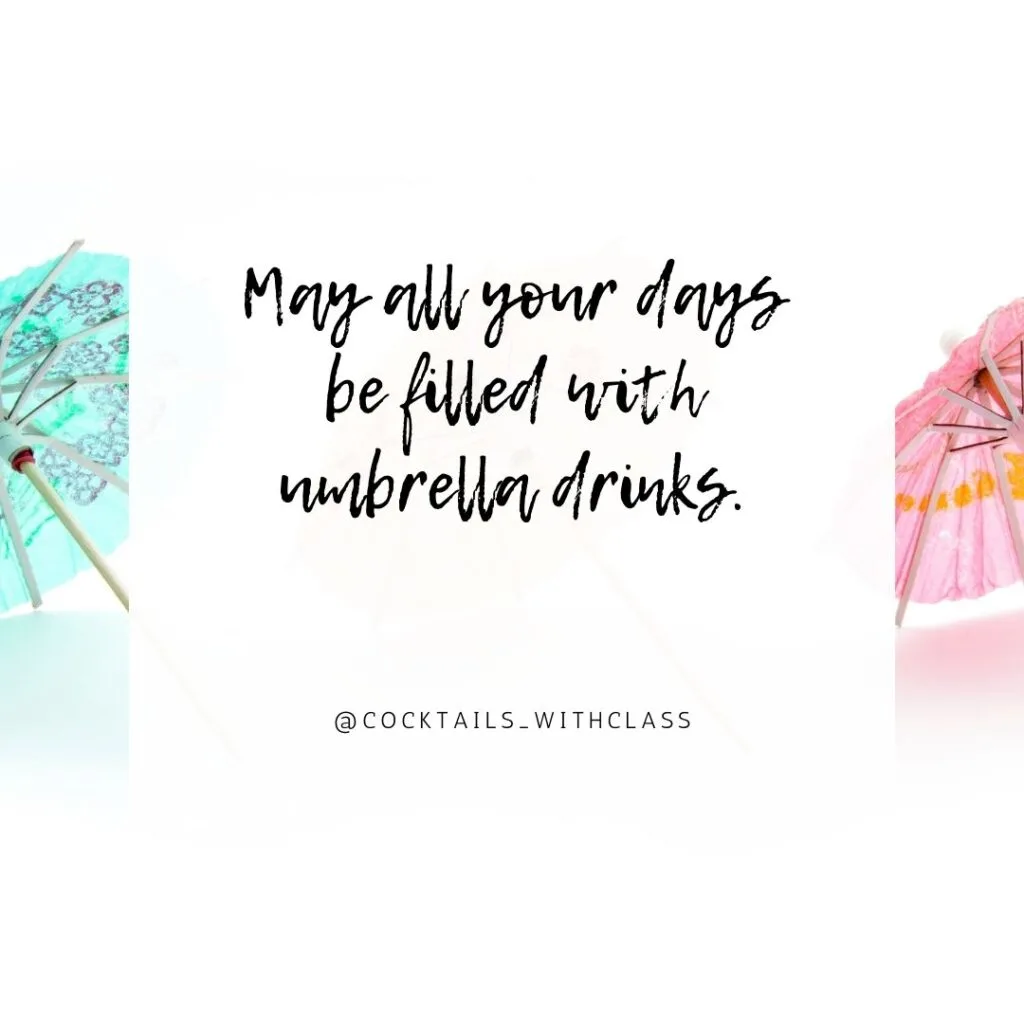 This senorita needs a margarita
Be as bubbly as your drink
When life gives you pineapples, make piña coladas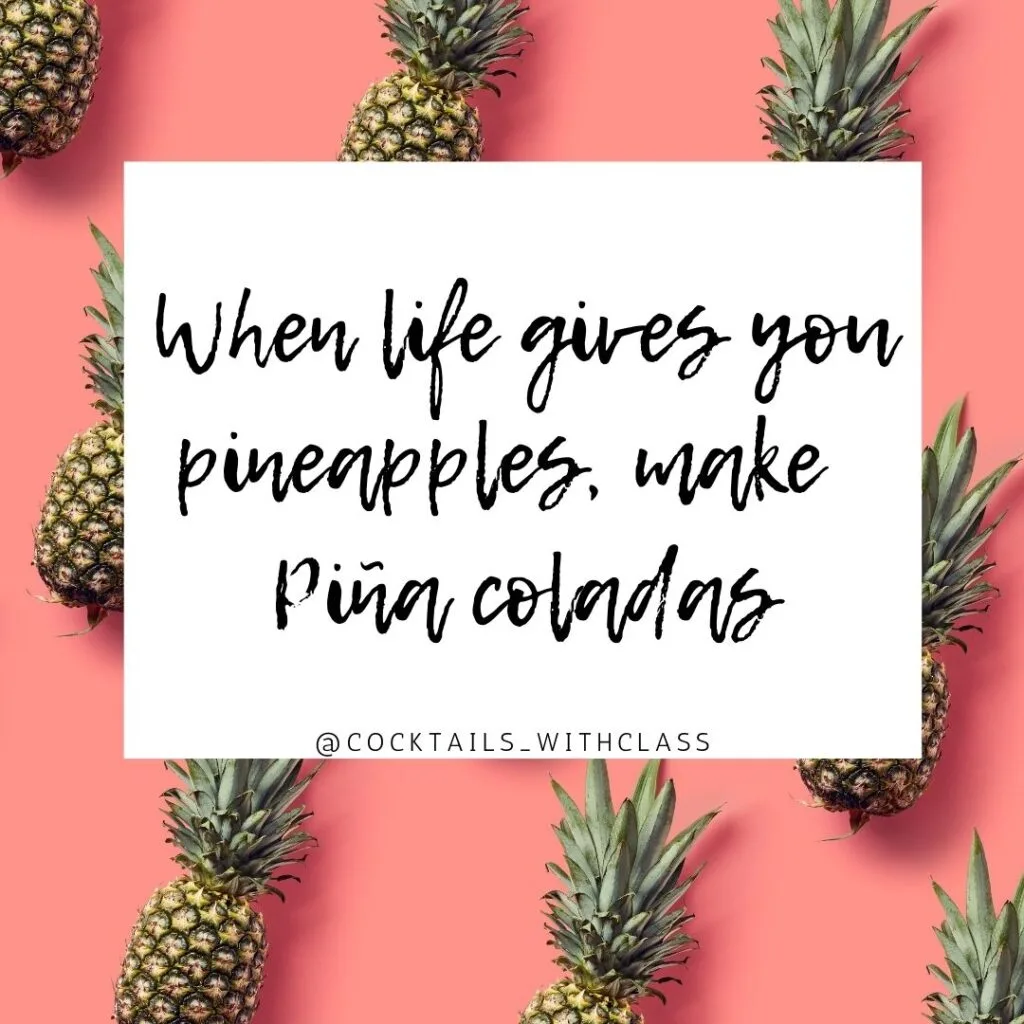 Vodka mixes well with everything. Except decisions
All you need is love and cocktails
The only men I trust are Jack, Jim and Jose.
Drinking rum before 10am makes you a pirate, not an alcoholic
Trust me, you can dance – Vodka
I doubt vodka is the answer but it's worth a shot
When Life Gives You Lemons, Make a Lemon Cocktail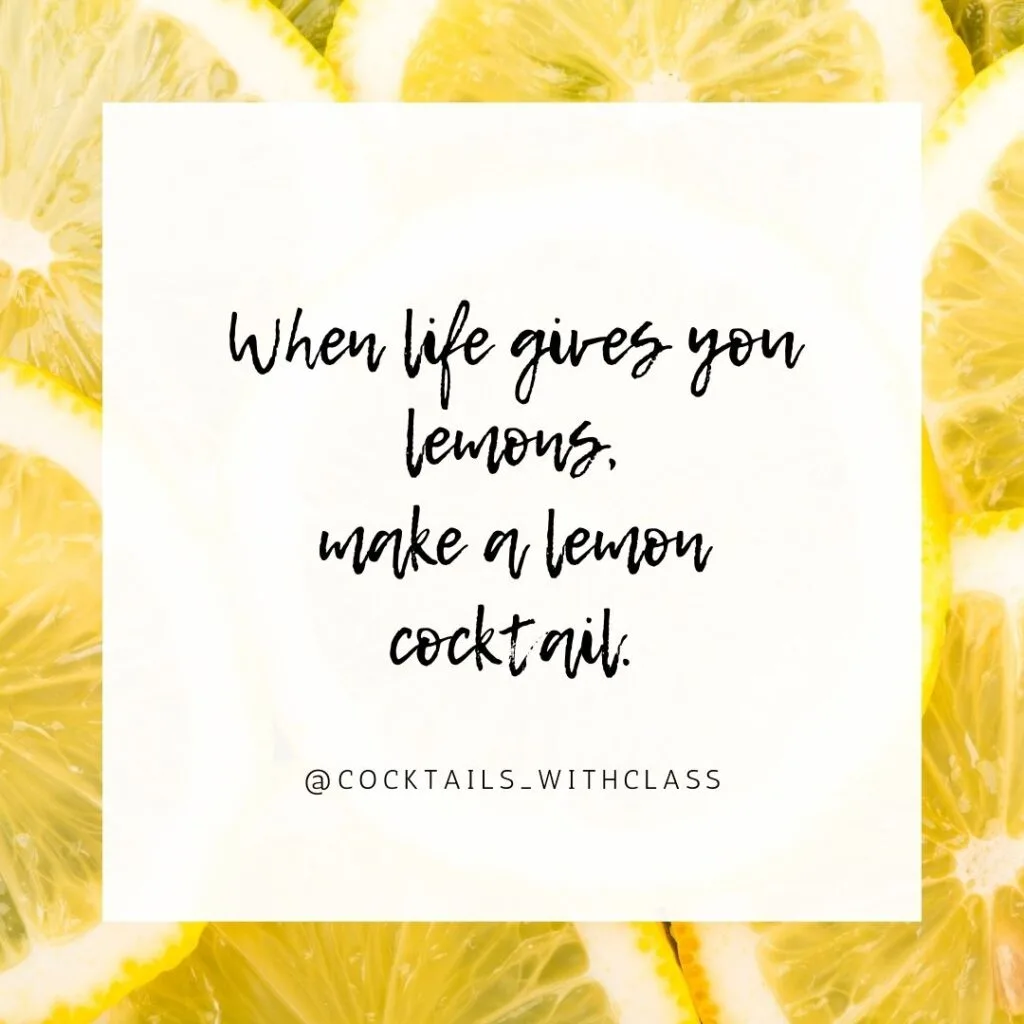 Monday, Rum day
Time to drink champagne and blow bubbles
Don't chase anything but drinks and cocktails
Keep calm and cocktail on
It's beginning to look a lot like cocktails
Sometimes all you need is a mojito
We all deserve an alcoholiday
I have mixed drinks about feelings
I want my toes in the sand and a cocktail in my hand
My relationship with whiskey is on the rocks
Do you know any other great cocktail quotes? Post them in the comments below!