Who doesn't love a good mojito? They are fun to make and taste amazing at any time of year but if you have a craving for one and have run out of rum, then try the gin mojito recipe below and you might be pleasantly surprised.
I feel like this is the perfect time to tell you that I went on vacation once to Cuba and the hotel couldn't serve mojitos for the whole week because they had run out of mint! Since then I made sure to keep my fridge fully stocked in case I get the urge.
Whether you don't like rum or just want to try something different this twist on the classic mint mojito will soon become a new favorite.
This post contains affiliate links. Please read my Disclosure for more information.
RELATED POSTS
What alcohol is best for mojitos?
Being a drink from Cuba, rum is the obvious choice for a mojito and traditionally it has been the only choice.
However, turning a mojito recipe into a gin and mint cocktail creates a refreshing new version of the drink and is great for anyone who doesn't like rum.
Also – for those of you who have ever asked " What to mix with gin to make it taste good?", then mint is surely the answer to all your problems!
The great thing about this gin mojito recipe is that it is easy to make and doesn't need many ingredients.
Fresh mint is a must then the gin of your choice and some club soda are all you need to create the perfect summer cocktail.
Yield:

1
The Ultimate Gin Mojito Recipe
Refreshing, summery and perfect to sip poolside, this gin mojito has it all.
Ingredients
3 Sprigs of Mint, shredded
1 oz Simple Syrup
1 oz Gin
6 oz Club Soda
Lime
Ice cubes
Instructions
Add 3 lime quarters, the simple syrup and the mint to a glass
Using a muddler, smash the mint and lime with the syrup at the bottom of the glass
Add 5-6 ice cubes and pour the gin over the ice
Finally add club soda to taste
Gin Mojito Pitcher Recipe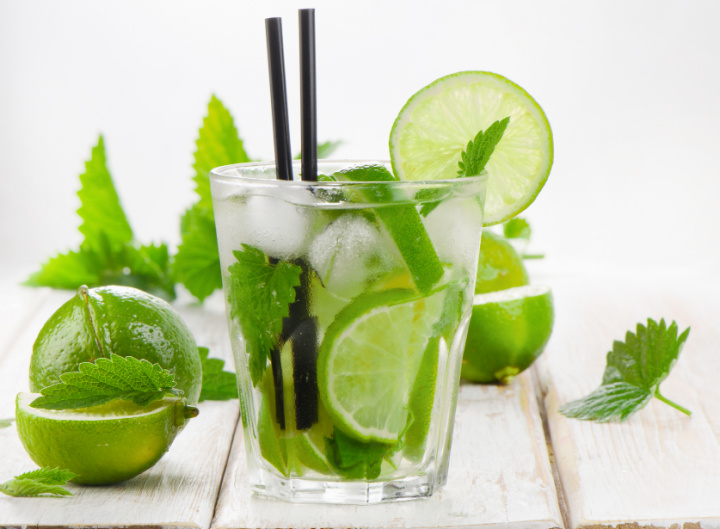 The nice thing about this gin mojito recipe is that it translates really easily into a pitcher for big groups.
To make this into a jug for summer parties use these amounts:
1 cup of gin
1 litre of club soda
20 sprigs of mint
1/2 cup of white sugar (or simple sugar)
Variations On The Gin Mojito Recipe
Although I truly think the classic mint mojito is absolute perfection, there are a few great variations on the gin mojito for when you want a change. Here are my top picks:
Cucumber Gin Mojito Recipe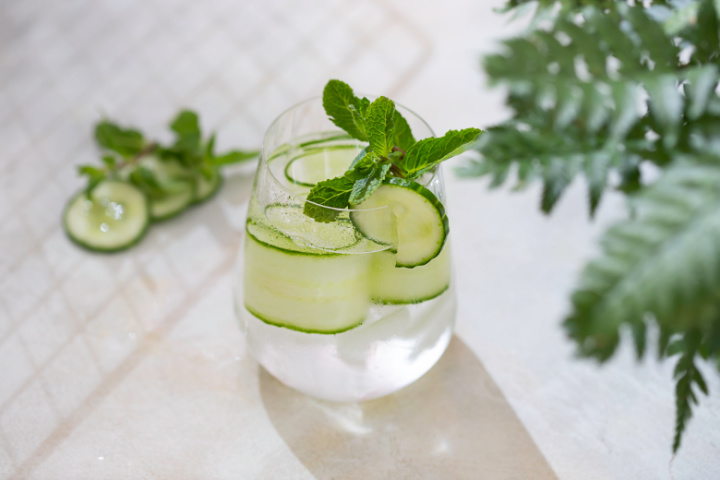 Cucumbers turn the summery mojito into a class act. You will feel like you are at a spa with this cool cucumber delight.
Make as the classic mojito above but add in 4 slices of cucumber after muddling the syrup and mint.
Strawberry Gin Mojito
Muddle 3 strawberries with the syrup, mint and lime.
Blood Orange Mojito Made With Gin
Blood oranges are typically in season during the winter months so this mojito mades a nice change when you want to feel like you are in the sunshine instead of the snow.
To make the blood orange mojito, follow the direct for the classic mint mojito as directed but add the juice of 1 blood orange before topping with club soda.
Equipment Needed For The Gin Mojito Recipe
You really don't need much for this recipe aside from a a good quality muddler.