The Bees Knees Cocktail is a classic Prohibition-era drink that has made a comeback in recent years.
The recipe combines gin, honey liqueur and lemon juice for a sweet but tart flavor.
Honey liqueur is the essential ingredient that gives this refreshing libation its unique and flavorful profile. The result is a sweet and sour concoction sure to make any imbiber the bees knees!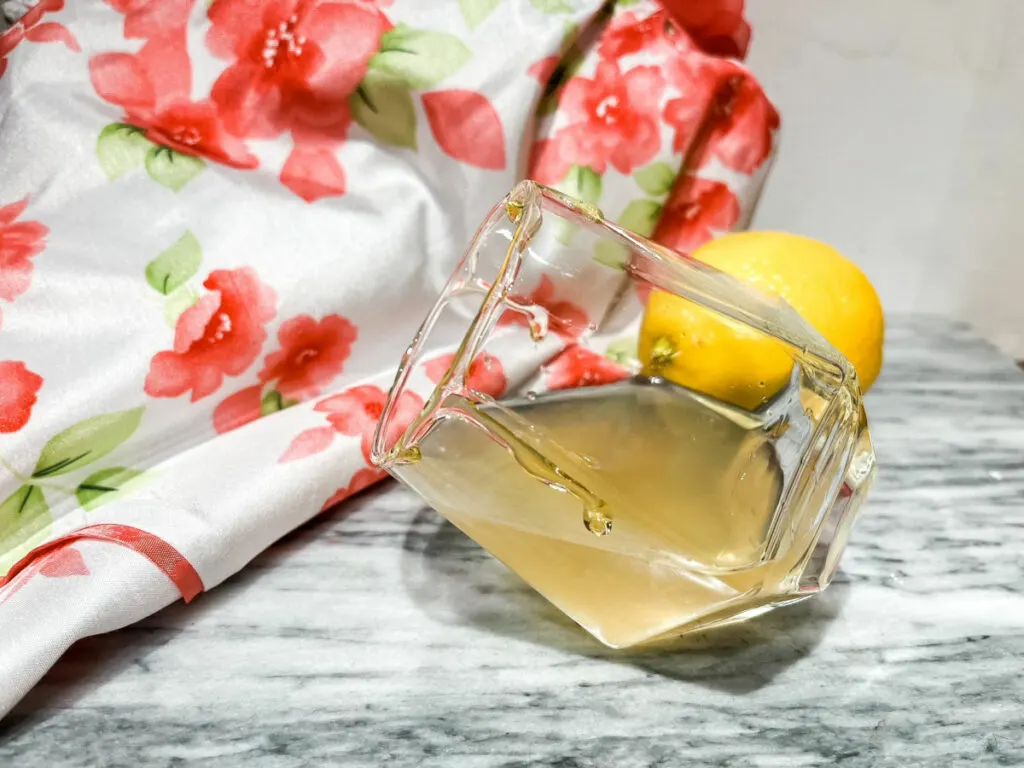 This post may contain affiliate links. Please read my disclosure for more information,
More Fun Gin Cocktails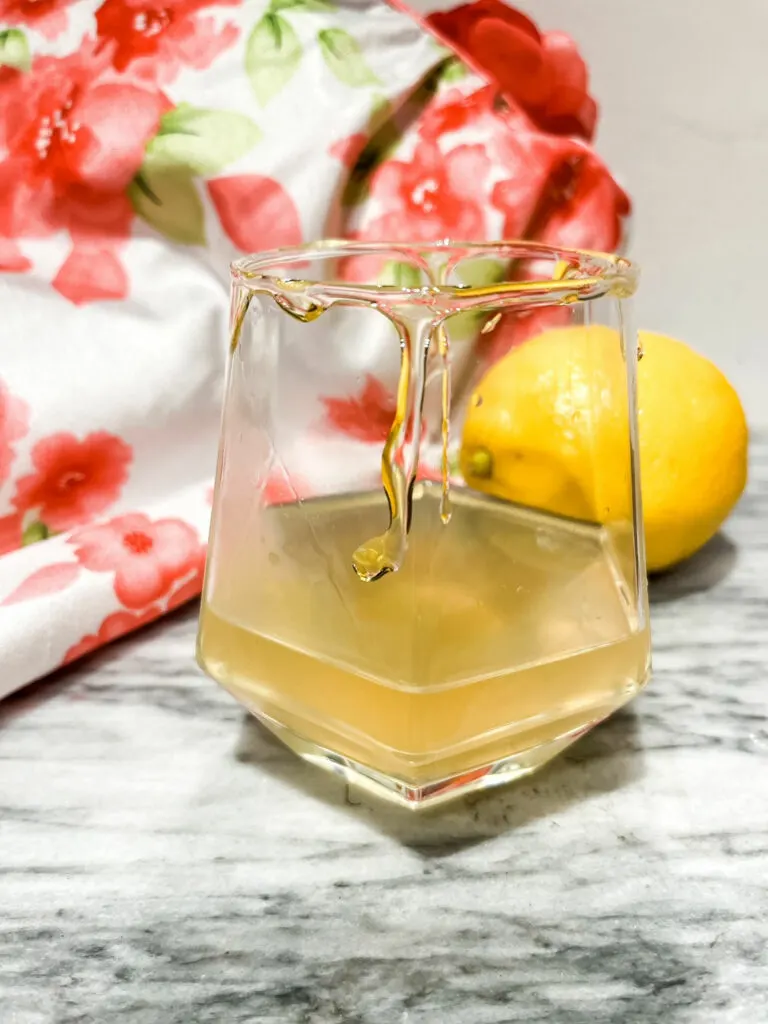 Why is it called a Bees Knees cocktail?
Back in the 1920s the term the bees knees was another way of saying something was the best of the greatest
You may not know it, but bees carry pollen around in sacks in the knees. This means that bees knees are typically full of lots of goodness, much like this honey cocktail.
When you drink this cocktail, you sure to think it's the bees knees!
Who Invented The Bees Knees Cocktail?
The origin of the Bees Knees cocktail remains somewhat ambiguous; however, we know it was developed in the 1920s during the Prohibition era.
The drink is a combination of honey, lemon juice and gin, so it is speculated that the concoction was an effort to mask the taste of illegally produced alcohol.
Numerous bartenders are credited with creating the cocktail during this time period, leading to an ongoing debate as to who should officially be recognized as its inventor.
Most people agree that the most likely candidate is Frank Meier, who was head bartender at the Ritz Hotel's Parisian café in 1921.
What's in the Bees Knees cocktail?
To make this the honey cocktail all you need a three simple ingredients!
Gin is your main alcohol and we use a honey liqueur or a honey syrup which gives the cocktail its name!
Lemon juice adds a hint of sour to offset the sweetness of the honey.
You can make your own honey syrup by combining water and honey and bringing it to a boil but I've chosen to use a honey liqueur instead.
My favorite honey liqueur is the original one by Bärenjäger.
What is Bärenjäger Honey Liqueur?
This is honey liqueur from Germany is made with real premium honey and other pure natural ingredients.
It's really delicious and they were lots and lots of great Bärenjäger cocktails that you can make with it.
You can buy Bärenjäger at most liquor stores in the USA and Europe.
These are the simple ingredients you need for this delicious honey drink. For full step-by-step instructions, scroll down to our recipe card at the bottom of the page
Bees Knees 's Cocktail Ingredients
Gin
Honey liqueur
Lemon juice
Bees Knees Cocktail Directions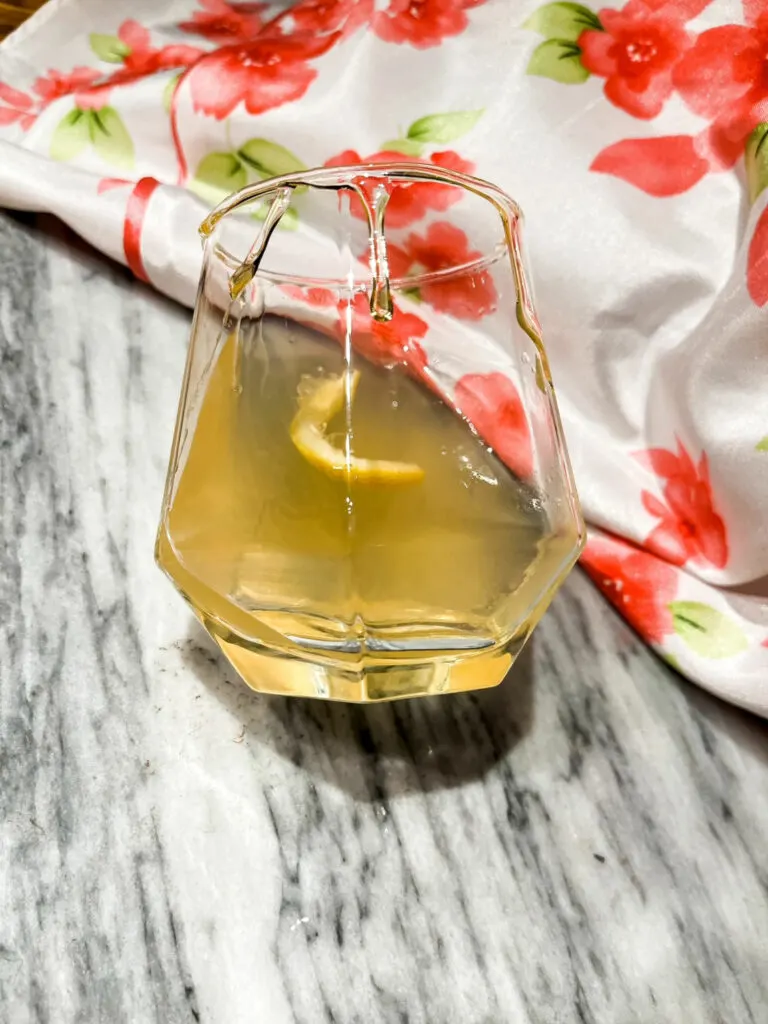 To make this delicious Bees Knees drink is so simple!
1: Pour all your ingredients into a cocktail shaker with ice and shake vigourously for 15 seconds
2: Strain the mixture into a glass
3: Serve with a lemon curl or a slice of fresh lemon on the rim.
Optional: Before pouring your cocktail into the glass, you can dip it in honey! Let it set for a few minutes before pouring the cocktail.
Yield:

1
Bees Knees Cocktail
This delicious honey flavored gin cocktail is perfect for sipping on the porch on a summer's night.
With only 3 ingredients, it is simple to make and always a hit!
Ingredients
2 oz Gin
3/4 oz honey liqueur
1/2 oz lemon juice
Instructions
If desired, rip your glass with honey. Set aside
Pour all the ingredients into a cocktail shaker with ice. Shake for 15 seconds
Strain into your glass.
Garnish with a curl of lemon rind.