If you love the flavors of fall, then you will love this apple cider gin cocktail that has everything you love about the season in one glass! It really is autumn in a cup!
This post contains affiliate links. Please read my Disclosure for more information.
This Apple Cider Gin Cocktail is the perfect fall cocktail for gin lovers. Although it contains a lot of ingredients, it is surprisingly easy to whip up in a minute or two and is always a crowdpleaser.
If you enjoy the flavors of fall, this cocktail has them all – cinnamon, orange and apple cider mixed with gin and whiskey plus some other great ingredients.
Read on for the recipe and all the details
Why you'll love this Apple Cider Cocktail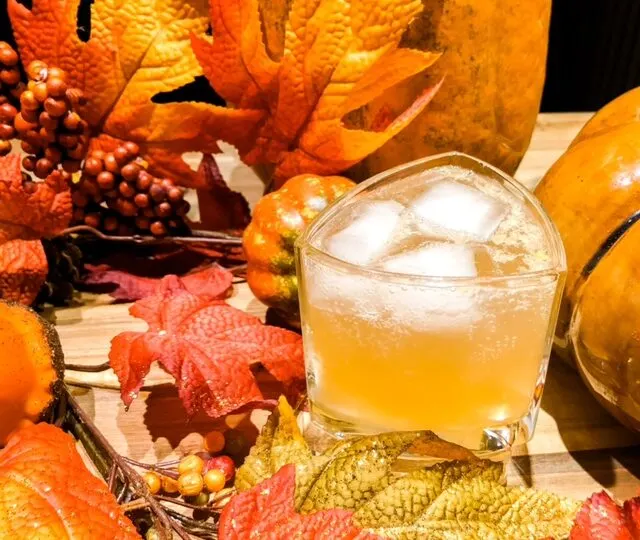 What could be more perfect for this time of year than an apple cider cocktail?
One of my favorite cocktails is my Apple Cider Moscow Mule so I figured why not make a gin cocktail too.
I love having a mug of hot steaming apple cider so I figured what better way to celebrate fall than by combining of my favorite things – gin and cider into a delicious beverage.
This Fall Cocktail Recipe is:
Refreshing and tasty
Perfect for fall
Great for any occasion
Easy to make
Comforting and warming
Apple Cider Gin Cocktail Ingredients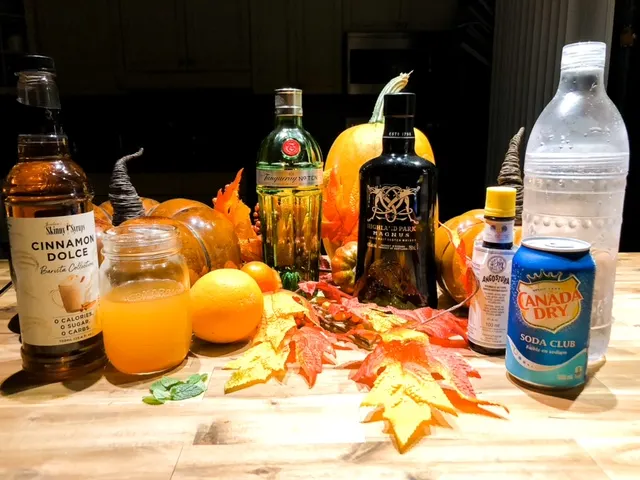 I will warn you that this cocktail has A LOT of ingredients! I think it has more than any other cocktail recipe on this site but it is oh, so good!
To make this cocktail you will need:
Mint leaves
Orange Wedge
Apple Cider
Whiskey
Gin
Lemon Juice
Cinnamon Syrup or powdered cinnamon
Simple Syrup
Bitters
Soda Water
The list is long but I promise you that it is worth it!
If you want an easier to make apple cider cocktail, check out my Apple Pie Moscow Mule.
What tools do I need to make the Fall Cocktail?
To make this cocktail you will need the following tools:
Don't have the tools you need?
If you don't have a cocktail shaker, a large mason jar works just as well in a pinch.
Use the mason jar lid or a plate to strain the drink if you don't own a strainer.
If you don't have a muddler, you can get by with the wrong end of a wooden spoon but a muddler does make things much easier and they are pretty inexpensive.
I did use a cocktail jigger to measure out the ingredients but you could also use a shot glass.
How To Make The Apple Cider Gin Cocktail
Step 1: Muddle the mint leaves and orange wedge in a cocktail shaker
Step 2: Add your ingredients
Add the apple cider, whiskey, gin, lemon juice, cinnamon syrup, simple syrup and bitters to your cocktail shaker and shake for around 15-20 seconds.
Step 3: Strain into your glass filled with ice
Step 4: Top with soda water
Garnish with mint before serving.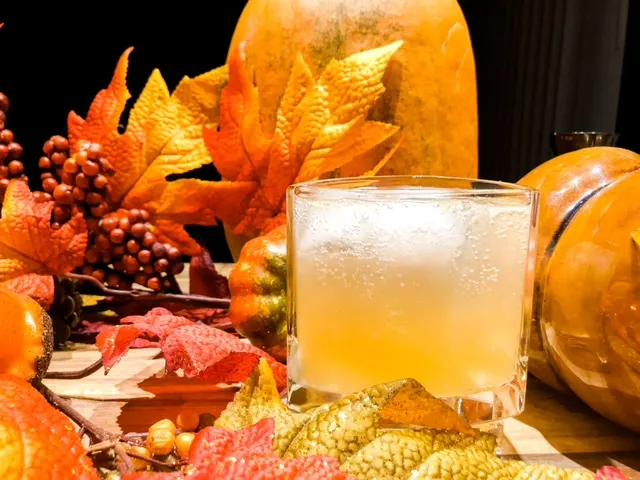 Yield:

1
Apple Cider Gin Cocktail
This fall gin cocktail is perfect for anyone who loves apple cider. It is easy to make and is packed with a blend of delicious autumn flavors.
Ingredients
6 Mint Leaves
1 Orange Wedge
1 oz Apple Cider
1 oz Whiskey
1 oz Gin
0.5 oz Lemon Juice
0.5 oz Cinnamon Syrup
0.25 oz Simple Syrup
3 Dashes of Bitters
1 Can Club Soda
Mint for garnish
Instructions
Muddle the mint leaves and orange wedge in a cocktail shaker
Add the apple cider, whiskey, gin, lemon juice, cinnamon syrup, simple syrup and bitters to the cocktail shaker and shake for 15-20 seconds.
Strain into your glass filled with ice
Top with Club Soda
Add a sprig of mint to garnish
More Fall Cocktail Recipes
Apple Pie Moscow Mule (Plus Apple Pie Mocktail)