A pink gin martini is the perfect cocktail for a brunch, a shower or of course, Valentine's Day. Pretty and girly, this tasty cocktail packs quite a punch too!
It's also sometimes called a "pink lady" in some parts of the world. The drink often has an unusual pale-pink color that comes from adding grenadine syrup to it before serving.
If you are a fan of pink cocktails and love the taste of vermouth then you will enjoy the pink martini recipe that can be tweaked according to taste.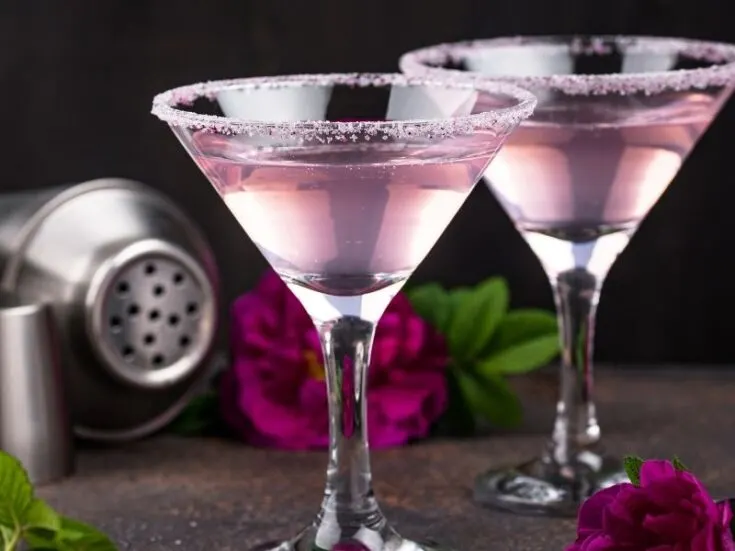 This post contains affiliate links. Please read my Disclosure for more information.
RELATED POSTS
What Is A Pink Gin Martini?
A pink martini is made with vodka, dry vermouth, and raspberry liqueur or grenadine.
It was invented by the famous bartender, Ada Coleman in the 1920s at London's famous hotel bar, the American Bar, situated inside the Savoy Hotel.
The drink was originally called a "pink lady" because of its light red-pink color that came from adding grenadine syrup to it before serving.
It's not clear how this drink ended up at the American Bar in London, but research has revealed that there were recipes for both gin and vodka versions of this cocktail in an American cookbook called "The Ideal Bartender" published around 1936.
How To Make A Pink Martini
To make this popular drink at home, you'll need:
2 parts vodka or gin
1 part dry vermouth
Dash of grenadine or raspberry liqueur
You can use either gin or vodka as your alcohol to the pink martini recipe.
You can create a sugar rim on your glass by dipping it in lime juice then twisting it around a saucer of sugar.
What tools do I need to make the Pink Martini Cocktail?
You really don't need much in order to make this cocktail which makes it perfect for any party or large gathering when you want to whip them up in minutes.
The only tool you'll need to make this cocktail:
Don't have the tools you need?
If you don't have a cocktail shaker, a large mason jar works just as well in a pinch.
Use the mason jar lid or a plate to strain the drink if you don't own a strainer.
How To Make A Pink Gin Martini
Step 1: Combine your ingredients
Pour the vodka and vermouth in a cocktail shaker with ice
Shake for 15 seconds.
Step 2: Strain
Strain the drink into a martini glass
Step 3: Make it pink
Add a dash of grenadine and stir
How to rim your martini glass
If you want to rim the martini glass with sugar, just rub a lemon around the edge of your glass. Then carefully dip the rim into a saucer or shallow bowl of sugar.
You can use regular sugar or pink pomegranate sugar for some extra flair.
Alternatives To The Classic Pink Gin Martini Recipe
This delicious drink is perfect for those who like grapefruit juice. This cocktail is the perfect mix of sweet and sour.
Get the full recipe for the grapefruit vodka martini here.
Pink Cranberry Vodka Martini
There are a few different variations to the classic pink martini.
For example, you can add cranberry juice plus frozen cranberries to create a "pink cranberry" martini.
Other Variations on The Pink Martini
If you're using fresh berries instead of raspberry liqueur, you can add 1/8th teaspoon of raspberry extract.
You can also add other ingredients that complement the taste, such as orange liqueur or cucumber juice.
Pomegranate juice is another great option to get the pink color in your martini.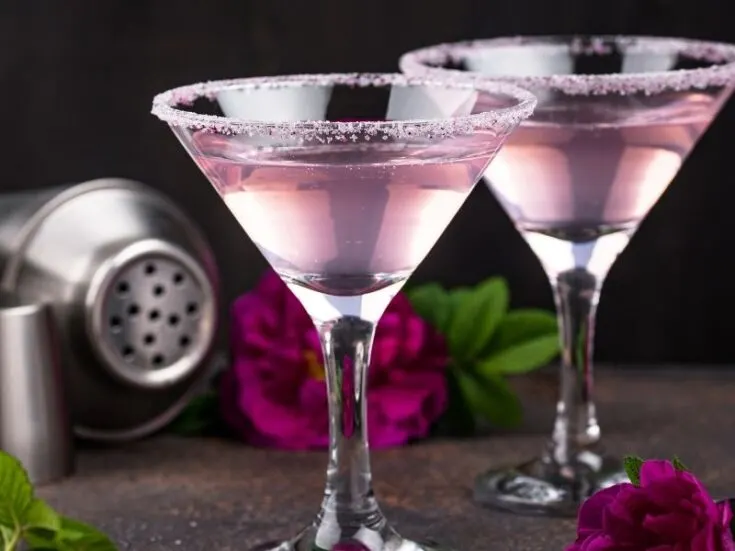 Yield:

1
Pink Martini Recipe
The flirty Pink Martini cocktail is a fruity treat that tastes as good as it looks. If you are a fan of martinis, then the Pink is perfect for a change!
Ingredients
2 oz Vodka
1 oz Vermouth
Dash of Grendadine
Ice
Instructions
Put the ice, vodka, grenadine and Vermouth in a cocktail shaker
Shake for 30 seconds then strain into a martini glass
Garnish with a maraschino cherry
More Martini Recipes
Red Velvet Martini – Birthday Cake Sprinkle Cocktail
Red White And Blue Martini (4th July Layered Cocktail)
The Cutest Cottontail Cocktail For Easter – The Cottontail Martini