The Beetlejuice cocktail is a delicious drink that was created for Halloween.
The name as you might expect, comes from the movie by Tim Burton and Michael Keaton, in which a ghost named Beetlejuice terrorizes the Deetzes.
The Beetlejuice has a kind of crazy blueish/purple color and tastes amazing.
It is the perfect drink to serve at your next Halloween party or spooky gathering.
This post contains affiliate links. Please read my Disclosure for more information.
RELATED POSTS
Why you'll love this Beetlejuice Halloween Cocktail
The Beetlejuice Cocktail is:
Spooky and ghost-like
Perfect for Halloween
Delicious
Easy to make
Impressive
What is the Beetlejuice cocktail made with?
The Beetlejuice has a ton of ingredients and it packs a real punch.
This is not a drink for the faint of heart as it has 4 different types of alcohol.
You could switch out some of the liqueurs for non-alcoholic versions if you want to make your stress a bit less strong.
The classic Beetlejuice cocktail contains:
Vodka
Melon Liqueur
Raspberry Liqueur
Blue Curacao
Sweet and sour
Cranberry Juice
What is Blue Curacao?

Blue Curacao is a type of liqueur that is popular for use in mixed drinks.
It has blue-green color and tastes like orange peel, lemon peel, lime juice and sugar cane.
The flavor comes from the different ingredients used to make it including bitter oranges, lemons or limes, sweetener (sugar) and triple sec or Blue Curacao.
The drink was created by Dutch company Van Goor in 1944 which marketed it as "Blue Curaau."
Today you can find this drink at many liquor stores across the United States.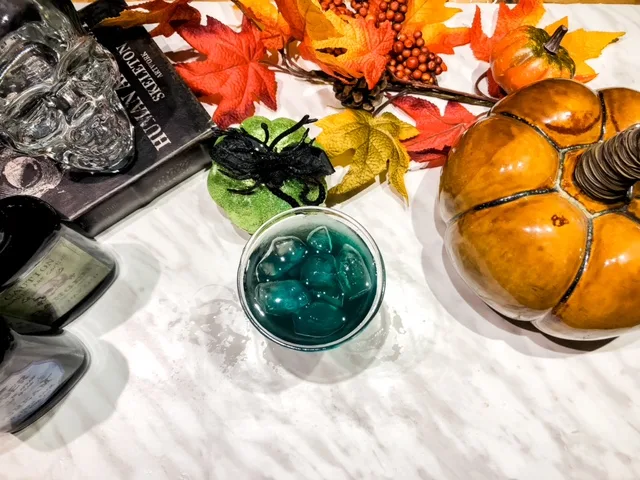 What Can You Use Instead Of Blue Curacao?
Don't have any Blue Curacao on hand or want to go lower alcohol? Here are some options:
If you want the alcoholic content but don't have any Blue Curacao, you can use a citrus liqueur such as Triple Sec and add a few drops of blue food coloring to your drink.
If you don't want the alcohol then you can use soda water and blue food coloring or non-alcoholic Blue Curacao like the Torani Blue Curacao Syrup.
How To Make The Beetlejuice Cocktail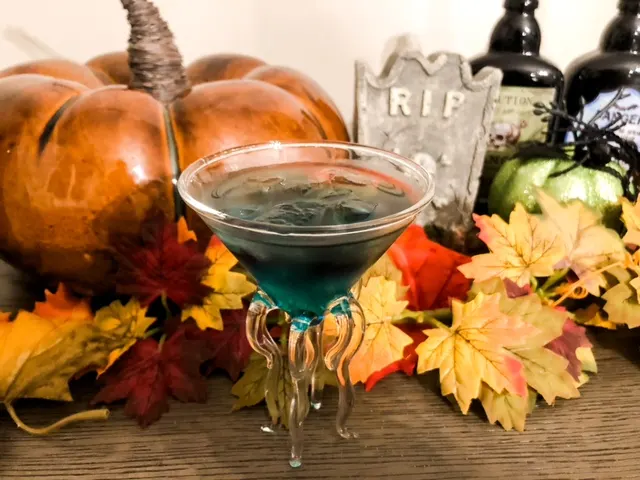 Step 1: Add ice to your glass
I recommend using a shallow glass like a martini glass or similar for your Beetlejuice.
If you like the Medusa glasses I used for this recipe, you can grab them here from Amazon.
Step 2: Layer the ingredients
Starting with the vodka, slowly layer each ingredient into the glass in the following order:
Vodka
Melon Liqueur
Raspberry Liqueur
Blue Curacao
Sweet and sour
Cranberry Juice
Step 3: Serve Immediately
Yield:

1
Beetlejuice Cocktail
The Beetlejuice cocktail is perfect for Halloween. It has a crazy spooky color and it packs a real punch making it a great party drink to wow your guests.
Ingredients
1 oz Vodka
1/2 oz Melon Liqueur
1/2 oz Raspberry Liqueur
1/2 oz Blue Curacao
2 oz Sweet and Sour
1 oz Cranberry Juice
Instructions
Add fresh ice to your martini glass
Slowly later each ingredient into the glass in the order given above
Serve immediately without stirring
Notes
This drink works best with a shallow glass such as a martini glass.
Want More Blue Cocktail Recipes?
Witches Brew Cocktail Recipe (With Crystal Head Vodka)
Malibu Rum And Blue Curacao Cocktail (Rainbow Dream)
Blue Mojito Recipe – Blue Curacao Mojito Cocktail