Spooky green Halloween cocktails are a must for any frightful party.
This Frankenstein drink is the perfect spooky cocktail to serve at your next Halloween party!
It's a fun recipe that will have your guests feeling all kinds of festive.
Whether you are planning a big party this Halloween or just want to celebrate with something special while giving out candy, you will love this tasty green shot that tastes as good as it looks.
This post may contain affiliate links. Please read my Disclosure for more information.
RELATED POSTS
Green Halloween Cocktail Recipe
Halloween is my favorite holiday.
The colors are so pretty too – orange pumpkins mixed with red-tinted leaves on brown ground.
And there are jack o'lanterns everywhere!
The there are the fun Halloweenparties, whether they are kid friendly or not, Halloween is a great opportunity to play around with some crazy cocktail recipes.
Halloween is a perfect time for spooky cocktails.
This Frankenstein drink, made with vodka and fruit juices, will have your guests feeling ready for the long night ahead.
Why I Love The Frankenstein Drink
This cocktail is fast becoming one of my favorites for Halloween, and for good reason.
The bright green color that gives the drink its name is perfect for wowing guests at Halloween and reminds me of Polyjuice from Harry Potter or a real witches brew.
This is also a really easy drink to make, requiring four ingredients and little prep work.
What is in this Green Halloween Cocktail?
First of all, let's be clear that the Frankenstein Drink is a cocktail that contains alcohol (vodka and Blue Curacao).
It is definitely not a kid-friendly Halloween drink. .
The alcoholic version of the Witches Brew Punch contains the following:
Crystal Head Vodka (or other Vodka of your choice)
Pineapple juice
Blue Curacao
Orange Juice
If you haven't heard of Crystal Head vodka then you are in for a treat.
The neat thing about this vodka is the bottle, of course.
It is a skull head so absolutely perfect for Halloween as it doubles as a cool decoration for your bar or table.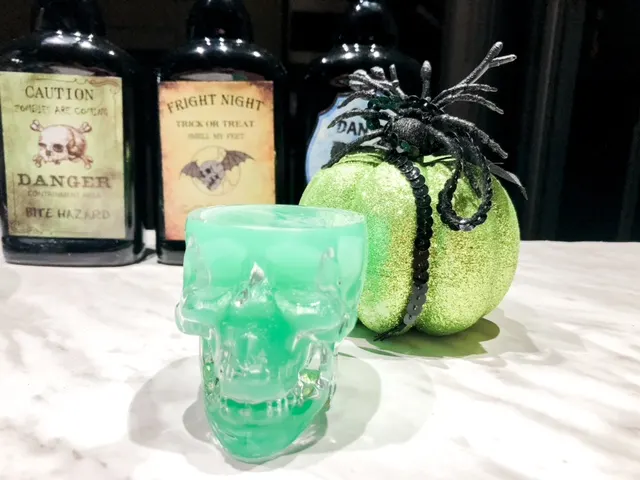 What is Blue Curacao?
Blue Curacao mixed with fruit juices is what gives this drink its beautiful green color.
It is a liqueur made with the dried peel of the bitter orange laraha, a citrus fruit, grown on the Dutch island of Curaçao.
What Can You Use Instead Of Blue Curacao?
If you want the alcoholic content but don't have any Blue Curacao, you can use a citrus liqueur such as Triple Sec and add a few drops of blue food coloring to your drink.
What tools do I need to make the Green Halloween Cocktail?
You really don't need much in order to make this cocktail which makes it perfect for any Halloween party or large gathering when you want to whip them up in minutes.
If you love the glass skull shot glasses I used in the pictures, you can grab them here from Amazon.
My recipe makes 3 shots making it great for a crowd.
The only tools you'll need to make this cocktail are:
Don't have the tools you need?
If you don't have a cocktail shaker, a large mason jar works just as well in a pinch.
Use the mason jar lid or a plate to strain the drink if you don't own a strainer.
How To Make The Frankenstein Drink
Step 1:Combine all the ingredients
Place all the ingredients in a cocktail shaker with ice. Shake for 15 seconds.
Step 2: Strain
Strain the drink into a martini glass or shot glass as desired.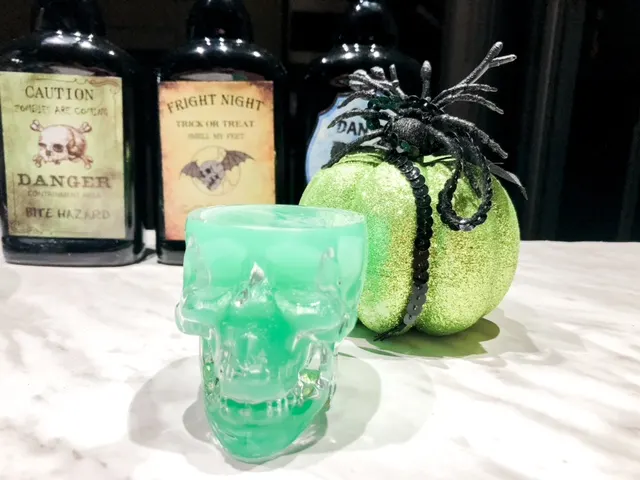 Yield:

3 shots
Green Halloween Cocktail - The Frankenstein
This green Halloween cocktail tastes as good as it looks and is perfect for creating the most frightful party atmosphere for your guests. The green color comes from Blue Curacao and adds an extra kick of alcohol.
Ingredients
2 oz Vodka
3/4 oz Blue Curacao
1.5 oz Pineapple Juice
1.5 oz Orange Juice
Instructions
Mis all the ingredients in a cocktail shaker and shaker for 15-30 seconds
Strain into a martini or shot glass of your choice
Serve immediately.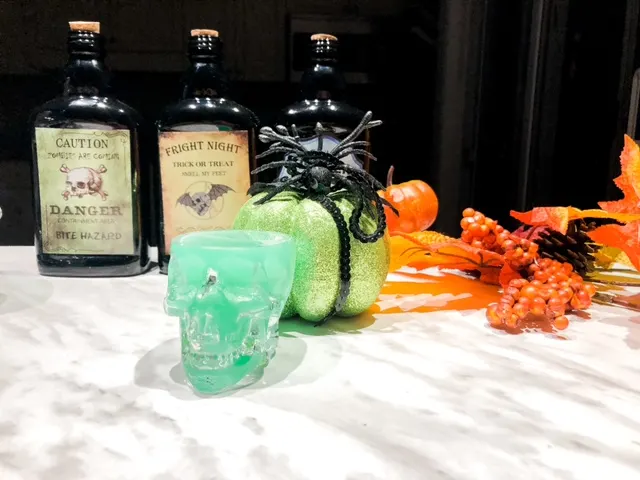 Want More Green Cocktail Recipes?
Green Hawaiian Cocktail Recipe