If you love blue tropical cocktails then you will love this blue rum punch recipe from Cuba.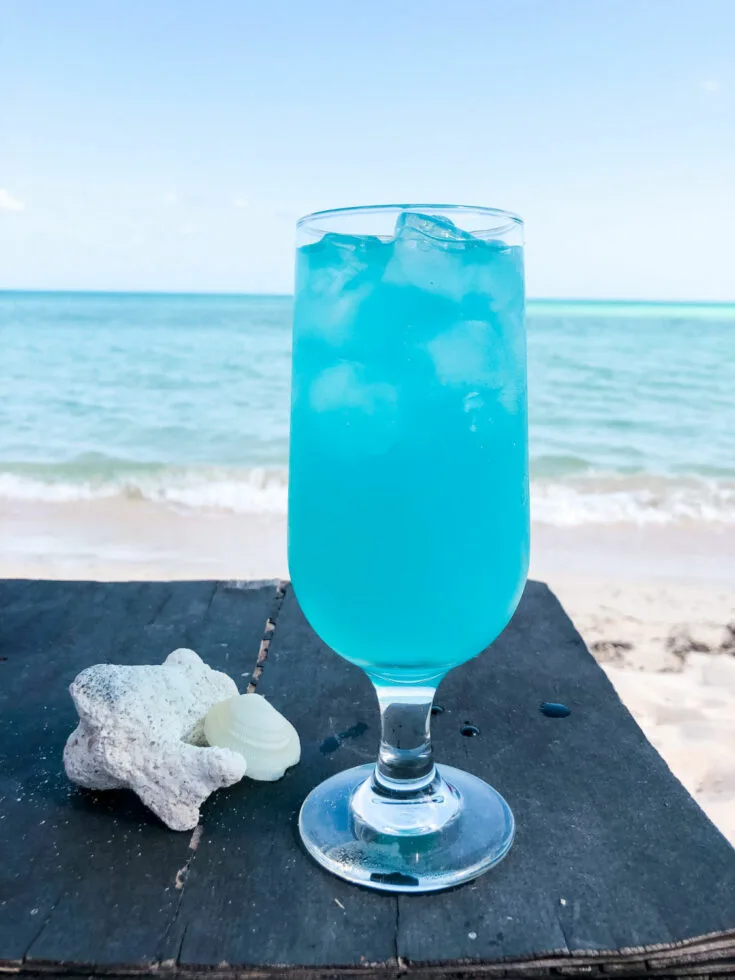 This post may contain affiliate links. Please read my Disclosure for more information
MORE BLUE TROPICAL COCKTAILS
Blue Mojito Recipe – Blue Curacao Mojito Cocktail
The Blue Memories Cocktail Recipe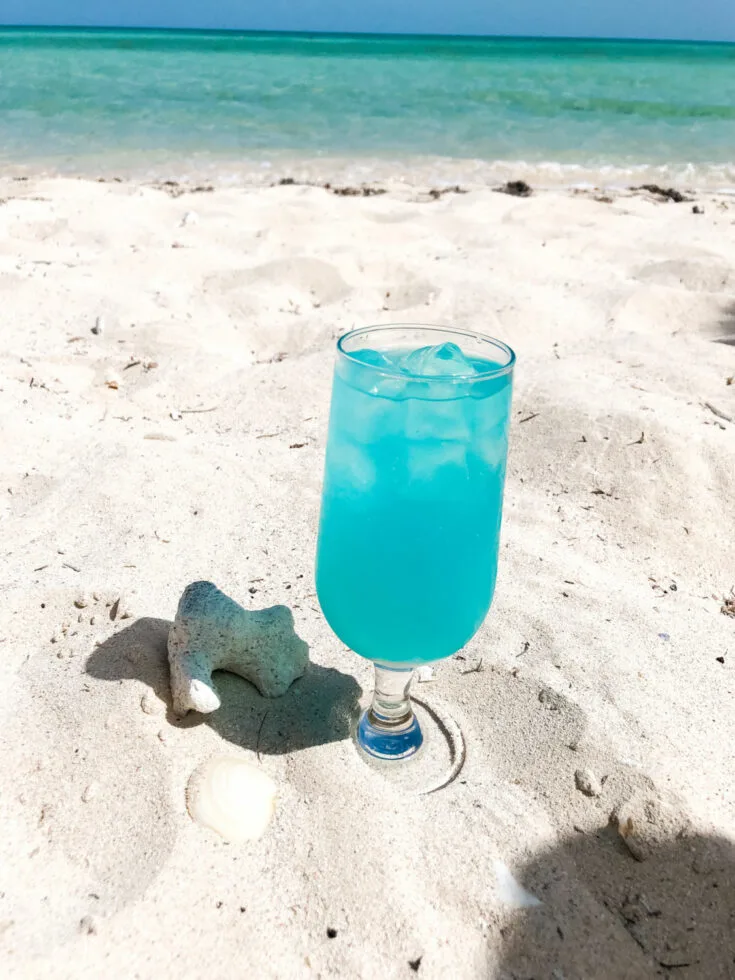 I discovered this delicious fruity cocktail during a recent vacation to Cuba (hence the beautiful beach photos in this post). This tropical cocktail is the signature drink at the Memories Caribe resort in Cayo Coco and once I tried it I just knew I had to share it with my readers.
If you enjoy drinks the color of the ocean, this blue rum punch is perfect for you. It is easy to make and impressive to look at. It has definitely been added to my list of delicious blue drinks such as the Ocean Breeze and the Blue Lagoon Cocktail.
Rum is the drink of the Caribbean so it makes sense that it is the star of the show in this tasty drink. A few simple other ingredients and you have the perfect cocktail for sipping poolside.
Blue Rum Punch Ingredients And Equipment List
For full step-by-step instructions, scroll down to our recipe card at the bottom of the page (you can print that off too!).
Rum
Creme de Menthe
Blue Curacao
Pineapple Juice
Equipment Needed
Strainer
Blue Rum Punch Recipe: Step By Step Instructions
Step 1: Add Creme de Menthe to your glass
This will give your drink a really pretty green tinge at the very bottom of the glass.
Step 2: Fill the glass with ice
Step 3: Add the rum, Blue Curacao and pineapple juice to a cocktail shaker. Shake for 15 seconds.
If you don't have a cocktail shaker, you can use a mason jar with a closed lid (you can then use the lid as a strainer for step 4).
Step 4: Strain into your glass and serve.
You will probably want to stir the drink before sipping in order to mix the Creme de Menthe in with the rest of the ingredients.
How To Serve This Blue Rum Punch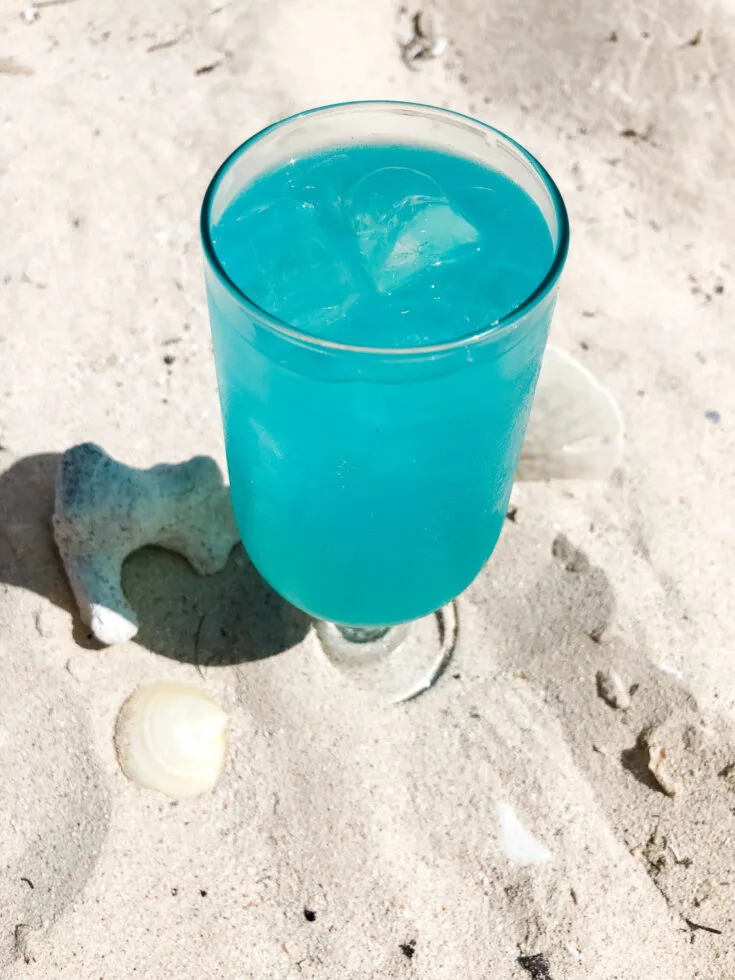 The perfect garnish for this drink is a slice of pineapple, star fruit or a maraschino cherry.
Blue Rum Punch Recipe For A Crowd
To make this punch for a crowd is really easy. You can multiple the recipe for as many people as you like.
To actually serve the drink to a crowd, you have two choices.
1. You can make up the whole cocktail in the cocktail shaker including the Creme de Menthe. Pour into a pitcher and serve. This drink will be a beautiful blue color but you won't have the slight green glow at the bottom.
2. If you want to keep the Creme de Menthe separate, you will need to add it to your glasses just before serving but keep the rest of the ingredients in a pitcher.
Cocktails Similar To The Blue Memories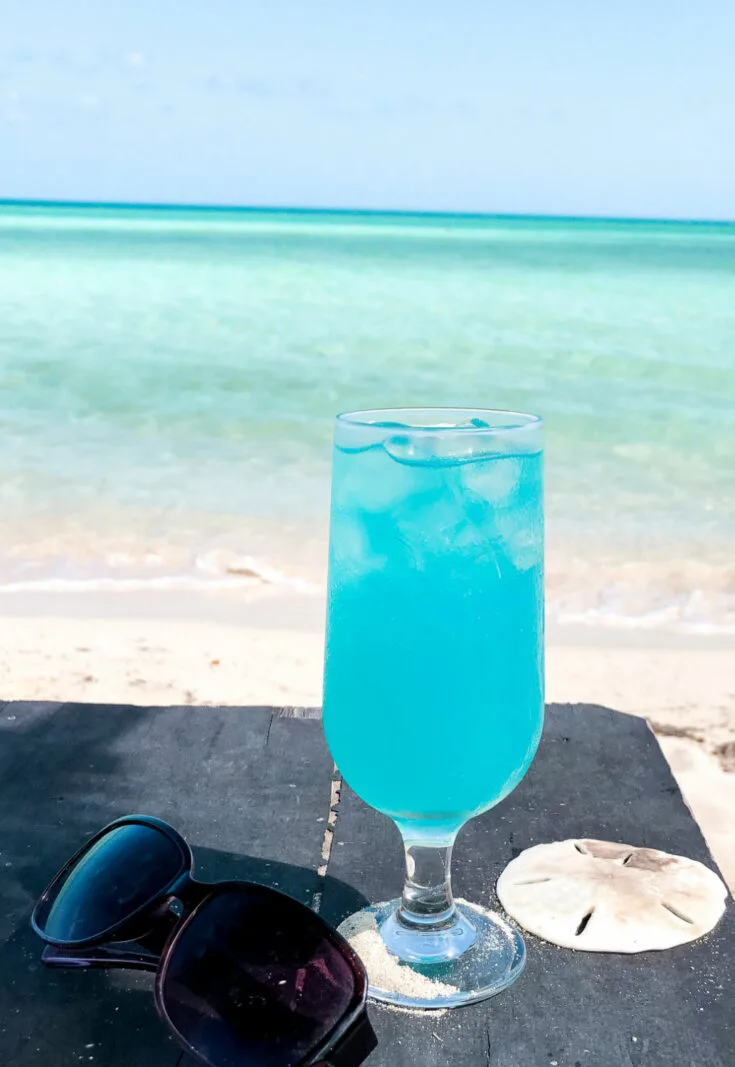 If fruity tropical cocktails the color of the Caribbean sea are your thing, you might like these similar drinks:
Ocean Breeze – this pale blue colored cocktail is also known as a Blue Breeze cocktail or a Blue water drink.
Blue Lagoon– If you are more a fan of vodka than rum, this is the blue cocktail for you.
Mermaid Water– two types of rum is what mades this pretty drink perfect for the tropics.
Blue Curacao Mojito Cocktail– if you are a fan of the classic mojito, then you will love this Blue version!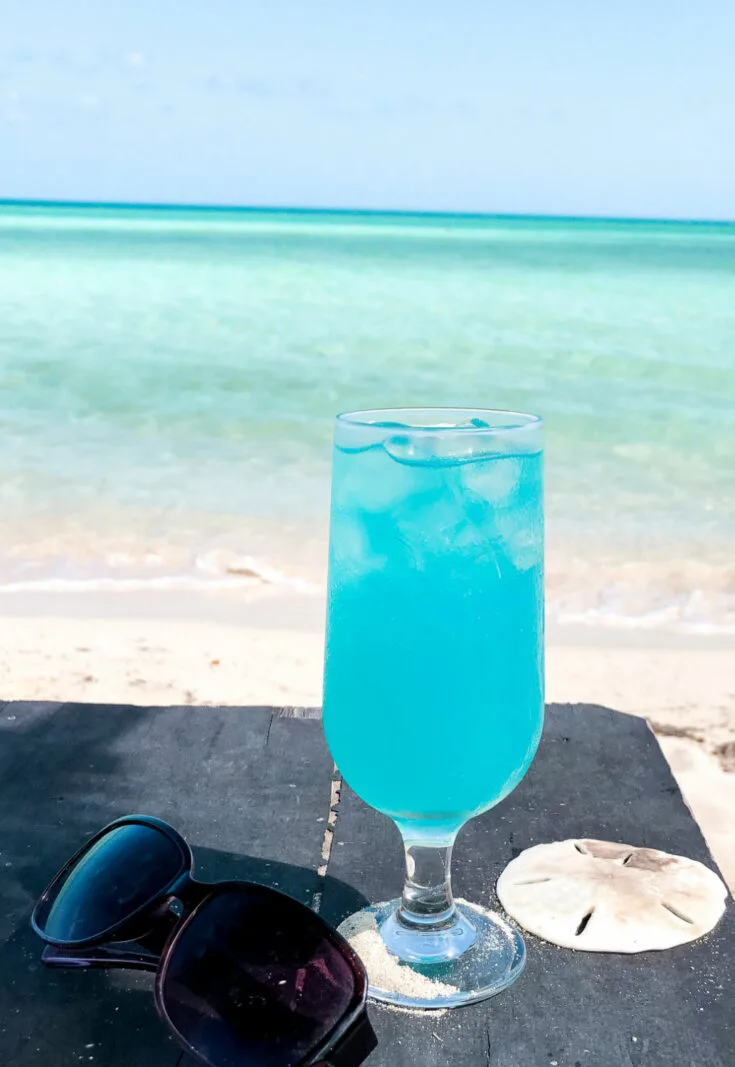 Yield:

1
Blue Rum Punch Recipe
This blue cocktail is perfect for sipping by the beach or pool. It will remind you for lazy days on the shore, no matter what the weather is outside.
Ingredients
2 oz White Rum
1/2 oz Creme de Menthe
1 oz Blue Curacao
6 oz Pineapple Juice
Instructions
Pour the Creme de Menthe into your hurricane glass
Add ice to your glass
Put the rum, pineapple juice and Blue Curacao into the cocktail shaker and shake for 15 seconds.
Strain into your hurricane glass and garnish with a cherry or slice of pineapple if desired.