Are you looking for a fun dessert to serve at your next party? Your guests will love these Crown Peach gummy rings! Alcohol infused gummies are always popular but mainly involve a certain bear shaped candy and some vodka. In this recipe, we use Crown Peach Whiskey for a fun summery treat.
This post may contain affiliate links. Please read my Disclosure for more information
MORE FUN WHISKEY RECIPES
Crown Peach Gummy Rings
Make up a batch of these alcohol infused gummies for pool parties or even to take camping. Serve them with fun peach cocktail like our Easy Peach Vodka Lemonade and you have the perfect duo.
Although the full recipe uses a few bags of gummy rings, you can make a big batch by multiplying the recipe as many times as you like.
Ingredients needed:
These are the simple ingredients you need for this yummy candy recipe. For full step-by-step instructions, scroll down to our printable recipe card at the bottom of the page.
Gummy Peach Rings
Peach Crown Royal
Condiment Cups
What Is Peach Crown Royal?
Crown Royal is a classic Canadian whiskey that comes in a few different varieties. One such option is Crown Royal Peach which is what we use in this recipe. If you cannot find Crown Peach, you can use peach vodka instead.
How To Make Alcohol Infused Gummies
There is nothing easier than these peach rings with whiskey. Hands on time in the kitchen is just a few minutes and then you let the Crown Peach take over and do its magic.
Prep the candies: Place the peach rings into condiment cups. Each cup should fit 2-3 peach rings.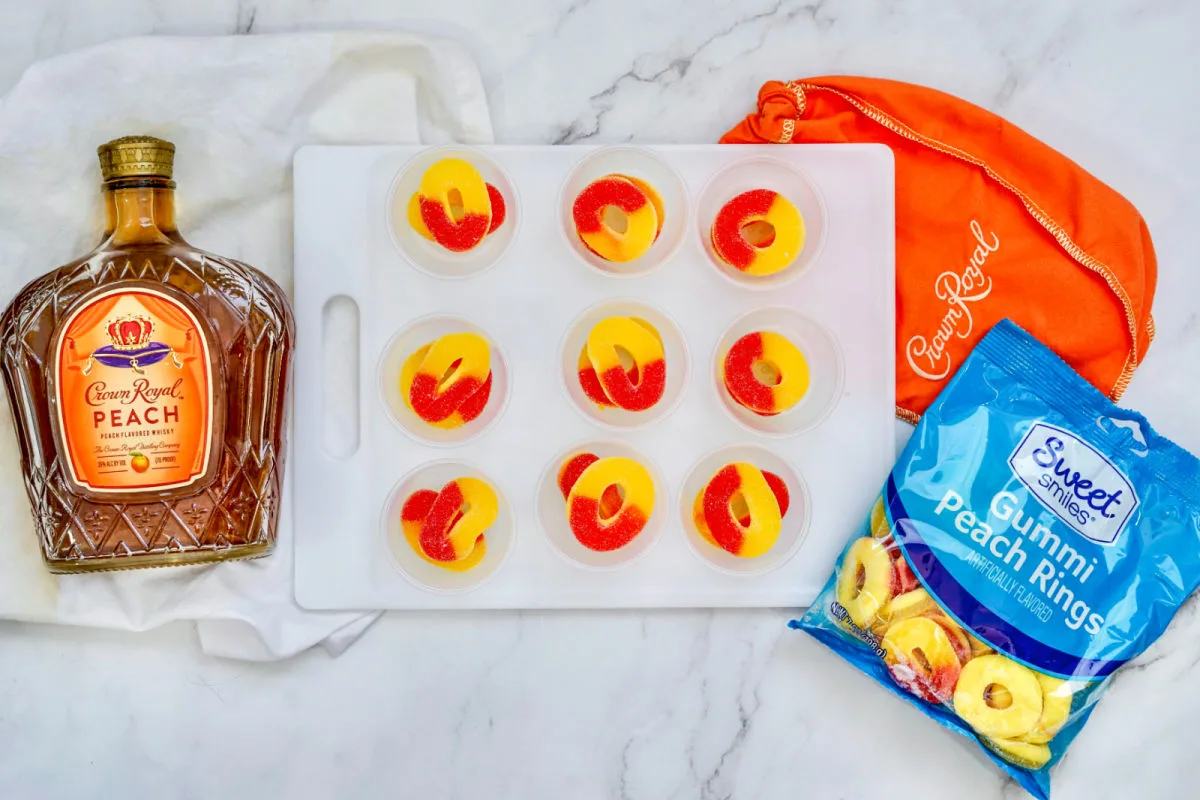 Add your whiskey: Pour the Crown Royal over the gummies.
Allow to soak: Let the gummy peach rings soak for at least 10 hours.
Recipe variations:
Peach Vodka: If you are not a fan of whiskey, you can use peach vodka instead.
Different gummies: Now you know the basic recipe, you can switch this one up by using different candies for different occasions. Think of festive candy shapes for the holidays or Halloween.
Gummy Bears with Vodka: You can use this recipe to make gummy bears with vodka which is a popular alcohol infused candy.
Gummy worms with tequila: Another fun alternative is to use tequila and gummy worms
How To Serve Your Crown Peach Gummy Rings
These tasty candies will be a huge hit at your next party. You can serve them in the condiment cups or try one of these awesome serving ideas:
Make peach jello shots and put these gummy rings on the top of each one.
Make candy skewers using different alcohol infused candies
Serve them on slices of fresh peach for a fruity treat
Use them as cupcake toppers
Alcohol Infused Gummies: Frequently asked questions
To get a really full flavor in your alcohol infused gummies, I recommend soaking them for at least 10 hours. I like to make these the evening before an event to let them soak overnight. The longer they soak, the more Crown Royal they will absorb and the better they will taste.
Do alcohol infused gummies get you drunk?
Although the alcohol is nowhere near as potent as when drinking a shot of whiskey, you can still get drunk on these gummies so they are strictly for the over 21 crowd.
What is the best alcohol for making drunk gummies?
It really all comes down to personal preference. Vodka infused gummy bears are a common option while in the recipe, we have opted for a fun peach whiskey variation. Other great alcohols to try include rum and tequila.
How to store alcohol infused gummies
Store: You can keep these tasty candies in the fridge for up to one week.
Freeze: I don't recommend freezing these gummies.
Yield:

20-30
Crown Peach Infused Gummies
Additional Time:
10 hours
Total Time:
10 hours
5 minutes
These delicious and easy to make whiskey infused gummies are perfect for serving at a party or special event.
Ingredients
2-3 Bags Gummy Peach Rings
375ml Peach Crown Royal (half bottle)
Condiment Cups
Instructions
Place the peach rings into condiment cups. Each cup should fit 2-3 peach rings.
Pour the Crown Royal over the gummies.
Let the gummy peach rings soak for at least 10 hours.
Notes
You can use Crown Peach or peach vodka to make these delicious alcohol infused gummies.