Do you love Canada Day? Maybe you love the fireworks, or the atmosphere of friends and families all gathered together.
Maybe you love the fact that it's a day to celebrate our country and all that it has to offer. Whatever the case may be, there's no doubt that these Canada Day Jello Shots are perfect for any celebration!
This post may contain affiliate links. Please read my Disclosure for more information
MORE FUN JELLO SHOT RECIPES
Watermelon Jolly Rancher Jello Shots
Jack Skellington Jello Shots (Nightmare Before Christmas Shots)
What Is Canada Day?
Canada Day is a national holiday in Canada commemorating the July 1, 1867, enactment of the Constitution Act which united three colonies into a single country called Canada.
The holiday is celebrated on July 1 every year with fireworks and parties.
Canada Day Jello Shots
I love these Canada Day jello shots because they are a fun and easy way to do something special for the holiday.
They are also great for making a quick and easy dessert. Plus, they're perfect for when you don't have much time to prepare something else.
The other great thing about these Canada Day jello shots is that you can prepare them in advance, even a whole day ahead.
Canada Day Jello Shots Ingredients
This recipe makes 12 jello shots so it is perfect for a crowd. If you need to make more than that, just double or triple the recipe as needed.
I used peach jello but you can use strawberry or cherry jello instead (anything red works!).
You'll need:
1 package of red Jello

Water
Vodka

Whipped cream

Maple leaf gummies or other red candies
Red Sprinkles or sanding sugar
I found my maple lead gummies at Dollar Tree. If you can't find there anywhere, any kind of red gummy will work for the shots as the idea is to make your jello shots red and white.
Another option is to use maple syrup candies in the shape of maple leafs.
You can also make your own gummies using a maple leaf mold.
I made my Jello shots in plastic shot cups with lids but you can also make them in small plastic cups bowls.
Do you have to use vodka in Jello Shots?
I normally use vodka in my Jello Shots because it has less of a flavor but you can use white rum if you prefer. Both work really well.
How To Make Canada Day Jello Shots
Step 1
Boil one cup of water in a kettle or on the stove
Step 2
Add the contents of the Jello package and stir for 2 minutes, until the gelatin is dissolved.
Step 3
Add 1/3 cup water and 1/2 cup of vodka and stir.
Step 4
Pour into shot cups and refrigerate for 2-3 hours.
Step 5
Once the jello is set and just before you serve the jello shots to your guests, add the whipped cream, add the sprinkles and top with the red candy.
Don't add the whipped cream until just before serving as it will go flat.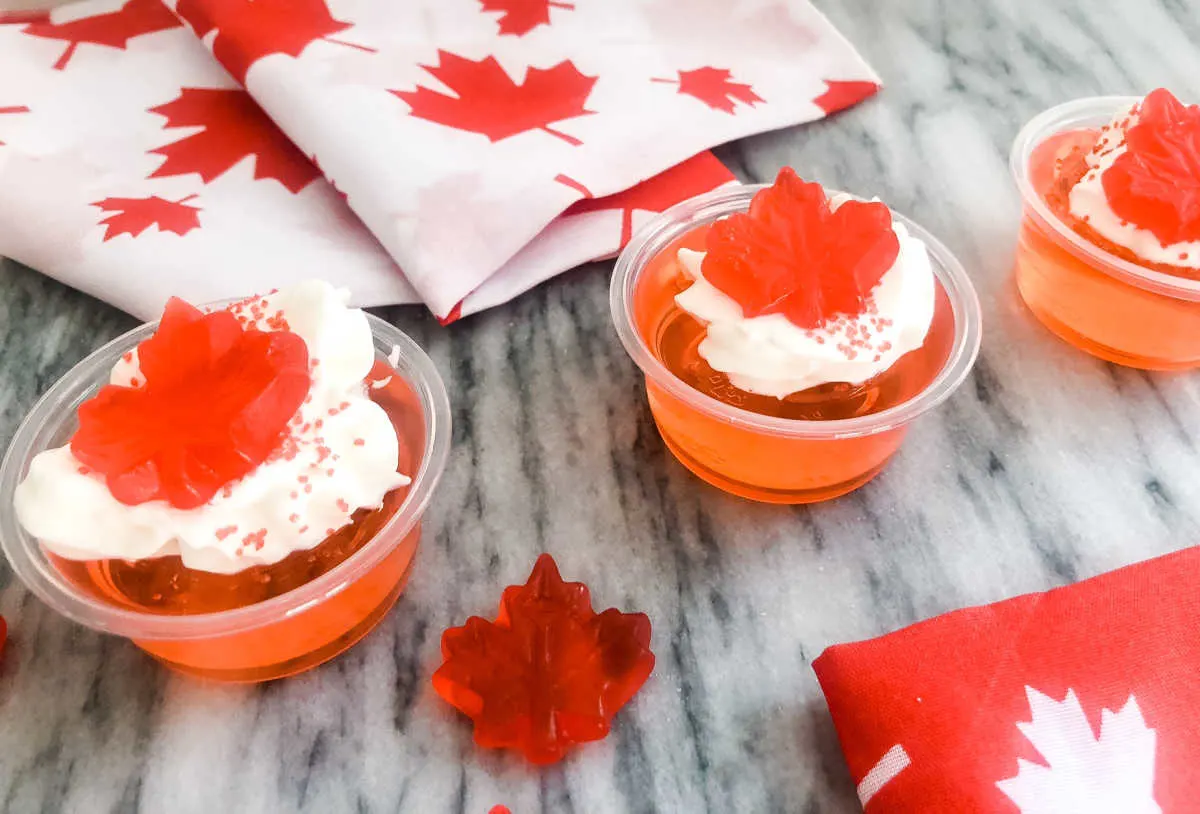 Yield:

12 shots
Canada Day Jello Shots
Additional Time:
3 minutes
These delicious Canada DayJello shots are so easy to make and are perfect for your party.
You can make them ahead and put them in the fridge for up to 24 hours before serving.
Ingredients
3 oz package of red Jello
1 1/2 Cup Water
1/2 Cup Plain Vodka
12 maple leaf candies
Whipped cream
Instructions
Add the water to a saucepan and heat over high heat until boiling.
Add the contents of the Jello package and stir for 2 minutes, until the gelatin is dissolved.
Add vodka and stir.
Pour into shot cups and refrigerate for 2-3 hours.
Top with whipped cream and a red candy
Notes
You can use rum instead of vodka if you prefer
You can make these vodka shots a day ahead and keep them in the fridge before serving.
Do you want even more fun Jello shots? Check these ones out:
Jack Skellington Jello Shots (Nightmare Before Christmas Shots)