Ring in the new year with a fun and festive cocktail! So many people are looking for New Year's shots online and we found some that are sure to be a hit: Pink Champagne Jello Shots.
If you love the taste of champagne and sparkling wine and want to serve some extra special to your party-goers, then make sure to whip up a batch of this delicious shot!
These Pink Champagne jello shots are perfect for parties. They are easy to make ahead of time so you have something quick and easy to serve your party guests.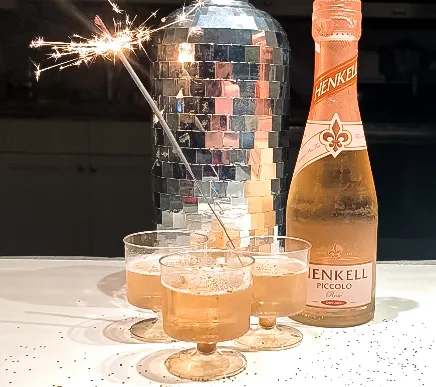 This post contains affiliate links. Please read my Disclosure for more information
RELATED POSTS
Pink Champagne Jello Shots
Are you hosting a New Year's Eve party this year? If you are, we have the perfect drink for your guests
These pink champagne jello shots will make them feel like they're celebrating in style and make your life super easy.
I love these easy to make jello shots because you can make them hours ahead and serve them whenever you are ready to party.
These Pink champagne Jello Shots take only about 5 minutes of prep (and an hour or so to chill).
Plus, they only contain a few ingredients that you likely have on hand anyway.
These champagne jello shots are:
Impressive
Pretty
Festive
Simple to make
Elegant
Delicious
How To Make These Pink Champagne Jello Shots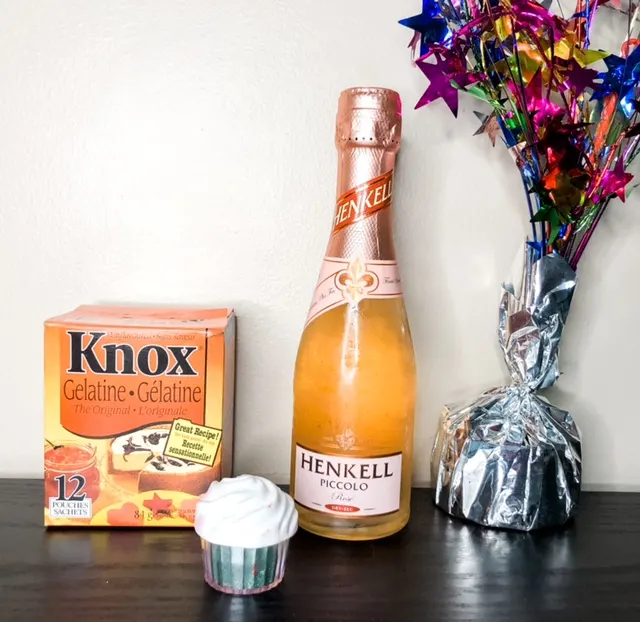 If you want an easy make ahead shot recipe, you can't get better than jello shots. Once the mainstay of frat parties, this scaled up version are just as easy to make.
To make these jello shots you just need the following ingredients:
Champagne (pink for pink jello shots)
Gelatin
Sugar
Lemon Juice
Edible glitter
You can buy edible glitter in various colors.
For my shots, I used this silver version that I got on Amazon. A little goes a long way when it comes to edible glitter so don't go crazy!
Do These Shots Contain Jello?
Although they are called jello shots, these delicious treats don't actually contain jello as we know it. For this recipe, you need plain gelatin.
You can buy gelatin in the same place as the jello at your local store but if you don't find it there, check the baking aisle.
To make these pink champagne jello shots, I used one of the small bottles of Henkell Piccolo Rose sparkling wine.
One of these small bottles is roughly a cup of champagne so they are perfect for making about 7 jello shots.
Simply double or triple the recipe to make more jello shots for your guests.
You can of course, use any kind of pink sparkling wine that you choose for these shots but you don't need to use your best champagne. Save that for your toasts!
What To Put Your Jello Shots In
You can use plastic shot glasses or small plastic champagne flutes for your jello shots. Basically anything that would work for a mousse or small treat will work too.
I do not recommend using glass shot glasses as it will be hard to get the jello shot out of the glass.
Another idea is to make your pink champagne jello shots in a flat pan like the ones you would use to make squares when baking.
You can then cut and slice your jello shots into squares and serve on a platter.
Can you use ice cube trays for Jello shots?
Yes! You can use fun shaped ice cube molds or even plain old ice cube trays for your jello shots.
Silicone molds will work better than hard plastic when it comes to getting the shots out to put on a plate.
Pink Champagne Jello Shots FAQ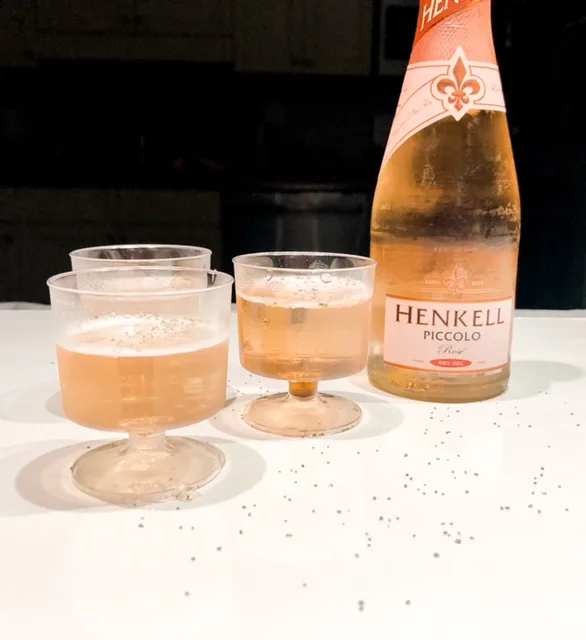 Can I get drunk off Jello shots?
Jello shots are often misleading because they contain less alcohol than your average shot. These champagne jello shots in particular are not too high in alcohol as they use champagne rather than a liqueur such as vodka.
One cup of champagne is used to make approximately 7 shots in this recipe so you are only getting a tiny amount of champagne in each shot, although they definitely taste strong!
What happens if you put too much alcohol in Jello shots?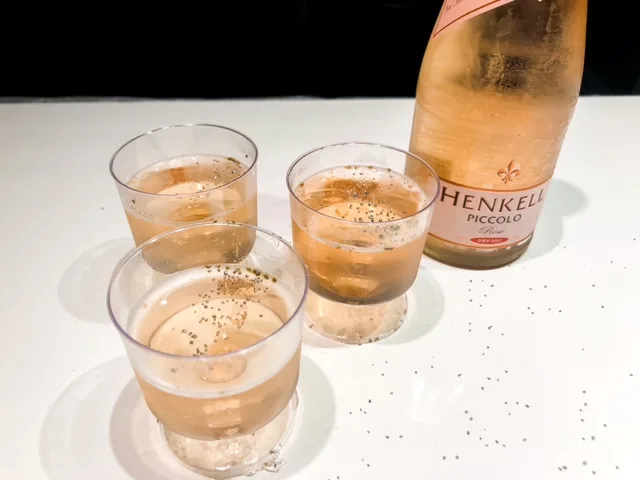 So, anyone who didn't like the answer above is now wondering if they can put more alcohol into their pink champagne jello shots.
Unfortunately, if you overdo the champagne, you risk your jello not setting at all so its best to stick to the ratios in the recipe.
Yield:

7
Pink Champagne Jello Shots
These pink champagne jello shots are a festive addition to any new year's party, and would be perfect for celebrating the New Year with your friends!
Check out our recipe below for all of the details on how to get started making this delicious cocktail. Happy New Year everyone!
Ingredients
1 Cup/200 ml Pink Champagne
Unflavored Gelatin Packet (Knox, store brand)
1/2 teaspoon of lemon juice
1/3 cup sugar
Edible Glitter (optional)
Instructions
Pour 1 cup of pink champagne into a large saucepan.
Add of sugar and lemon juice and stir.
Sprinkle the packet of plain gelatin over the mixture
Wait a 3-5 minutes for the mixture to pillow up
Place the saucepan over a medium heat and stir for 4 minutes until the gelatin is dissolved.
Pour into your jello molds or shot glasses. The foam will dissipate as it sets.
Put in the fridge for 1 hour to set
Sprinkle with edible glitter and serve
Notes
You can use any kind of Champagne or sparkling wine for this recipe. Cava, Prosecco and Champagne, pink or otherwise all work well
You can sprinkle the edible glitter into the mixture before pouring into the shot glasses
If you want to rim the shot glasses before serving, dip them in lemon juice and sugar then leave to set before pouring in the jello shots.
More Fun Shot Recipes