This Dragon's Breath Cocktail is the perfect addition to your next night of D & D.
Whether you are having your weekly Dungeons and Dragon game night or looking for something special for a party, this simple dragon cocktail recipe can make any get-together fun.
I used a smoker to make this drink even more cool but even without the Dragon's "breath" this is an amazing tasting drink.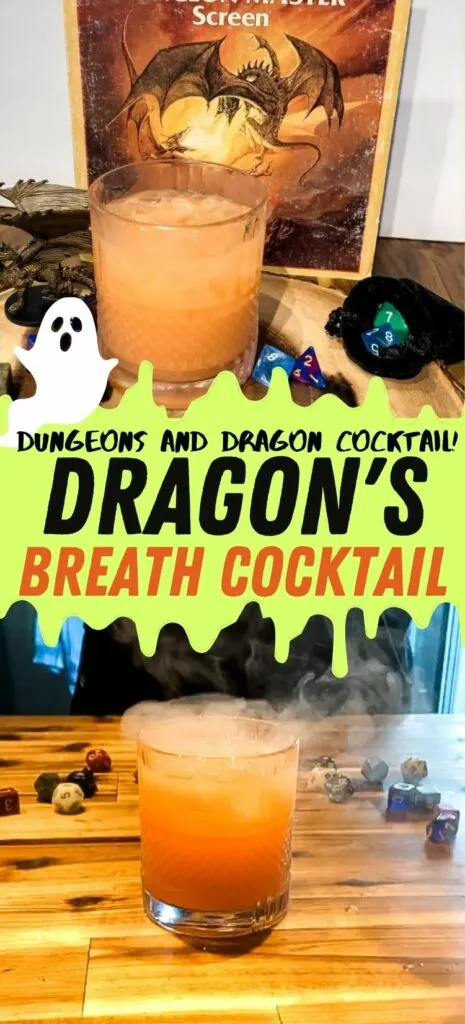 This post may contain affiliate links. Please read my Disclosure for more information
MORE FUN DRINKS
Scooby Doo Shots – Melon Liqueur Shots
Alien Brain Hemorrhage Shot Recipe
D & D Themed Drink
Ingredients
Make up this drink for your next game night and wow everyone with your bartending skills!
Not only is this a great cocktail to make for any occasion, it is inspired by my favorite role playing game, Dungeons and Dragons.
Although the full recipe is for one delicious cup of Dragon's Breath cocktail, you can make a big batch by multiplying the recipe.
These are the simple ingredients you need for this yummy cocktail recipe.
For full step-by-step instructions, scroll down to our recipe card at the bottom of the page.
White Rum
Absinthe
Orange Juice
Grenadine
If you are a fan of fruity drinks such as Sex On The Beach and the Vodka Sunrise, you are sure to love this tropical tasting beverage.
Equipment Needed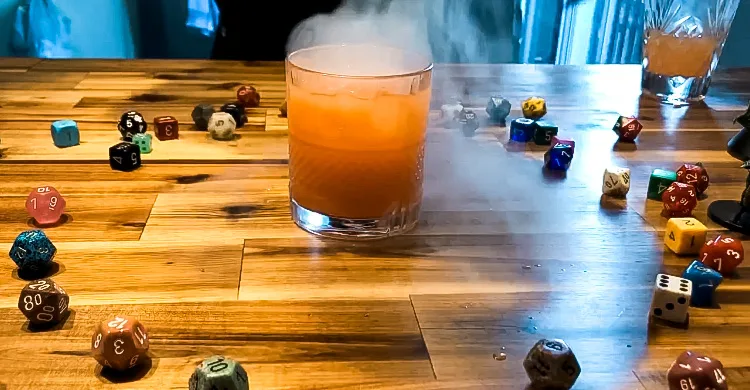 To make this easy cocktail, you will need the following:
Cocktail shaker (I love my Godinger Dublin shaker).
If you don't have these two items, in a pinch you can use a mason jar and the lid for straining your drink into the glass.
If you want to make the smoke effect to really make this drink spooky and magical, you need a cocktail smoking gun like the one I used which is from Amazon. This is a great tool for making all kinds of fun drinks like a Smoked Old Fashioned.
How To Make A Dragon's Breath Cocktail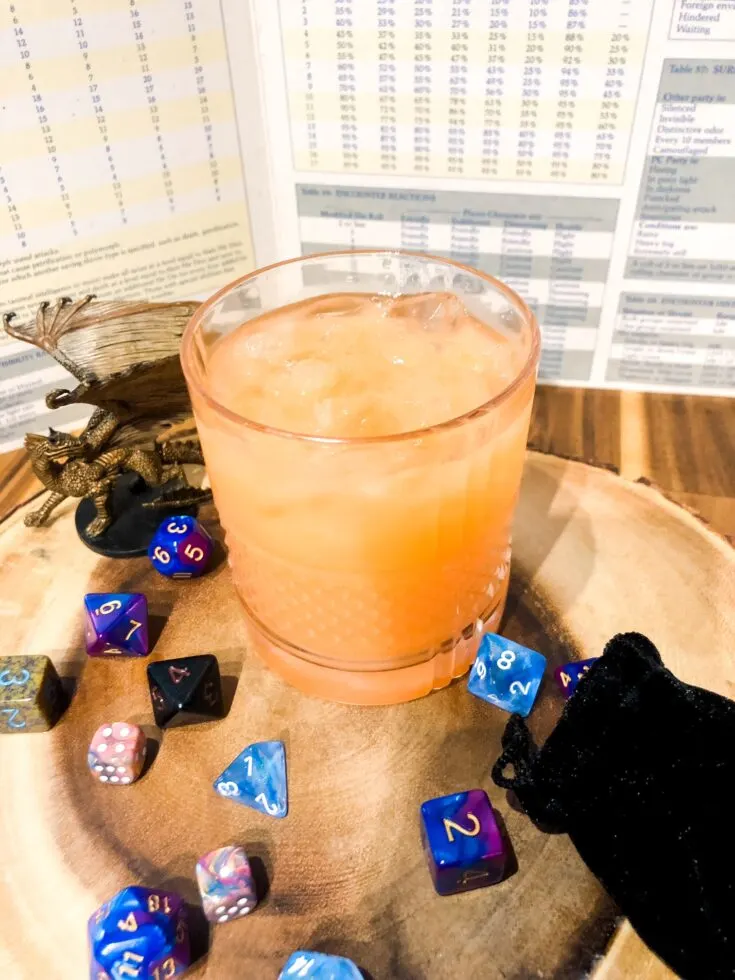 Step One: Prep your drink
Add ice into the cocktail shaker and then pour in your grenadine
Step Two: Add in the alcohol
Add in the rum and absinthe
Step Three: Top With Juice
Add in orange juice then shake the drink for about 15-20 seconds.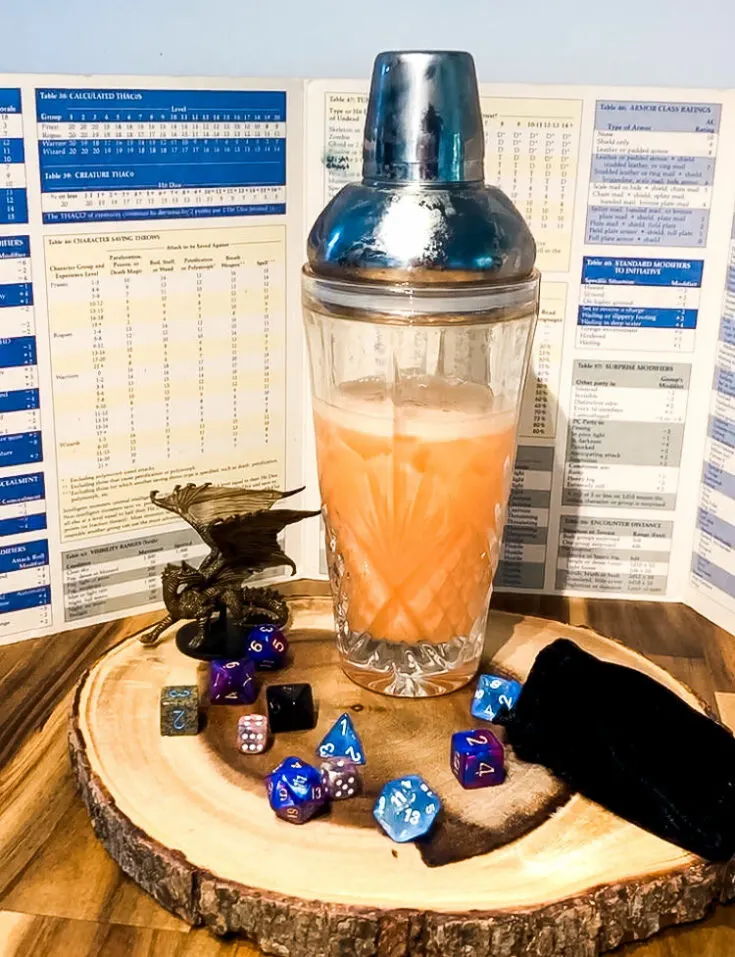 Step Four: Prepare your smoke (optional)
Using your smoking gun, get your wood chips ready. Then strain your drink into a tumbler containing fresh ice.
Cover and start your smoker.
Once the cover is filled with smoke, uncover and serve.
How To Serve Your Dungeons And Dragon Cocktail
The key to making the Dragon's Breath cocktail look amazing is to stay within the theme. Here are a few fun ideas for serving your cocktail:
DnD Inspired Drink: Frequently asked questions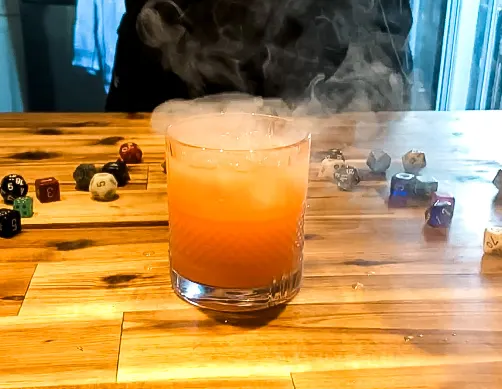 Want to turn your Dragon's Breath cocktail into a fun DND drinking game?
You can have each player take a sip of their cocktail if they:
Roll a critical miss
Fail an ability check
Defeated an enemy
Can you make this Dungeons and Dragon cocktail non-alcoholic?
Although this dragon cocktail contains two liquors – Absinthe and Rum, you can turn it into a non-alcoholic version if you want to include everyone in the fun.
Use lemon lime soda instead of the alcohol for a fun and fruity cocktail. If you want less sugar, you can use soda water.
Yield:

1
Dragon's Breath Cocktail
Additional Time:
5 minutes
This DnD inspired cocktail is perfect for your next gathering with friends. If you love playing DnD then you will enjoy this fun and easy to make drink.
Ingredients
1.5 oz Rum
1 oz Absinthe
4 oz Orange Juice
0.5 oz Grenadine
Smoker gun (optional)
ice
Instructions
Pour all the ingredients into a cocktail shaker with ice
Shake for 15 seconds then strain into a tumbler containing fresh ice
Use a smoker gun to create the "Dragon's breath".