Looking for the perfect drink to not only wow your friends but also creep them out a bit?
You've come across just such an elixir in our deliciously macabre and artfully terrifying Alien Brain Hemorrhage shot recipe.
Perfect for any occasion, this tasty combination is sure to leave your guests speechless while they sip their drinks!
So mix up those bartender skills and get ready to make this legendary drink that is perfect for Halloween or any time of year where you really want to go all out with the crazy shots.
This post may contain affiliate links. Please read my Disclosure for more information.
RELATED POSTS
What Is The Alien Brain Hemorrhage Shot?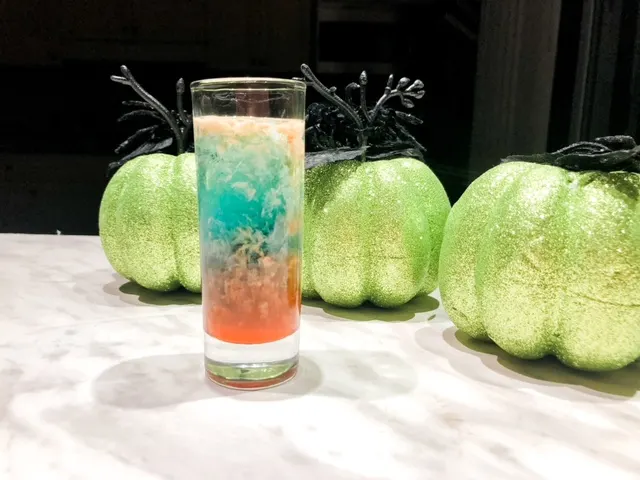 Prepare to be creeped out and wowed by the Alien Brain Hemorrhage.
This drink has it all: delightfully macabre appearance, smooth taste that will amaze even your most skeptical friends; not only does this cocktail satisfy but also leaves them begging for more!
The best thing about this shot is that it is really easy to make and only contains 4 ingredients.
It looks way more complicated though so will give you tons of Brownie points at your next gathering.
Why you'll love the Alien Brain Hemorrhage Shot Recipe
The perfect shot for Halloween is the Alien Brain Hemorrhage.
It is always a fan favorite for parties and events because it is so creepy looking.
This shot is:
Perfect for Halloween
Simple to make
Impressive
Actually better tasting that it looks
Great for a crowd
More Brain Shot Recipes
Alien Brain Hemorrhage Shot Ingredients
This alien brain hemorrhage shot recipe is a must-have for any alien party.
The drink tastes like a mix of peach and Baileys, but it also has an alien twist with the addition of blue curaçao liqueur!
To make the Alien Brain Hemorrhage you need:
Peach Schnapps
Baileys (or similar Irish Cream)
Grenadine
Blue Curacao
You may be familiar with the other "brain hemorrhage shot recipes" such as the Zombie Brain Hemorrhage Shot
The alien version is a bit different because of the blue Curacao which definitely makes you think of aliens and the possibility of life on other planets.
The fact that, aside from the grenadine, this recipe is 100% alcohol will make you start seeing UFOS if you drink too many.
How to make an alien brain hemorrhage shot
This shot is extremely easy to make and you don't need any tools other than a shot glass and a steady hand.
The key to the ghoulish brain affect is to pour each ingredient in very slowly and deliberately so that they layer perfectly.
To make, first pour in peach schnapps until your glass is a little over half full
Adding Bailey's Irish Cream will give you the "brain" affect as it floats in the schnapps.
Next, add some Blue Curacao to give it an eerie effect that looks very alien-like.
Finally add in the grenadine for the "blood"
What Can You Substitute for Blue Curacao?
If you don't have any Blue Curacao, you can use a citrus liqueur such as Triple Sec and add a few drops of blue food coloring to your drink. You can also use a non-alcoholic Blue Curacao syrup such as Torani Blue Curacao Syrup.
What does an alien brain hemorrhage shot recipe taste like?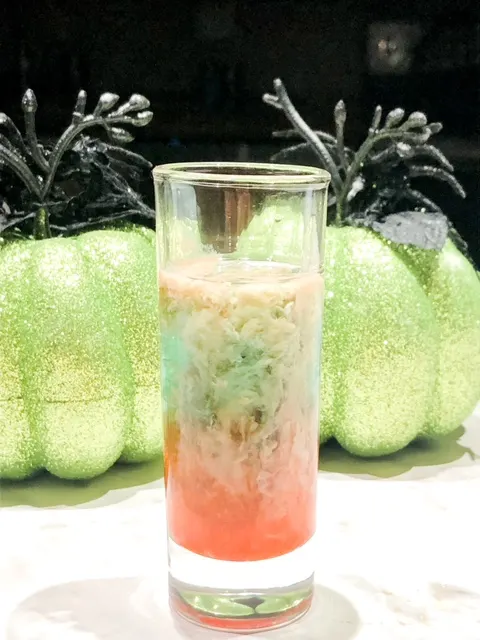 The alien brain hemorrhage shot is a creamy, smooth drink that is perfect for anyone who loves the taste of Baileys Irish cream.
The Blue Curacao and Peach schnapps add a sweet, citrusy taster that balances really nicely with the Baileys and makes this an easy shot to drink (if you can get past the appearance).
This brain shot looks really cool and it is actually really fun to make as you watch the Baileys float into the schnapps.
Final Thoughts
If you're looking for the perfect Halloween party drink or to impress your friends at game night (or both), this recipe is for you!
The perfect drink for those who delight in the macabre, this creepy shot will have your taste buds tingling and blood pumping!
The alien brain hemorrhage cocktail is slowly becoming a favorite among Halloween revelers as it blends together ingredients that are sure to please even those with more sophisticated palettes.
Yield:

1
Alien Brain Hemorrhage Shot Recipe
If you're looking for the ultimate in chilling drinks, this is IT. The alien brain hemorrhage shot has been declared by many as THE Halloween drink and it's perfect if your prefer a little bit more artfulness to their alcohol consumption or maybe just can't get enough of spooky stuff!
Curious? Your first sip will tell all:)
Ingredients
Peach Schnapps
Baileys or similar Irish Cream
Blue Curacao
Grenadine
Instructions
Pour the peach schnapps into a shot glass until it is about 2 thirds full
Add in a good serving of Baileys until you get the desired "brain effect"
Slowly pour in Blue Curacao as needed
Finish with a healthy dash of grenadine
Love Creepy Halloween Shots?
Check out these recipes:
40 + Spooky Halloween Cocktails
Creepy Purple Cocktail Potion For Halloween
The Red Spectre – Spooky Halloween Gin Cocktail