Making spooky Halloween cocktails is one of my favorite things to do in the fall. There are so many easy Halloween cocktails that you can make that will look amazing on your Halloween drink menu.
We always host a family Halloween party and like to serve some classy Halloween cocktails for the adults along with some fun spooky "mocktails" for the kids.
In the list below you will find something for everyone.
I have separated the list of Halloween drinks by type of alcohol and also added a few categories for specific color cocktails that you might be looking for (maybe you need something to match your Halloween costume?).
Of course, you don't have to keep these concoctions just for the 31 October. They work well at any time of year for themed parties or even as regular cocktails with a few changes.
This post may contains affiliate links. Please read my Disclosure for more information.
RELATED POSTS
Halloween Jello Shots
These jello shots can be made with or without rum for a treat every little ghost can enjoy!
How awesome are these gholuishly white jello shots?
Halloween Cocktails With Vodka
There are tons of great Halloween themed cocktails with vodka as it is so versatile and you can turn your cocktail into whatever colour you want.
This witches brew cocktail recipe is a bright blue colour that looks amazing in a pitcher or martini glass.
Get your spooky on with this easy and fun Green Halloween cocktail! This fun colored punch is perfect for a crowd and is flavored with limoncello and apple, then topped off with some lychee eyeballs!
Let's get extra spooky with this Zombie Brains cocktail! It will put you in the Halloween spirit and get you ready for the zombie apocalypse in no time.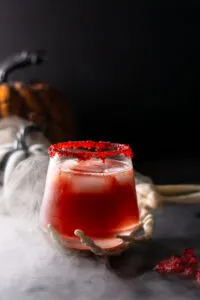 Drink your dessert with this delicious graveyard martini. Made with Oreos, chocolate liquor and triple sec, this cocktail is as spooky as it can get

This Toxic Spawn Martini (the spawn is made from chia seeds), is perfect for witch or mad scientist themed Halloween parties.

These glow-in-the-dark cocktail recipes are perfect for a Halloween party! Follow the step-by-step directions to make a tasty, spooky cocktail!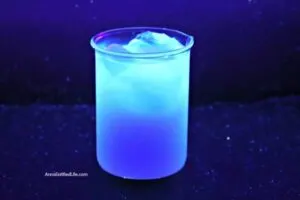 This citrus and sour apple Demon Juice Halloween Cocktail has a powerful punch that will pucker your lips and leave you begging for more.
Channel your inner witch this Halloween and serve a delicious Poisoned Apple Cocktail to your guests!

The neat spider webs on this drink make it perfect for any Halloween drink menu.

This is one of those classic Halloween cocktails that looks amazing and tastes great too. Even if you are not a fan of candy corn, you can't help but be impressed by the beautiful layers made with this drink.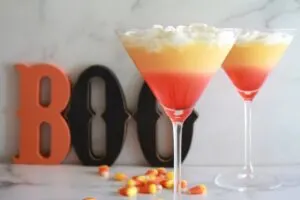 Seeking spooky black cocktails for your Halloween party? Then mix up a Dead Man's Kiss, a spooky black cocktail recipe your guests will swoon over! This eerie Halloween cocktail involves making black vodka from scratch.

This cocktail actually shimmers thanks to the edible cake shimmer.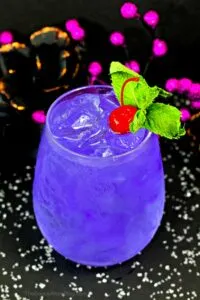 This purple potion is an easy Halloween cocktail that tastes great too!
This iridescent green cocktail is the perfect easy Halloween cocktail.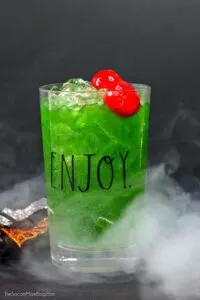 This purple cocktail is so easy to make and is perfect for your Halloween cocktail list.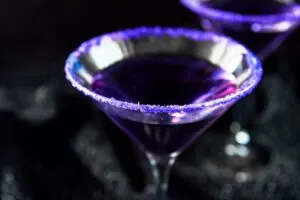 This green shot is perfect for Halloween and it tastes amazing!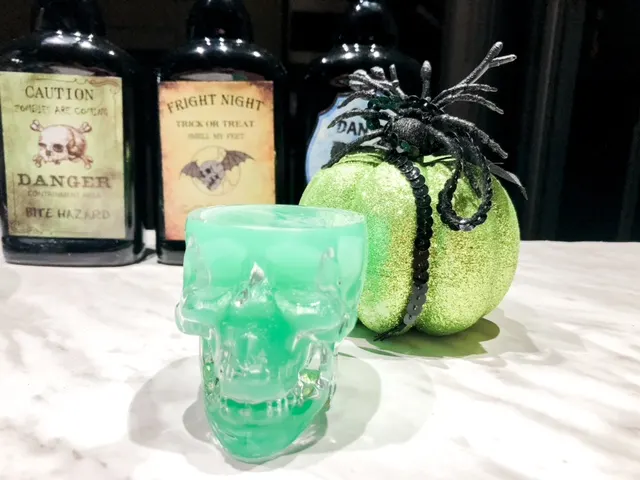 This drink is named after the famous movie and really packs a punch.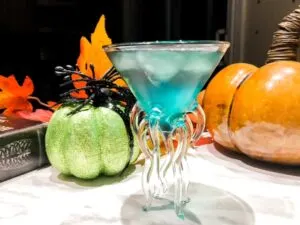 Test tube shots are a fantastic way to serve some fun shots up at Halloween. These ones are smeared with red food coloring to make a "blood" scene inside the test tubes.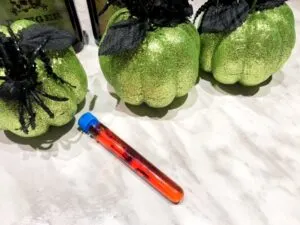 Halloween Gin Cocktails
This spooky twist on a gin and tonic is sure to be a crowd pleaser at your Halloween party.
This blueberry gin mojito makes the perfect Halloween gin cocktail – it looks just like a magical purple potion.
Halloween Rum Cocktails
With the bewitching hour upon us, this Poisoned Orchard cocktail is the perfect drink to get into a spooky spirit.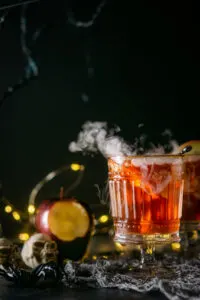 Who says tropical cocktails are only for the fall? This cocktail may look like the classic candy corn candy, but is full do tropical taste

Add this cute Spider cider cocktail to your Halloween drink menu and you will have a hit at your party! This cocktail contains rum and cider for perfect fall flavors.
This bright green Halloween rum cocktail is perfect for serving at any of your festive gatherings.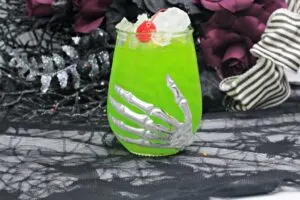 If you love Tiki drinks and tropical rum cocktails, this zombie drink is the one for you.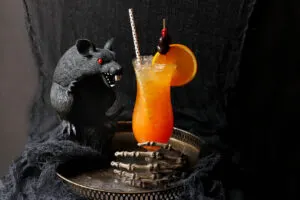 Grenadine and cherry make this a great horror cocktail for a Halloween party.
Halloween Whiskey Cocktails
The Grave Digger Cocktail can be quickly made up for a crowd or for solo sipping for a ghoulishly good time! This Halloween cocktail is a refreshing, fizzy fall cocktail perfect for celebrating.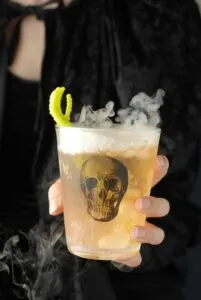 A traditional old fashioned made with rye or bourbon gets a twist in this Halloween cocktail recipe.
Halloween Cocktails With Tequila
These Gravedigger Halloween cocktail features tequila. They're a delicious hair-raising toast to the Halloween season!

The kiwano is a spooky fruit that makes a great halloween margarita due to its spiky appearance and colorful insides.
This blackberry margarita is perfect for serving at Halloween.
Halloween Wine Cocktails
The truth, some of the best spooky Halloween cocktails are made with red wine. After all, you can almost imagine Dracula sipping a nice glass of Pinot Noir after a hard night of vampiring.
Below are some easy Halloween cocktails made with red or white wine.
These spooky drinks are easy Halloween cocktails and look amazing at any kind of party.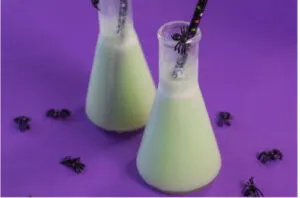 Nothing is more ghoulish that a dark red drink for Halloween and this red apple cider is just the ticket!
This blood red cocktail is made with tart cherry juice and red wine.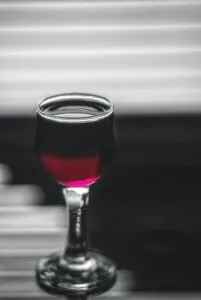 Halloween Cocktails with Champagne
A bloody twist on a classic, this spooky cocktail is perfect for Halloween brunch! Made in under 5 minutes, it will give all your guests a fright!
36. Fiendish Fizz from Easy Peezy Lemon Squeezy
There is a kids (non-alcoholic) version of this cocktail too if you want to give them something fancy to drink.
Halloween Punch Recipes
This Halloween punch recipe is perfect if you are catering a crowd this Halloween.
This sangria is perfect for a crowd. You can serve it in a cauldron for an extra spooky feel this Halloween.
Dry ice makes this punch look extra spooky.
More Halloween Themed Cocktails
Dark as the night, this black fog cocktail contains the rich, malty taste of Guinness with the sweetness of raspberry liqueur. With Halloween just around the corner, this drink is very fitting to serve alongside some spooky decorations.

Slippery Zombie Brains is a delicious easy to make shot that will be a hit this Halloween. It is made with Sambuca and Irish Cream.
This spooky green Halloween cocktail is made with Cocolero which is a South American herbal spirit.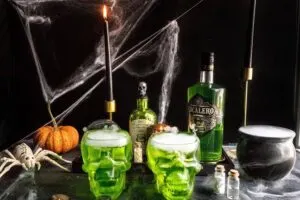 Halloween Shot Recipes
This scary looking shot is so easy to make and tastes surprisingly good!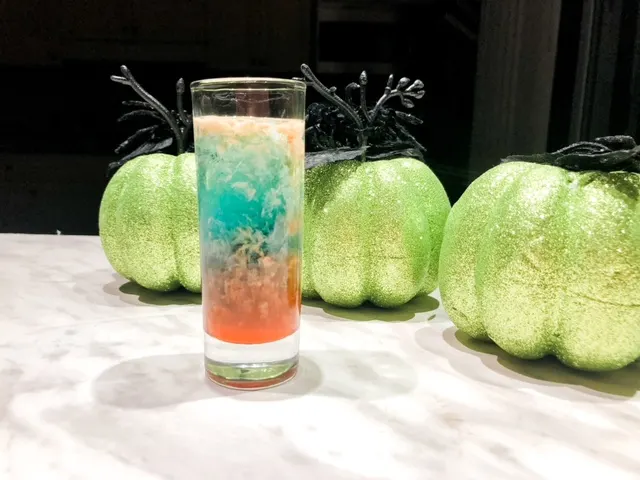 These creepy looking shots only contain 2 ingredients and can be made in minutes.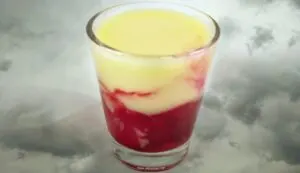 Another take on the Brain hemorrhage shot, the Zombie uses Creme de Menthe for the green hue.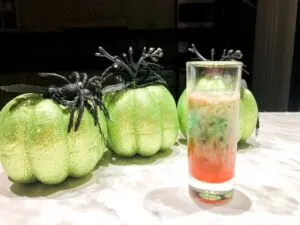 You only need 3 ingredients to make this bloody looking shot.
Halloween Mocktails
If you love Halloween mocktails, make sure to check out my list of 13 Non-Alcoholic Halloween Punch Recipes including the ones below:
This green non-alcoholic Halloween Punch is the perfect Halloween potluck or witch themed party recipe, especially for kids! It has key lime Sherbert, soda pop, chocolate cookie witch hats, marshmallow licorice brooms and candy eyes. It's a kid's dream come true
While this isn't strictly a mocktail, milkshakes are always popular with kids and this candy corn milkshake recipe is perfect for a Halloween drink menu if you want something non-alcoholic and fun.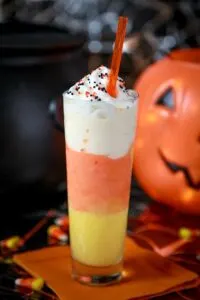 A Shirley Temple drink is the sweet, fizzy mocktail that always perks up a party. Throw in a few well-placed props and this creepy version of the beloved drink will make your Halloween party a favorite!
This refreshing frothy beverage will transport you into the Wizarding World. Super easy only 5 ingredients!
This milkshake can be made with or without alcohol and it looks so creepy!
Green Halloween Cocktails
If you are looking for some great green Halloween cocktails, here are my personal favorites:
The Frankenstein Drink – Green Halloween Cocktail
Green Halloween Sangria from Slow The Cook Down
Toxic Spawn Martini from Mom Foodie
Poisoned Apple Cocktail from Cooking With Curls
Melting Witch Punch from Food Meanderings (Non-alcoholic punch recipe)
Gravedigger Halloween Cocktails from Confetti and Bliss
Polyjuice Punch from Baking Beauty
Smoking Skull Halloween Cocktails from Windy City Dinner Fairy
Hocus Pocus Cocktail from Simplistically Living
Purple Halloween Cocktails
Creepy Purple Cocktail Potion For Halloween
Maleficent Halloween Cocktail from The Soccer Mom Blog
Purple People Eater Cocktail from Wow It's Veggie
More Cocktail Recipe Ideas
Sparkling Cranberry Prosecco Cocktail
Ultimate Bay Breeze Cocktail Recipe
Vegas Bomb Shot Recipe – The Classic Cocktail