Is there anything more refreshing on a hot day than a cold Pina Colada? This sweet and creamy drink is the perfect way to cool down and relax. and if you are in the mood for one, you'll love this homemade Pina Colada recipe.
The perfect Pina colada is sweet and refreshing, with a creamy consistency and a light coconut flavor. Inexpensive and easy to make, this drink is perfect for any summer get-together.
If you're looking for the perfect Pina Colada recipe, you've come to the right place. Read on for all the details.
This post may contain affiliate links. Please read my Disclosure for more information
MORE TROPICAL COCKTAILS
Sex On The Beach Cocktail Recipe
Best Sundowner Cocktails: 21 Amazing Summer Drinks
What Does Piña Colada Mean in Spanish?
Pina coladas, one of the most popular cocktails in the world, were first created in Puerto Rico. Piña is the Spanish word for pineapple and colada means strained so piña colada translates as strained or squeezed pineapple.
The drink is a mix of rum, pineapple juice, and coconut milk or cream. The drink is often served with a wedge of pineapple and a maraschino cherry.
What Goes In A Piña Colada?
When you order a Pina Colada at a bar, you might expect a refreshing drink made with pineapple and coconut milk.
But what you might not know is that this drink can be made with a variety of ingredients, depending on the bar and your preference.
So what's actually in our homemade Pina Colada?
Pina Colada Ingredients and Equipment
Rum
Coconut Cream
Pineapple Juice
Fresh pineapple
The Best Rum For Pina Colada Cocktails
Pina coladas can be made with light or dark rum, and both versions are equally delicious. If you prefer dark rum, I recommend the Havana Club 7 year aged. For white rum, anything from Bacardi to Malibu is perfect.
Equipment
You'll need a blender to make a pina colada. Your regular smoothie blender should be fine as long as the motor can handle ice. I use the Margaritaville Blender as it is a powerhouse that can whip up three drinks at a time.
How To Make A Pina Colada
A Pina colada is a refreshing drink made with rum, coconut milk, and pineapple juice. It can be enjoyed on its own or as part of a cocktail party. Here's how to make one:
1. In a blender, combine ice, rum, coconut cream, and 1/4 cup of pineapple juice and frozen pineapple chunks.
2. Blend until smooth.
3. Pour into a hurricane glass or other tall glass and serve immediately.
Tips for making the perfect homemade Pina Colada
There's nothing quite like a Pina colada on a hot day. Whether you're at the beach or pool, or just enjoying a summer BBQ, these cocktails are always a hit. But what makes the perfect pina colada?
Here are some tips to help you make the perfect drink every time:
1. Use good quality rum. Añejo rums like give the best flavor for Pina coladas.
2. Use fresh pineapple juice. If you can't find fresh juice, use frozen pineapple chunks and blend them yourself.
3. Use Coco Lopez cream of coconut if you can get it. This is key for getting that signature Pina colada flavor.
4. Add ice and blend well. Make sure your drink is cold and frosty!
5. Serve in a hurricane glass with a pineapple wedge or cherry on top. Enjoy!
The Perfect Piña Colada FAQs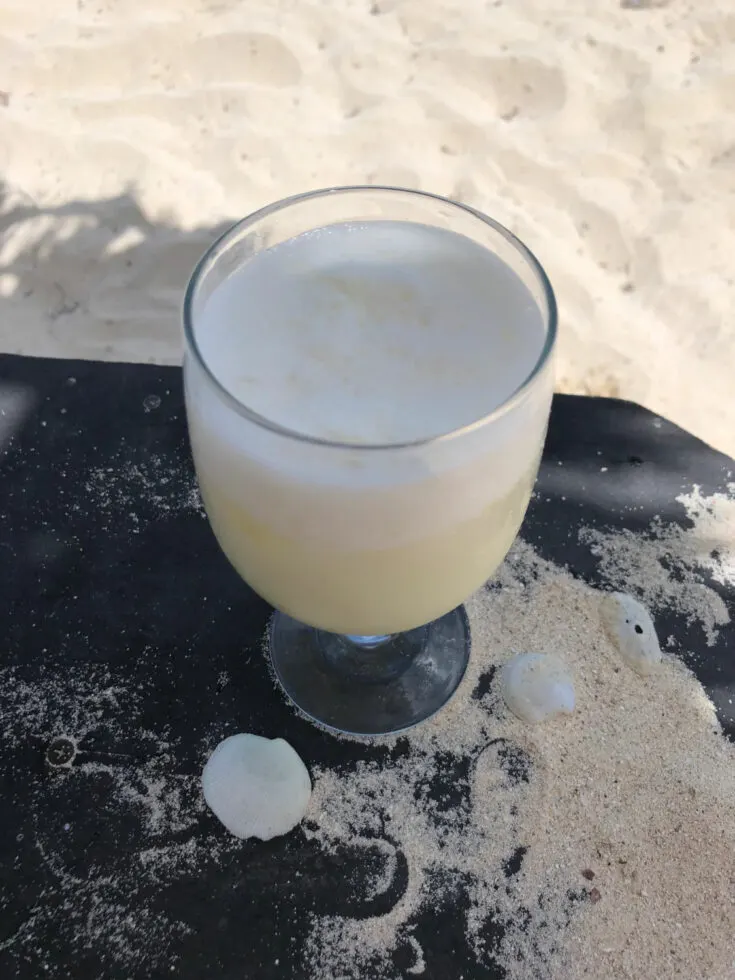 If you find coconut cream too sweet, you can use coconut milk instead which has a much milder taste.
The original Pine Colada recipe calls for Cream of Coconut which is a very sweet, thick creamy made from coconuts and sugar.
In my recipe, I use Coco Lopez coconut cream. These guys made the very first Pina Colada in 1954 and in my opinion, nothing beats it.
It is made by blending the real cream of fresh, sun-ripened Caribbean coconuts with natural cane sugar.
If you don't like super sweet cocktails then coconut milk may be a better option for you.
If you don't have coconut cream but you have creamed coconut (this is a tongue twister!), then you can dilute the creamed coconut in hot water until it becomes more liquid.
The perfect drink for summer
No matter what your drink of choice is, there's a perfect summer cocktail for you. Check out all our list of 41 Best Frozen Summer Cocktail Recipes.
Whether you're a fan of fruity and sweet drinks or prefer something more on the savory side, we've got you covered.
Gin and tonics, mojitos, margaritas, sangria – there's no shortage of refreshing options to choose from. So mix up a drink (or two) and enjoy the warm weather while it lasts!
Here are some ideas:
Cubata Recipe: This twist on a rum and coke is perfect for sipping poolside.
Pineapple Coconut Rum Slush With Strawberries: Stick with the pineapple theme with this delicious slush cocktail
Mermaid Water: This pretty drink is the color of the ocean and will have you dreaming of vacations.
Yield:

2
Homemade Pina Colada Recipe
This perfect Pina colada is made with the right mix of sweet, fruity flavors, and a frothy consistency that is just right. It is best enjoyed in a sandy beach environment with a group of friends.
Ingredients
1 cup of ice
3 ounces of rum
1/4 cup of coconut cream
1/4 cup of pineapple juice
1 cup fresh or frozen pineapple chunks
Instructions
In a blender, combine ice, rum, coconut cream, and 1/4 cup of pineapple juice and frozen pineapple chunks.
Blend until smooth
Pour into a hurricane glass or other tall glass and serve immediately.
Notes
To make this a virgin pina colada, simply omit the rum
If you find coconut cream too sweet, you can use coconut milk instead
Both white rum and dark rum taste great in a pina colada. Malibu rum is another great option.