Is there anything more tropical than a classic Mai Tai cocktail? It's one of the original Hawaiian Tiki cocktails that just make you want to be sitting on a beach somewhere.
The origin of the Mai Tai goes back to 1944 when it was created by Victor Jules Bergeron at his tiki bar, Trader Vic's.
If you are in the mood for something fruity and tropical, you really can't go wrong with a Mai Tai cocktail served over ice. They are easy to make and surprisingly strong (there are two different rums in this Mai Tai recipe).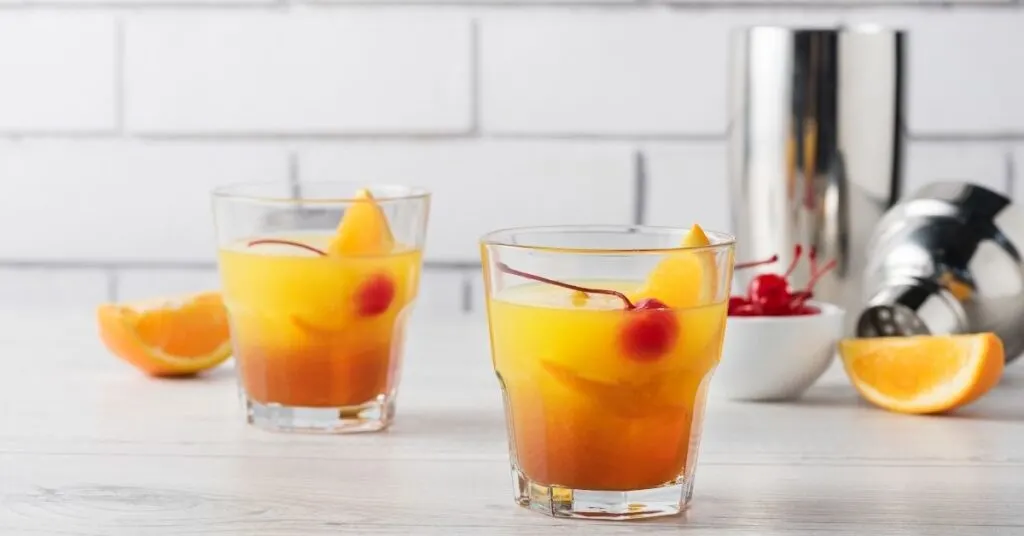 This post contains affiliate links. Please read my Disclosure for more information.
RELATED POSTS
Classic Mai Tai Recipe
This classic Mai Tai recipe contains almost everything that should be in a tropical punch drink.
The flavours of coconut, pineapple and orange converge to make one of the nicest drinks for sipping on the deck or enjoying at a party.
Contrary to popular belief, the Mai Tai is not a girly drink per se. The alcohol content is pretty high and it is enjoyed by men and women alike.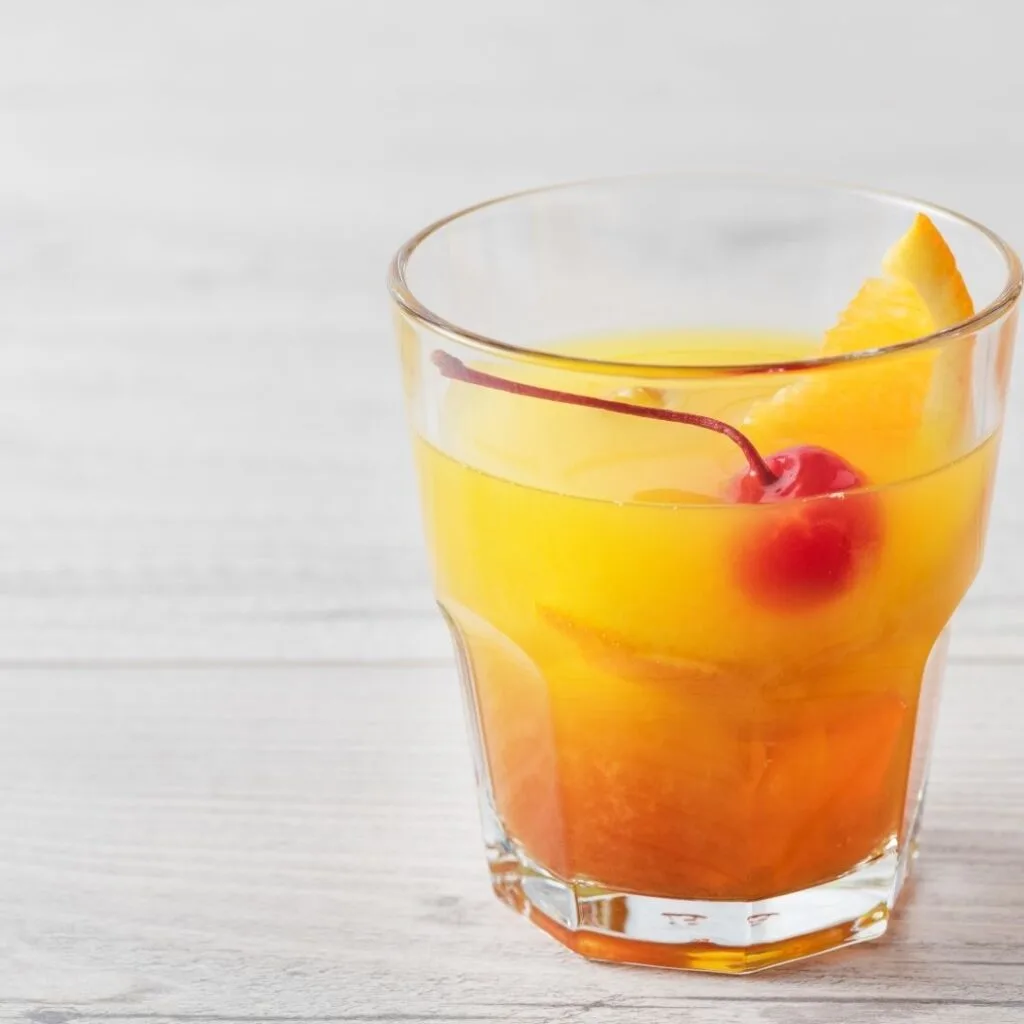 Why you'll love this Mai Tai Cocktail
This Mai Tai recipe is:
Naturally sweetened
Refreshing
Fruity
Tropical
Easy to make
Impressive
Juicy
Perfect for summer evenings and nights out
What alcohol is in a Mai Tai?
Two different kinds of rum make up this Mai Tai Recipe. You have spiced dark rum and then you have coconut flavoured rum for that taste of the tropics.
By volume, a Mai Tai ranks up there as one of the cocktails with the highest alcoholic content, clocking in at around 26% ABV. Definitely not for the faint of heart!
What Is The Classic Mai Tai Recipe?
The Mai Tai contains the following:
1 1/2 ounces Spiced Dark Rum
1 ounce Coconut Flavored Rum
1/2 ounce Grenadine
4 ounces Pineapple Juice
3 ounces Orange Juice
Ice
Strawberry, orange slice or cherry for garnish (optional)
What tools do I need to make A Mai Tai?
To make a Mai Tai, you'll need a few basic home bartending tools. If you don't have them, don't fear, you can use some workarounds that I mention below.
These are the tools you'll need to make this cocktail:
A cocktail shaker (if you don't have one, you can use a mason jar instead)
A strainer for pouring the drink without the ice. (Use the mason jar lid or a plate to strain the drink if you don't own one).
How To Make A Mai Tai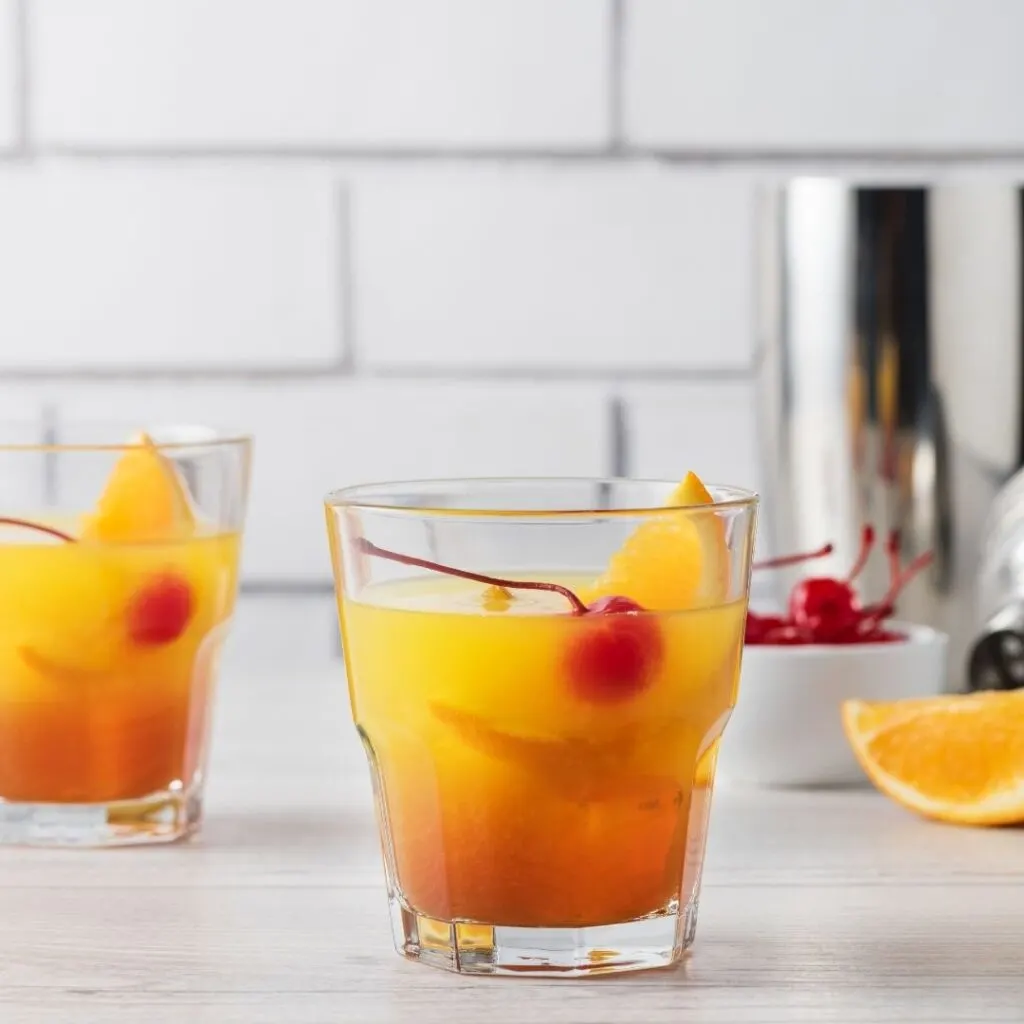 Mai Tai cocktails are so easy to make! Here's what to do:
Step 1:
Add both rums, the pineapple juice, orange juice and grenadine into your cocktail shaker with ice. Shake well for 15 seconds.
Step 2:
Strain into a glass with ice and garnish. You can use a pineapple or orange slice for a garnish. Other options include a strawberry or cherry.
Mai Tai Variations
It's really easy to mix up your Mai Tai cocktails with some simple changes.
Try adding mango puree or watermelon to give your drink a tropical twist
Switch out the orange juice for peach or mango juice
Add fresh blueberries or raspberries
Love this tropical cocktail? Try these other recipes!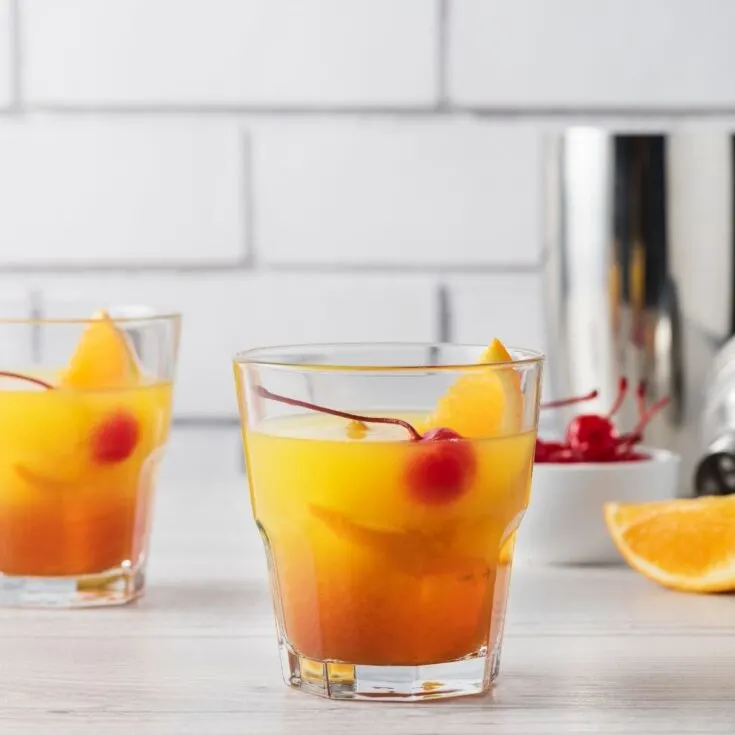 Yield:

1
Mai Tai Cocktail Recipe
This delicious Mai Tai was created at the original Tiki bar, Trader Vic's. It's simple to make and easy to enjoy on a deck or on the beach.
Ingredients
1 1/2 ounce Spiced Rum
1 ounce Coconut Flavoured Rum
1.2 ounce grenadine
4 ounces Pineapple Juice
3 ounces Orange Juice
Ice
Strawberry for garnish
Instructions
Combine all ingredients into a shaker with ice, shake well.
Strain into a glass
Garnish with a strawberry if desired